Outsourcing your critical business processes became a popular business strategy back in the late 80s and early 90s to combat rising labour costs and an increasingly global marketplace.
Simply put, outsourcing is the process of using third-party service providers to handle certain business functions. At one time, outsourcing services were limited to large, multinational corporations. But today businesses of all sizes can realize the benefits of outsourcing.
In many cases, the benefits of outsourcing services are not an optimization strategy – they're a necessity. Often the only feasible way to grow your business, launch a product, or manage operations is to delegate certain tasks to an outside vendor.
But that doesn't mean outsourcing business processes is a burden. In fact, it offers a number of compelling benefits.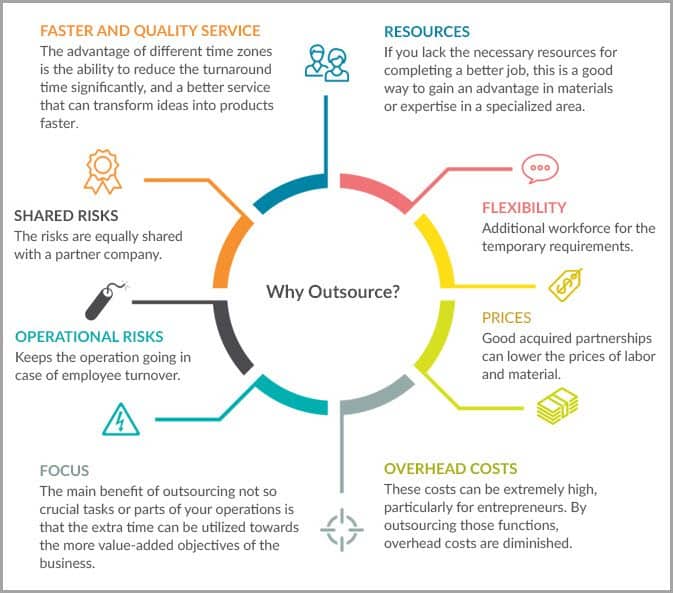 [content_upgrade cu_id="3030″]Get the bonus content: 41 Useful Tools to Scale Your Business[content_upgrade_button]Click Here[/content_upgrade_button][/content_upgrade]
1. Focus on Your Core Business Process
This is the most important benefit to outsourcing your critical business process, so we've listed it first.
It's more efficient to spend your time doing whatever you're good at. If you're a marketing agency, you should be marketing your clients. If you're a consultant, you should be coaching. If you sell digital products, you should be creating.
But there are plenty of tasks on your plate that don't play to your skills. Maybe you aren't very good at managing your finances, performing customer service, or filling out all that human resources paperwork. Every minute you work on tasks outside of your skillset is time spent inefficiently.
"Most entrepreneurs have great talents, but many times they think they can do it all," says Laura Lee Sparks, owner of an outsourcing firm for attorneys. "That can really stall the growth of the business. By outsourcing the day-to-day back-office tasks, the business owner has more time to focus on generating income."
It's almost always more cost-effective to outsource everything but your core business processes. You'll save money, avoid stress, and spend your energy working on things you enjoy.
It's almost always more cost-effective to outsource everything but your core functions.
Click To Tweet
2. Reduced Labor Costs and Overhead Expenses
Hiring and training staff is expensive, especially for short projects, and temporary employees rarely produce the high-quality work you need.
When you outsource, you convert fixed labour costs into variable costs, meaning you only pay for the services you consume. This gives you staffing flexibility that just doesn't exist with in-house employees.
Outsourcing allows you to tailor your service consumption to your needs. You only pay for what you use and can seamlessly scale your consumption when business picks up or slows down.
"Outsourcing will allow operations that have seasonal or cyclical demands to bring in additional resources when you need them and release them when you're done," says business operations expert James Bucki, professor at Genesee Community College in Batavia, New York.
For instance, you probably don't need a full-time in-house bookkeeper. It's an important job that can't be ignored, but you don't have enough work to justify a full-time salary.
You could hire a part-time bookkeeper but finding skilled professionals who are willing to work just a few hours a week is challenging. They're likely to leave you once they find a full-time opportunity and there's no guarantee they can work more when you have seasonal needs, like during tax season.
By outsourcing your bookkeeping, you only pay for the service you consume but retain the reliability of a dedicated employee.
Furthermore, it's smart to take advantage of the labor market arbitrage whenever possible, but hiring people in other countries is a hassle. When you work with an outsourced partner, they can take care of headache relating to hiring in a low-cost country, so you receive a high-quality product at a lower price point.
Back-office tasks typically come with their own expenses, too, like office space, furniture, copier paper, etc. Even remote teams come with costs, like equipment and access to software tools. These expenses don't seem like much, but they add up quickly.
You may be able to squeeze one person into your current office, but if hiring that new assistant means moving to a bigger (and more expensive) space, it may be cheaper to hire a virtual assistant agency to meet your needs. Yes, the outsourcer technically builds their costs into the fees they charge, but those overhead costs are spread out across all of their customers.
If the people in your company who support your core business tasks can work from home, it might be possible to eliminate most of your overhead costs by outsourcing all non-core functions and transitioning your team to a remote work arrangement. This could create massive savings.
3. Control Cash Flow
When you outsource, you convert a fixed cost (a full-time salary) into a variable cost (a pay-what-you-need service). This frees up your cash flow for investment in other parts of your business.
You could funnel that cash into improving your products or running marketing programs. This is especially useful at the early stages of new projects, like launching a new product or reaching into a new business vertical.
If you have any investors (or plan to bring some onboard in the future), they'll be pleased to see lots of room in your cash flow to invest in revenue-generating activities. A company that isn't saddled by cumbersome fixed costs is flexible and quick to adapt to new ideas or market conditions.
Furthermore, outsourcing services free you from having to invest in technology or custom infrastructure. For instance, by working with an outsourced design studio, you wouldn't need to purchase your own photography equipment or video editing software. Those are the outsourcer's problems. Not having to make these investments makes it much easier for a small business to compete.
4. Access to New Resources
Hiring a new team member often requires expensive recruiting and training. You have to teach them your processes and workflows (or develop special processes just for them). You may have to invest in their education, so they have the right skills for your business. When you outsource your business functions, the service provider assumes these costs.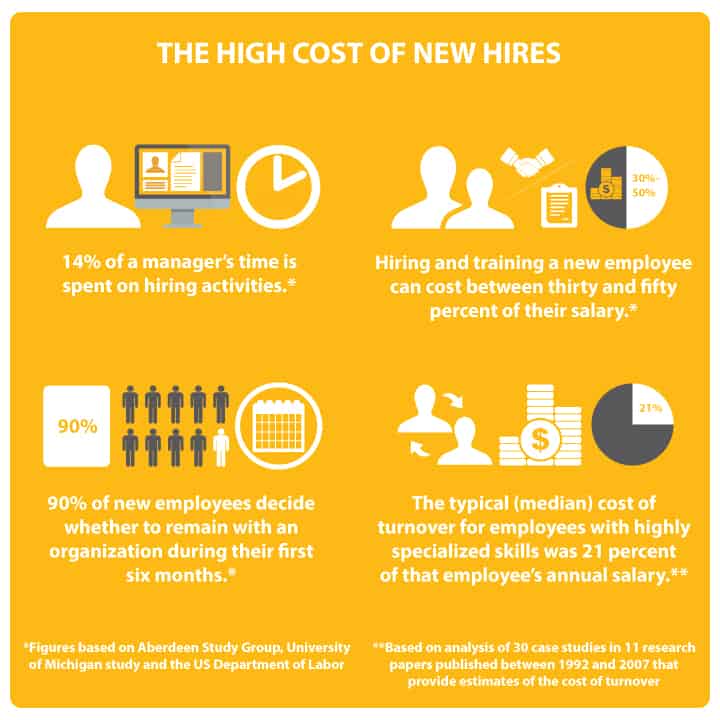 Outsourcers come with specialist knowledge, expertise and experience you couldn't afford to hire on your own. The outsourcer is responsible for any licenses or accreditation that the work requires. By focusing on their specialty, outsources stay abreast of industry changes and trends, learn new techniques, and constantly develop their skills.
Furthermore, outsourcers have access to skills and tools you may not need today but will someday. If they don't have someone on staff who can solve your problem, they likely have a network of specialists with complementary skills they can pull from. You don't have that sort of flexibility with in-house employees.
For example, let's say you have a designer on your team, but he specializes in print materials. He'll whip up a great brochure, but he doesn't know much about digital products.
When it comes time for a new website, your designer won't be much help. If you outsource your design work to a creative agency, however, you will have access to designers with a broad range of skills.
5. Managed Risk
Employee turnover is painful. When someone quits, all that money you spent on hiring and training walk out the door with them. Turnover at the wrong time (and is there ever a right time?) can disrupt your operations, causing costly problems.
Outsourcing builds a level of consistency in your business. If your human resources manager leaves the company at a critical time, you would have to scramble to fill the position (possibly hiring the first acceptable applicant, even if they weren't great), do the work yourself, or simply go without.
But if you outsourced that function, your operations would continue smoothly without interruption or risk. You could rely on the tasks to be completed and the costs to remain static.
[content_upgrade cu_id="2833″]Is outsourcing right for you and your business? Take this quiz to find out![content_upgrade_button]Click Here[/content_upgrade_button][/content_upgrade]
Disadvantages of Outsourcing
Now that you know many of the advantages of outsourcing, we also need to take a brief look at a few disadvantages to provide you with a better overall picture.
Exposed Financial Data
When certain aspects of a business are outsourced, such as HR, payroll, and recruitment services, there is a risk involved because confidential company information is revealed to a third party. In the next section below, you will find tasks that are much better suited for outsourcing.
Synchronizing Deliverables
Some businesses may be facing longer delivery timeframes, less than ideal quality output and the wrong categorization of certain responsibilities. Sometimes, it is easier to regulate all of these things within the organization, rather than outsourcing them to avoid these common problems.
While outsourcing is typically a cost-effective strategy for your business, there are sometimes hidden costs involved when you sign a contract.
What Should You Outsource?
To realize the benefits of outsourcing, your first step is to identify your most costly and stressful challenges.
Most Commonly Outsourced Business Streams
IT outsourcing
Legal outsourcing
Content development
Web design and maintenance
Logistics
Manufacturing
Customer support
Which problems do you struggle with regularly? Which ones require specialized knowledge or tools? Which ones are far removed from your core competency? These are the first areas to consider outsourcing.
The first function many businesses outsource is bookkeeping. If you aren't a financial expert, managing your accounts can be confusing and painful, but it's critically important. Poorly maintained books can balloon your tax liability, burden you with interest and penalties, and rob you of the ability to make smart business decisions.
Outsourcing FAQ
To summarize some of the points we have made above and to answer a few more questions you may have about outsourcing for your business processes, we have included this FAQ.
What types of services do outsourcing companies typically support?
The types of services that outsourcing companies typically support include information technology-enabled services, knowledge process outsourcing, legal process outsourcing, research process outsourcing, and customer interaction services.
Some outsourcing companies also specialize in different areas, including back-office transactions, IT and software operations, finance and accounting services, human resource services, and knowledge services.
Which business functions lend themselves best to business process outsourcing, and why?
From administrative tasks and IT operations to lead generation, customer service, and marketing, there are several business processes you can outsource to help free up time and focus in your business.
What are the different types of BPO services?
Business process outsourcing can typically be divided into two categories: back office and front office. The back-office services include internal business processes including billing and purchasing.
What is the future of business process outsourcing?
Automation is going to be key when it comes to BPO services in the future. Tasks like data entry work and image recognition, can all be easily automated while other functions including handwritten data and telemarketing may prove more resistant. However, all the industries are going to most likely begin to leverage emerging technology to help reduce costs and accelerate the growth of their business.
How do you choose the right outsourcing vendor for your critical business processes?
Outsourcing business processes isn't always an easy task and finding the right vendor also proves challenging. There are many details you will need to know and establish even before you begin looking for the right outsourcing vendor. For example, what kind of business processes do you need the most help with? Once you find vendors, evaluate the proposals and then weigh the risks and benefits.
Negotiating the contract is then the next most important step. An agreement must be met between both parties in terms of the service parameters as well as the contract schedule. Additionally, you also must ensure that the stakeholders are in agreement.
---
For the last five years, Our team of bookkeepers, lead by CPAs, have managed the books and created countless reports for eCommerce entrepreneurs. We also help them understand and leverage their reports to meet their needs.
Want to learn more about our process? Schedule a free call today.
---
[content_upgrade cu_id="3030″]Get the bonus content: 41 Useful Tools to Scale Your Business[content_upgrade_button]Click Here[/content_upgrade_button][/content_upgrade]