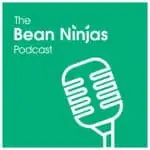 Want some networking tips for connecting with others online during COVID-19 lockdown? 
In Part 4 of our 5-part "working in public" series of the Bean Ninjas Podcast, Michael Wark and Anfernee Chansamooth share their goals, learnings, wins, and challenges as they work on their product launches. They also share key tips and takeaways on being in lockdown and virtual networking which is essential at this point in time. 
Everyone is affected by the lockdowns happening during this COVID-19 pandemic. And we have had to change our strategies and plans during this time to suit our needs and that of our clients. 
The pandemic surely hasn't dampened the spirit of our team and we sure don't want it to dampen the spirits of our clients. Find out what we've come up with to connect and collaborate with them during this time of lockdown.
In this episode, we discuss:
[00:44] Michael's 2 objectives and results for the past week.
[01:35] 3 Objectives and results from Anfernee.
[02:38] Key learnings from their plans around the launch of Know Your Numbers.
[06:48] Wins on internal learning perspective from Michael.
[10:03] 3 wins for Anfernee this week.
[12:44] The challenges of being stuck inside the home.
[13:49] Navigating challenges through the coronavirus.
[17:22] Michael's learnings from last week.
[19:30] Anfernee's learnings around being in lockdown.
[24:06] Tips and insights on virtual networking.
[29:50] Michael and Anfernee's goals for the next week.

Work in Progress Episodes:
References and Links Mentioned: