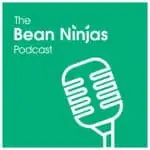 Have you ever wondered what it takes to launch multiple successful brands in just a few years? In this episode, host Wayne Richard sits down with 7-figure entrepreneur (and Bean Ninjas client) Phil Van Treuen to discuss the secrets behind his incredible success.
Phil shares his experiences launching 4 brands in just 6 years, and the lessons he's learned along the way.
From developing a winning brand strategy to building a strong team, Phil's insights will leave you inspired and ready to take your own business to the next level. Tune in now to learn from one of the best in the game!
[02:31] Phil's experience with Bean Ninjas' monthly financials
[04:05] From the National Guard to Digital Marketing: Phil's journey
[05:46] Content that solves problems: The biggest takeaway from Digital Marketing
[08:42] AI in business: How Phil uses it for content creation
[10:10] Key moments on Phil's entrepreneurial journey
[12:50] Launching 4 brands in 6 years: 2 lessons learned
[16:35] Spending money on Facebook ads: Phil's process
[18:12] Evaluating financial viability for new offerings: 4 insights
[23:30] Applying Stoicism to your life: What it is and where to look
[30:19] Phil's productivity hacks and time management techniques
[31:31] Resource that helped Phil on his entrepreneurial journey
[33:09] Defining freedom: What it means to Phil
Phil Van Treuen is an author, entrepreneur and perpetual work in progress. Founder & CEO at CHOMP; Publisher at Stoic Simple.
This podcast episode is brought to you by sponsor A2X: automated e-commerce accounting.
References and links mentioned
Interesting quotes from Phil Van Treuen
"Taking the time to write content that doesn't just sell your stuff but helps your customer solves problem that are unique to them eventually leads to more sales"
"The more freedom you have, the more discipline you need."