Got a new product launch in the works and want to get the most out of it? Here are 9 lessons to help you launch quickly and learn from paying customers.
In February 2019, we had the wild idea of launching not one, but two, new products to our target market – an online Xero training course and a productized "virtual CFO" cashflow forecasting service.
Despite having enough on our plates with our regular core recurring bookkeeping service, we decided that kicking off 2019 with creating two new offerings was worth the investment of time, energy and effort.
Following is a break down of the 2 product launches – the why, what, how, results and insights gained from the experience.
Want to get the most out of your next product launch? Here are 7 lessons to help you launch better.
Click To Tweet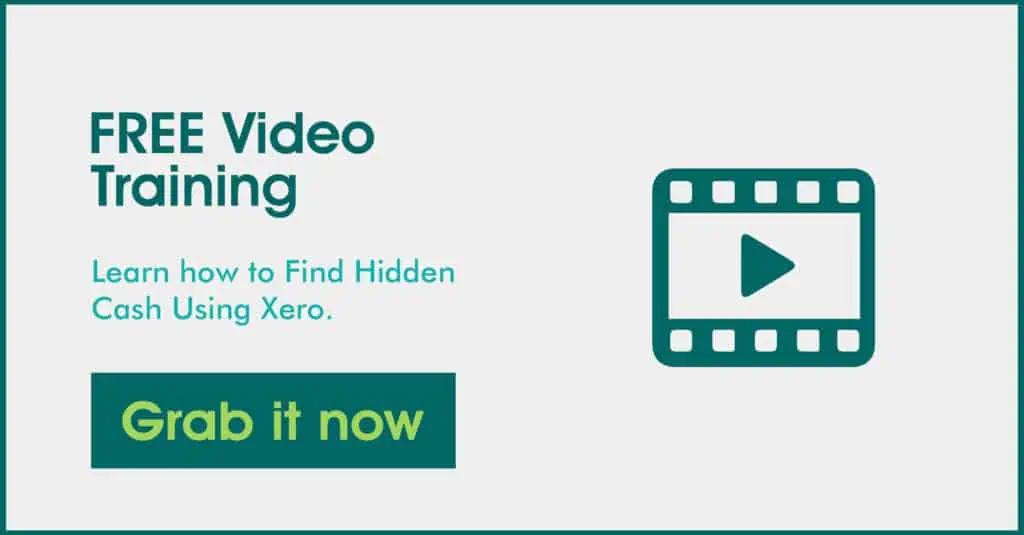 Product launch goals
So why did we do these 2 launches?
We did the launches for several reasons:
1. A chance to be entrepreneurial
It was an opportunity to apply 7 Day startup methodology to launch products within our business
2. A chance to serve more clients better
Provide offerings to customer segments and small business challenges that were not being served by our core business or existing offerings.
For instance, our recurring Xero bookkeeping service works well for established businesses but for new businesses who prefer DIY bookkeeping to keep their costs down, a recurring bookkeeping service really isn't a good fit.
3. A chance to grow through public accountability and share with our community
To us, growth means little if we don't pass it forward and share the lessons with others.
Some of the most amazing experiences we've had come from some type of accountability, acquired through working in coaching programs especially.
4. Time was of the essence… and Meryl had a baby coming!
Here's what Meryl shared publicly back in February:
"In 2018 I invested a lot of time and money into creating an online course to help business owners use Xero better.

It is now 2019 and the course still isn't published.

I let my perfectionism get in the way of finishing the project.

Can you relate?

As a business owner, I've had to constantly battle with perfectionism and train myself to launch quickly.

Even when I don't feel ready.

Sometimes it's been a success, like the way we launched Bean Ninjas in only 7 days. My business currently has a team of 15.

When it came to getting my course out, however… I've struggled. You might even call it an epic fail.

My partner is now pregnant, and in 8 weeks we'll be giving birth to our first child.

I'm so excited about becoming a parent, but I also know that I'm going to have a lot less time available to work.

I don't want to give up on publishing a course… I've realised that I need to launch a much smaller version of what I had intended, to get this finished before bub is born.

Nothing like a baby on the way to kick your butt into gear, right?"
So how's THAT for motivation to make a launch happen?
What were we launching?
Product #1: An Online Xero Training Program/Course (originally titled "Xero Cashflow Course")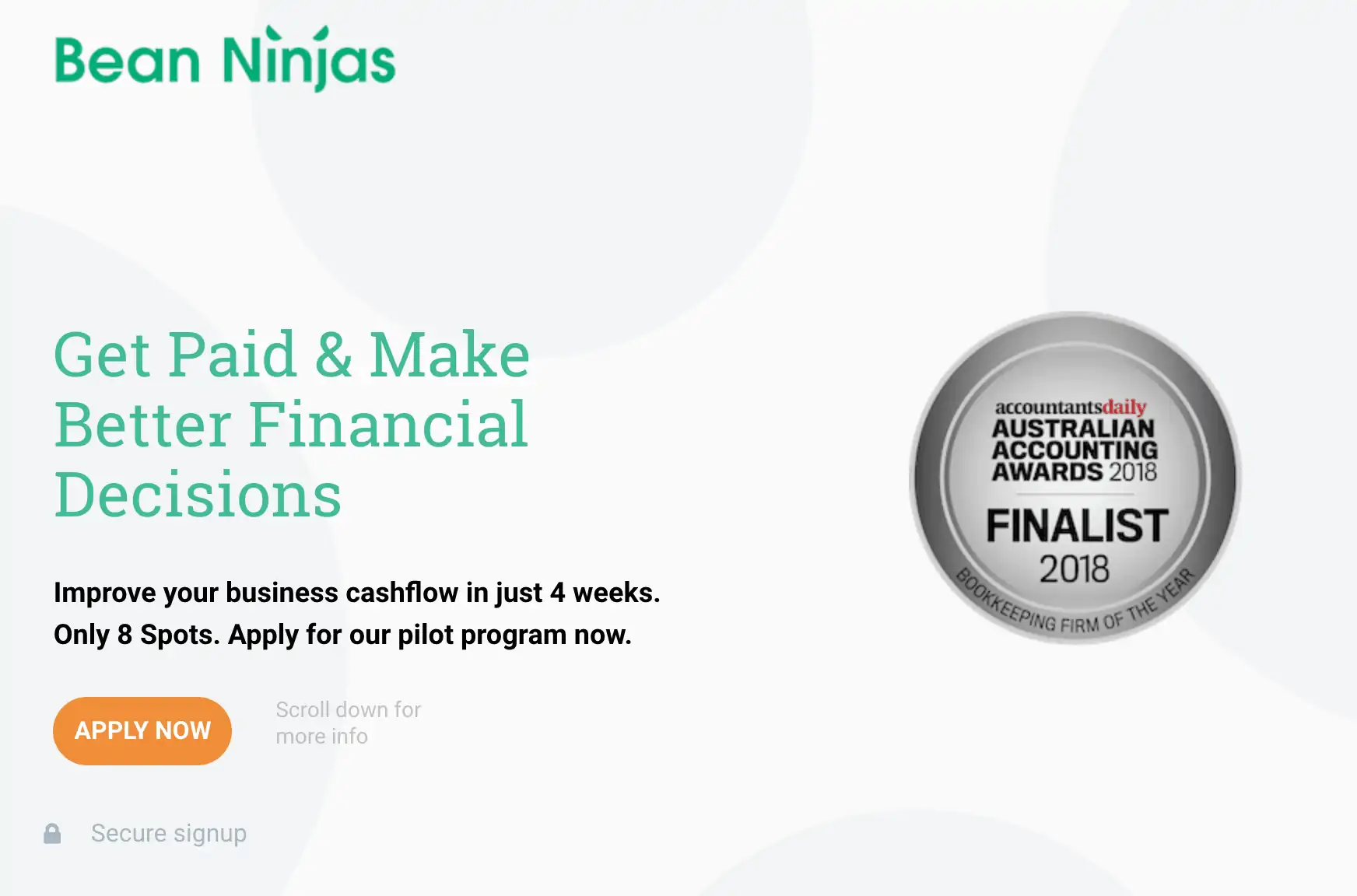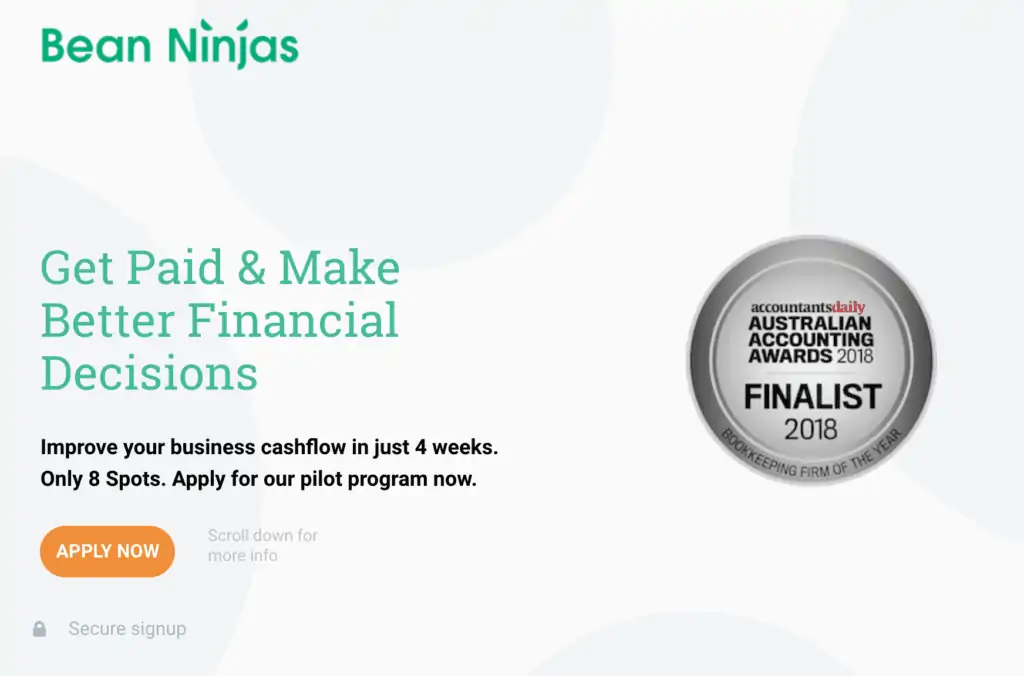 The program's focus is on helping small businesses to implement good accounting procedures around things like collecting payments from customers, paying bills and running financial reports.
The ideal customers for this course are:
Services and E-Commerce business owners who want to learn how to do their own Xero bookkeeping and reporting,

Virtual assistants and office managers who are working at a small business and have taken on some form of bookkeeping role within the business, but they haven't had sufficient training on Xero.
Meryl Johnston would lead the launch of this product.
Product #2: A "Virtual CFO" cashflow forecasting and monthly advisory service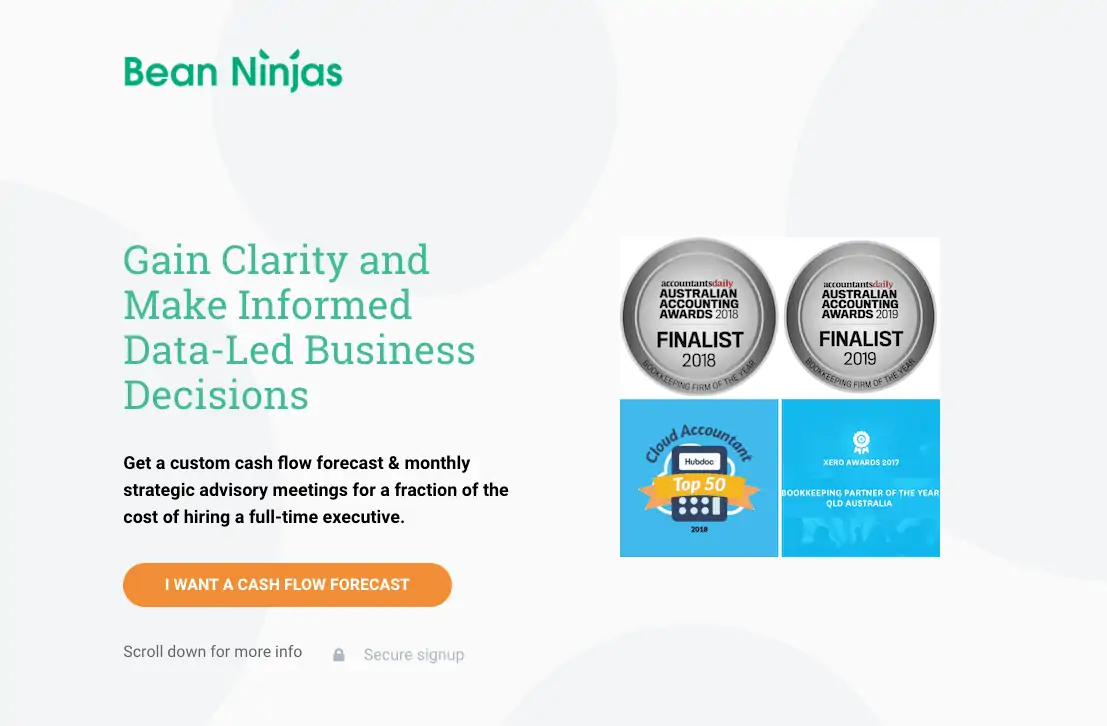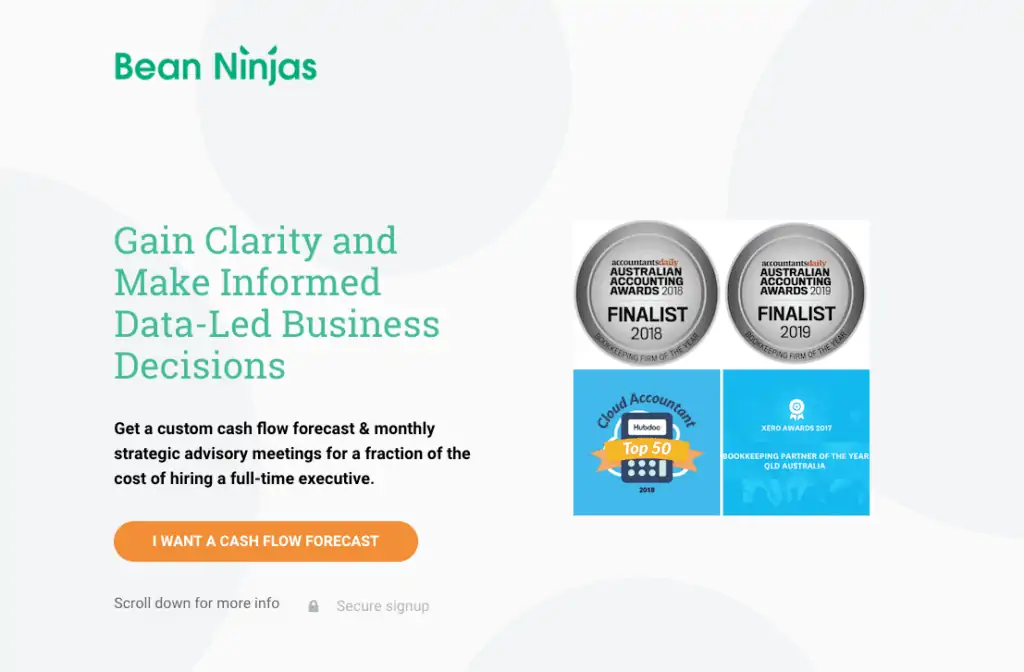 The aim here was to develop and release an extension to our core bookkeeping service offering virtual CFO-style cashflow forecasting and advisory services.
The productized service is intended for more established business owners that want to move beyond historical accounting and bookkeeping, to utilizing a custom cash flow forecast and monthly advisory.
This would ensure that their business is
on the right track each month to hit their targets, and

prepared for new opportunities and/or unplanned events that may have a significant impact on the financial success of the business.  
Bean Ninjas Partner and Head of Global Operations Wayne Richard would take the lead on launching this productized service.
What were our goals for each product launch?
For the Xero Course, we were aiming for 10 students to sign up for the beta pilot.
For the vCFO/cashflow forecast offering, it was more of a test to better understand what our clients might want in terms of forecasting for their business.
Here's what Wayne had to say about this:
"Really, for me, it was about understanding if there was a need in our client base for an additional service offering that moved beyond the basic compliance and traditional bookkeeping services that we were offering before. Due to the maturity that I had sensed within our client base, I thought now is a great time to introduce and launch a new offering that would begin to focus on greater insights through reporting."
How we executed each new product launch
1. Launch Planning
The 7 Day Startup methodology, created by serial entrepreneur (and our awesome client) Dan Norris, has helped thousands of entrepreneurs launch their products and make decisions based on real information from real customers in order to build their businesses.
Dan's methodology challenges conventional startup thinking, and as a result, many have gone on to build multiple 6 figures in the months since.
Deciding to take this product launch approach required convincing our team that it made sense to do so. There were some real risks that needed to be considered.  
"My view is that if we could create a whole business in 7 days then why couldn't we create a product in 7 days. Is there a trade-off between speed and quality? Some of the things that slowed us down were 1. having a business to run 2. having an established brand built on quality and trust and not wanting to do anything to detract from the brand. I kept pushing to make the product offering smaller. Eg. Instead of a whole course, I should do an element of it so we could launch. Instead of trying to offer all advisory service we should focus on a cash-flow forecast and learn from delivering that and selling that and then expand."  – Meryl Johnson
We're glad that despite challenging his comfort zone, Wayne could see the merit of the approach and agreed to move forward with it.
Here's are the steps of the 7-day Startup Methodology: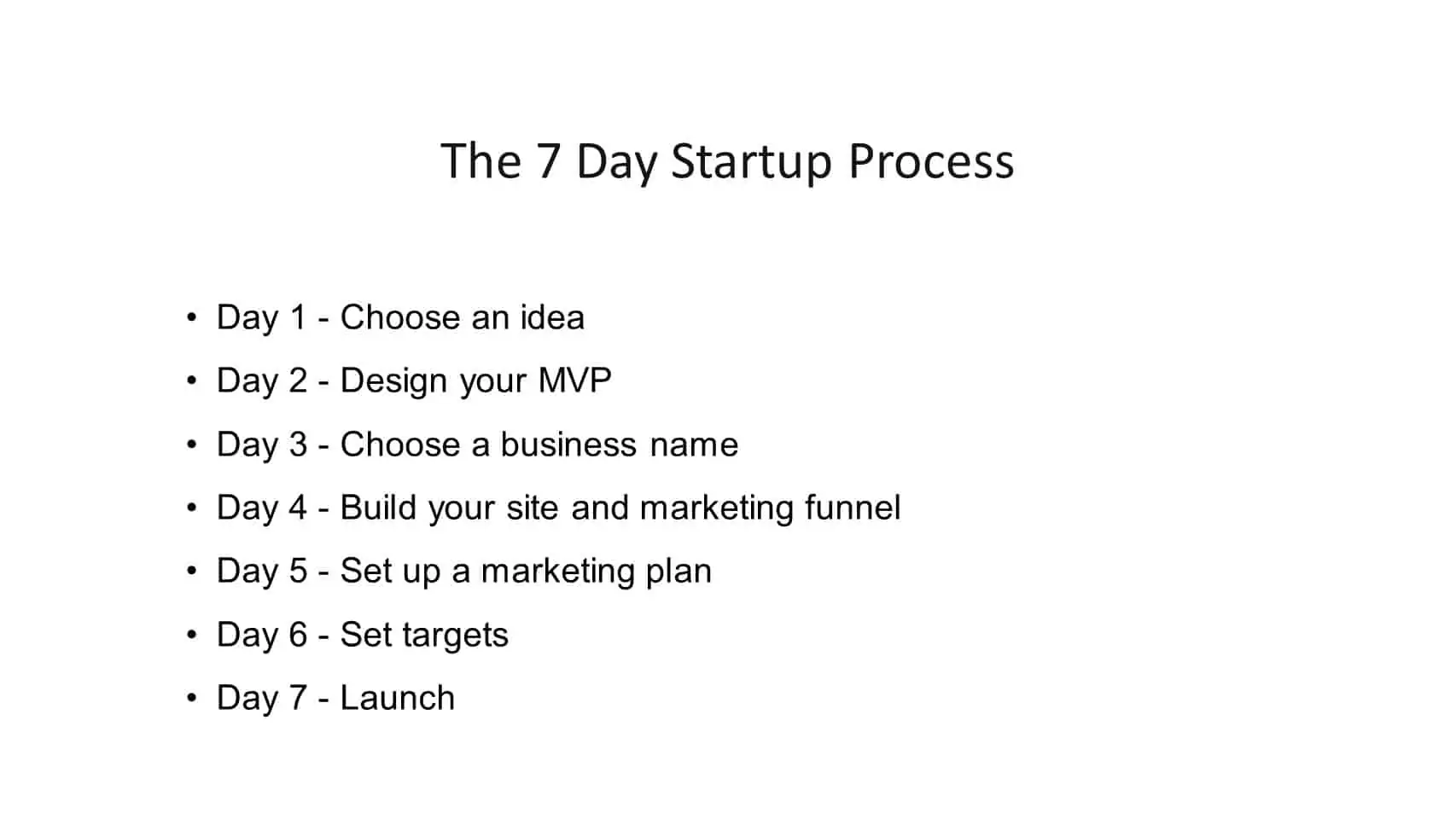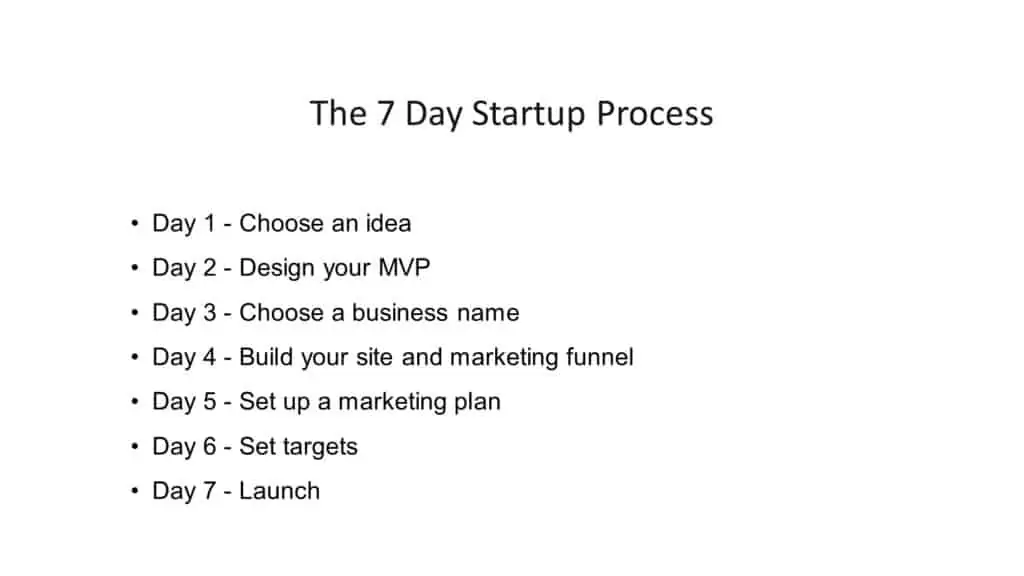 (image source: slideplayer.com)
Related podcast: The 7 Day Launch
2. Launch Marketing
Applying a typical bootstrapped startup mentality, we wanted our marketing efforts to be lean and we didn't put a lot of budget behind the two launches.
So our promotion strategy consisted of:
Creating surveys that we would use to gauge interest in each product and learn more about what people wanted help with

Creating imperfect landing pages for each product (according to 7-day startup methodology, this needs to be done within a day and put in front of your target audience quickly to get feedback)

Promoting content through our social media channels (Linkedin, Facebook, Youtube), and posting on FB groups we were members of

Sharing with members of our individual online mastermind groups/communities

Emailing our database

Sending direct messages to specific individuals who we felt would make ideal buyers for these products

Recording and publishing a 5-part weekly 'work in progress" podcast series that would let our community know what we were up to

Collecting feedback and testimonials/case studies that could be used to improve each product and promote the products post-launch.
Our marketing coordinator Anfernee Chansamooth worked with Meryl and Wayne individually to:
Map out the content strategy for each launch

Plan, create and distribute the surveys

Design, create and revise the landing pages

Design, create and promote valuable tools and resources (lead magnets) that would be used to generate interest and leads

Create content and messaging that would be used to communicate our launch  

Create/revise email nurture series to invite new (and existing) subscribers to be a part of the launch and get early access to launch discounts on each product
We decided to create a 5-day "Tidy Up Your Xero Challenge" which we posted on Linkedin, Facebook, and Youtube to promote the Xero course. Here's one of the videos.
3. Documenting and Sharing Our Launches (Whilst it was still  happening)
An important part of this process for us was public accountability.
We also wanted this to be a great learning experience for everyone involved – our team,  clients and our broader community.
Which is why we recorded 5 "work in progress" podcast episodes whilst the launches were happening.
The process of documenting and sharing our progress through a series of  "working in public" podcast episodes allowed our audience to go behind the scenes of each launch, and learn more about what we were creating as well.
Public accountability really made us push through to make sure that everything that's related to the launch was progressing well.
We basically wanted to add visibility and clarity to what we were doing, and by doing so, we added up to the motivation to do things right.
We stepped forward with positive results pretty soon after each launch due to our dedication to the public accountability idea.
In short: the outcome of working in public was pretty amazing, and we'd encourage other business owners to consider doing something like this for their own product launches.
Listen to the first of the 5-part podcast series here.
Want to launch a new product within 7 days? Here's the break down of how we did it.
Click To Tweet
Results from our 2 new product launches
What were the results from the Xero cashflow course launch?
We aimed for 10 sales and sold 12.

2 of those students have also signed up for our cash flow forecasting/advisory service
As for the vCFO/cashflow forecasting service, whilst there weren't any  hard number targets, here's what we achieved:
Generated $2,000 of monthly recurring revenue through this new service offering.

We sent out an offer of a free dashboard to 40 existing clients and ended up with 7 beta testers. Folks who are willing to work alongside us in helping develop the service, and share open and honest feedback along the way.

Another 3 proposals that are waiting on signatures.
We definitely consider these successful launches.
We also received some fantastic testimonials after delivering the pilot round of our Xero course. Like this one:
For Wayne Richard, an additional benefit is the opportunity to work closely with a small group of Bean Ninjas clients to develop a great product and better messaging around it.  
"So at the end of the day, there may be an opportunity to have 10 of our current clients sign on. I feel like this helps us better identify the marketing (for future product launch) because it is a move in the industry in regards to where things are headed. "
The biggest win from this experience has been gaining valuable insights about product launches which you can read below.
We recently launched 2 new products. Here are 8 key lessons from our experience for your next launch.
Click To Tweet
Key lessons from our new product launches
Here are some key takeaways from our product launch experience.
1.  You don't learn until you launch.
Often business owners can get stuck in one of these scenarios:
Spending a lot of time and energy on creating something that nobody buys.

Trying to launch something too big too soon, and getting overwhelmed. Then failing to launch anything at all.
When Meryl was asked how she might do this launch differently, she replied with:  
"I would do it sooner than almost 4 years into the business."
Everyone involved gained great feedback and experience throughout this process. We would never have arrived at these insights if we hadn't even started.
Tip: Set a launch date, and then make it happen.
"Setting a launch date forced us to complete the project."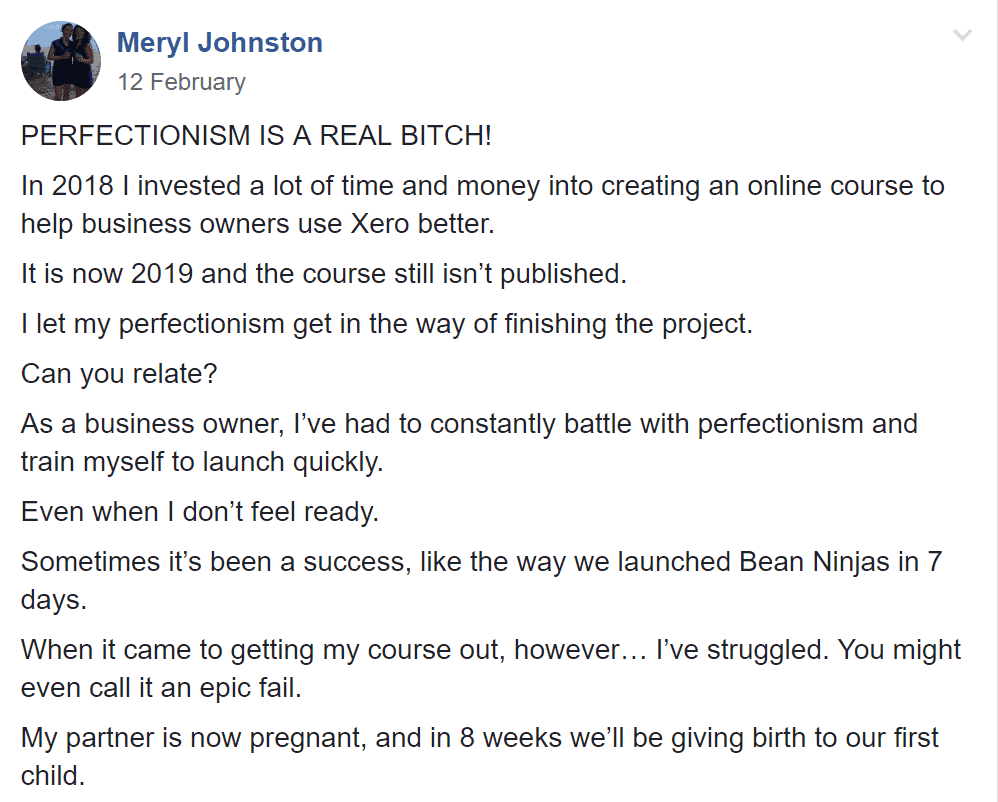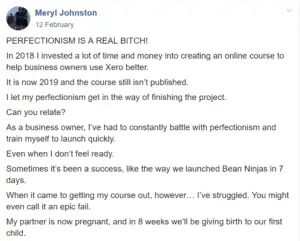 2. Find an actual problem to solve.
The only way to do this is by talking to customers, rather than guessing and missing the mark i.e. selling a product or service that nobody wants.
"I did learn an unexpected benefit was also the feedback that we received from those interested in the free offer. We sent out almost 80 emails, we had almost 40 of our customers that were interested in the dashboard. Once it was ready only about 20 scheduled in a call to review it, and then of that, seven committed to and purchased. " – Wayne Richard
3. Test, test, and test again until you get it right.
This goes for landing pages, product descriptions, social media posts, understanding which buyer is best for which product, and so on.
Interestingly enough, our 5-day Xero challenge did not result in any direct buyers, but posting on Linkedin and tagging someone we thought would be a good fit did lead to a sale.
Having a launch date makes it easier to plan a marketing campaign around launching

As a recurring service, we haven't really done launches it has been more of an ongoing marketing effort. Launches really help to create focus
4. You don't need a big budget to launch.
A beta launch is ideal for this.
5. Build relationships long before you launch.
Your first buyers will typically be people who already know, like and trust you i.e. that you've built relationships with.
They're the folks who will be willing to take a punt on whatever it is you're creating and be a part of your journey.
As Wayne shared,
"So an unexpected result was really, for me, identifying that most people that did take a chance or did buy into this service, were people that we have deep relationships with. They already see us as a trusted partner in their business."
6. It's not (just) about the money.
Focus on getting results, and fulfilling an actual desire in the marketplace.
There's a real distinction between "need"  and "want".
We learned quickly throughout this process that sometimes the thing you think people need is actually not the thing that they actually want.
So whilst we did make money throughout this process, we also benefited in other ways.
The advantage of doing a beta launch is the ability to get testimonials, which serve as social proof that what you're selling actually produced benefits for past buyers and will do the same for future buyers.
7. Schedule time.
You need to schedule adequate time for planning, preparation, promoting, delivering the product/service, and collecting feedback. And reiterating on everything.
This is extremely important when you still have your core business to run and existing clients to keep happy. Your day to day operations doesn't stop just because you've got something new and exciting to work on.
In Meryl's words:
"I would make more of an effort to clear my schedule to make the launch process less stressful (we both found it difficult having our usual operational responsibilities and doing the course launch). I was ALSO busy making sure that all of my roles and responsibilities were handed over in preparation for me taking parental leave."
What about choosing two launches over one?
Well here's what Meryl had to say about that:
"Doing 2 launches at the same time put pressure on the business. That meant 2 lots of landing pages and launch strategies, content, etc. It helped us to be accountable to each other and share what we were learning, but 2 launches at the same time also had its challenges. It was tough getting through the workload of course creation, but having accountability and a deadline enabled it."
8. Do things that don't scale.
The success of these launches ultimately came down to one thing – doing things that don't scale.
Y-Combinator founder Paul Graham wrote a powerful blog post on this, where he shared:
"The most common unscalable thing founders have to do at the start is to recruit users manually. Nearly all startups have to. You can't wait for users to come to you. You have to go out and get them."
For us, this applied to both the process of finding buyers and delivering the products that we were selling.
Here are some of the unscalable things that Meryl did as part of this process:
Aimed to speak to every course participant on a call before the course so she could get a sense of their existing accounting knowledge and confirm what they wanted to get out of the course

Did some one-off calls outside of the schedule to add value where students couldn't make the group call time. She wouldn't usually go off schedule, but Meryl really wanted the first batch to have a great experience

Asked if there were any topics the students wanted to be covered and created content around that.
"I learned so much from talking to customers about why they would / wouldn't buy the product. We used this in (multiple) iterations of the landing pages." – Meryl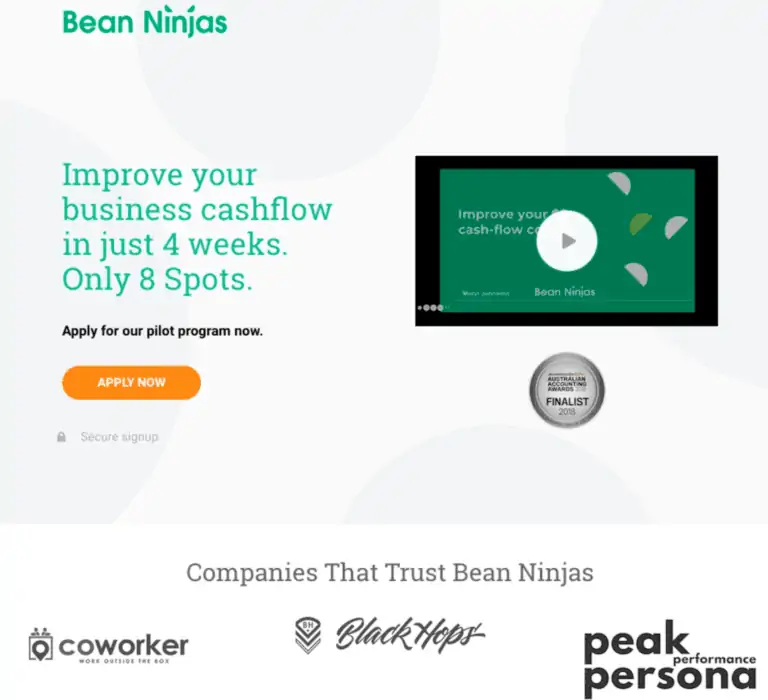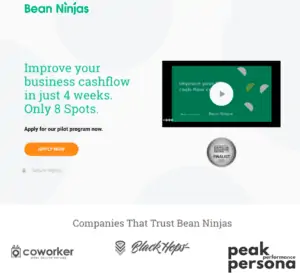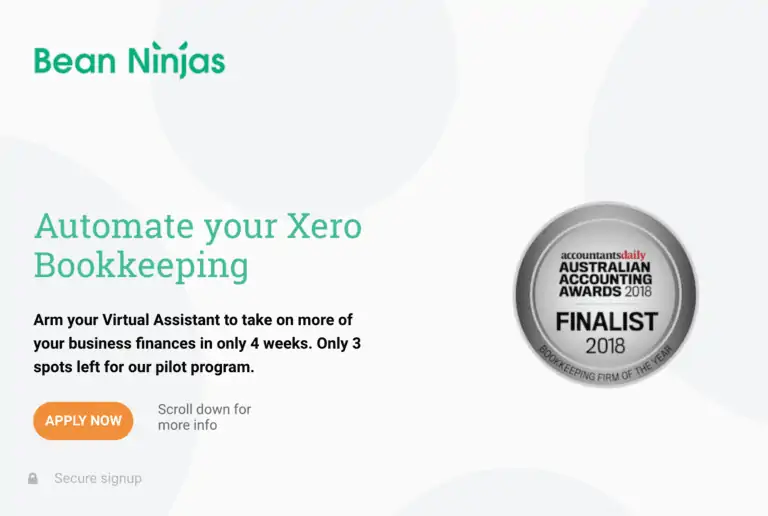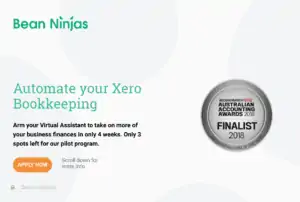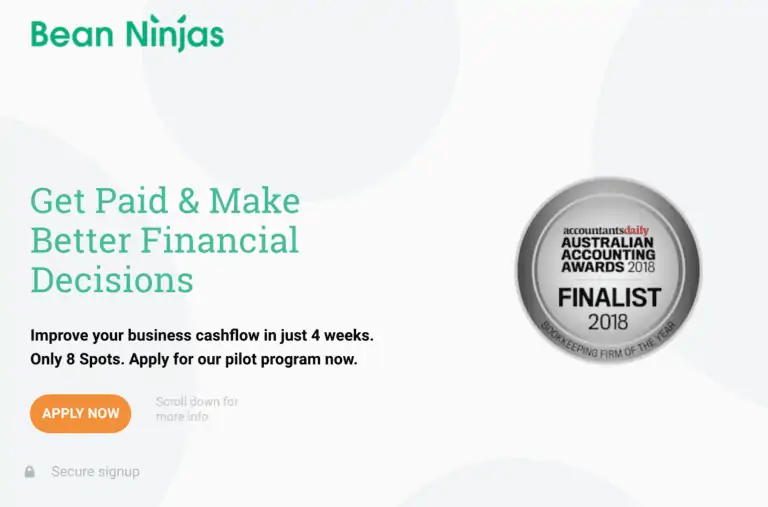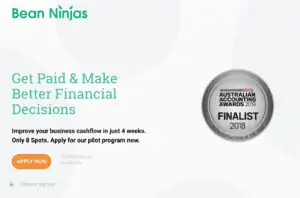 Wayne went through a similar process with the virtual CFO product.
9. Get accountable
Holding yourself accountable is critical for anything to be a success.
Whether you choose to go down the route of public accountability like we did, or simply having an ongoing accountability buddy (like Meryl and Wayne were for each other), we definitely advocate that you get support to stay accountable to finishing what you set out to do.
"It was tough getting through the workload of course creation, but having accountability and a deadline enabled it." – Meryl
Going beyond the launches – what we're doing next
The plan was to learn from our first iteration and then launch again.
We are doing a 2nd launch with the Xero course in coming months with a few tweaks:
We've renamed it to "Financial Literacy Training for Xero Users

" after feedback from our pilot round students that what they really wanted was to better understand financial concepts and how to implement using Xero.

We've partnered with Thinkific to deliver it on their popular e-learning platform.

We're also re-recording the content videos with better production quality, and

We're extending the program to a 12-week delivery. We learned from our beta that 4 weeks was clearly not enough time for students to both learn new concepts and apply them in their businesses.
A course has a clear start date and lends itself to launches.
As for the vCFO service, we have already done a 2nd launch of the cashflow forecast and advisory program to our existing clients.
We wanted to practice our delivery, gather more feedback, and refine it before we offer it to all clients.
Avoid making costly mistakes with your next product launch. Here are 9 key lessons from our new product launches.
Click To Tweet
Now over to you…
The key to a successful launch is to put together a game plan (or follow the one outlined with the 7-day startup methodology), setting a launch date, getting accountable, and going for it.