On June 1st, 2013, Bean Ninjas client Dan Norris launched WP Curve – a 24 hour service that provides unlimited live access (for 30-minutes) to a WordPress developer for $79 (it was $59 at launch).
18 months later, WP Curve became a million dollar productized service business.
As of July 2016, WP Curve is a business with:
44,000+ jobs completed since Jun 2013

39 team members in 8 countries, operating 24/7 worldwide

4,000+ jobs completed in this month

1,000+ current active customers

2 Co-founders (Dan Norris and Alex McClafferty

)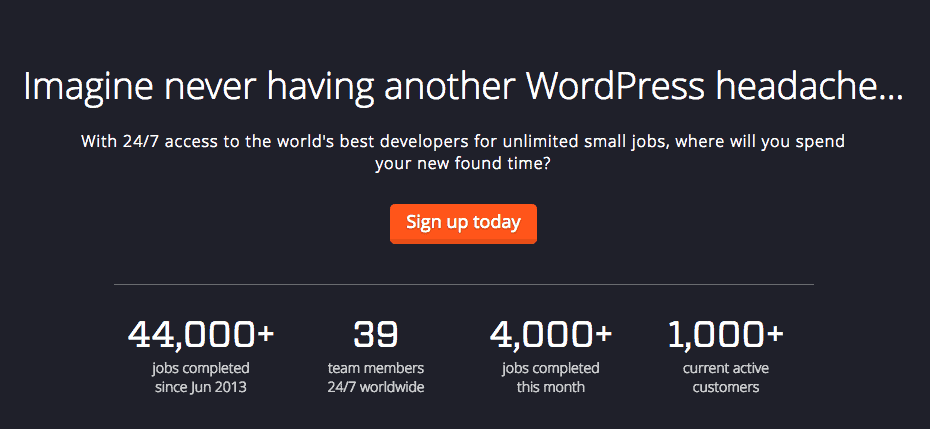 Dan, like many clever entrepreneurs, has multiple income streams:
WP Curve

Black Hops Brewery – described on their website as "3 guys making Gold Coast craft beer and sharing everything we learn along the way."

7 Day Startup – Entrepreneurship community. This is a paid membership group.

Multiple Amazon published books – Dan gets paid by international publishers and translation companies (in addition to book sales).
So how did he get here?
Dan's first business was building websites for people.
In his book "The 7 Day Startup: You Don't Learn Until You Launch", Dan shared:
"After seven years in business he was turning over about $180,000 per year, but was still only making around $40,000 per year. I had never got even close to my honeymoon goal of a $100,000 salary."
Dan then launched his first startup – an analytics dashboard that simplified analytics from various places.
On July 1, 2013, Dan shared the following on the WP Curve June monthly report:
He sold his web design business 12 months prior, a business that he'd been running for 6 years, to focus on building a "more stable, scalable, fun business" called 

Informly

.

He'd been releasing monthly reports on the Informly blog for 6 months or so going through his progress.
Dan struggled with a lot of chopping and changing, not enough paying customers and many other things but he had fun.

 

Dan gave himself a year to make it happen and after 11 months he decided to make a pretty big change.
In the same report Dan also shared a key decision:
"…it became pretty obvious to me that I wasn't going to hit my income targets any time soon (although I am happy with how Informly is now going). 

Without going into all of the painful details, I decided to launch a new service WP Curve that gives founders live access to a WordPress developer for maintenance and tweaks 24 hours a day for $59. I will be running this as well as Informly from now on."
What was remarkable about this decision was that Dan was forced into a position where he literally had no choice but to make it work.
As explained in "The 7 Day Startup: You Don't Learn Until You Launch":
"After eleven months of trying everything, I was earning just $476 in recurring monthly revenue and spending $2,000+ a month. I had burned through all the money I made on the first business and was two weeks away from running out."
Focus on what's actually important for starting a business
For Dan, having no choice but to succeed was a major motivation.
"With two weeks left I had one last crack. This would be my final startup attempt."
This intense time pressure led to Dan gaining a valuable insight into how to validate a new business idea, and this became the key premise for his book "The 7 Day Startup: You Don't Learn Until You Launch":
You don't learn until you launch
"Running mainly on adrenaline, I ignored a lot of the activities I would typically spend time on when planning a business. Instead, I focused only on things that would lead to paying customers."
In the first week, WP Curve signed up 10 customers. That resulted in $476 of recurring monthly revenue, which was the exact amount Dan had worked up to during the previous twelve months with Informly.
So why WordPress?
Dan explains, "WordPress issues are an annoying problem that people are prepared to pay for. It was a monthly recurring service in a big market that I knew could scale into something significant."
How did WP Curve grow?
WP Curve has not used paid advertising. It's growth was driven through content marketing, word of mouth and press.
"Each month we grew by around 15% because people started proactively spreading the word. After 13 months we had 475 customers and were making over $33,000 in monthly recurring revenue (MRR). Just as important for me, I had blown past my $100,000 annual wage.

I built my business off the back of content marketing. I wrote 250 posts in the first year, 13 in one day. Our content is now a lead generation machine to the point where we don't advertise at all."
Incidentally, Dan's second book was "Content Machine: Use Content Marketing To Build A 7-Figure Business With Zero Advertising".
We highly recommend you check it out and implement the strategies outlined in the book if you too want to grow your business without paid advertising.
So can anyone really launch a successful startup in just 7 days?
Dan shared the following during his interview on the Get Paid Podcast:
"I spent years creating content and building a reputation so when I did launch I had a bit of an audience. People find out when I'm launching something now because I have a following.

If you're completely starting out from scratch, I think you're better launching something and putting it up, making sure you've got the idea as executed as efficiently and as well as you can, and then your goal is to get customers. If you can't get customers then your goal is to get free work in return for testimonials.

Following that path is going got be a much faster way of getting got core problems and getting the proof you need to convince people to hand over their money."

If you've got no audience and no network then your only other option is marketing. The most effective form of marketing is doing what you're going to do because that's going to get you real data and that's going to get you referrals."
If you can't get customers then your goal is to get free work in return for testimonials.
Click To Tweet
Dan Norris' 4 Key Insights For Launching and Growing A Successful Startup Business
1. Get clear on your own strengths and weaknesses
"Be honest with yourself. If idea, execution, or hustle are not you, then find a co-founder who excels in those areas. You will need it if you want to have a successful startup."
Be honest with yourself. If idea, execution, or hustle are not you, then find a co-founder.
Click To Tweet
2. Content is impossible to measure
A major challenge for content marketers is knowing precisely which content, shared on which platform, led to an individual or company becoming a paying customer.
This is usually because it takes on average 10 touch points with a company or brand before a person purchases a product or service from them. (Google did extensive research on this and coined it the "Zero Moment of Truth".)
Therefore it's important to be consistent with your content and for you to be doing what you're good at.
Dan shares, "What really worked for me is doing really long actionable blog posts. We had a podcast which were good for some things but not so good for lead generation. WP Curve has a very small social media presence."
He had found what his audience wanted.
So you'll need to get really good about what your audience wants too in order to become successful.
3. Focus on the right information
Dan suggests that for new entrepreneurs it's better to forget metrics and conversion rates.
"You want information coming into you as a result of asking [your potential customers] "can you solve this problem for them"? Once you get closer to working in the problem space that's the real data [that matters]".
The only real data that matters is related to solving your clients' problems.
Click To Tweet
4. Spend your money wisely

Dan suggests that in the first two years of your business you should avoid any kind of paid advertising.
"You will almost certainly be wasting your money. It's too hard to know the real numbers in a business until it's established and you have less data and therefore it's much harder for you to compete with larger advertisers."
How has Bean Ninjas helped Dan's business?
"I've been using Xero since well before it was cool and I still had no clue about half the stuff Bean Ninjas found in my Xero Account. I dislike accounting a lot. It's much better these days with Xero but still it's not a job I want to do and you guys are great at it so it's a no-brainer really. If I was recommending you to a friend I'd say as soon as you know you have a real business, start to delegate everything you possibly can, so you can focus on growth. Delegating book keeping should be one of the first things and most accountants suck so Bean Ninjas is an easy choice. "
Thanks Dan! We're glad that we can continue to find ways to save you time and money on your bookkeeping and help your business grow!
What's next for Dan?
Dan has recently launched Black Hops brewery, a local business based in the sunny Gold Coast of Queensland Australia, using the same techniques that were used to launch and grow WP Curve. The team ran a successful crowdfunding campaign for Operation Brewery, a book about the journey, as part of the launch.
Dan also has a new book called Create or Hate coming out soon, and then he plans to take a break from books for a while as he works out what's next.
Dan continues to support startup entrepreneurs in his 7 Day Startup community.
This case study is largely based on Dan's book "The 7 Day Startup: You Don't Learn Until You Launch". Make sure you check it out as we can't recommend it highly enough!
To see how Bean Ninjas can save you time, money and headaches with your bookkeeping refer here.