As your company grows, you'll find yourself tackling problems that are further and further away from your core skillsets, which could be great outsource tasks. These tasks take you away from your core skillset, and require you to spend precious time learning new skills that only apply to limited functions, such as bookkeeping or tax preparation.
These are necessary functions, but unless you a bookkeeper or accountant, it's not your forte and certainly takes you away from things that you can do to grow the business.
Pro Tip: BPO is an acronym that stands for business process outsourcing. 
It's important to outsource tasks like these to vendors who can manage the work efficiently, inexpensively, and without the stress and hassle of doing it yourself. In many cases, it's smarter to outsource to a BPO, vendor, consultant or freelancer rather than hire new staff.
It's often smarter to outsource to a vendor, consultant or freelancer than hire new staff.
Click To Tweet
Truthfully, you can't avoid business process outsourcing. It's unrealistic to manage everything in-house.
"Every business uses outsourced services," says business strategist Michael Evans. "Many businesses don't deliver products directly to the customer or do their own audits or taxes, or self-insure the business. They outsource those functions that are not strategic but which must be performed to manage the business operations."
In this post, we'll talk about the key BPO functions you can – and should – outsource to third-party providers. If you feel burdened by any of these categories, start researching potential providers right away.
Keep in mind that while outsourcing is necessary and efficient, you should never outsource your core business functions, even if you see them on this list. That is, don't outsource the things you're good at; the things that make you special. Instead, outsource the functions you find stressful, tedious or too expensive to handle in-house.
[content_upgrade cu_id="2949″]Ready to dive into outsourcing but don't know where to start? Use this free process to determine which tasks you should outsource.[content_upgrade_button]Click Here[/content_upgrade_button][/content_upgrade]
1. Legal Services
Legal services are usually one of the first functions that businesses outsource. You've probably hired a lawyer at some point yourself.
In-house lawyers are expensive. Even inexperienced attorneys require substantial salaries to compensate them for their years of schooling and their law license.
An in-house attorney would cost you about $64,000/year at the minimum. If you need one with a little experience, you're looking at spending $175,000-$200,000/year.
Most businesses can't afford those types of salaries, so you don't have any choice except to outsource.
"What many executives fail to realize is that hiring in-house counsel only makes financial and logistical sense if you have a certain volume and type of legal work," recommends Upcounsel.
Fortunately, there are several ways to purchase legal services. You could…
Retain a lawyer for all of your needs.
Purchase legal documents from a vendor like LegalZoom or Rocket Lawyer.
2. Administrative Tasks/ 

Virtual Assistant
A survey from AtTask and Harris Poll discovered that employees spend 40% of their day performing administrative tasks. That means you spend a large portion of your day performing repetitive tasks that are relatively easy to train and outsource to someone else.
It is smart to farm these tasks out to an outsourcer who charges less for their time than you charge for yours.
We've said that you shouldn't outsource your core business functions (the things you do well), but you can outsource pieces of your core functions. You just have to build processes and systems for the outsourcer to support you well.
For example, let's say you're a web developer. You need certain information and assets from your client before you start to code a new website. You need things like their logo, their preferred colors, and web page content all in one place so you don't have to hunt for it while you create.
Even though web development is your core function, you could task a virtual assistant to collect and inventory these items. He/she could put everything just where you like it so you can work efficiently.
Rather than hire a part-time administrative assistant, outsource your admin functions to a virtual assistant agency. This will save money and guarantee that your work is always completed.
Here are some administrative tasks you could off-load to an outsourcer:
Research and data collection
Surveying, polling, and focus group testing
Document management and organization
Calendar management and organization
Travel arrangements
Customer service emails
Compiling reports
Transcribing audio or video
Taking and preparing meeting notes/minutes
Personal errands (so you can spend more time working)
Social media posting/management
Editing/proofreading
(Here's another big list of tasks you could outsource for inspiration.)
3. Bookkeeping / Financial Management
It's far smarter to keep your accounts organized than try to catch up at the end of the year. If you don't watch your finances, you're likely to make expensive mistakes (fees and interest) and suffer a miserable tax season.
With cloud-based accounting software like Xero, working with a bookkeeper is easier than ever. You send your bookkeeper the data they need to organize your accounts and they send back whatever reports you like.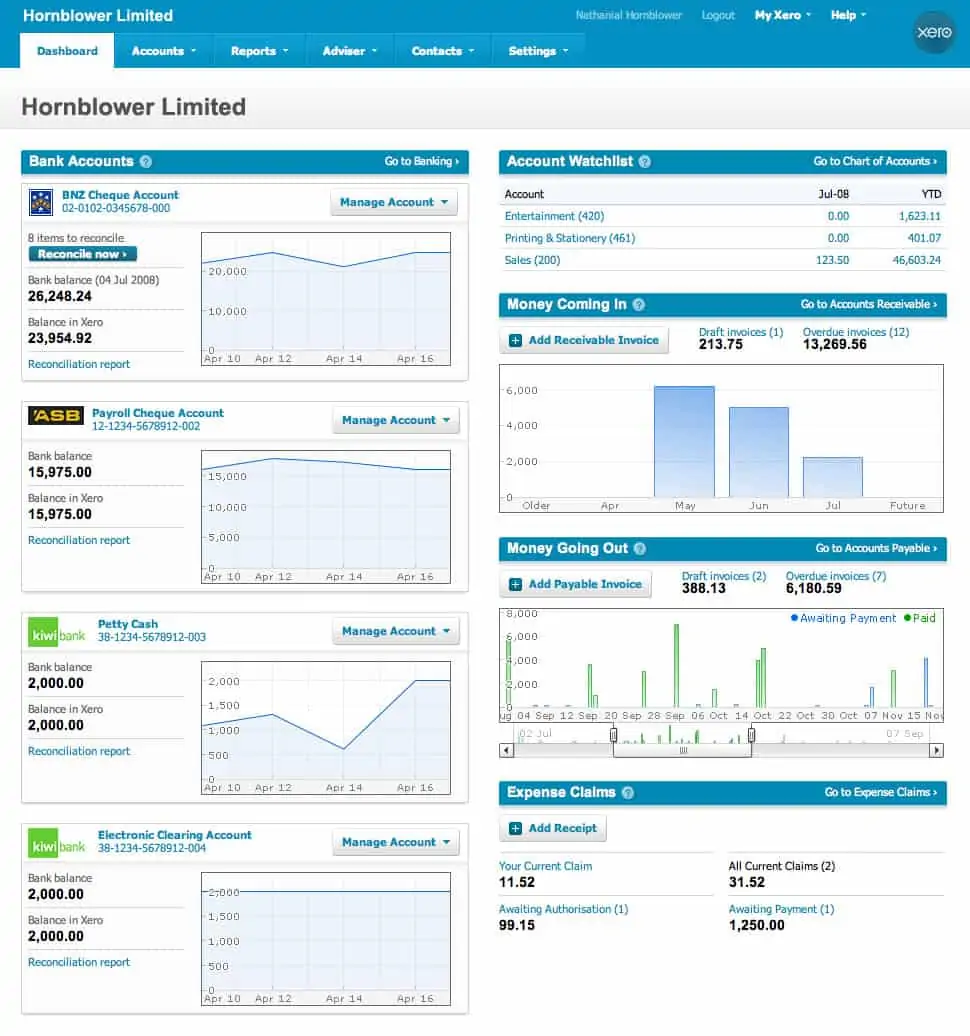 They're also a useful resource when you have specific financial questions based on your circumstance. It never hurts to have a financial expert on your team.
Quality bookkeepers eliminate all the hassle in your life in regards to taxes, too. When it comes time to square up with the government, simply give your accountant access to your accounting tool (that's been kept organized and accurate by your bookkeeper) for stress-free tax returns.
4. Marketing / Lead Generation
Marketing presents a unique challenge for small businesses. It's easy to market yourself when you're slow, but once business picks up, you tend to neglect marketing. When business inevitably slows down, you have to scramble to find work.
You can eliminate this "feast or famine" problem by outsourcing your marketing to someone else so a steady stream of leads and sales flow into your business.
That said, we don't recommend outsourcing your marketing completely.
Marketing is how you grow your business, so you shouldn't put it in someone else's hands entirely. It's important to play at least a high-level role in your marketing strategy.
You could delegate pieces of your marketing program to outsourcers and expand over time, or you could play a hybrid role indefinitely. There are plenty of sub-disciplines to marketing to choose from.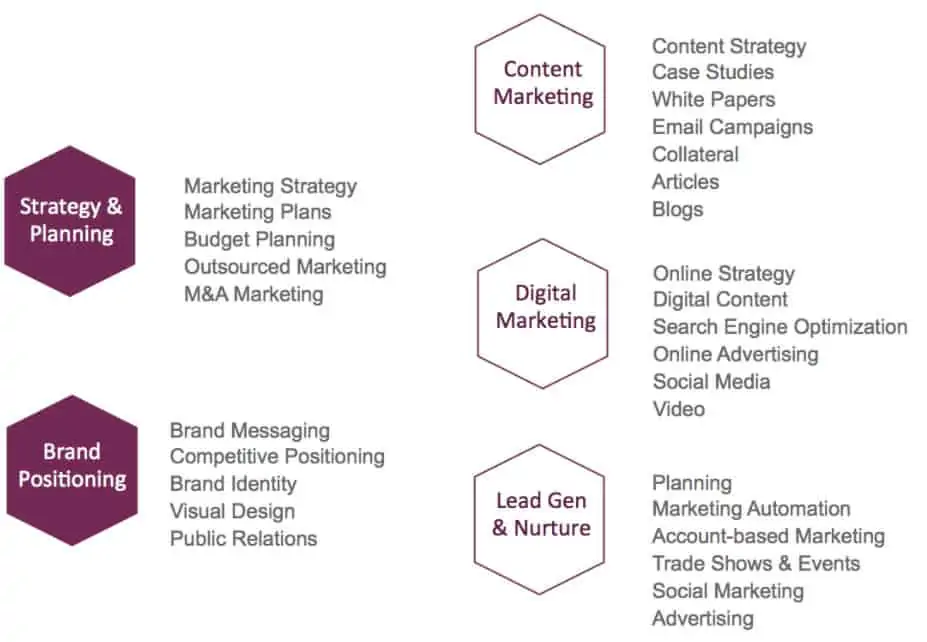 Image: clarityqst.com
For instance, you might prefer to write articles for your website rather than outsource to a content marketing agency, but you know you don't have the skills to create and optimize Facebook ads. In this case, you just have to find the right outsourcer who's willing to coordinate their paid advertising strategy with your content.
If you prefer to manage your own marketing, use freelancers or consultants to handle the bulk of the work. You'll still have to oversee their projects, but you won't be involved in the day-to-day.
5. Technology / IT Services
Whether you're technically savvy or a non-technical person, it's usually easier to let someone else worry about your technology needs.
Many technical tasks come with a steep learning curve. It's not worth your time to learn how to code an app, migrate to the cloud, implement two-factor authorization for your data, or optimize your site for conversions. The opportunity cost for you to handle your own IT tasks is probably more expensive than paying someone else to do it.
For example, you could manage your own website. A lot of people do. But do you know how to move files around your host? Set up strong cybersecurity? Backup your site? What happens if you need to change domains or migrate to a new host?
Those tasks are certainly doable, but they'll cost you an enormous amount of time. Better to use a firm like WP Engine or SiteGround who manage your entire website. Yes, you'll pay slightly more than typical web hosting fees, but you'll actually save money in regained time.
Before you outsource a particular IT task to a developer or agency, however, check for a software-as-a-service solution that meets your needs. There's likely a tool, integration, app or interface that will solve your problem for a low monthly fee – far cheaper than hiring someone in-house.
6. Human Resources
Human resource tasks have the potential to take up a lot of your time, especially as your team grows. Every time you hire a new person for your staff, your human resource obligations grow proportionally.
Plus, mishandling your human resources (like firing inappropriately, failing to pay properly, hiring a poor employee, etc.) can cost money, create headaches with your labor department, and even force you into a lawsuit.
Depending on your needs, you might outsource human resources to one comprehensive provider or several small ones. For instance, you might use a recruiter to find talent, a payroll company to process your team's compensation, and a PEO to manage their benefits.
It also helps to have access to an attorney who specializes in employment law in your area. This way you can seek advice before you deal with any sensitive situations.
[content_upgrade cu_id="2949″]Download this free process to identify your business functions that deserve to be outsourced.[content_upgrade_button]Click Here[/content_upgrade_button][/content_upgrade]
Start with Your BPO Challenges
If you want to outsource one or several of your business functions to save some money and build more time into your day, start with your biggest challenges.
Which tasks take up too much time or cause too much stress in your life? Which functions can require skills or experience you don't have? Which functions are too costly to hire in-house? The answers to your questions are your starting points for outsourcing.
If you'd like to banish the hassle and expense of managing your own bookkeeping, click here to learn more about Bean Ninjas.
Last Updated – 4/13/20