Meryl was interested in content marketing and had begun building out a blog for Bean Ninjas, but she was not getting the results she wanted. She had tried a few different posts but was unsure what was effective.
Though she had some traction on a few of her posts, she was not publishing consistently and had a hard time choosing topics to write about.
As a busy founder with a growing business, she didn't want to sink all of her time into content when there were so many other pressing demands. She wanted help from guest writers but wasn't sure what to look for, how to direct them or what the scope of their work would be.
In this post, I'll discuss the work Meryl and I did together to solve this problem and start getting the results she wanted from her content marketing campaign.
The solution? A documented content marketing strategy
Meryl was in the same position as many marketers and entrepreneurs venturing into the world of content marketing. She lacked clarity and direction in her approach, and the results she was getting were underwhelming. She was missing a strong foundation to build her content on.
A documented content marketing strategy is this foundation. It clarifies your mission, your goals and the traits that uniquely define your content. It provides a framework for making decisions. As a written document, it stays consistent and helps keep you on track.
A "verbal" strategy that is never written can shift like sand dunes in the desert. It slowly changes depending on your passing whims and interests, and never stays consistent enough to get results. It also makes it difficult to communicate your strategy with others.
Many entrepreneurs who want to break into content marketing never take the time to setup the systems that will help them succeed. They create content sporadically with unfocused goals, which feels like a game of tug-of-war: a lot of effort, but little movement.
Take a look at these statistics from the B2B Content Marketing Benchmarks, Budgets, and Trends—North America showing the dramatic difference a content marketing strategy can make for your business.
"Last year, 35% of B2B marketers had a documented content strategy, 48% had a verbal-only strategy, and 14% had no strategy. A documented content marketing strategy impacts effectiveness:
53% of the most effective marketers have a documented content marketing strategy
40% of the least effective marketers have no strategy at all."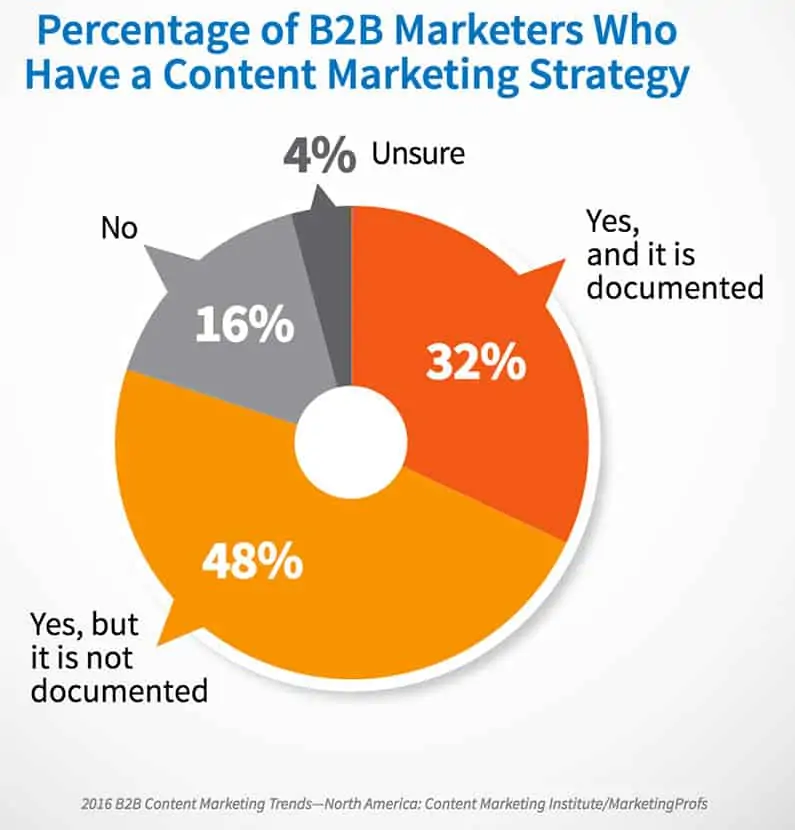 The case for a documented strategy
The last thing any entrepreneur with a growing business needs is more decisions to make. A documented content strategy allows you to make most of your key decisions only once.
A documented strategy creates a vision, theme and goal for your blog. With this focused strategy, each piece of content will contribute to these goals like a team of rowers in sync.
You can download the template we used to craft the Bean Ninjas content strategy at the bottom of the post!
.
It clarifies your target audience
For content marketing, you need to go beyond a single "pain point" strategy that many copywriters use for ads. A good strategy identifies 4 or 5 "core problems" that your ideal customers have and uses these core problems as the themes of what you discuss.
Identifying the core problems of your audience gives you a much better framework for adding value with your content and frees you from the dead-end trail of self-promotional posts, or talking endlessly about your own product or service.
A core problem should be broad enough that you can easily come up with a large amount of content ideas that focus on different facets of it, but specific enough that your ideal customers can feel an emotional response to the problem.
We started by examining defining qualities of our ideal customers.
They run an online business, typically a productized service, digital agency, SaaS, ecommerce store or personal brand.
They are making at least $100,000 in revenue.
They have a small team.
Their profit margins are wide enough to be willing pay for services to support their business and save time.
While creating the strategy, we discovered that our target audience for our blog is broader than our ideal customer base.
We wanted to reach businesses before they actually hit the point of being an ideal customer, but were on a trajectory of becoming one.
They want to build a team and maybe have their first few hires, but want help managing it.
We wanted to provide good information to accountants, who were not our customers at all but work parallel with our business.
This gave us more options for problems to target and relationships to develop. Since content marketing is a long-game strategy, we also understood that we could start serving businesses with our content in a much earlier stage of their growth than our ideal customers, and by the time they fit the profile, we would have a good deal of trust established.
It allows you to plan content
With your strategy defined, you'll be able to quickly come up with ideas that fit within the strategy and create a plan for publishing. You can create a list of ideas or outlines for content that fit within your strategy and have your content planned out weeks or even months in advance. You'll know how often you need to publish to hit your goals and thus will be able to predictably execute on a publishing schedule.
With the core problems listed, Meryl was able to quickly create a large list of content ideas and outlines. From here, she could plan content several weeks out, which significantly lowered the pressure that comes from trying to hit publishing goals without a plan.
.
It makes it easy to work with guest writers
Having it documented makes it easy to share all of those decisions with team members and guest writers, so everyone is on the same page. If someone comes forward with an idea for content, you can send them your strategy and they'll have a clear idea of what your expectations are and how to proceed. It also makes it easy for them to pick ideas for content that play to their strengths. This can save hours of back-and-forth between writers.
With the strategy documented and a newly created list of content ideas that were "up for grabs," Meryl was able to assemble a small team of writers. This allowed her the freedom to continue managing her team and her business while others were doing the legwork on the writing for her.
.
Key elements of a documented strategy
There's no universal content marketing strategy. It varies based on the goals of the business and needs of the audience, but there are some key elements to every strategy that need to be addressed.
.
Mission – what's your reason why?
Your content should have a mission and a purpose outside of "getting more customers for your business." There has to be a "reason why" guiding all of the decisions you make with your content. Your mission should be a vision of your blog once it reaches its full potential.
The Bean Ninjas mission is to help online businesses manage the key decisions to drive growth and scale their business. As a rapidly growing online business, Bean Ninjas faces key decisions like this every day.
While developing this section of the strategy, we realized that our target audience for the blog was broader than our ideal customer segment. Though we certainly will focus on providing the most valuable content to those who would be an ideal customer today, we understand that content marketing is a long term play. This mission compels us to create content for people who are in earlier stages of their business, and may grow to become an ideal customer in the future.
.
Types of content
We created some categories of content based around the "core problems" of our target audience. Each category attempts to tackle a different aspect of our target audience's daily challenges with their business.
Xero guides – These guides provide the most relevant information for our target audience in ways to use Xero more effectively.
Quarterly business growth report – Online business owners are always discussing different systems they have created to manage their business or how they solved certain problems. Bean Ninjas is no different; they release a quarterly growth report to share insights into what they have learned and the problems they solved, and give a behind-the-scenes look at what is happening. This helps to build trust with their customers.
Customer success stories – Sharing customer success stories on the blog helps to fortify relationships with current customers by giving them a spotlight, and gives new potential customers a look at who Bean Ninjas is currently working with.
Founder choices – As a rapidly growing startup, Bean Ninjas faces many decisions. Do you outsource this task or hire a new team member? Do we prioritize getting new customers or making our current ones happier.
To identify the core problems, we used a mix of data and Meryl's industry experience. Looking at Google Analytics, we found 1 low hanging fruit right away.
I looked at the last 60 days of traffic and noticed that organic search was driving the most traffic. Organic traffic is an excellent place to see what people are searching for when finding your blog.

But this data is not enough to make any decisions, so I drilled down by clicking Google / organic and then adding "landing page" as a secondary dimension.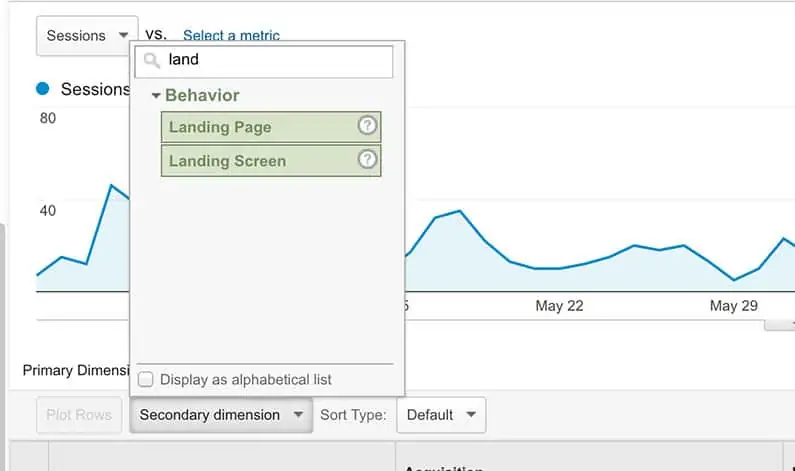 The 2 top posts (excluding the homepage) both mentioned Xero. Bean Ninjas specializes in Xero, and all their clients use that tool for their bookkeeping. Providing excellent guides for how small businesses can use Xero is a perfect problem to aim to solve.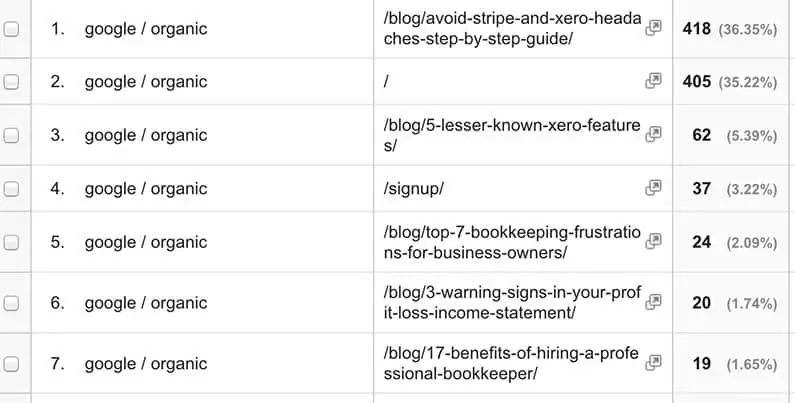 For more on using analytics to determine core problem areas for your customers, check out: How to base your content strategy around your customer's problem areas.
.
What makes you unique
To stand out in the increasingly noisy world of content marketing, you need to have an edge. There are a few ways you can differentiate yourself.
Quality – Aiming for higher quality and depth for your content.
The medium you use – A good way to stand out is to use a medium that has not already been saturated, whether it's video, written or audio published on Instagram, Vimeo or on a more niche social media channel.
Your voice – Your voice is how your personality comes through in your content. You can choose to be funny, motivational, analytical and data driven, political, etc.
Perspective – A unique perspective driven by your personal experience and story or the specific needs of your customers is a great way to set yourself apart in your space.
Let's break down how we use perspective to make our Xero guides stand out.
Xero has a huge library of helpful guides in their support center; it would be impossible to compete with them on this content.
Understanding our target customer can give us an edge here. Bean Ninja's customers are primarily ecommerce businesses, personal brands, digital agencies, SaaS or productized services. Providing curated information that is most relevant to these specific businesses is where it's possible to create unique content.
Instead of having to sift through the Xero support archives, an ecommerce business owner could come to the Bean Ninjas blog and find information that is relevant to their specific problems.
A great example of this is Avoid Stripe and Xero headaches: Step by Step Guide. Stripe is a very popular tool for the online businesses we work with. This post provides highly relevant setup information to our target audience at this critical juncture in their business: setting up their payment processing.
.
Relationships
A good content marketing strategy focuses on developing relationships with other influencers in your space. Creating and collaborating on content is often one of the easiest ways to cultivate a relationship with other entrepreneurs, thought leaders and marketers. Some of these relationships will grow beyond content into other partnerships and opportunities, so the benefits can stretch far beyond a backlink and some traffic.
There's a few easy ways to build relationships using content marketing:
Guest content – Writing guest posts for other blogs or being a guest on podcast interviews.
Mentions and references for onsite content – Linking to and mentioning content of others in your own content.
Co-creating content – Collaborating on content divides up the work involved in the creation process and can give a broader perspective on a topic.
Meryl chose to focus on being a guest on podcasts and a guest columnist on Smallville Magazine. Doing a guest interview on a podcast is usually easier than creating a long guest post, so it was easier to get more reach doing podcasts. The key challenge here was getting booked.
Check out Meryl's post on solving this problem here: How to Guest Podcast – Overcome the hurdle of getting on your first podcast and set yourself up to land regular guest spots
.
Key metrics
Choosing some simple key metrics is crucial to determine if you are succeeding with your content. You should choose metrics based on what your goals are for content marketing. If you are just starting out, aiming for traffic and subscribers is fundamental; if you already have traffic flowing, then focus on diversifying your channels, or increasing conversions and engagement.
For Bean Ninjas, we chose 2 simple metrics and goals:
10% month-over-month growth in traffic to the blog.
Publishing at least 1 blog post per week on the Bean Ninjas Blog.
One guest podcast interview every fortnight .
10% month-over-month growth in email subscribers.
To hit the first goal, we focused on publishing content consistently, which has made a big impact on the traffic we are seeing to the blog. We'll give you some data in the results section below.
To drive more email subscribers, we chose to create an ebook called the Xero starter checklist. It fits perfectly with our target audience and can be mentioned in many of the posts we create.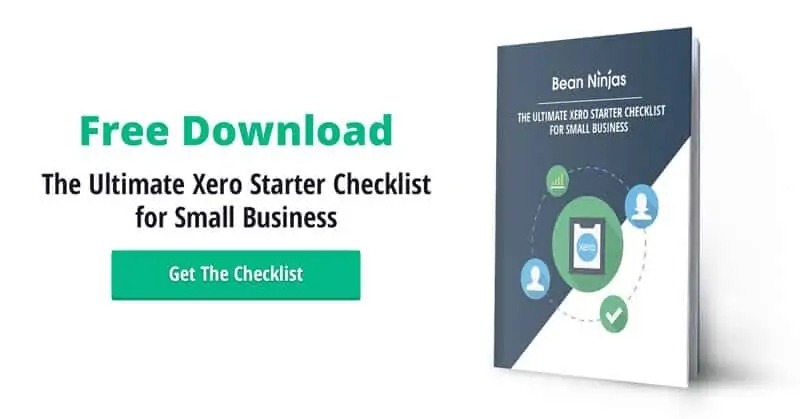 The results?
With the documented strategy in place and systems set up to help with the publishing process, Bean Ninjas is now hitting their goal of publishing content on a weekly basis. Best of all, Meryl has a team of writers that handle a majority of the legwork in the creation process. She is able to come up with ideas, create an outline or cover some key points and hand off the work.
With the strategy, she can clearly communicate her vision and expectations with the writers she works with and can create high-quality content with minimal effort. They have managed to consistently hit their goal of publishing at least 1 post per week.
Along with greater content output, she has a downloadable lead magnet that targets a core problem area of her customers.
She has a welcome series set up to introduce Bean Ninjas to new subscribers; it describes their mission, showcases some of the employees (adding a nice human touch) and helps subscribers find some of their best content.
Traffic has more than doubled since implementing these systems (Comparing month of May to September). The increased quality and quantity of content is driving more traffic, keeping people on the site longer and looking at more pages.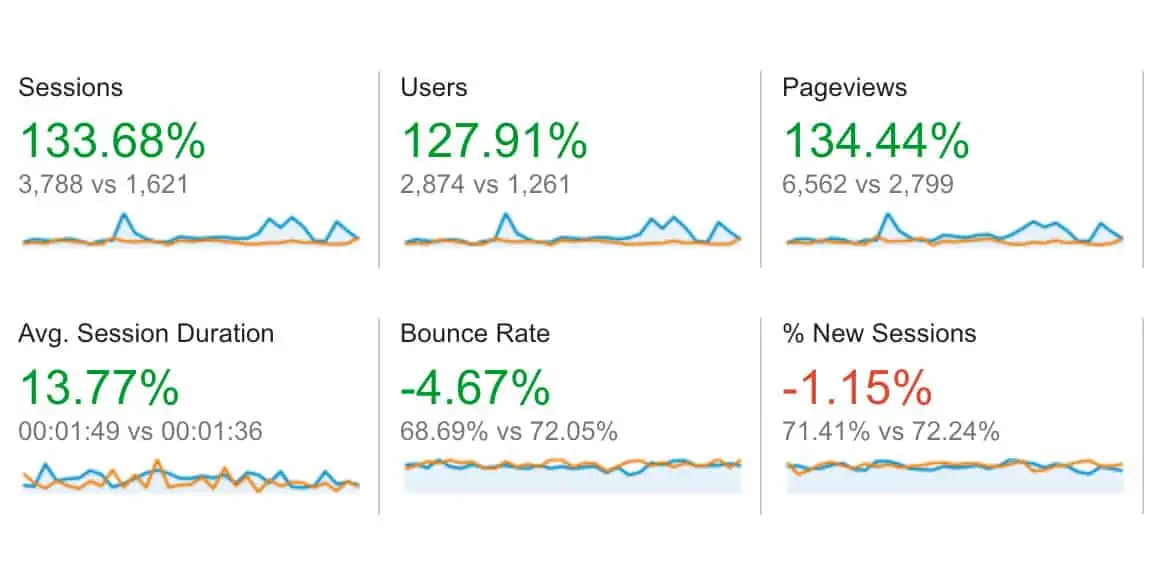 Subscriber growth is starting to pick up as well with 39% growth. There's still some room for improvement here, and we'll touch on how we plan to accelerate this growth in the next section.
What's next?
A priority is to continue to drive growth to the subscriber list. The plan for this is to develop more lead magnets that specifically target the core problem areas of the customers. This will ensure we have a relevant and useful "next step" for our viewers to take no matter what category of content they are looking through on our site.
Now that the content creation problem has been solved, the next step is to improve the promotion of the content. Along with growing our organic reach on social media, we are considering driving traffic to our most valuable content and developing post specific opt-ins for that content so it's easy for readers to subscribe.
.
Want the same results on your content marketing campaign?
Download the same content strategy template Bean Ninjas used to create their documented strategy here!