Which option best describes your business?
Need a financial system review?
Here's what our client experience roadmap looks like: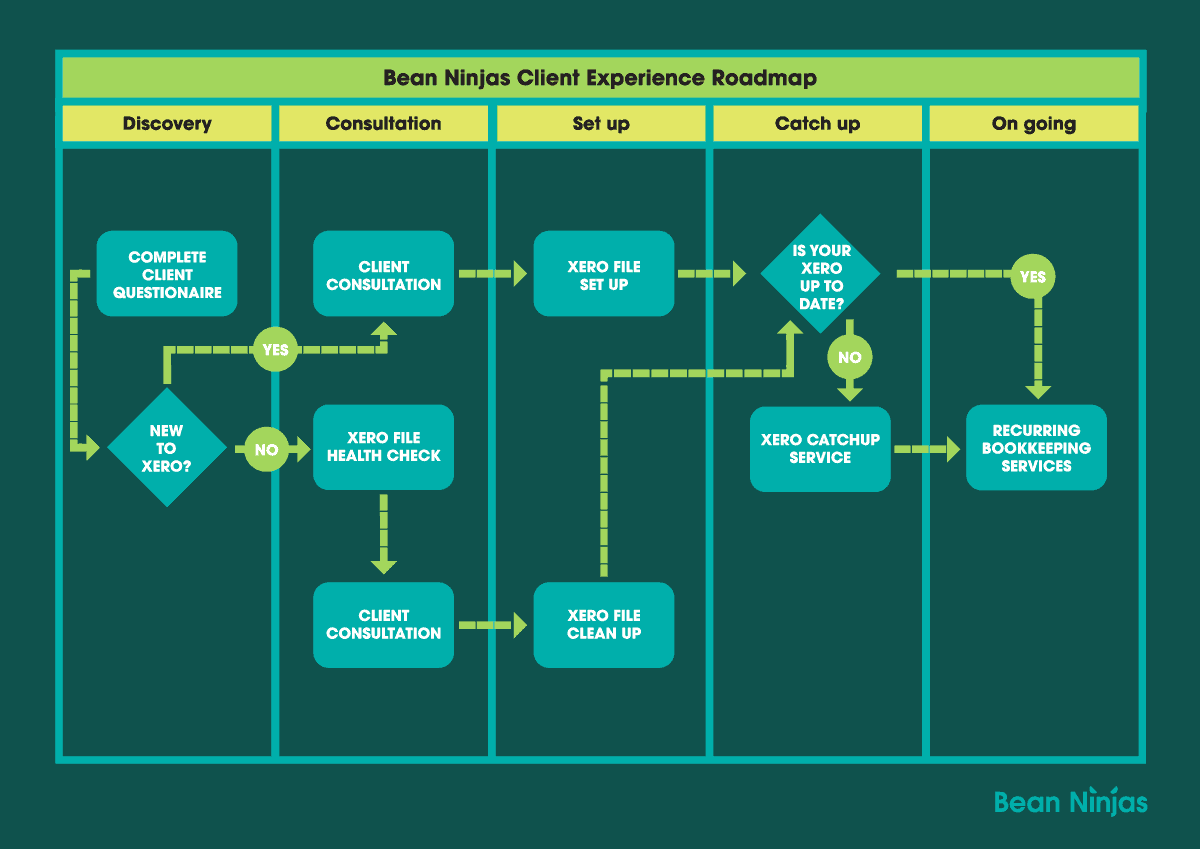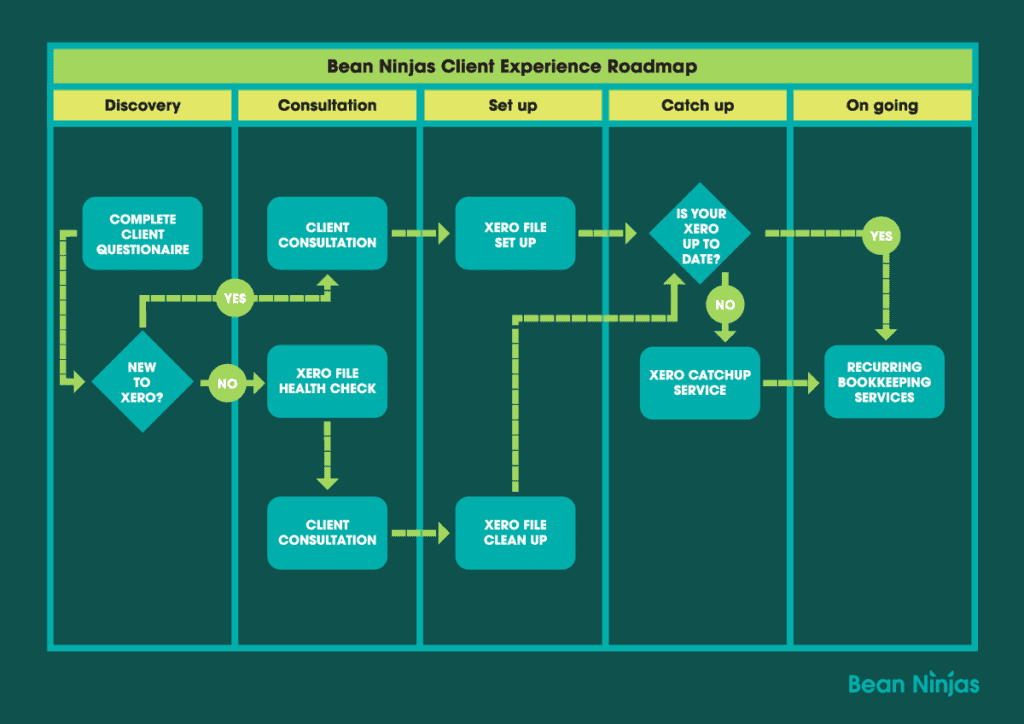 Curious about our ongoing monthly bookkeeping packages?
Choose a Bean Ninjas plan for your business
[easy-pricing-toggle default_pricing_table_id="3729″ default_title="AUD$" default_subtitle="" alternate_title="USD$" alternate_subtitle="" alternate_pricing_table_id="3723″ font_color="#00b785″ background_color="#00b785″ border_color="#3498db" ]
* BAS/VAT preparation applies to UK/Australia-based clients.
Click the button below if you are interested in larger transaction limits and/or custom requirements. Prices for Australian customers include GST.
I just wanted to pop you a note and say THANK YOU.
I've been trying for SIX YEARS to find a book keeper who can just do the work. I've hired bookkeepers, accountants – I even employed someone to take care of it at one point.
Without fail, every time it's been an unmitigated disaster. Work not getting done, me having to chase everything up every five minutes.
I can not tell you how AMAZING it feels to get emails like "Your reconciliation is completed for the quarter and we've sent it over to your tax accountant".
I am so impressed and appreciative.
How does the bookkeeping service work?
We take care of your bookkeeping on a weekly or monthly basis (depending on the plan) and provide you with regular financial reports on the performance of your business.
Can I do a trial?
We do have a 30-day guarantee, so if you're not happy you can cancel your subscription and get a full refund.
We also developed a Xero Audit service, which is a 110+ point check of your Xero account to find errors, followed by a call with one of our expert bookkeepers. This will give you a taste of what it's like to work with us.
Is payroll included?
We provide bookkeeping services to a wide variety of businesses in multiple countries, which makes it impossible to work out a standard package for payroll support, so we don't include payroll in the packages above.
Most of our clients find that Xero makes payroll so easy that they don't need help, but please contact us if you want a quote.
Will you lodge my employee's payment summaries / 1099s / etc?
We can prepare a custom quote for payroll support, but if your payroll is up to date in Xero we may be able to lodge for you. Please
contact us
for further details.
Do your plans include US sales tax filing?
Our plans include sales tax filing in one state. For sales tax filings in multiple states, for example Amazon / eCommerce businesses we usually recommend other online services which are more automated and therefore cheaper for you.
What if I have more than one business/entity?
Our plans are for one legal entity (e.g. sole trader, company, trust, partnership, LLC), to keep our pricing fair.
Do you only have monthly plans, or can I pay per question?
What countries do you support?
We support Australian, US, Canadian, UK and NZ businesses. We are developing services for some other countries, so if that's you please
contact us
.
I have more questions.
Happy to help! Head over to the
Contact page
 to get in touch with our team.
What happens after I signup?
Next we'll schedule an onboarding call to ensure a smooth transition to our bookkeeping service, We'll also send you a welcome email with simple instructions to give us access to your Xero file, and provide a little extra information that we need.