Did you know that WooCommerce is the 2nd largest eCommerce platform with a 23.43% market share?
For context, Shopify's market share is only 3.69%. They are a billion-dollar company.
That's to say, there are a ton of eCommerce businesses using WooCommerce. If you are one of them, you know there is a lot to like about the platform. However, analytics and financial data isn't their strong point.

Having accurate financial numbers is essential if you want to run a sustainable and profitable business.
In this guide, we're sharing everything you need to know about accounting and bookkeeping.
What is WooCommerce?
WooCommerce is a robust, open-source eCommerce platform offered by Automattic, the owners of WordPress. The plugin is free and adds instant eCommerce functionality to WordPress sites. WooCommerce even comes with a mobile app that can be used to run your store on the go.
Who uses WooCommerce?
Users of the platform span the globe with WooCommerce Payments available not just in Australia, but in the United States, the U.K., New Zealand, Canada, and Ireland. Ecommerce businesses from small local shops to subscription-based operations and luxury brands rely on WooCommerce to sell their goods.
Related: See how we help WooCommerce businesses with their accounting and bookkeeping.
Related: Read how one eCommerce business, who uses WooCommerce, was able to sustain high growth and access a line of credit.
Why is accounting and bookkeeping important for eCommerce businesses using WooCommerce?
Regardless of whether you are selling through Amazon FBA or on your own store via Shopify or WooCommerce, it is vital to know your numbers if you want to run a sustainable and profitable business.
While most eCommerce entrepreneurs keep track of their top-line revenue numbers, it is more important to monitor these other financial KPIs as they determine the health of your business:
Profit – what's leftover after revenue and operating expenses
Incoming cash flow – how much cash is coming into the business each month
Outgoing cash flow – how much cash is exiting the business each month
Operating expenses – all of the costs of running your business, including staff salaries
Assets – what the business owns
Liabilities – any debts or loans that the business owes
Customer Acquisition Cost
COGS – cost of goods sold
For example, in our experience, we see many eCommerce businesses get into trouble when they pay too much attention to revenue and profit but not enough into cash flow cycles. So, while the business is technically profitable, they are struggling to hit payroll or buy enough inventory.
Why should you use cloud accounting software?
Cloud accounting software has quickly gained popularity with eCommerce businesses everywhere. Utilizing this type of software allows you to access your accounting platform from anywhere, including your mobile device.

In addition to the convenience of being cloud-based, the software can also help automate tedious manual accounting tasks, improve data security, ensure tax compliance, and make it easier for you to scale your business.
You've likely heard of Xero and Quickbooks. These cloud-based accounting software options were designed to integrate with eCommerce platforms to streamline tracking financial information with real-time updates on cash flow, revenue, transactions, and other financial data.
What cloud accounting software works best for WooCommerce businesses?
There are a lot of advantages to using WooCommerce, but accounting data isn't one of them. While you might be tempted to save money and DIY your accounting and bookkeeping with spreadsheets and data entry, it is rarely a good idea. Not only is this process time-intensive (That's time you could be spending growing and managing the business!), but you could also be setting yourself up for tax penalties and fines if you miss any deadlines or make any mistakes with your data entry.
Not to mention, it is completely unnecessary. There are dozens of affordable cloud accounting software options available.
For example, some of the benefits of using cloud accounting software include:
Make informed, data-driven decisions around hiring, funding, and inventory purposes based on your latest financial numbers
Spot potential cash flow problems early on before it becomes a full-blown crisis
Get a better understanding of your sales patterns and top and bottom-performing products
Create inventory and cash flow forecasts for planning purposes
Reduce the risk of tax fines and penalties
The two biggest options are Quickbooks and Xero. As Xero power users, we're biased. However, it doesn't matter what option you choose as long as you are committed to using it regularly.
How to integrate WooCommerce and Xero
One of the big advantages of integrating WooCommerce with Xero is that it syncs your orders, sales, and inventory data in real-time, so you can always track payments, create purchase orders, monitor inventory, and run bank reconciliation reports within Xero.
This also reduces the risk of human errors since it is fully automated.
If you are one of those people who likes to do things the hard way, you can also integrate WooCommerce and Xero via Zapier, Automate.io, and of course through manual data entry. Here is how to set this up.
In addition, as you are getting your Xero account set up, here are some key things to set up from the get-go:
Configure your Chart of Accounts
Set up online payments through Stripe
Test your payment gateways to make sure they are working properly
Create multiple Paypal accounts for all of the currencies you sell in
Build a system to follow up on unpaid purchase orders and invoices
Pro Tip: Looking for some additional Xero Setup tips? Check out our post here.
Top WooCommerce accounting tips
Here are some accounting and bookkeeping best practices.
1. Create a monthly bookkeeping process
If you want to make data-driven decisions, you need accurate financial data. This means building out a monthly process – ideally weekly if you sell large volumes of products – for your bookkeeper to update your chart of accounts in Xero.
2. Switch to accrual accounting
There are two types of accounting: cash and accrual accounting. Cash accounting works great when you are first starting out or running a straightforward client services business.
However, if you have an eCommerce business where you tend to see big spikes in sales – for example, during the holiday season – then it makes sense to use accrual accounting.
Accrual accounting means that revenue and expenses are recorded in your charts of accounts when they are earned and not when the money hits or leaves your bank account.
3. Use inventory management software
If you have more than a dozen SKUs, investing in inventory software that syncs with Xero will save you a ton of time and potential headaches. That's because, in addition to tracking your inventory, you can also use it for inventory forecasting, account for inventory shrinkage, and more.
4. Set up financial dashboards and reports
Bank balance accounting will only get you so far. You know when you check your bank account daily to see if you hopefully have money in your account.

A more sustainable way to run a business (and save your mental health) is to build out a financial dashboard with all of the key financial KPIs that show the health of your business.

While the KPIs might vary a bit depending on your business, most WooCommerce businesses will benefit from including these KPIs in their dashboard:
Revenue
Profit (split out between gross profit and net profit)
Operating Expenses
Incoming cash flow
Outgoing cash flow
Customer acquisition cost
Average order value
Gross margins

If you are keeping up with your bookkeeping and viewing this dashboard at least weekly, this will ensure that you always have a clear understanding of the health of your business.
5. Know your tax deadlines
If you want to avoid a gnarly surprise from the government, you should make sure to note all upcoming tax filing deadlines.

For U.S. businesses, this also means registering, collecting, and filing sales taxes in any state where you have nexus.
Related: U.S. Sales Tax for Online Sellers
3 Helpful WooCommerce Accounting Extensions
Between the Xero App Marketplace and WooCommerce extensions, there are hundreds of third-party apps you can use to streamline your accounting and bookkeeping workflows. These extensions can save you valuable time.
These apps range from direct eCommerce platform integrations – like WooCommerce – to expense management, payment processing, inventory, payroll, sales tax, and reporting.
Besides Xero, here are three more accounting extensions that all WooCommerce businesses should consider implementing.
1. TaxJar
With more than 20,000 customers, TaxJar has become the market leader for handling the process of registering, collecting, and filing sales tax. They also provide detailed jurisdiction-level reporting.
Not to mention, they were acquired by Stripe in 2021. And, their pricing is simple and order-based.
2. Shipstation 
Shipstation streamlines the process of shipping and order fulfillment. They pull in your orders from your WooCommerce store, Amazon, Walmart, eBay, and any other third-party marketplace you might be selling on into one streamlined dashboard. This makes it easy for your team to get orders out to customers efficiently.
3. Zapier 
Zapier makes it easy to streamline and automate your workflow and processes. This allows you to connect your WooCommerce store with any other software you might be using.

Here are some examples of ways you can use Zapier:
Get a Slack notification every time a customer buys something from your website
When someone files a chargeback, create a customer service ticket in Help Scout.
When someone signs up for your newsletter, add their contact details to Klaviyo.
WooCommerce accounting key takeaways
In sum, setting up these financial systems and processes can help you create a more sustainable and profitable business.
It can be a lot to take in all at once. So, we recommend getting started with the following things:
Start using Xero or cloud accounting software if you aren't already
Install WooCommerce App Extensions to streamline your workflow
Create a monthly bookkeeping process
Set up a financial dashboard to track your business's core KPIs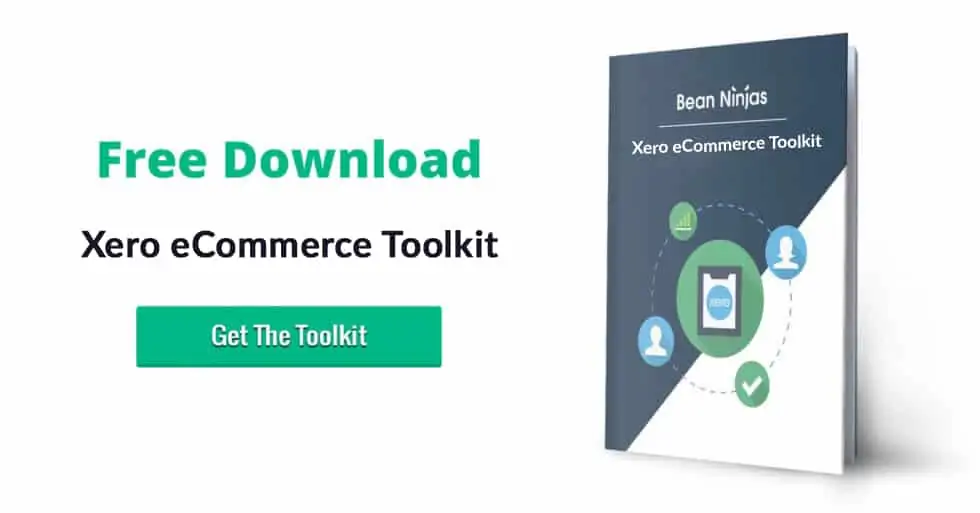 And, if you want to improve your cash flow and get more confident with your numbers? Learn how to use Xero effectively for your e-commerce business with our free Xero toolkit. This includes our step-by-step guide to getting your Xero file in order, a Cashflow Forecast Template, and a Bookkeeping timetable template to help you stay on top of your finances & get current reporting. Download now.