Want to create SOPs that make it easier to deliver effective remote team training and improve your service delivery? Here's what Bean Ninjas has learned from our recent SOP improvement project.
It might be your first time training or onboarding new employees, or you might be a veteran manager who is looking for a way to streamline your company's standard operating procedures. 
Because your SOPs are often your team member's first experience with your company, it is crucial to present them in a manner that is clear, concise, and easy to understand. 
What Is a Standard Operating Procedure (SOP)?
Standard operating procedures, in general, are clearly written, step-by-step systems that function as an outline for teaching someone how to learn a skill or a new process. 
SOPs help you explain to employees your company's culture, the workflow, and how to improve their overall productivity and service delivery to your clients. 
Why focus on improving Standard Operating Procedures?
Good SOPs ideally will result in: 
Higher work quality from your team members, 

Less review time for managers, 

Easier training and onboarding of new staff, and 

Overall clarity when communicating workplace expectations to your new employees. 
With our updated SOPs, we wanted everyone to be brought in and trained the Bean Ninjas way. We desired consistency across team members and new staff training procedures.
With all these things in place, the natural flow-on effect is an amazing customer experience, which means better customer retention, increased customer lifetime value, and an increase in revenue.
Don't believe us? Well here's what business coach Samantha Riley shared with us:
"I doubled my 7 figure revenue in 6 months by focusing on SOP's. They're so important, yet so undervalued by so many." – Samantha Riley
Building upon our culture of systems
From day 1 we've had a focus on building efficient systems. This is perhaps unsurprising considering Bean Ninjas was co-founded by a pair of accountants!
Here's what our CEO Meryl Johnston had to share: 
"One of my original goals as a founder was to work less than 20 hours a week ….. however, the reality was quite different during the first few years of Bean Ninjas.

It was really only when my partner and I decided to start a family that I got serious about delegating and creating systems.


With the help of an amazing team and strong systems, I was able to take the time I needed away from Bean Ninjas when my daughter was born in 2019.

We also have a core value of 'always growing' which means that we want to keep on improving both the SOPs themselves and how we maintain them."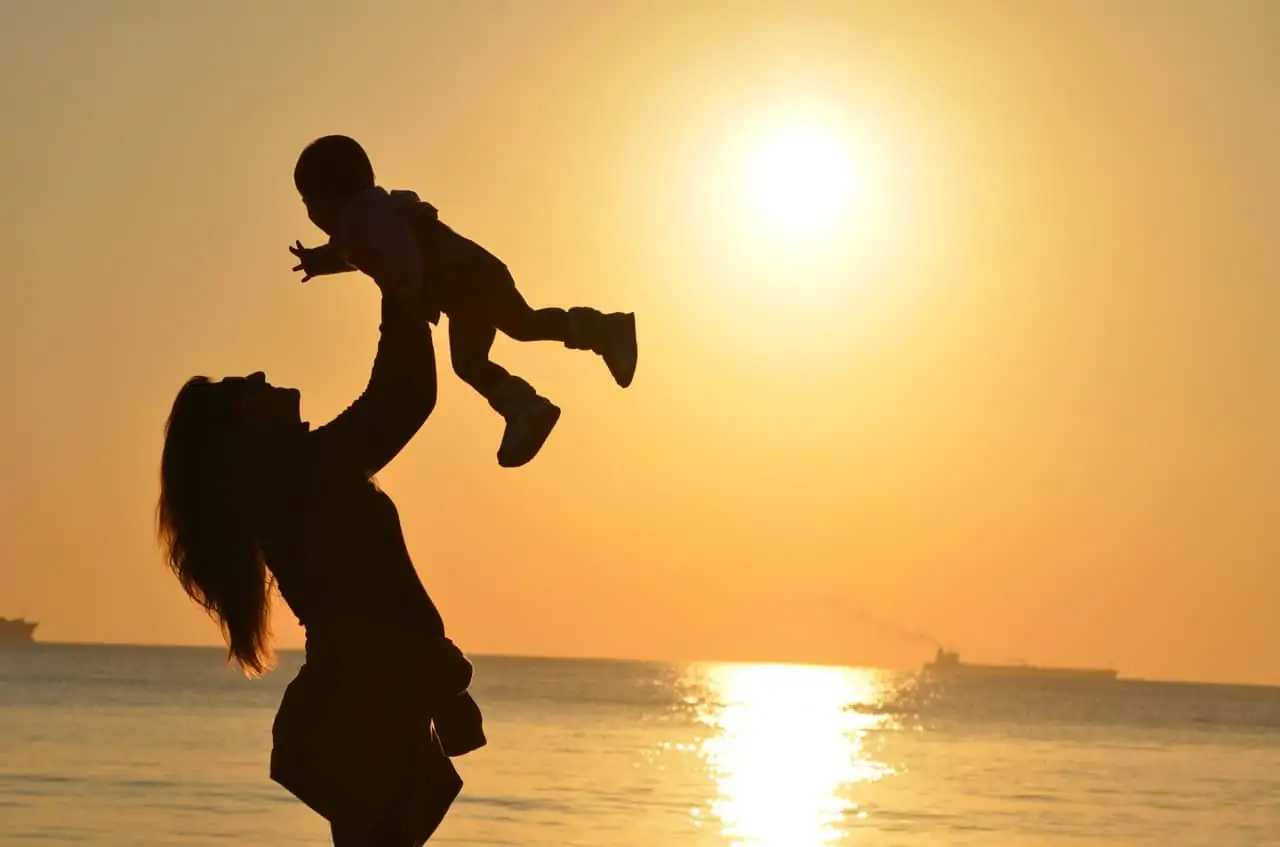 Challenges With Previous SOPs
When combing through our old SOPs, project lead Tom Mercer found a number of challenges:
Maintaining SOPs

Finding SOPs quickly

Many out of date SOPs

Couldn't always find the information needed quickly 

Even though we had worked with an external consultant previously, our SOPs were originally created when Bean Ninjas was internally divided into 2 teams. So our processes were different, and the SOPs were outdated or no longer relevant.

Wanted to encourage team members to use

Sweet Process

as the first point of reference for process clarification and training instead of asking their supervisor for help.

Some training videos were unnecessarily long and others were no longer relevant.

Needed to consolidate
To foster a sense of consistency, SOPs need to be current, relevant to the company culture, and most of all, clearly written. 
What Makes a Good SOP?
After our internal review, we determined the following when putting together an SOP that is easily understandable to both staff and leadership:
Good SOPs benefit from having both videos and written components.

Limiting videos to 10 minutes or less helps prevent the staff from either avoiding them or tuning out the information.

Using real-life data and process documentation helps staff members understand and relate to what is happening in training sessions.

Formatting that includes the administrative items at the bottom of the screen keeps employees from being overwhelmed by data they do not need.
Below is a screenshot of one of our SOPs to give you an idea of how we formatted them inside of Sweet Process.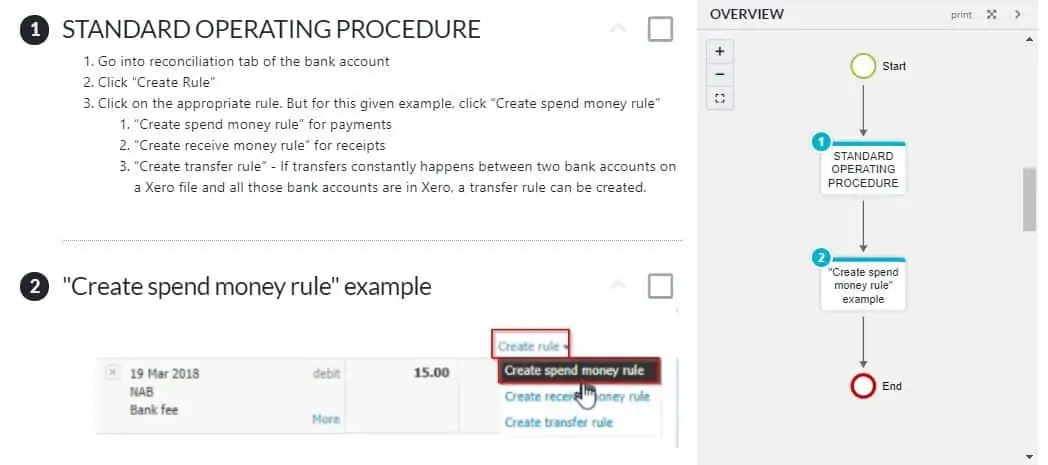 How we rolled out our updated SOPs system
In order to roll out our new SOPs, we needed to think about existing team members, who were already familiar with Sweet Process, and new team members. 
For our existing team members 
With our deep specialization in supporting e-commerce businesses, we realized that existing team members would be brought into Sweet Process again via new procedures. Such as those surrounding how we manage A2X and e-commerce clients.
Below is a screenshot of one of our A2X SOPs inside of Sweet Process.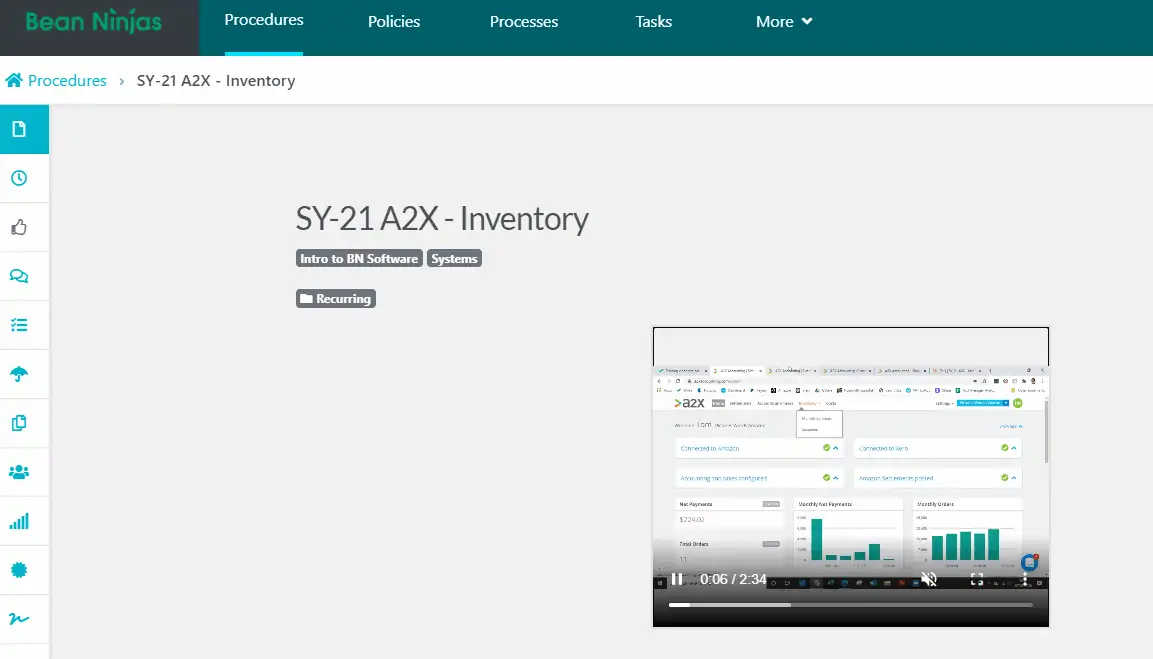 For new team members
This streamlined method will be implemented from day one with new employees. It is our intention that new employees will benefit from our new SOPs by having Sweet Process as a knowledge base and training resource from day one.
What would this look like for new team members?
Our goal was to create standardized procedures that were presented with:
A better layout for learning and retaining processes quickly, 

All SOPs tagged so they fall in the places you would expect. 

Some processes have multiple tags so that complete training can be given in each area, Eg. certain software or client package level.
How we plan to keep our SOPs Relevant and Up-to-date moving forward
We have assigned one person in our Cloud Accounting Services team to be responsible for reviewing, maintaining, and updating our SOPS on a rolling basis. 
We are also encouraging staff and leadership to be more proactive i.e. when they find a better way of doing something or we start with new software to work with our SOP Lead to get the SOPs created.
Your content goes here. Edit or remove this text inline or in the module Content settings. You can also style every aspect of this content in the module Design settings and even apply custom CSS to this text in the module Advanced settings.
So has this SOP project produced positive results for our business? 
At the time of writing, we are still in the process of rolling this out to the team and we estimate it will take a few weeks for staff to get through it all and start to implement in their daily work life.
Having said that, we now have updated SOPs in place that is:
Current
Easy to understand
Ready for training our remote team members
Stored in a central repository that team members can quickly reference
So this is a big win for us when it comes to our larger focus of improving consistency of training and delivering better customer experiences.
5 Tips for Improving Your Standard Operating Procedures
If you are intent on improving your company's onboarding process and your workplace culture as a whole, keep these tips in mind when attempting to improve your SOPs:
1. Streamline and consolidate your training videos and process docs in one place
Create a space in which your employees can find all of their onboarding documents. We highly recommend you use systems management software. Our tool of choice is Sweet Process, but there are others on the market.
Here's a solid tip from business systems expert and author of Systemology, David Jenyns:
2. Delete old or outdated files in your SOPs
If you cannot figure out which ones are new, then your employees will have a problem doing so as well!
3. Improve the layout of your SOPs
Pay attention to the visual presentation of your SOPs. Do they combine text, graphics, and multimedia elements (video, audio, etc.)? Also, use your software's tagging system to apply multiple tags so that each SOP can be found by team members through different keyword searches. 
4. Encourage personal responsibility from staff and leadership.
They are the backbone of your company, and their input will make the process run more smoothly.
5. Implement new SOPs from day one of your employees' work-life at your company.
This will lead to increased productivity, a sense of cohesion, and less confusion for everyone involved in onboarding.
By implementing these tips, you can cut down on productivity loss and wasted time. You'll be creating standard operating procedures for your company that improve service delivery and improve your place of work overall. 
What's been your experience with systemising your business and creating SOPs? Anything else that you'd add to our list of tips for managers and trainers? Let us know in the comments.