Defining company values is an important step in the evolution of a growing business, but how do you do it? Learn how Bean Ninjas did it in this post. 
Somebody once said, "stand for something or you will fall for everything" and in business today, it is very common to have a vision, mission or values statement to define what it is your business stands for and what is important to the stakeholders of the business.
At Bean Ninjas, we recently undertook to involve our whole team, across 4 continents and in 9 different time zones to define what we stand for.
Why are company value statements important?
As a business, we felt that stating our values, mission and purpose helps provide an identity and helps guide us when making decisions. It allows our customers, peers, and team to know who we are and what is important to us.
In a remote environment, it can take a lot of time (often longer than in local office environments) to build trust and understanding. We felt that being clear about these things helps that little bit more.
Defining our company values: How we did it
How do you select a few words to represent an entire culture and how can you prioritise something like trust over honesty, or teamwork over accountability?
Furthermore, how do you bring all of the ideas from a distributed team together? How do you get 12 people from different backgrounds to agree on a handful of common values?
This is the method we used.
1. Plant the seed.
Our first step was to create an online vision board in the form of a Slack channel. Slack is our main internal communication at Bean Ninjas, so this was the ideal place to launch the project by sharing ideas and inspiration relating to values.
Related: The 10 Buffer Values, Zappos 10 Core Values, and Facebook's 5 Core Values
2. Drill down.
We followed this with an anonymous survey to all of the team using Survey Monkey to explore what people valued in their work and personal lives. This was an opportunity for everyone to have their say and reflect on their drivers and values and how they align with the work environment.Along with more questions like; what motivates you? what is your life motto? we probed deeper and asked questions like;
How do you feel about mistakes?
If money were no object, what would you do?
What is one high standard you would never compromise?
Tell us about your best day at work?
What has been your proudest moment?
3. Get together.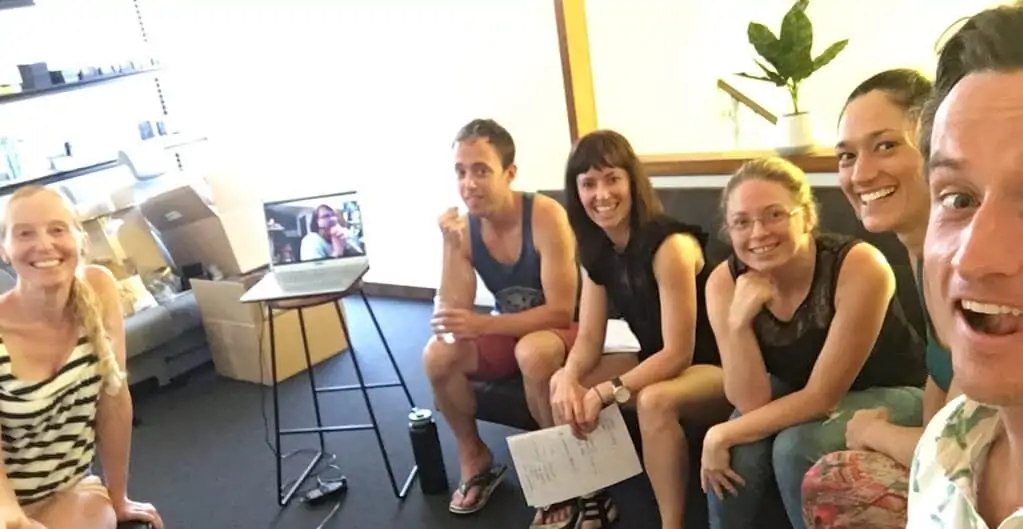 Our next and most important step was to get together as a team to explore our common values and what we aspire to do with our lives and as part of a team. Our aim wasn't to reach a final outcome, but to workshop together to understand our common ideals.
We worked firstly in small groups to discuss;
– What values do you think Bean Ninjas should have?
– How do we display those? i.e. can you give daily examples of each
Each group then brought their findings back to the whole team.
4. Hone ideas.
Meryl and I then took the ideas of the group and summarised them, resulting in a list of 10 values.
5. Get a professional.
Sometimes you can be too close to the work to be objective. We felt the next step was to have a trusted "outsider", who does great copy and understands us, to take our work to the next level.
Kylie Hughes at sayitwriteit.com workshopped our concepts until we came up with a great end result.
We reduced our values from 10 to 3, as we wanted them to be easy to recall, so they become embedded in our culture. Kylie also introduced some additional concepts to enhance our value statement including a Customer Value Proposition, Purpose, Mission.
The End Result: The Bean Ninjas Core Company Values
We are so happy with the result, our Bean Ninjas values.
Freedom – We are the future of work. A place where the individual's autonomy is respected and honoured. Customer, staff or stakeholder, we support your right to freedom, your right to have a sense of control over your time and priorities. Because you deserve to have a healthy, happy life. Really, you do.
Always Growing – We are a learning organisation. Constantly growing, doing, evolving and looking ahead. We try new things. We welcome fresh thinking. We are sharers and collaborators. We believe in teamwork, positive thinking, focusing on solutions and the long-game. Because we are the future-makers!
Trust – In all things we do, we strive to be a company that people trust. By "trust", we mean that customers, staff and stakeholders can rely on us to do what we say we will and to deliver our services with professionalism, transparency, honesty and a can-do attitude. It also helps that we're great at our jobs.
Bean Ninjas Value Statements
Customer Value Proposition – Your business finances just got easy
Bookkeeping and financial reporting without any heavy lifting – Giving entrepreneurs the freedom to focus on what matters
Purpose: freedom. To take the stress out of managing business finances for entrepreneurs, so they have the freedom to live happy, healthy, productive lives as they build successful businesses
Mission – creating freedom for entrepreneurs through stress-free business finances.
What do you think of these?
Now over to you…
Does your business have a value statement? Do you think this is useful to have? What's been your process? Let us know in the comments!