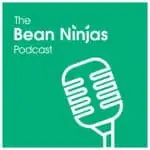 Wondering how to achieve financial freedom through business?
The first step towards building your financial freedom system is to take control of your business finances. We can help with our Financial Foundations DIY course. Click here to learn more.

What is "financial freedom" (or financial independence)?
Well, according to Meryl there are 2 parts to the equation:
Financial
Freedom
Meryl gives the following examples to illustrate how you can have one without the other,  but that doesn't give you financial freedom.
Example 1: The high flying exec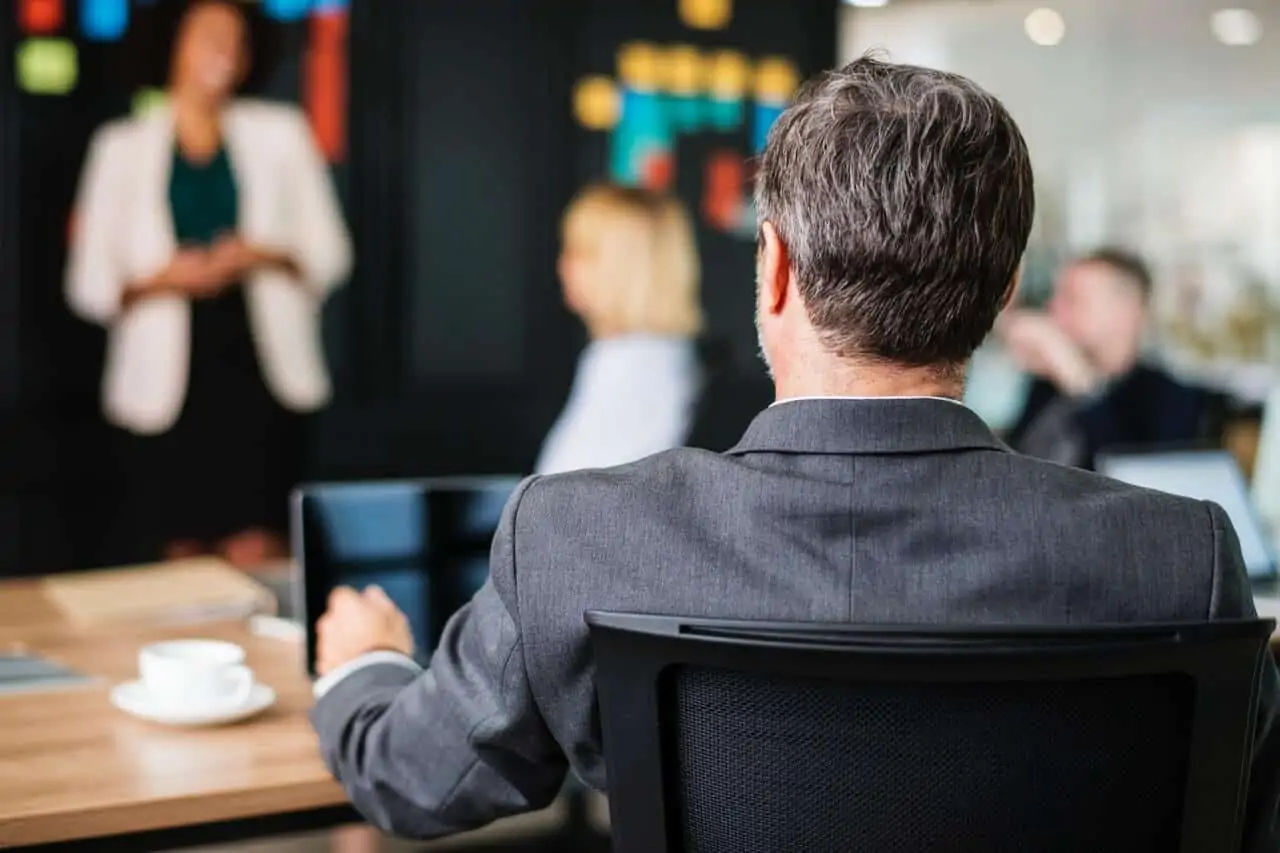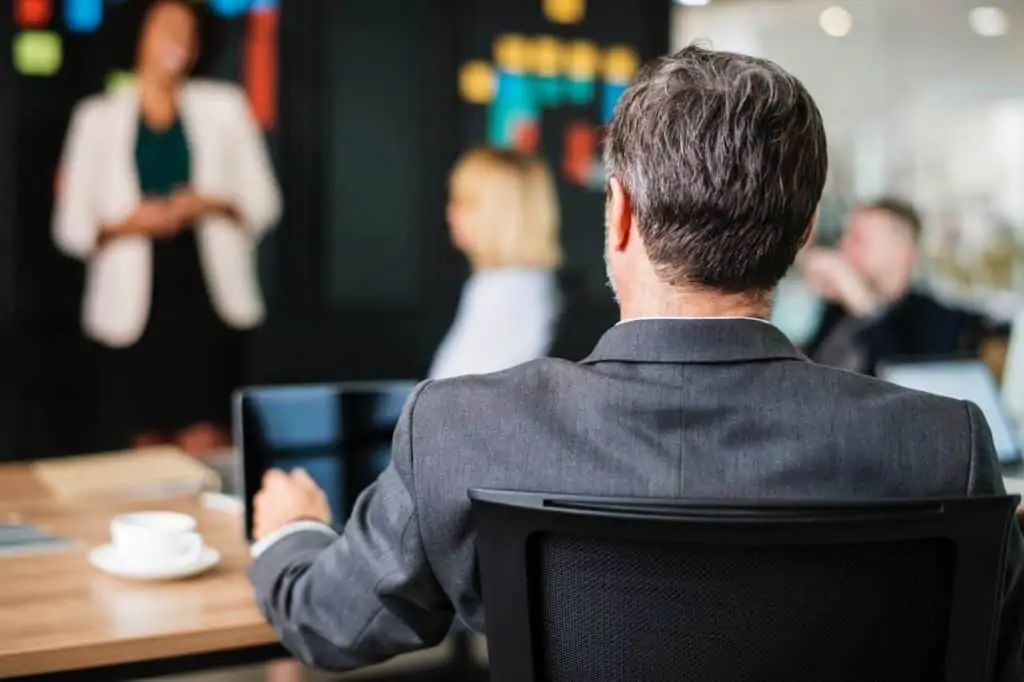 Imagine someone earning great money, such as an executive making half a million dollars a year.
Because they hadn't invested a huge amount in income-producing or capital growth assets they aren't free, because they still need to generate money through working.
Earning a lot of money, but stuck in a cycle of exchanging time for money? Here's your financial freedom plan.
Click To Tweet
Example 2: The digital nomad / freelancer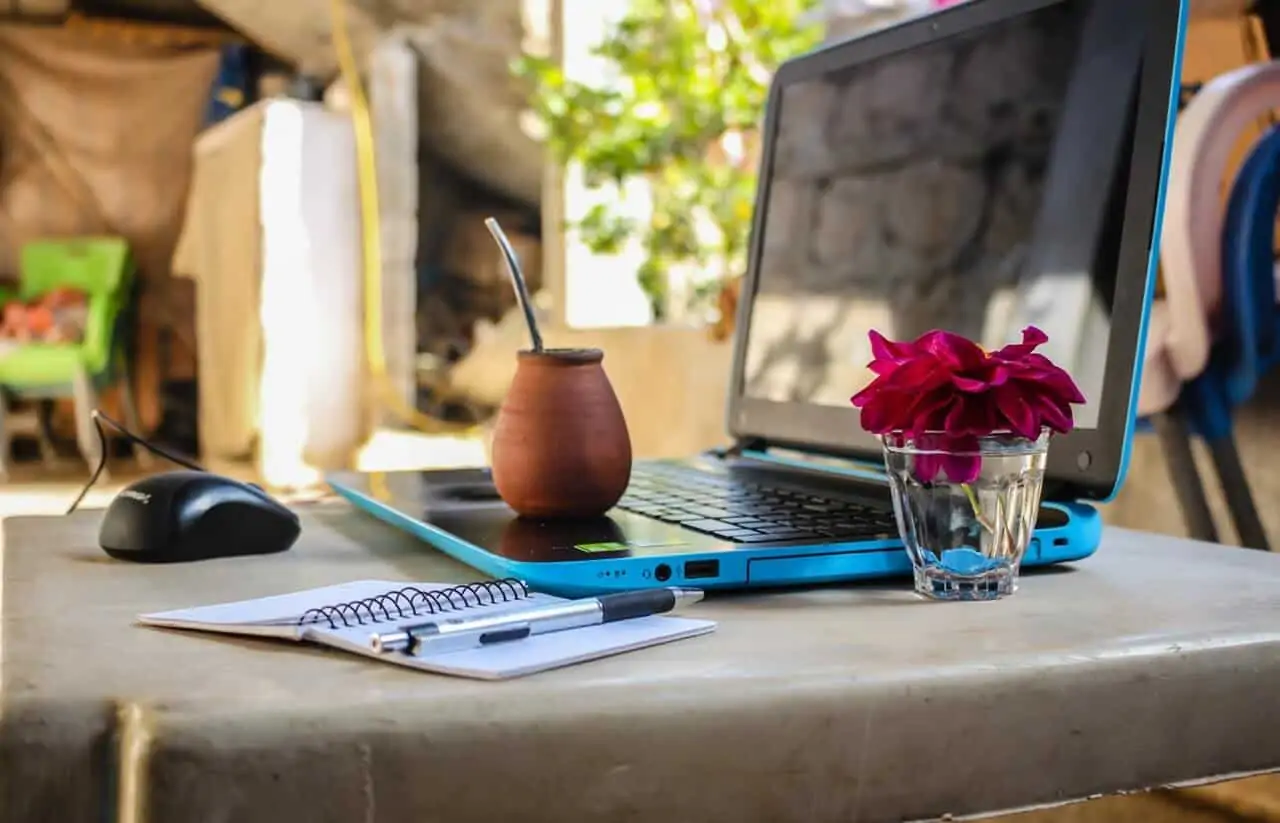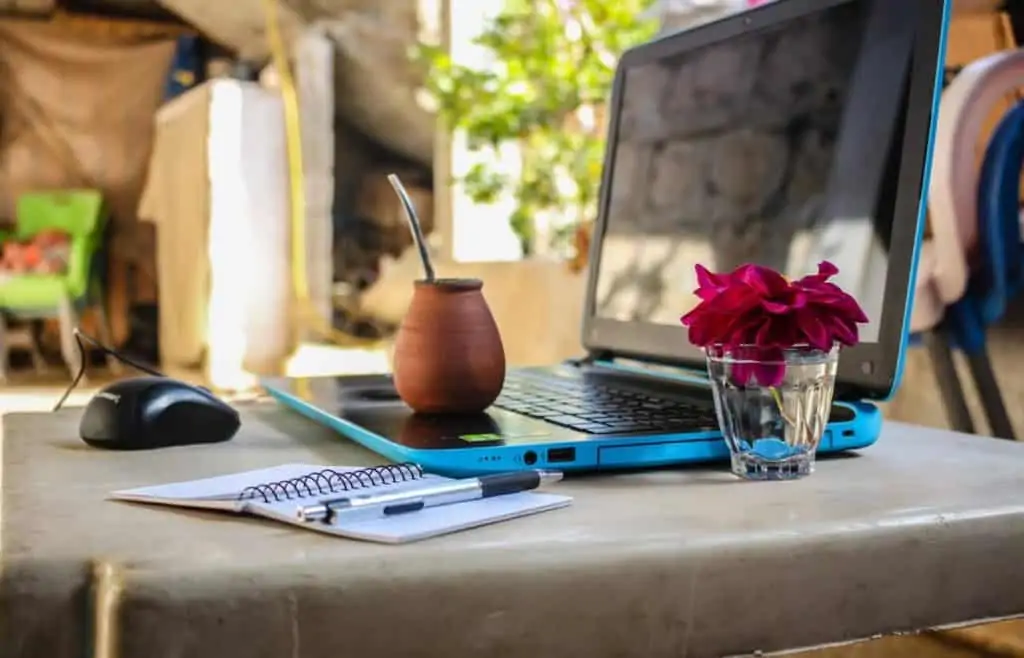 On the flip side, imagine a digital nomad/lifestyle entrepreneur who his able to travel and work from their laptop anywhere in the world they want.
They've based themselves at popular nomad destination like Chiang Mai, Bali or Mexico (where the cost of living is much lower when compared to their home city of Sydney, Tokyo or London for instance).
And they've got some clients based in first world countries that can fund their nomad lifestyle. They're living the dream!
It's a pretty good gig until something goes wrong… like losing a big contract, having a health challenge or someone in their family back home needs financial support.
So whilst they may feel free if something happens to them, and they don't have an asset that produces ongoing income for them without them needing to work, then the reality is that they're not financially free.
Related: Becoming a Virtual Warrior: Tips for working remotely from a mum who's doing it
True financial freedom
According to Meryl's definition, true financial freedom happens when you have an asset that generates (passive) income for you equal to or more than your ongoing living costs.
This enables you to have the CHOICE of working when you want and where you want.
True financial freedom happens when you have an asset that generates (passive) income for you equal to or more than your ongoing living costs.
Click To Tweet
Related: How you can build a business that runs without you
Financial Freedom Plan: How your business can help you create financial freedom
In this podcast episode, Meryl walks through the 5 steps to financial freedom and how your business can help you achieve it.
Here's a summary of the 5 steps (and how Bean Ninjas is helping our clients at different stages of their journey):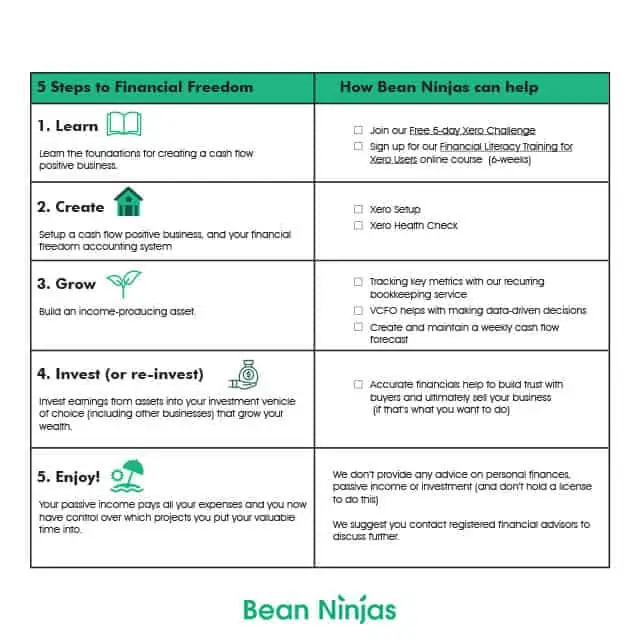 Related: Profitable Coaching Business: A Guide to Improving Financial Health through Bookkeeping
Take the first step towards financial freedom
Finacial literacy is your first and necessary step towards financial independence.
So make sure that you educate yourself on personal and business finances.
We recommend working with an experienced professional to level up your business accounting knowledge and command of financial language and concepts. As well as how to get the most out of using tools like Xero.
Here at Bean Ninjas we are committed to helping our clients and community to create time and financial freedom through their businesses, for themselves and their families.
This is why we've created the Financial Foundations (formerly Financial Literacy For Xero Users) course.
Here's what some of our past students have had to say about it:
Listen in to learn more about how to achieve financial freedom through business.
Meryl discusses:
What financial freedom means to her

5 steps to achieving financial freedom through business
How Bean Ninjas can help business owners through several of the stages of building their financial freedom system
Win 1 of 5 Financial Literacy Scholarships for Women Entrepreneurs (valued at USD $999). Apply now
"The goal isn't more money. The goal is living life on your terms." – Chris Brogan
Click To Tweet
Enjoying the show? Please subscribe & review in itunes
If you enjoyed listening to this episode and you want a really easy way to support the podcast, why don't you head over to iTunes and leave us a quick rating or even a review? We would also love to hear what you thought of today's episode.
Looking for an easy way to get there? Just go to beanninjas.com/podcastreview and that should open up iTunes on your computer. We read all your reviews, and it really helps other people to discover the show. Your support is very much appreciated.