Thinking about hosting a team retreat for your remote company? Here's a recap of the first-ever Bean Ninjas team retreat and the lessons learned.
Being a remote-first company has a ton of advantages. It allows everyone on our team to have more control over where and how they work, be able to focus with fewer distractions, establish a better work-life balance, and avoid the stress of sitting in traffic every day commuting to the office.

Countless studies, including this one, show that remote employees are happier, more productive, and stay in their jobs longer than their in-office counterparts.

Unfortunately, one drawback is that remote team members can go months – if not years – before they meet the people they work with in person. Organizing a short company retreat once or twice a year can help keep everyone aligned with the company's vision, goals, and key projects coming down the pipeline.  
Additional benefits for hosting team retreats include planning, maintaining a strong company culture and deepening communication and collaboration between teams and employees. Plus, it is a fun way to get to know the people you work with! 
You'll likely find – as in our case – that your team will look forward to these retreats as they get to meet and hang out with their coworkers in person after chatting through Slack, Zoom, etc.  
In this post, we'll share how we organized our first management team retreat, including: 
Planning a team retreat

Choosing the right time and location for your retreat

Assemble your planning committee in advance

Selecting the right venue to host your retreat

Setting the agenda

Implementing the Traction framework

Building trust and rapport

Seek out feedback after the retreat
Planning a team retreat 
From choosing the right time and location for your retreat and coordinating with everyone on your team's schedules to creating an agenda and setting a budget, there's a lot of planning that needs to happen.
When choosing a date for your retreat, make sure to factor in the ebbs and flows of your business. It can be helpful to run these during your company's off-season or at a less busy time.
Click To Tweet
Choosing the right time and location for your team retreat 
All in, it took us about three months to plan this retreat. 
We knew that my business partner, Wayne, would be in town from the U.S. for a couple of weeks in early December.

And since three of us – Meryl, Fiona, and Anf – all live on the Gold Coast. It made sense to host our first retreat on the Gold Coast, Australia. We ended up flying in three more team members, who are based in Cairns and Sydney. So, we ended up with seven people from our management team to meet up in person for this retreat. Because of the relatively short notice, we also had two more folks join our retreat remotely.

Pro Tip: When choosing a date for your retreat, make sure to factor in the ebbs and flows of your business. It can be helpful to run these during your company's off-season or at a less busy time. This allows you to maximize company planning with fewer disruptions to the day-to-day business. 
The next step was to have everyone book their own flights (after it got approved by me). 
Pro Tip: As a small team, it made sense for everyone to book their own flights and then get reimbursed by the company. If you have a larger team, you may want to add more parameters around what flights to book and/or use a travel agent. 
Selecting the right venue to host your team retreat
Before you select a venue, create a checklist with all of the things that you must have as well as any nice-to-haves
Click To Tweet
Do you want everyone in a hotel or an Airbnb?
How many rooms do you need? 
Will everything take place onsite, or will you rent a coworking space or another venue? 
How will people get around? (i.e. walking, Ubers/Lyfts, renting a van, etc) 
These are just some of the questions you should consider when selecting a retreat venue. 
For our retreat, we rented a big Airbnb in Kingscliff Northern NSW, Australia. 
I've been to several retreats for my bookkeeping mastermind as well as organizing the DCxGoldCoast event, which all took place in big, beachside Airbnbs or luxury homes. I found that having everyone in the same place added to the event. It added to the overall vibe and value. For example, you can have conversations when you're cooking breakfast together and chatting in-the-in-between times.  
Airbnb Criteria 
While we prefer the Airbnb, there are some unique challenges with finding the right place to suit our team's needs.

From the past events I've been to, I put together a checklist for what I thought we'd need for our first Bean Ninjas' team retreat, including: 
At least 7 beds – This sounds obvious, but we didn't want anyone having to share a bed with a coworker. 

Ideally, enough rooms where every team member had their own room 

Plenty of bathrooms (i.e. 1 bathroom for every 2 people attending at a minimum) 

Several private spaces in the house where we could break off into smaller groups and have conversations without interrupting each other. 

A large dining room table where we could have group meals 

A designated space that we could use as a makeshift office/coworking space 

A pool 

A large living room/lounge area 

A kitchen where we could cook healthy food 

Walking distance to the beach and cafes

(i.e. We're on the Australian coast after all.)
Assemble your team retreat planning committee in advance 
Once you have your date, time, and location sorted out, it can be tempting to make the retreat structure more casual and loose. This is a flawed approach. The more that you plan in advance, the more you'll get out of the team retreat.  
As the CEO, I knew I wanted to be very hands-on for the first retreat.  I knew it was too much for me to organize everything. So, I recruited two people from the team to help with planning.

One team member would help with the travel and general logistics, such as coordinating how people will get from the airport to the Airbnb, catering, and scheduling group activities.
Another team member helped with the work aspect of the retreat. For example, here are a few things that this included:
What topics are we going to cover? 

Who's going to run the different topics? 

What's the objective of each session? 

Which team members will be in which sessions? 

What will team members be working on when not in meetings?

How do we ensure that the two team members who aren't on-site will feel included? (including coordinating between different time zones, etc)

We also had a Slack channel for the retreat, and we invited and encouraged the entire management team to post here often as another way to include the two team members who couldn't attend in-person. We also had a candid conversation before the retreat started to assure these two team members that the next retreat would include them, and they wouldn't be left out.  
One unique thing we added was hiring a videographer for this retreat. Since it is rare for most of us to be in the same room, we wanted someone to capture it. We're planning on using it as part of both our recruiting and content marketing strategies. This also included doing interviews with each team member about not only the retreat but also what it is like working at Bean Ninjas.  
While it was awesome to get this footage, it did distract from the topics we wanted to cover one day. Next time, I would only have a videographer on a longer retreat.  
Setting the agenda for your team retreat
There were two main goals for our first retreat:
Setting up

the Traction framework

within the business
Building trust and rapport 
It is really important for our team members to build relationships with each other. Some work closely on a daily basis, and others don't. However, we're all on the same team. We need to have open, clear communication, and strong relationships.

Realistically, this meant setting aside plenty of time on the agenda for both structured team-building activities as well as plenty of downtime for conversations to happen organically. 
We put a ton of thought into the group activities as we wanted it to be experiences that people would legitimately enjoy doing and not just be like "lame trust fall exercises." 
For example, one of our activities was a gin tasting session at a local distillery. 

In addition, one of our team members led group yoga sessions at the house each day. 

Another team member brought along a card game where it asks you a bunch of questions where you get to know people better.

We also played some board games and hung out on the beach altogether, as another way to get people to interact in a more informal setting.  
Pro Tip: Check out this blog post for additional team-building activities to do at your next retreat.  
As the CEO, it made me feel extremely proud to watch people within the team form these friendships, have fun together, and open up to one another.  
Implementing the Traction framework 
As a team, we've been trying to implement the Traction system for about three years. While we've been making progress, we needed a push to finalize this. This retreat was the catalyst to finish implementing this framework.
Before the retreat, we had everyone take a 25-question survey. We used the feedback from this survey to set the topics for the team retreat. It also gave us a score we can use as a baseline and insights into where we needed to improve as a company. 

Because we did a bunch of planning in advance, it made each session during the retreat more productive and actionable.

I was surprised by how much we got through and how engaged and fun it was. It was also rewarding to see team members step up as facilitators and running many of the workshops.
Seek out feedback after the team retreat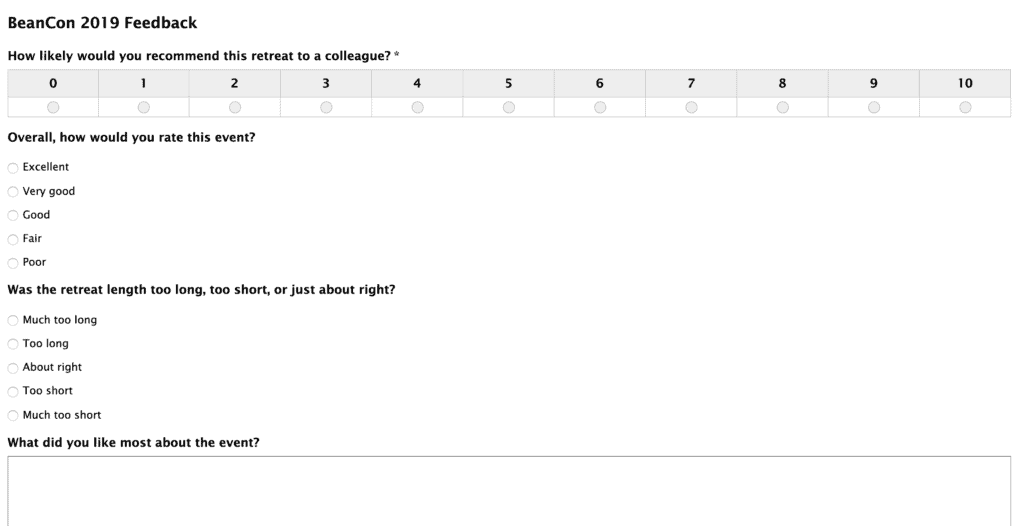 After the retreat ended, we sent out another survey to get feedback from everyone about what they liked and where we could improve. Some of the questions we asked included:
What did you think about the location and food options? 

What was your favorite workshop? Why? 

What should we do differently next time? 
While our first retreat was a success, there were definitely a few things we will do differently next time. 
The biggest one is planning it further in advance to fit with everyone's schedules. We've already started planning our big 2020 retreat, and we'll also host several smaller team meetups.  
In hindsight, it would have been good to do a wrap-up session at the end of the retreat. This session would allow everyone to share what they thought of the retreat and what they're going to implement moving forward. 
In addition, I would space out the work sessions more and add more downtime in the schedule. For example, everyone arrived on a Tuesday, and then that was going to be a team kayaking trip. By the time everyone arrived and got settled in, we realized we didn't have time to go kayaking. Next time, we'll plan just to do a casual BBQ at the Airbnb the day everyone arrives.
In terms of all of our working sessions, we did a great job of setting the goals and objectives in advance. Looking back, I'd spend even more time talking with each of our leaders about their objectives for each session before we went into it and to make sure we had clear objectives and the right people in each session. 
Is it time to host your team retreat? 
Running a team retreat allowed us to get a ton of work done in a short period of time while also proactively strengthening communication and relationships among team members. 
From handling all of the travel and venue logistics to defining your goals and setting the agenda, there's a lot that goes into planning a team retreat. So keep these things in mind when considering whether or not to host your next team retreat.

Want more tips for growing your remote team and improving your business finances? Sign up for our popular newsletter.