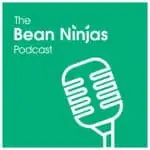 Wondering how to build a personal brand that opens doors and wins you clients? Find out in this podcast.
In Episode 54 of the Bean Ninjas Podcast, Bean Ninjas CEO Meryl Johnston talks to Jade Green about how to create a powerful personal brand.
Wondering how to build a personal brand that opens doors and wins you clients? Find out in this interview with Jade Green.
Click To Tweet
From Recruitment Consultant to Personal Branding Expert
Jade first got her taste of entrepreneurship at 21, when she worked for a modeling and promotional agency. She even dabbled with dress-making before eventually getting into corporate recruitment life.
As her focus shifted to corporate recruitment and headhunting, Jade started Velocity Consulting. 
Her vision was to enable people to be the best versions of themselves, and that meant helping them identify what drove them as individuals and also helping organizations get clearer on what would make them desirable as a potential employer.
Interestingly, Jade never wanted a recruitment business as she worked in the industry for 9 years. 
Her mission was to be the world's largest enabler of humans that are happy at work.
She was planning on transforming culture, values and helping businesses recruit the right people.
Jade started sharing content online about topics such as being challenged to be the best version of yourself.
Her mission was compelling, and that led to investors being interested in her company. Velocity Consulting won one award, then another, and another, and Jade and Velocity fell into the trap of chasing after recognition. 
"It became that ego thing of building a business for the sake of getting awards. You get into the 'Brules' of society – bulls**** rules."
That was a challenging time for Jade as other entrepreneurs around her were expanding their businesses, and she was miserable. She hadn't done anything she had set out to achieve for her business.
Here's a video of Vishen Lakhiani of Mindvalley talking about chasing the wrong goals because of "Brules":
Related: Learn how Bean Ninjas was able to define our vision and values.
Learning to create a business that is aligned with your values
In her search for clarity, Jade found a mentor in Jack Delosa. When she was in crises, he recommended that she reads two books.
"What I know for sure" by Oprah Wimphrey and "Conversations with God" by Neale Donald Walsch.
Due to a series of events, Jade had an awakening.
"Life is a choice, it is what I choose."
Jade figured out that there was something missing and that she wasn't happy, so she needed to make some changes. 
From that point on, Jade got into reading more books and that led her to "The code of the extraordinary mind" by Vishen Lakhiani, founder of Mindvalley. 
Jade resonated with Mindvalley's mission, values and culture so much that she decided that she wanted Vishen to license her to teach the Mindvalley ways to businesses.
"I believe that happiness is the greatest hack to productivity and profitability."
She went through a series of small spiritual awakenings, searching, and realised that she'd been sabotaging herself.
She was placing trust in people she shouldn't have placed trust in. All this sabotaged her business and her success.
Even her mentor said that the business was killing her and suggested her to let it go.
"Do what makes your soul happy."
So, she made a choice to let it go; she closed and sold everything.
Fortunately for Jade, this wasn't an uncomfortable conversation with her investors.

"I was getting deeper, and deeper into building a business that I didn't want to be in."
"The nature of the recruitment game is super high stress at super high volume, it's a numbers game, and that was everything against what I wanted to build as an environment."
She decided to go on a sabbatical.
Related: How to create a business that is aligned with your values
Powerful personal branding through re-engineering life and business
Jade discovered that coaching and consulting startup founders brought her joy, and gave her the kind of impact that was missing from her previous business. 
She also saw that the founders of startups around her were struggling to effectively leverage personal branding to access opportunities and funding to scale their businesses.
Related: Profitable Coaching Business: A Guide to Improving Financial Health through Bookkeeping
This time, however, Jade understood that the fastest way for her to grow her business and personal brand was to work with strategic partners who were leading brands in the world of entrepreneurship.
She had to lead by example, and that's exactly what she did. 
Jade wanted to partner with MindValley – the company that had inspired her growth journey, so she booked a flight and attended MindValley's Awesomeness Fest.
During that time Jade went to a meditation seminar hosted by Vishen, where she learned about his six phase meditation. The meditation focuses on "compassion, gratitude, forgiveness, ideal day, future visioning and closing it all with a blessing."
Here's a video of the meditation in case you're interested:
During that time Jade learned that her friend Martin was having a meeting with Vishen. Jade asked for advice on how to convince Vishen to license her to teach the MindValley ways.
The plan behind MindValley was to certify trainers around the globe, to take the school of humanity to the streets.
And that's how Jade's MindValley journey started.

That's when she launched Life: Engineered, which eventually pivoted t to Business: Engineered.

Business: Engineered works with the founders of fast growth businesses to help them reverse engineer all aspects of their life to ensure that they do not fall into the trap of building a business that enslaves them.
Jade has since become a certified trainer and facilitator for both Mindvalley and The Genius Group (Entrepreneur Institute, GeniusU and Entrepreneur Resorts). 

Related: Scaling a Business – Is Your Business Ready to Scale?
Want to learn the importance of personal branding? Listen to this interview with expert Jade Green
Click To Tweet
The importance of personal branding
According to Jade, the biggest problem for startup founders is time.
"They don't have time to work on their business, they don't have time to spend with their families, they don't have time to live, they're stuck, wearing too many hats. They can't scale because they're the biggest icebergs in their business."
Jade suggests that founders really need to maximize their personal branding. So that clients are attracted to them, as well as the top talent around the world. 
Related: The Remote Workforce: Building a Profitable Business on a Foundation of Freedom
How to build an attractive work culture (and attract high-quality team members)
Get everyone profile tested and understand the "genious-ness" of each individual that is currently in the business. The best profiling test for this is

Wealth Dynamics

. 

Get all of your team members to understand how to communicate with each other.

Map out your ideal day in 3 years time. Do a task audit on everything you get done in the business on your ideal day. 

Work out a role architecture for each role. 

Make sure that you're going to hire the right next person that's going to help you achieve growth.

People need a visible leader, that can share a vision. If their personal brand is good, people will come.
"People need a visible leader, that can share a vision. If their personal brand is good, people will come."
Click To Tweet
Personal Branding in Practice 
It's important to think about all the ways you're showing up in the world as you are consciously creating your brand.
If you're going to a networking event, you're thinking before you go: 
"In 3 months time I'm going to need a salesperson, and that salesperson could be at this event. How do I need to show up?" 
How are you going to do your intro, how are you going to say what you do?
Here are some examples of personal branding.
You should have a story that will invite people to ask questions.
A personal brand is everything; it's how you show up all the time.
It's not just what your LinkedIn profile is, or what your pictures look like online, it's how you show up in a team, what's your character trait.
What's the feeling your client will have after an interview with you?
When you're interviewing someone, think about how you're going to be perceived by that person.
You're getting interviewed as much as you're interviewing. 
"How are you dressed, how are you showing up, are you on brand, what's your communication style, what's the message, what's the feeling, how are you going to roll them in your journey, are you showing up online?"
This is how top quality talent is looking at you as an employer. The best people out there are not looking for jobs.
"Key is creating culture, being visible, people are noticing you, and wanting to talk to you, and they don't even know why yet."
Want to know how your personal brand compares to the leaders in your industry, and how you can improve your visibility as a leader? Take this free quiz.
Jade Green on building her personal brand and making a global impact 
"LinkedIn is my social media of choice".
Jade co-wrote Ignite your Life for Women – inspiring stories that will create success in every area of your life.
She's also been active as an international public speaker, speaking at Mindvalley and Entrepreneur Resorts events around the world.
Jade is also busy preparing for her personal branding masterclass in Bali from July 20 – 23, where she'll be personally helping a small group of entrepreneurs, business owners, coaches, consultants and speakers to become visible leaders.
Related: How to become an influencer and write for major publications like Forbes with Josh Steimle
This infographic explains the affect branding makes on your business

(source: https://elearninginfographics.com/).
Listen in to know more about creating a powerful personal brand.
Want to uncover your values and what makes you stand out? Listen to the tips that Jade has to offer on branding. 
Meryl and Jade Green discuss:
The struggle of finding a job that makes you happy
Designing your ideal life and business
Finding inspiration and support through hard times through books
Developing and implementing a compelling brand strategy
What your branding says about you and your company
How personal branding can help you attract customers, investors, and high-quality team members
"Help them create income so they can create an impact."
Click To Tweet
Resources mentioned in this episode
Enjoying the show? Please subscribe & review in itunes
If you enjoyed listening to this episode and you want a really easy way to support the podcast, why don't you head over to iTunes and leave us a quick rating or even a review? We would also love to hear what you thought of today's episode.
Looking for an easy way to get there? Just go to beanninjas.com/podcastreview and that should open up iTunes on your computer. We read all your reviews, and it really helps other people to discover the show. Your support is very much appreciated.