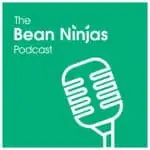 In Episode 51 of the Bean Ninjas Podcast, Bean Ninjas CEO Meryl Johnston talks to digital marketing expert and Forbes contributor Josh Steimle about what it takes to become an online influencer.
Want to become an online influencer and write for publications like Forbes? Listen to our interview with Josh Steimle. #influencer #forbes #contributor #branding
Click To Tweet
How to become an influencer: Josh Steimle's brief history
Josh Steimle is the founder of MWI, an international marketing agency.
His articles on entrepreneurship, marketing, and business strategy have been featured in more than 20 leading publications including Inc., Time, Entrepreneur, Forbes, Fast Company, Mashable, and TechCrunch.
He also appeared on national and international TV and radio, and on dozens of popular podcasts. In 2016, Josh also founded Influencer Inc. a publishing, training, and events company helping executives in becoming thought leaders.
Josh started his first business MWI, the marketing agency that he's been running for 19 years, while he was still in college.
"I started out by myself as a freelancer so I knew how to do some web design. I was designing websites. I'd worked for some of these dot-coms that were around during the.com Boom in the late 90s, and I just wanted to do my own thing. I really wanted to be an entrepreneur. So I started designing websites and then after about eight or nine months I thought hey this is going pretty well, I bet I could hire some people on and start a real business and that was the start of everything."
If you already have your own business, and you are considering bringing partners in, then you should definitely tune in to this interview.
Josh had partners that came on in 2000, but they both left a long time ago.
His experience with partners was negative because he didn't know how to run a business, or how to lead a team at the time.
Related: The Breakup – Weathering the Departure of a Founding Team Member
That changed in 2013 when he brought on new partner Corey Blake. Corey is running the business with Josh now. He's actually Josh's brother-in-law.
Corey was 10 years old when Josh married his sister. So in Josh's mind, Corey was still a little kid, but when they started chatting about sales, Josh realized that Corey is a grown-up who knows what he's talking about.
Looking for a business partner? Josh would advise you to look for a person who has a different skill set to you. That way, your skills will complement and you'll avoid stepping on each other's toes all the time.
Note that finding the right fit that's hard, even if it's the most perfect person. They're not going to do things exactly the way you want them to.
Related: 8 Critical Considerations for Choosing the Right Business Partner
How to become an influencer: J
osh Steimle shares his thoughts on what it takes
In 2013 Josh got the opportunity to write for Forbes Magazine. Being a contributor to a credible magazine can help you bring in a lot of leads for your business.
If your partner is on sales and closing all the deals, that can lead to a lot of great growth for your company. Also, it will help you build a brand and become recognised as an influencer.
I didn't know what personal brand building was when I started this journey. But people started reaching out and asking. Hey, how did you do this? How did you get into all these magazines? How did you get on the TEDx stage? How did you get this book deal?
Josh discovered that as an influencer, he could also switch to producing courses and coaching programs.
Related: How to create an online course that's profitable with Paul Thomson
Josh warns that becoming a contributor requires more than just writing-for-the-sake-of succeeding with your business.  
Josh was interested in writing from an early age. Later, he started blogging and writing for himself.
If you are also someone who enjoys writing, then being a contributor to a major publication could be the right path for you. However, you really have to enjoy the creative process in order for it to work!
Have in mind that you'll essentially be doing it for free. The payoff is that you may get massive exposure and credibility because you're associated with a major publication like Forbes.
At Forbes they have different departments, therefore, If you want to write for the marketing section, then you need to reach out to the editor of that department. Also, If you write for the one section, you don't get to write for another.
You'll be expected to write between five to seven articles per month. So if you're not already doing that, or can't set aside the time to do that each month, then continuing down the path as a contributor might not be the best choice for you.
So what do you do if you aren't someone who wants to be writing 5-7 articles per month as a contributor for a publication? Well, there are a couple of options here.
Firstly, you can watch the following video where Josh shares 3 tips for getting major PR without depending on media outlets.
Secondly, you can outsource your content writing.
Learn how you can become an online influencer from Forbes contributor Josh Steimle. #influencer #forbes #contributor #branding
Click To Tweet
Still keen on becoming an online influencer? Keep reading.
How to become an influencer: The Do's and Don'ts
Curious as to how you can get in touch with an editor of a major publication?
DO: Use social media to connect with publication editors
Josh suggests that you use LinkedIn or Twitter. You can also do a simple Google Search, find the publication's website, and check out their "contact us" page for a contact form or the editor's email address.
Perhaps a more effective way to get in is to talk to other contributors who are already writing for the publication that you're wanting to approach and building a relationship with them over time. 
DON'T: Pitch too soon 
A word of caution… don't go asking for an introduction to the editor early on.
"You don't want to ask them for introductions if you don't know them personally because that sets up an awkward situation. If you go to a contributor and say hey, can you introduce me to the editor, and they do that introduction, the editor's going to ask how do you know this person and that person is going to say well, I don't know them. They just emailed me out of the blue and asked for an introduction and that ends up reflecting negatively."
DO: Research and build a relationship
Research the contributor that you're approaching, and then discussing with them ways that you might be able to help them do their job better. Become a valuable resource for them, and continually show that you care about helping them succeed. 
You could also email the contributor asking advice on improving your own writing technique, and getting feedback on some of your own content.
Once you've done the work to show that you care about them, and also shared with them your own interests and expertise, there's a higher probability that they'll suggest an introduction themselves. This process can take weeks or even months, so you're best connecting and building relationships with contributors at least 6-12 months in advance. 
DON'T: Write whatever you feel like writing.
Think about whether or not it benefits your business, and is the kind of content the readers of the publications are actually looking for (the editor will confirm this or you can simply look at the publication's archive online).
Josh realized there were a lot of people out there who needed to know about digital marketing, so he started giving tips on digital marketing.
Finally, the secret to a long and successful career as an influencer is this… love what you do, and have a genuine passion for helping the people that you're serving.
"If you're just looking at influences as a tool to get what you want, that's called manipulation and manipulation always backfires."
DO: Understand what type of influencer you'd like to be. Would you prefer to be a general or a specialist influencer? Get clear on this early as it helps you work out who to connect with.
Here are some more tips that Josh recently shared on his Linkedin profile:
Curious to know the top business publications you might want to be a contributor for? Check out the following list of top publications shared by B2B CMOs.
Here's another list of top 10 business magazines.
Listen in to know more about how to become an influencer and write for major publications like Forbes.
Meryl Johnston and Josh Steimle discuss:
Josh's beginnings as a freelancer and journey starting his own marketing agency

The value of a good business partnership

How to become a Forbes contributor and what to expect

The importance of being passionate about what you do, and who you serve
Enjoying the show? Please subscribe & review in itunes
If you enjoyed listening to this episode and you want a really easy way to support the podcast, why don't you head over to iTunes and leave us a quick rating or even a review? We would also love to hear what you thought of today's episode.
Looking for an easy way to get there? Just go to beanninjas.com/podcastreview and that should open up iTunes on your computer. We read all your reviews, and it really helps other people to discover the show. Your support is very much appreciated.