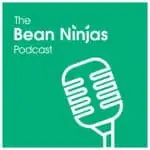 Wondering how Agile sprints might be useful for scaling your business? Learn from someone who's doing it.
In Episode 71 of the Bean Ninjas Podcast, Bean Ninjas CEO Meryl Johnston talks to Barbara Turley about scaling your business.
Barbara Turley is the CEO of Virtual Hub. Virtual Hub has been running for 5 years now 24/7, and currently has 150 employees.
Related: Behind the scenes of managing 150 Philippines Virtual Assistants with Barbara Turley
It's a company that recruits, trains and manages virtual assistants. VAs are mainly from the Philippines but are hired for businesses all over the world.
@Barbara_Turley shares her experience on doing her first team (agile) sprint. Learn how she's doing it and how you might do something similar for your business.
Click To Tweet
What is an agile sprint?
The concept of an agile sprint is crunching time down in a defined timeframe.
Barbara just decided to put her idea of doing a sprint on LinkedIn with a 2-week timeframe.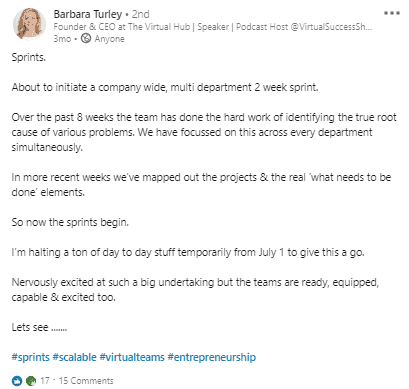 Related: What is Sprint?
She had 2 goals; determining if her team was able to delegate more and be more efficient with a daily to-do list and creating some sort of a finish line. Spreading the feeling of accomplishment.
Barbara decided to set a few rules, such as no working longer hours. To find out if the sprint works, nobody should need to work longer hours.
Although some people still did, as the company was in chaos with everyone being overwhelmed by all the work they had. 
Especially Barbara with her baby on the way.
Barbara also started doing daily huddles. This would be a 30-minute call where you get every individual on your team to think about:
"What have I done? What's the next step for me? Where are the roadblocks?"
Related: Simple Cheat Sheet to Sprint Planning Meeting
Last but not least, every team gets stuck in the chaos of their day-2-day, so everyone should take an interest in what others are doing. 
The big rock
After Barbara put the concept of the sprint on LinkedIn, she brought her team together. Barbara presented this as a game, so the team was excited to give it a go.
In preparation for the sprint, Barbara had a 15 to 30-minute meeting with each team member to talk about their project.
The main focus was on the first week which was the presentation of the big rock.
"What problem do you aim to solve? Why do you want to solve this problem? What results do you expect to see from solving this problem in your area for the business?"
The goal was to focus on one thing that will positively affect future business flow. Every team member had an opportunity to work and focus on one project.
Related: 5 Steps to Master Sprint Planning: Template, Checklist and Guide
This experience was an eye-opener for Barbara and her team as there was newfound respect between co-workers. Everyone got the chance to realise and acknowledge the types of expertise and projects the others were working on.
Related: How to Work from Anywhere with Andy Willis
"In a virtual environment, you don't get to see that every day. So, it's important to come together and realise that everyone is actually doing very good work."
Here's a video explaining agile scrum:
Future sprints 
"Unless we lay the foundation and the agreements and the priorities and discuss it, people can feel very overwhelmed and try to keep all the balls in the air. Big high-achievers will try and spin all the plates at the same time, but say, we want that one particular plate to spin faster."
Related: Dominating a Niche – Interview with Brigit Esselmont
Barbara's team had very strong communication channels, they're using Asana. Despite that, people were still missing things, mistakes were still happening.
Barbara's goal was to bring everyone at one point of the day so they can run through pipelines together.
Everyday the leadership team jumps on a 30-minute call and they start ascertaining what metrics is the recruitment team going to talk about.
"How many people applied? How many people showed up? What's the passing rate? Anything else that you're noticing?"
"It's bang, bang, bang."
Barbara's sprint model consisted of the preparation week, 2-week sprint and the review.
Prep week was supposed to be getting everything planned and ready for the sprint. Although in Barbara's case the work was done weeks before as everybody was in their business chaos.
The key of the sprint period was a 30-minute call after every huddle.
Connections went through the roof. There was more helping, collaboration.
Since this was a great experience for Barbara and her business, she decided on doing a sprint every quarter. With a break after each sprint.
The first six weeks of the quarter are just observations. Just watch.
"Watch the holes, watch the complaints, watch the mistakes, let the overwhelm build. Just observe and write things down."
Related: Time Management Lessons from the Bean Ninjas CEO
Next six weeks of the sprint; plan the project, focus on a problem, what it takes to solve it, pick your big rock. Final 2 or 3 weeks of the quarter are the sprint.
Barbara suggests planning more effectively because you're going to need to shut down some of your business tasks. Cut some things down to take the pressure off.
Another great suggestion from Barbara is to make a celebration at the end. Maybe all projects aren't done but they're almost finished.
Related: Scaling remote teams, working with your spouse, and US Expat Tax Services with Carrie McKeegan
So, celebrate the end of the sprint and the achievements it brought.
Barbara's advice to anyone interested in doing a sprint is not allowing your lack of knowledge to get in your way. 
"I don't know if we did it right, but the results we got served the purpose we needed."
"Get in the game and start playing; you don't have time to read 400 analyst reports. There's no failure in this, there's just discovery."
Here's an infographic explaining the benefits of Agile sprints: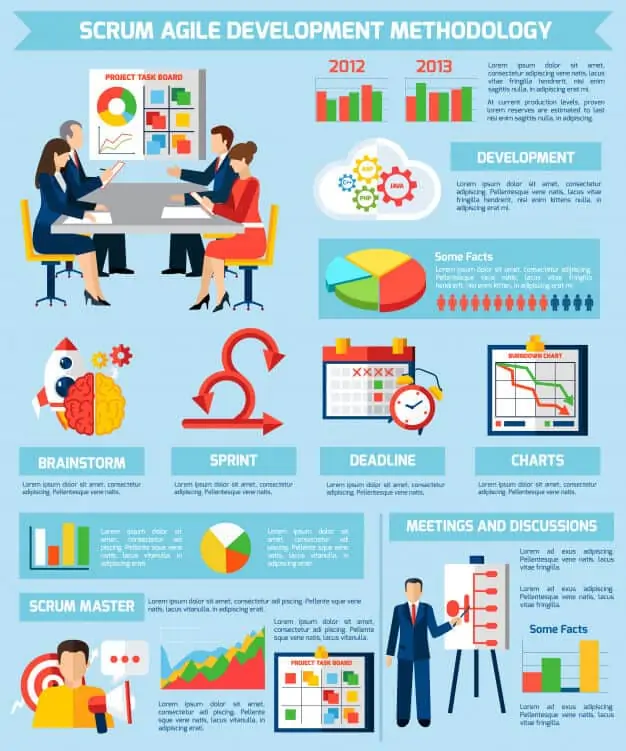 (source: freepik
Listen in to know more about scaling your business.
Meryl and Barbara Turley discuss:
The meaning of an Agile sprint 

Focusing on one project

Getting everyone together for your sprint

The benefits of the sprint

Celebrating achievements
Could you use a system for bringing your entire team together to collectively move your business forward? Barbara Turley shares her plan for her team's next sprint.
Click To Tweet
Resources mentioned in this episode