In an earlier post, we announced the launch of Bean Ninjas' Profit First Program.

This is based on Mike Michalowicz's bestselling book: Profit First, which is a time-tested cash management strategy to make your business more profitable than it has ever been.

Now, we're going to share a behind the scenes look at the two year, collaborative process that went into building this new entity, including:
The main reasons why we launched a new business unit

Retaining a key team member

Unlocking hidden upside in the business

Aligning this new business with Michael's skillset

Structuring the deal

Negotiating and signing the contracts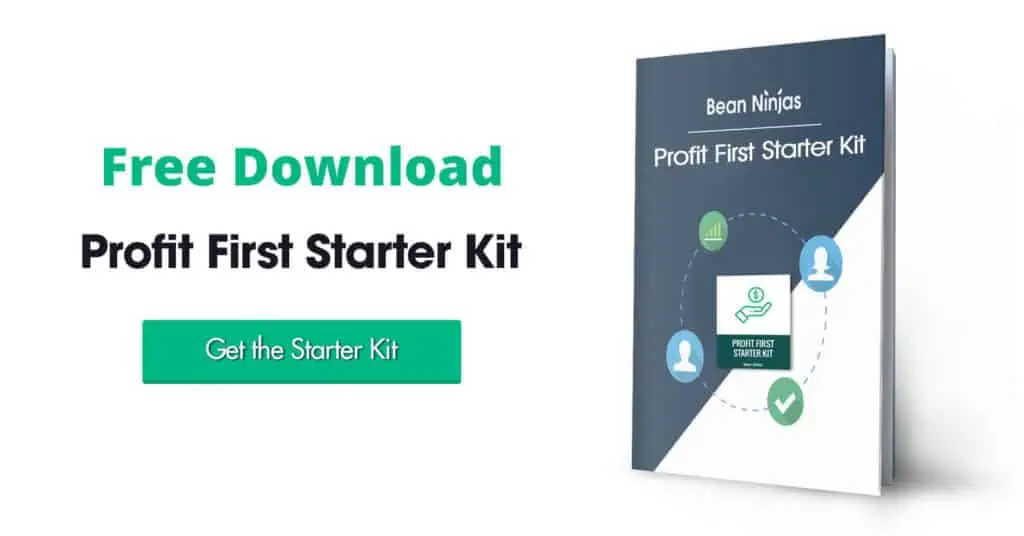 The main reasons why we launched a new business unit 
There were two main reasons we decided to launch Bean Ninjas' Profit First Implementation product. 
Retaining a key team member 
Michael joined Bean Ninjas as a Chartered Accountant from Ernst and Young with the goal of becoming an equity partner back in early 2017. 
I was impressed with Michael's application back then. 
"In early 2017, I just happened to read about Bean Ninjas in Acuity, the Chartered Accountant's magazine, and was led straight to the door of Bean Ninjas," said Michael. "I remember where I was as well because I was sneaking out on a lunch break at work with my employer at the time and I was walking along the water in Sydney. I can remember the situation when we were chatting. It was really important to me at that time, especially coming from a corporate background into the small business world that I wanted to have that sense of ownership to give me motivation but also to feel invested in the business."
He started part-time in March 2017 and then became a full-time team member in October of the same year. 
I knew he had potential from the get-go. However, it took us a few years to figure out exactly what an equity stake would look like. In that time, Michael had his hands in pretty much every part of the business from bookkeeping and sales to video and podcast production and social media. 
I saw huge potential in Michael and so we explored what he really wanted to be doing and then worked backwards to see if there was a way to achieve that at Bean Ninjas.
If you can find a way to help others achieve their goals and achieve your goals at the same time, then you're on a path to success.
Click To Tweet
Unlocking hidden upside in the business 
I also took some inspiration from Dan Andrew's book – Before the Exit – which talks about thought experiments to consider instead of selling your business. 
While I'm not thinking about selling Bean Ninjas, one of the main themes that this book whispers is how you can optimize the value of your business and create a network of brand assets.  
I think there is value in running a business that is ready to sell. It's a well organized business that is enjoyable to run. 
In particular, Thought Experiment 3 in Dan's book was – 'Are there hidden upsides in your business or platform?' 
We've built a brand and audience at Bean Ninjas which makes it far easier to launch a new product. 
If Michael hadn't expressed interest in launching something new then we probably wouldn't have created Bean Ninjas Money Mindset and a Profit First product.
But, I also had some concerns. You hear about staying focused on one thing, and so I was worried about losing focus if I helped run a related business. That's something I was conscious of with the operational arrangement. 
The way we addressed this is Michael is running the Profit First business and all of the day-to-day operations. 
Michael added, "It's been good for me because it's made me face some fears about putting myself out there. For example, having to post more on LinkedIn and do videos. So, it's good because it's pushed me in a whole bunch of areas outside my comfort zone because that's how people get to know you, and that's how people might want to work with us." 
My role is to mentor Michael and provide regular feedback on ideas and priorities. But Michael is responsible for the ultimate success of this business unit.
Related: Profit First – Benefits & Challenges for Small Businesses
Aligning this new business with Michael's skillset 
Does your skillset and what brings you energy align with what you're going to be doing on a daily basis?
Click To Tweet
Does your skillset and what brings you energy align with what you're going to be doing on a daily basis? 
This was the focusing question that we started with. 
However, when he started at Bean Ninjas, the original intention was to eventually have Michael lead a portfolio within the bookkeeping business. So, he would be leading a team of staff and a portfolio of bookkeeping clients. That was our plan around how he could have an equity stake. 
Along the way, we realized this wasn't exactly what Michael was after in terms of the type of business that he wanted to run. 
"I was new to Xero," said Michael. "It was a lot for me to learn in the first couple of years just to get used to the small business environment from corporate. So, that was a steep learning curve, but an awesome one. And then, from there, once I'd mastered those skills and spent a lot of time with our clients, I wondered what the next step would be. 
I loved working with our clients. I liked helping people and getting that feeling that I was helping small businesses grow and thrive. That's what brought me a lot of energy." 
After having a bunch of conversations, we realized that managing a team of bookkeepers and building a portfolio would take him away from his core skill sets, as well as what excited him most about working in the business.
"I was throwing around ideas with Meryl about a personal finance coaching business and a few other ideas," said Michael. "Honestly, not all of these ideas involved me staying with Bean Ninjas – all options were on the table. I was still honest with Meryl about this, and I respect her for giving me the space to work my way through this stuff in my own time. 
What I eventually came back to was my passion: To help our clients build better businesses that serve our communities. I saw the record levels of debt households are currently holding and feel there is a big opportunity. If we help people get a better handle on their finances, this helps them take control of their life. Finance is such a tricky topic for so many. I want to bring clarity and simplicity to it. 
Another big driver was the team at Bean Ninjas. I'm proud of my (small) part in helping build Bean Ninjas under the leadership of Meryl & Wayne. I wanted to keep doing this and stay connected to the friends I've made whilst still having the space to try something new. I was ready to take a risk and have some skin in the game. Once I realized these two key anchor points of my purpose & my people, the rest fell into place a bit easier."  – Michael 
So, as much as I wanted to rush this through and have it done really quickly, I'm really glad that we took our time. 
That's my advice for anyone else trying to do something similar is just to give space and time. Even if inside you want answers now, you have to give people space to think through everything. 
There's no point in building a new business or having an equity stake with someone if you both haven't thought through if it's the right fit.
Click To Tweet
Structuring the deal 
Because we had done most of the hard work upfront, structuring the deal went smoother. This process boiled down to two parts: 
Getting clear on the business model 

Negotiating the contract and agreements 
You could spend weeks – if not months – locking down every detail into a contract.  
While the contract is important, I think the character of the person(s) you are getting into an agreement with is even more important. I prefer to work with people who I believe I can have a long term relationship with and who will act honorably and fairly. If a problem arises, we'll be able to discuss it. 
For example, it was helpful for Michael and me to have worked together for a few years prior to finalizing this deal. Michael had demonstrated his integrity, his ability to think of others, and the willingness to speak his mind about uncomfortable topics and address issues head-on. These are all attributes I'm looking for in a business partner.
About our agreement: 
Created a new entity where we each have a shareholding and contributed capital inline with that to start the business off

Michael is paid a salary for his work. 

Bean Ninjas is paid a license fee to cover ongoing marketing costs
Negotiating and signing the contracts  
Once we agreed on the business concept the process of getting the contract, shareholder agreement, and business administrative stuff organized took less than 3 months.
The majority of that time was spent discussing many business scenarios that might happen from the good ones to the bad. We talked through those scenarios to make sure we'd explored all of the areas and not just focused on how great things might be.
Michael said, "I'm glad we've got a relationship where we both could be honest and bring this to the table because a lot of businesses do fail. You need to, at the start, also imagine what happens if something goes wrong." 
This is part of my broader approach to contracts, which is: 
Do I think I could solve problems with this person?
Because our contracts can't possibly cover every single situation that might arise, you need to be able to talk through issues. And so to me, it's much more important to know that I've got those kinds of relationships than having every single scenario documented in the contract. 
Having worked with Michael for more than two years, I knew that if situations come up that we haven't thought about, we'll be able to come to a fair arrangement and talk through things in a rational way.
I felt the same way when negotiating agreements with Simon and Wayne too. 
***
In sum, I previously had the experience of Simon being a shareholder and mentoring me, which was so valuable to my own development. Now, I'm looking forward to having the opportunity to do this for Michael and the related business he is running.
Want some help with implementing Profit First in your business? Schedule a free 15-min Cashflow Call with Financial Coach Michael to work out a plan to improve your business.