About 12 months ago in December 2016 I was sitting down to write a blog post about my business partner Ben and I parting ways. In buying Ben's share of Bean Ninjas I became the sole CEO and shareholder.
Ben and I were later interviewed about our business 'break up' story on the TMBA podcast.
One of the questions asked on that interview was 'would I ever take on another business partner'? And my answer was 'maybe'.
Last week I flew to Melbourne to finalise a deal which meant bringing on an investor in Bean Ninjas.
Simon, the investor, chips in with his thoughts and comments throughout this blog post.
Related reading: From 2 Founders to 1: Lessons learned about business partnerships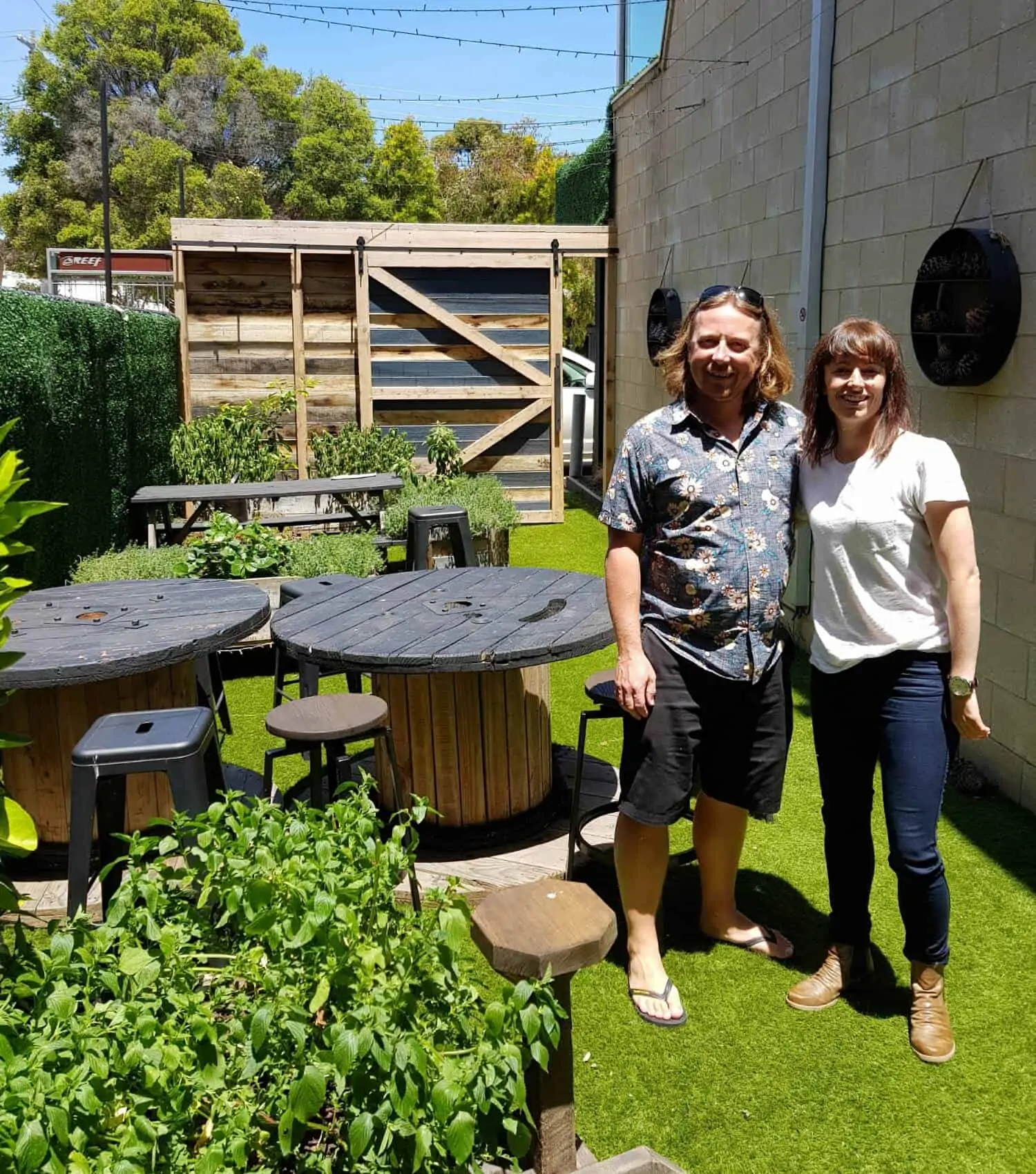 Signing the Shareholder Agreement at Simon's local co-working space the Workers Hut

Why would a self-funded business seek capital?
I felt Bean Ninjas needed additional capital to scale up to the next level.
We needed to invest in:
Systems and processes to handle a much larger volume of clients
Sales and marketing systems to attract more clients
Legal advice to get our structure right for the next phase of international growth
I also needed to be spending more time working as the CEO of Bean Ninjas and less time in the day to day operations. This required additional investment in the Bean Ninjas management team.
Putting in more of my own money to fund this growth wasn't an option. I had already invested a large chunk of my savings in buying Ben's shares.
Any business loans would require personal guarantees from me which felt similar to putting in more of my own money.
This left taking on an investor ….
The back story
Ben and I initially went down the self-funded path. Raising capital didn't feel like an option as Bean Ninjas didn't seem like the type of business investors would be interested in.
Yes Bean Ninjas is playing in a big market and had global potential. According to IBIS World statistics, the Australian accounting industry had revenue of $20 billion in 2016-17.
However as an online bookkeeping service provider we were fundamentally a service business and didn't have the high growth potential of a software startup.
.
Comment from Simon: Different investors look for different things in a business. Although Bean Ninja's doesn't have the high growth potential of a Silicon Valley startup it has other advantages.
I see Bean Ninjas as a very scalable, global business that's disrupting a large, slow moving industry. Bean Ninjas has already proven its business model and also has a first mover advantage. The business model is quite simple, fairly low risk, and the business doesn't need a huge amount of cash to take it to the next level.
The advantage self-funding
One of the key advantages of self-funding is maintaining control. You aren't accountable to other partners or investors and can make all of the decisions.
I had gone from a partnership with Ben where we needed to agree on all of the big decisions to sole ownership and control.
Having been through the process of becoming the sole shareholder, some people would say I was crazy to consider taking on an investor.
I believe that the decision making and control issues could be addressed in the Shareholder Agreement. Now only time will tell!
The disadvantage of self-funding
The main disadvantage of the self-funding route is that growth is generally slower and cash-flow is tight.
This can force the business to focus on short term cash-flow generation rather than on big picture growth and strategy.

Funding growth through profits
Ben and I started Bean Ninjas with less than $1,000 and we grew organically from there. Every dollar that we spent first needed to be earned by providing services to clients.
It took us almost 6 months before we could hire our first team member and almost 2 years before we could hire an Operations Manager.
Related reading: Business Growth Story: Bean Ninjas from $0-$100k in 8 months.
As the CEO I felt like the most valuable activities I could be working on were things like:
Communicating a clear vision to the team

Developing the strategy of how to achieve that vision

Being aware of changes in technology and the industry and being ready to adapt

Building a high performing team  

Managing business growth and cash-flow

Key stakeholder relationships
Our biggest constraints as a self-funded business have always been cash-flow and time.
This meant that sometimes I needed to do client facing work to generate cash-flow to invest in other areas of the business. This took me away from the most important activities and slowed growth.
I feel like there is an opportunity in the bookkeeping and accounting market and the opportunity is there RIGHT NOW!
While we could have grown more organically it could also have meant missing out on an opportunity where the window might only be open for 3-5 years.
Ultimately the advantages of taking on an investor seemed to far outweigh the risks.
Click To Tweet
.
Comment from Simon: It was obvious to me that Bean Ninjas growth was constrained by available cash. I would add to the points Meryl makes here that being underfunded can add a mental load to a CEO that they may not be aware of.
I do think that Meryl and Ben took the right path by bootstrapping Bean Ninjas as it is easy to waste cash if you have it available to you in the early days of a business. Now the business has proven itself on many fronts it is appropriate to scale more rapidly.

Finding the right investor
I didn't actively go out and seek investment.
I knew the growth plans I had for Bean Ninjas required some kind of capital injection. But going on a pitching tour to find an investor seemed too difficult and time-consuming and there were no guarantees it would be successful.
Instead I was focusing generating additional cash-flow within our business to fund the growth.

So if I wasn't looking for an investor, how did I find one?
This is where the Dynamite Circle masterminds come in again!
I found my first business partner Ben in a DC mastermind and it was in another DC mastermind that Simon and I connected.
We'd been in our Bozeman mastermind group together for more than 12 months. Shout to our old crew Quinn, Shane and Jonathan and to our newest members Davide and Pete.
In a number of these masterminds calls I was talking about the opportunities in the market and the plans I had for Bean Ninjas. I was also sharing my frustrations at not being able to execute on my ideas quickly enough due to cash-flow constraints
Simon must have got sick of hearing about this and one day he said to me 'would you consider me investing in Bean Ninjas?'
During our mastermind sessions Simon had been sharing his own business journey. He had built a successful business in the finance industry and had a strong management team in place.
This allowed Simon to explore other interests like investing in other businesses.
I knew that Simon was developing his skill-set as an investor, but I would probably never have asked Simon to invest in Bean Ninjas directly.
We'd become good friends and I didn't want to put him in an awkward position by asking him to invest. It felt a bit like asking to borrow money from a friend.
I'm so glad that Simon asked me!
Comment from Simon: This opportunity seemed like something of a no-brainer to me. Bean Ninjas was looking for investment, and I had been researching what it takes to be an investor in private companies.
When I asked Meryl if she would consider me as an investor I hoped it would be an easy first deal for me, and that she would be patient as I continued to educate myself.

Getting the deal done!
This was a learning process for both of us.
While I had previously had a business partner and then worked through his exit, this was a 'passive investor' which was different.
Comment from Simon: Although I have built successful businesses before, and also worked in partnerships, I haven't invested in a private business before.

August and September 2017
During August and September we had regular phone calls to explore the idea of Simon investing and to understand what we each wanted from the process.
This was more of a brainstorming phase as we discussed different options and scenarios. I also used this time to learn more about things like shareholder agreements and valuations.
Comment from Simon: Fortunately Meryl and I wanted the same thing – I didn't want to be active in the business, and Meryl wanted to continue to be completely autonomous.

Early October 2017
Once we had a firmer of idea of how things might look I prepared a slide deck and presentation.
This was a way of communicating to Simon my vision for Bean Ninjas, what the investment money would be spent on and how it would help achieve this vision.


Late October 2017
In mid October we met at the DCBKK conference in Bangkok.
I felt quite privileged to be sitting in the Executive Lounge at one of Bangkok's best hotels taking a potential investor through Bean Ninjas' numbers.
I had previously shared our high level numbers, but this time we dug into the detail of margins, overhead costs, marketing spend as a % of revenue etc.
We also started discussing the terms of the agreement in more detail including:
Valuation

% stake

Shareholder agreement
Comment from Simon: Cutting deals in the Conrad Exec Lounge! I love that hotel 🙂 Meryl makes looking through the numbers of a business a pleasure. I'm sure reviewing the business numbers of any other entrepreneur would be much more challenging!

November 2017
Now things were really starting to take shape and we were getting close to finalising the valuation, $ amount of investment and the key terms of the Shareholder Agreement.
I prepared a second presentation for Simon to run through everything we'd discussed. I think we were both starting to get excited at this stage as it felt like it was really going to happen.

December 2017
It felt like things were close, but there was still some back and forth around the terms of the Shareholder Agreement. We were pushing hard to get everything completed before Christmas.
Then in mid December we realised we had agreed on all of the terms in the Shareholder Agreement and had all of the documentation ready to go.
I booked a flight to Melbourne the next day and met with Simon to sign all of the documents and have the money transferred.
Comment from Simon: Unfortunately there was no surf to be able to celebrate properly, but I'll make the trip to Gold Coast early in 2018. One of the intangible benefits of investing in Bean Ninjas is that shareholder meetings will always be held in awesome surf spots!

How we structured the deal
At the beginning of the negotiations we were both picturing a capital raising scenario. Bean Ninjas would issue additional shares and Simon would purchase these shares directly from Bean Ninjas.
The end outcome was slightly different …..

The purchasers perspective
There are transaction costs associated with doing a deal like this. As well as the usual legal and accounting fees there is also a big time investment for both parties.
Simon needed to make a big enough of an investment so that the returns would make the time and transaction costs worthwhile.

The company's perspective
There were particular investment items that I'd identified we needed to spend money on in order to get to the next stage of growth.
It didn't make sense to issue additional shares in Bean Ninjas beyond that, if there was nothing to spend the additional capital on.
Having unused investment funds sitting in the bank would have resulted in a lower return on investment. Click To Tweet
The issue we came up against was that Simon wanted to hold a higher % than the investment funds Bean Ninjas needed to raise capital.
Next we looked at me selling a small stake of my shares directly to Simon.

The seller's perspective
When a company issues new shares an investor pays money into the company bank account. When a shareholder sells some of their shares to a new shareholder they are paid into their own bank account.
While it wasn't our original intent, I ended up selling a small portion of my shares to bring Simon's holding up to 15%.
It reduced my overall holding slightly, however it did give me an opportunity to take some money off the table.
From a risk perspective it isn't ideal to have 100% of my own assets tied up in Bean Ninjas, so this gave me an opportunity to diversify my assets (in a small way).

Shareholder agreement
Some of the things we considered when drafting the Shareholder Agreement included:
Decision Making
Would Simon have the ability to be a board member?

How would voting of the Board work and who would make final decisions?

How to ensure I had enough autonomy to continue to run the company and execute on the agreed vision?
Selling or issuing shares
How to protect against a minority shareholder being diluted

How would we deal with other potential investors

The type of entity structure that Simon would buy into

Drag along and tag along rights
Investor funds
Agreement upfront on what the investment funds could be spent on

How we would determine my salary (the higher my salary the lower the profit available to be distributed)

Valuation
We attempted various different valuation models. I prepared a discounted cash-flow forecast for the next 10 years.

In the end we used a pretty unscientific valuation method.
One of the difficulties in the valuation was that 2017 was a year of consolidation for Bean Ninjas. In the back end of 2017 we started to gear up for rapid growth again. However this meant that our MRR was expected to be much higher in 6, 12 or 24 months time.
Many service businesses would be based on a multiple of Annual Recurring Revenue (ARR). When we valued the business this way we came to a valuation that I thought was too low, given my confidence in future growth.
Comment from Simon: A 'traditional' investor that does not know Meryl, the Bean Ninjas business, or the potential of SWAS/productised service businesses would be unlikely to see the value that I do.
I know from the last 18 months masterminding and discussing Bean Ninjas with Meryl that her focus over this time has been on building solid infrastructure rather than chasing revenue growth. If Meryl's focus was to grow revenue the ARR valuation would have been higher, but the quality of the business would have been lower.
Meryl has taken the time to understand the Bean Ninjas clients, engage great people to the team, develop solid processes, and structure the business ready for growth.
In addition to the business itself, an investor has to have trust and confidence in the CEO. Click To Tweet 
If you've ever been part of a long term, serious mastermind group, you'll understand that you get to know the people in your mastermind very well, not just through the discussions about their business, but you can also see their commitment, and their ability to think around a problem that might not be in their field.

Lessons learnt in raising capital
There is big time investment involved in doing a deal like this.
Simon and I had built up a high level of trust after fortnightly mastermind calls for more than 18 months.
We also met in person nearly every quarter.
There are still areas of our agreement that are fairly loose. We were able to do this and not lock down every single possibility knowing that we will each act in good faith and will be able to work through these things.
Comment from Simon: Trust in the CEO is a big factor when investing in a business Bean Ninjas. A legal contract can never cover every eventuality.

Understanding legals
I spent a great deal of time understanding our structure and shareholder agreement and thinking about potential scenarios we might need to factor in to the agreements.
Some entrepreneurs want to stay out of the legal and accounting side of things, but I would recommend getting involved and at least understanding what is going on.
Then you can step back and let someone else do the work, but at least you are aware of what is going on and can ask the right questions and keep your advisors accountable.

What is next?
In 2018 we'll be ramping things up at Bean Ninjas.
Now the investment money is in the bank we're excited to get to work and execute on the strategy!
It will be a juggling act as we focus on both rapid growth and building out our systems, processes and team.
My personal goal is to have a strong management team in place and be completely out of the day to day operations by mid 2018. If this all goes to plan then it will have taken 3 years from the launch of Bean Ninjas to scale the business to this point.
Being out of the day to day operations will allow me to focus on strategy, key relationships, managing risks and building out additional revenue streams.
We're having a short break over the Christmas period to recharge and I can't wait to get started in 2018!
Comment from Simon: I'm excited to be part of the Bean Ninjas story and I'm looking forward to watching Meryl and her team execute on the plan in 2018!
2019 Update: We recently asked Simon to join us on the podcast to talk about his experience investing in Bean Ninjas. Listen to the interview here.