It has been more than six months since CloudCounting merged with Bean Ninjas to form Bean Ninjas Australia.
One of the biggest benefits of this merger for Bean Ninjas was being able to extend tax services to all of our Australian clients. This means being able to offer additional value by providing a one-stop shop for all of their eCommerce finance, accounting, and tax needs.
Prior to the merger the CloudCounting team had implemented a waiting list for new clients, as they couldn't keep up with the demand for eCommerce accounting services. One of the reasons to merge with Bean Ninjas was to leverage the BN systems and processes to build capacity, with the goal of tripling revenue over the next few years.
So what is it like to merge two companies together?
While many entrepreneurs write about merger announcements, very few talk about what the transition period is like. If the transition period isn't handled well, it can be problematic.
Here is a behind-the-scenes view of what this process actually entails.
Let's dive in.
How we made the transition smoother
Open communication
Before we made the merger official, we already knew that our teams shared a lot of the same core values. However, the biggest impact was keeping the lines of communication open from the get-go.
Before the deal was signed, we included key team members in the conversation. For example, Tracey, CloudCounting Founder, brought along Kerrie, a key CloudCounting team member to meet me at my office on the Gold Coast prior to the deal.
I also included my business partner Wayne and Simon, our investor throughout the deal process. This meant they could give me feedback, and it helped them to get on board with the idea.
Tracey and I announced the merger to both of our teams prior to making the announcement public. We tried to think about the kinds of questions team members would have about how the merger would impact them. We also created a forum where team members could ask questions in a group setting and one on one.
Getting key people involved very early and keeping open lines of communication made the transition a lot smoother and ensured that we didn't lose any team members in the process.
Building relationships
As part of this process, I also took several trips up to Brisbane to spend time with all of the key Bean Ninjas Australia team. This was helpful for getting to know everyone as people as well as working through training and communication processes.
Three months after the merger Tracey and I also did a founder retreat down at Peppers Kingscliff. I believe that spending time together with my business partners away from day to day operations is essential. It gives us the space to have fun, get to know each other better and to talk about long term strategy.
Adding some in-person collaboration helped us navigate some of the bigger communication and process changes.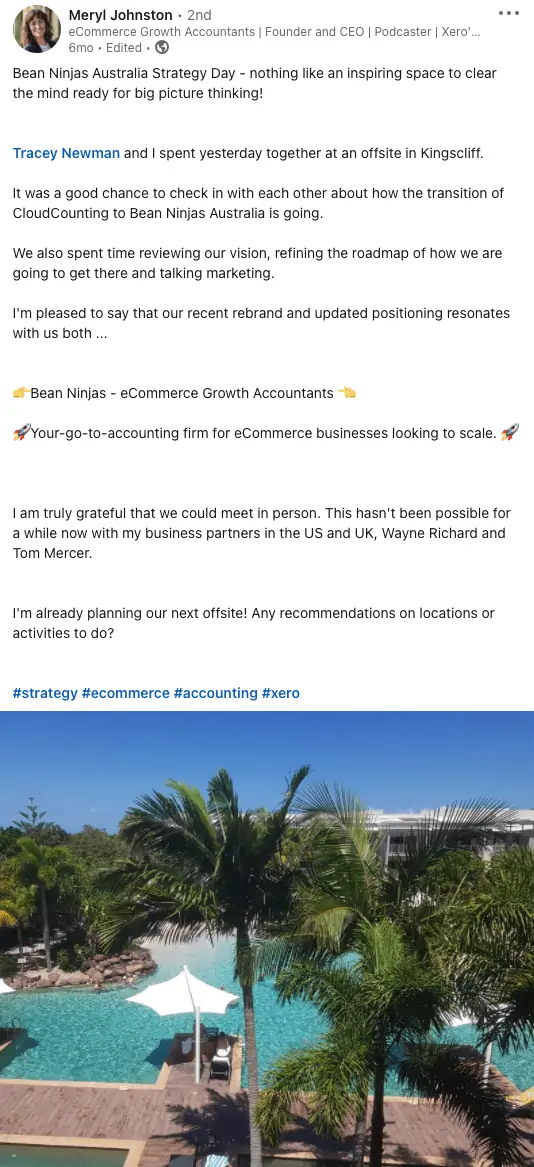 Taking Action
Starting with 'why'
This started with getting each team member aligned with our mission and values.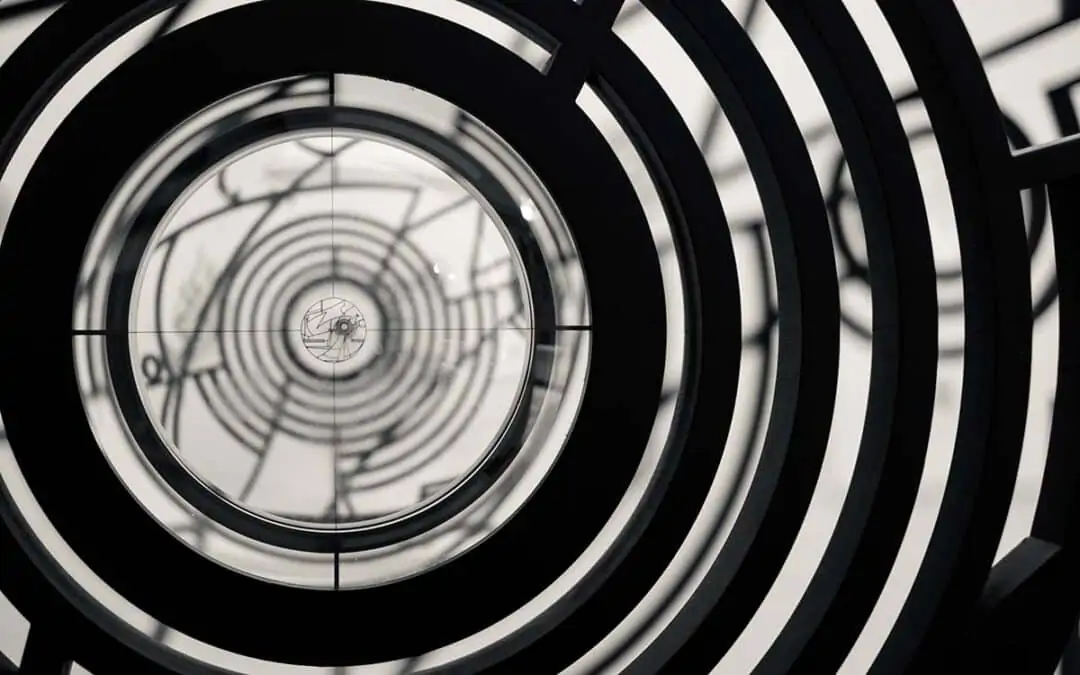 I also like to set a theme for each quarter that ties in with our goals.
Our theme for Q1 and Q2 was 'building capacity."
How can we increase the number of clients we can support without increasing the number of hours the team works?
Once I set the theme I tried to tie every project and decision back to 'increasing capacity'.
Listen first, then take action
Rather than coming in with my insights and smashing everything apart on Day 1, I spent the first month listening and learning.
Here are some of the things I did to get to know the business and the team
Joining some of the daily huddles with the BNA team
1:1 calls with each of the BNA team members
Process mapping the key systems and processes
Financial analysis of different services and clients
Calls with Tracey at least once a week
Identifying bottlenecks in the business
My mantra for Q1 and Q2 has been 'increasing capacity', so that we can triple the number of clients the Australian team can support without increasing the number of hours our team work.
First I completed an analysis of the business and all of the different workflow, such as sales, onboarding, bookkeeping delivery, tax delivery, internal finance, human resource
Next I picked three areas to focus on that aligned with our theme of 'increasing capacity':

Focus on taking things off Tracey's plate


Create more space for managers to work on strategy


Update our org chart so that there were clear lines of responsibility. Instead of owning tasks, managers own whole areas of the business.

Subtract rather than add
I believe personal productivity is a superpower.
However, one challenge we ran was everyone in the team was already at full capacity. We needed the BNA team's help to run the various projects to help increase capacity and align our systems.
The first thing I focused on was freeing up space for team members across the business. If I could first reduce their workload by 20% then I could fill that time with project work.
Here are some of the things I worked on with different team members:
Scheduling and prioritizing tasks and trying to remove things from their task list


Creating habits around certain tasks happening at certain times and batching


Doing Pomodoro sprints and encouraging team members to disconnect from Slack and email in order to do deep work


Work on prioritizing and realizing that just because a team member or client thinks there is an urgent task you need to do, it isn't necessarily urgent

Aligning systems and leveraging technology

Some of the systems and technology changes we made were:
Moving from Zoom chat to Slack

Transitioning the CloudCounting team from personal emails to introducing a central inbox (i.e. tax@ bookkeeping@ etc.) for each team with HelpScout rather than having clients email individual team members

Building an internal Knowledge Base in Notion to capture all of our internal documents and standard operating procedures

Aligning our internal finance and reporting procedures

We also ran group training sessions with this team.

Give leaders the autonomy to make decisions
We have a separate country leader in each of our three regions, Australia, Europe and the United States.
While we might gain economies of scale with each team using the same tech stack, I decided it was more important that each country leader has the autonomy to run their own business and make their own decisions. This includes making decisions on software, systems and procedures.
Optimizing the team
The biggest bottleneck in the business related to the Organisational Chart. Almost all of the eight team members reported into Tracey.
This created two key problems:
The management overhead for Tracey in looking after and managing all of these team members.


It resulted in tasks but not whole areas of responsibility being handed over to team members. This meant that if a task came through that didn't fit the mold it ended up on Tracey's to-do list by default.

Creating three divisions within the business
After learning more about the business it became apparent there were three clear divisions:
Tax


Bookkeeping (which we later renamed to Cloud Accounting)


Internal Operations (HR, internal finance etc)


By putting in place a manager to lead each division and then having all team members report in to one of the three managers we freed up a lot of management overhead from Tracey.
Leadership Training
To help support these new managers we invited them to join the Bean Ninjas Emerging Leaders training alongside team members from Bean Ninjas Europe and Bean Ninjas US.
Hiring more junior team members
As we put the divisions in place it became clear that we needed to hire additional junior team members to support our managers, so our managers could focus on more strategic projects.
We've hired two new full-time accountants and one part-time admin so far and we're expecting to hire another two accountants later this year.
Standard Operating Procedures
When preparing to onboard our new staff it became apparent we needed a more robust Knowledge Base.
We needed to further standardize our training and onboarding processes since many of our existing SOPs were out-of-date, and there was a lot of tribal knowledge that wasn't written down anywhere or buried in tools, like Sweet Process, Slack, and Wrike, that team members weren't using regularly.
Building a new internal team knowledge-base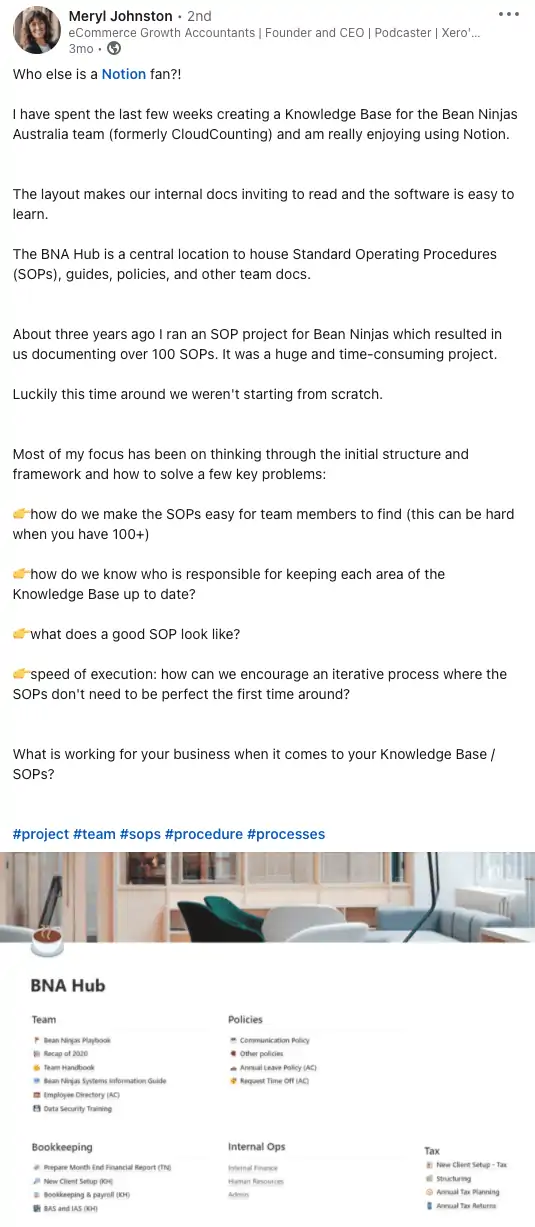 The second challenge led us to create a new internal knowledge base in Notion. We decided to go with Notion because of how customizable it is and how easy it is for our team to use.
We started this project by building a framework for how this content should be structured and built accountability processes to ensure the content is reviewed and updated regularly.
The BNA Hub is a central location to house Standard Operating Procedures (SOPs), guides, policies, and other team docs.
Most of our focus until now has been on thinking through the initial structure and framework and how to solve a few key problems:
How do we make the SOPs easy for team members to find (this can be hard when you have 100+)


How do we know who is responsible for keeping each area of the Knowledge Base up to date?


What does a good SOP look like?


How can we encourage an iterative process where the SOPs don't need to be perfect the first time around?

This allowed us to start using the new KB a lot sooner. As we bring on new team members or notice a gap in content, we update Notion.
Repetition, repetition and more repetition
As you might expect, it takes time, repetition, and communication for these changes to take hold.
Our theme


Our vision – triple revenue, who our ideal client is, what our minimum fee is, what that means for our team


Sprints

Personal productivity


Leadership
Keeping communication lines open and being willing to repeat core themes and messages is essential.
Would I be open to future merger / acquisition activity?
Yes, I think this has been a win for the original Bean Ninjas team and investors as well as Tracey and her team.
"I've been running my business on my own for close to fifteen years, and I've come to the conclusion over those years that there are not enough hours in the day to grow a business, and deliver excellent service to clients. Choosing to partner with Bean Ninjas was the right decision for myself and my business."
"I am now able to enjoy work life balance by logging off from work at the end of the day, and over the last six months I have taken up running and feel physically and mentally healthier than I have in years!"

Tracey Newman
If we were to do another merger / acquisition, I would change a few things, including:
Having the entire team meet each other earlier. We had all of our key staff meet each other prior to the merger, but it wasn't until the 2nd / 3rd month that we held a zoom party for the entire team to meet each other.


Being patient with the rate of change and being mindful of team members having their existing job as well as tasks related to the merger. Next time I would consider having a dedicated project manager work with me on merger tasks.
Overall it has been a fantastic experience and I'm grateful for the opportunity to work with Tracey and her team.