Surprisingly, most of our Bean Ninjas journey so far has been with a simple, DIY logo, courtesy of nothing more than Microsoft Paint.  
This might sound strange to you but we had our reasons for using a DIY logo we mocked up in less than an hour.
Primary reason: There really are only 24 hours to a day.
We chose to focus the limited time we had on what we felt was most important. The business. The clients. The team.
And it worked. Bean Ninjas has managed to consistently grow our recurring revenue stream by 10% month-on-month. Bean Ninjas is currently turning over $20,000 a month from our subscription bookkeeping service and we've got some amazing customer success stories. 
However, a DIY logo can only get you so far.
In recent months Bean Ninjas was in need of a branding makeover to support our growth.
A Shift Away From the DIY Approach
We realised that the business was growing. And as it grew, so did the distance between what we started out with (2 co-founders with an idea) and what we are becoming. This makes it increasingly difficult to be consistent in the brand that the business is portraying.
For us, the word 'brand' speaks to what people think when they hear of Bean Ninjas. What is the story that clients and people are telling about us?
Bean Ninjas believes in offering a high quality service that will speak for itself. Referrals then become a natural stream of new and repeat business.
Our brand has evolved over time. And it's evolved because of the team that we have. But with the team getting bigger it became important for us to have a clear identity and branding guidelines. This would help everyone in our team to be consistent in the way they represented Bean Ninjas and the message they shared with customers, suppliers and partners.
We were expanding. And our brand needed its own voice.
What is the story that clients and people are telling about you? That's your brand.
Click To Tweet
Diving into the Design Process
So, how did it all begin? Why, with a cool, frosty beer of course.
The first meeting with the graphic designer was all about getting to know the business.
What was most valuable was that the designer took the time to understand what we were all about.
When we first started Bean Ninjas, we didn't really know what Bean Ninjas was about. We just launched and learnt as we went along. It was only over time that we discovered what was important to us, what would inspire us and our team.
Related Reading: Why Build a Productized Service (Instead of Consulting)? Bean Ninjas 7-day startup story
Developing a quality brand is a continuous journey, not a destination.
Click To Tweet
Once everyone was on the same page, the branding artwork took clear direction from the business values.
One of the first changes was the colour. A new shade of green that was attractive, but not too bold.
We made changes and made changes until we were happy with the final result.
The Designer's Perspective
Lindsay Tucker, creative director at 812 Branding, played an important role in our success story.
She first came across Bean Ninjas when we won the competition that she was running for South East Queensland businesses. The prize was a full branding package.
"Meryl entered Bean Ninjas and they were the winners because I was impressed with their story and idea of productising a bookkeeping service. I also thought the name was memorable and had great scope for some awesome creative work."
Potential meets skill, and viola! A revitalised brand is born.  
Bean Ninjas graciously accepted the prize, and the re-branding process began.
Lindsay quickly recognised that, while Bean Ninjas had come a long way on our own, and made hard effort to get to know our target audience, our brand still wasn't speaking the right language.
Our logo wasn't professionally designed, and this was letting us down.
"People underestimate how important a consistent, quality brand image is. A brand gives your customer the opportunity to align with your values, it helps form the kind of impression you want them to have."
So what did Lindsay do about these challenges? I think you'll find it to be a simple and somewhat familiar process.
1. The First Date
Lindsay started by meeting with us in person. There's nothing like a cup of coffee or ice cold beer to build that rapport! What else? Well, she listened. Listening to each other is the best way to establish expectations, and understand the client's needs.
"The initial meeting also determines if you're right for each other, kind of like a first date! I ask a lot of questions and find out where a client's understanding of branding and their audience is."
2. Getting to Know Each Other
The next step was to agree on Bean Ninjas' story, vision, tone of voice, values, essence and personality of the brand. This was essential to creating the framework for the creative components, like the logo.
"Working out your customer's problem and how you solve it from their perspective is key."

3. The Proposal
The project proposal is a shared document that contains a brief, timeline, deliverables and terms. Having this upfront and signed off by Bean Ninjas meant that everyone was on the same page before the designing even began.
"I think if you do the groundwork and research the creative comes naturally"
While working through this three stage process with Bean Ninjas, Lindsay was careful to avoid a few common mistakes. Mistakes she's seen plenty, and Lindsay shared the most common with us:
Clearly defining a target audience.
"I still find very vague answers or broad responses such as gender and age range from people who say they know their audience. We need to go deeper than that to understand what makes someone tick."
Understanding the importance of consistency.
"When it comes to implementing a brand there are lots of rules to follow in terms of how you use elements together with colour, typography or placement of a logo, for instance. The job doesn't end with handing over artwork."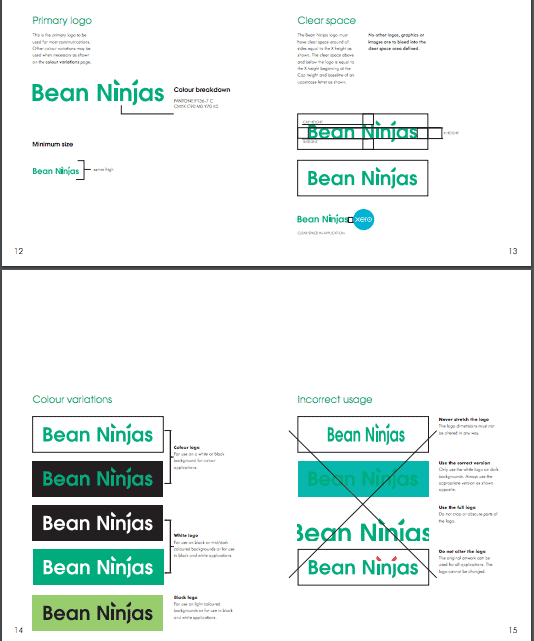 Understanding intellectual property.
"This is probably the biggest challenge. Almost everyone assumes the creative work belongs to them. It doesn't. By default the law states any ideas or creative work, including the final artwork belongs to the designer or agency who created it. You're actually buying a licence to use the artwork for its purpose in the same way you have the right to play a DVD or CD you bought, but you don't own the rights to the movie or song."
Clients are usually given the option to purchase the branding artwork and have it transferred to their business.
"Any good agency or freelancer worth their salt will have terms and conditions in place that clients are able to have a read over before work commences. Agreeing on this upfront avoids having to find and contact the designer in the future if you ever want to sell your business or get investment."
Want to learn the 3 common mistakes small business owners make with branding? Read this.
Click To Tweet
The Impact?

The Bean Ninjas' new brand launch was on the wire. Weeks before our sponsorship of the DC BKK Conference we were still finalising artwork for print before boarding the plane to Bangkok!
The pending conference took our branding up a level. It forced us to look more professional.
And we probably wouldn't have felt comfortable with the Bean Ninjas branding on conference materials, our t-shirts, journals (conference gifts) and signage if it hadn't been for the improvements we made with Lindsay (thank you Lindsay!).
So, What's Your Next Move?
A DIY approach might suffice when you first get going. Make sure that you choose a simple and attractive name and logo. Even go with something as simple as a font.
But, make sure you're ready when you hit that growth and spotlight (like a conference) where your business needs a more professional look and feel.
Bean Ninjas met Lindsay "just in time".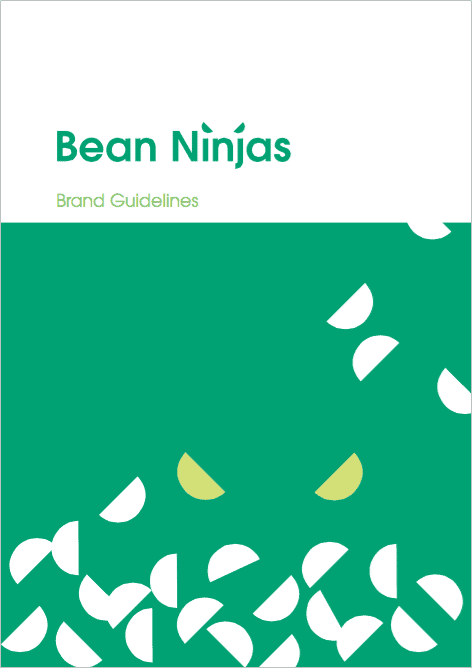 Your branding is your voice and face. So maybe it's time your business had a look in the mirror?
What makes a quality brand to you? Feel free to share any thoughts, experiences, questions or comments below.