QuickBooks is one of the best cloud accounting solutions for small to mid-sized eCommerce business owners. However, that's not to say that your QuickBooks account will come with all the desired bells and whistles when you sign up. Instead, you'll need to use a handful of third-party plugins to get everything you need to manage your finances.

In this post, we're sharing the best QuickBooks integrations for small to mid-sized eCommerce businesses.
Reporting
A2X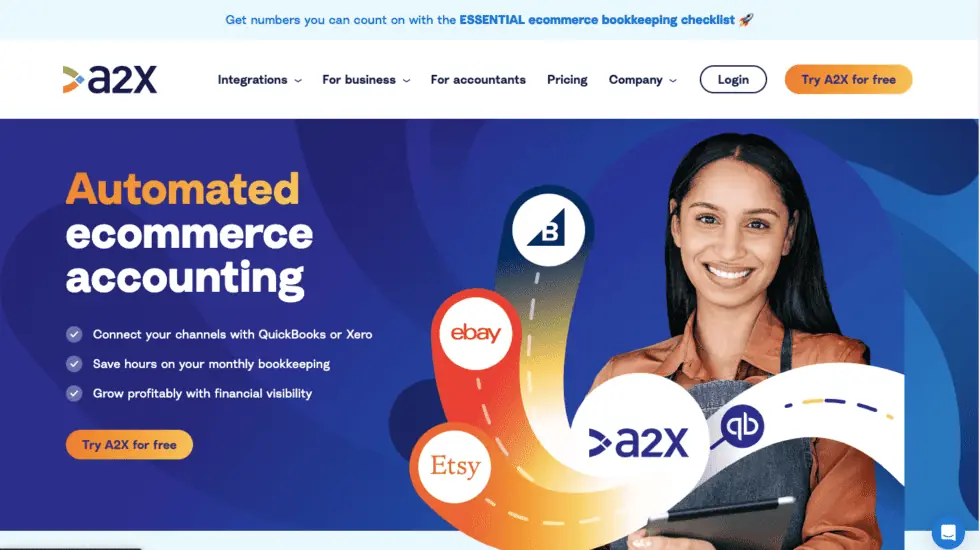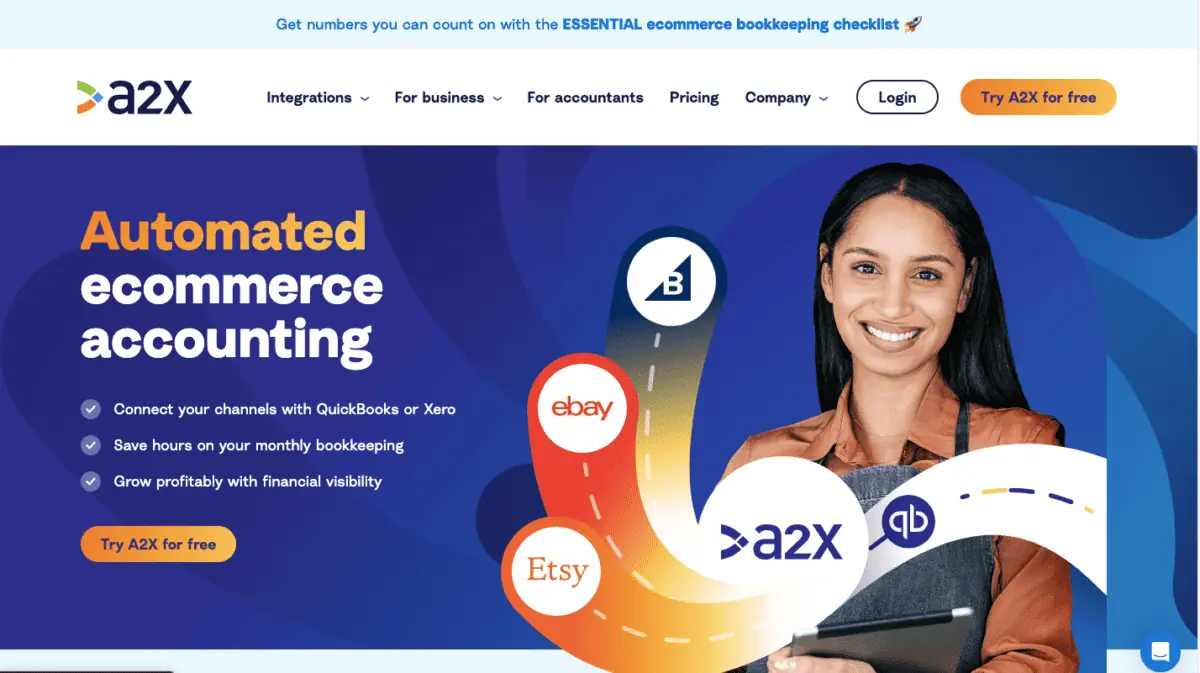 A2X is an accounting integration that automates some of the most tedious and manual accounting tasks by pulling in all of your sales channel data and transactions from Shopify, Bigcommerce, Amazon, Etsy, and additional channels into Quickbooks.
A2X is particularly beneficial for eCommerce business owners who want to dig deeper into sales data trends. The integration automatically generates journals for settlements and payouts across each sales channel, complete with a revenue and expense summary. Plus, A2X enables business owners to aggregate sales by product SKU, product type, or country to access granular insights.
A2X pricing is contingent on the number of integrated sales channels. For instance, pricing begins at $19 per month for a single Amazon, Shopify, Etsy, eBay, or BigCommerce sales channel, whereas a provider like Walmart begins at $69 per month. For those who require A2X visibility into multiple sales channels, monthly pricing begins at $79.
Pro Tip: Looking to learn more about how you can automate this process? Read this post. 
Inventory
Finale Inventory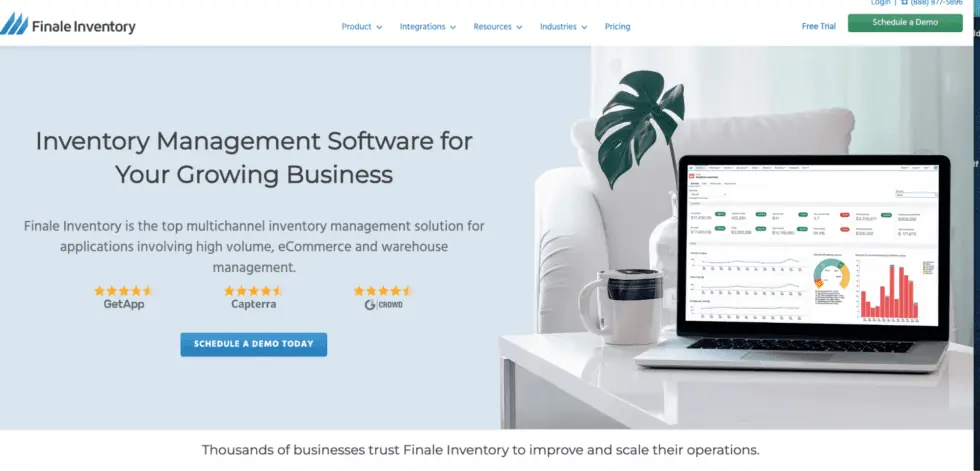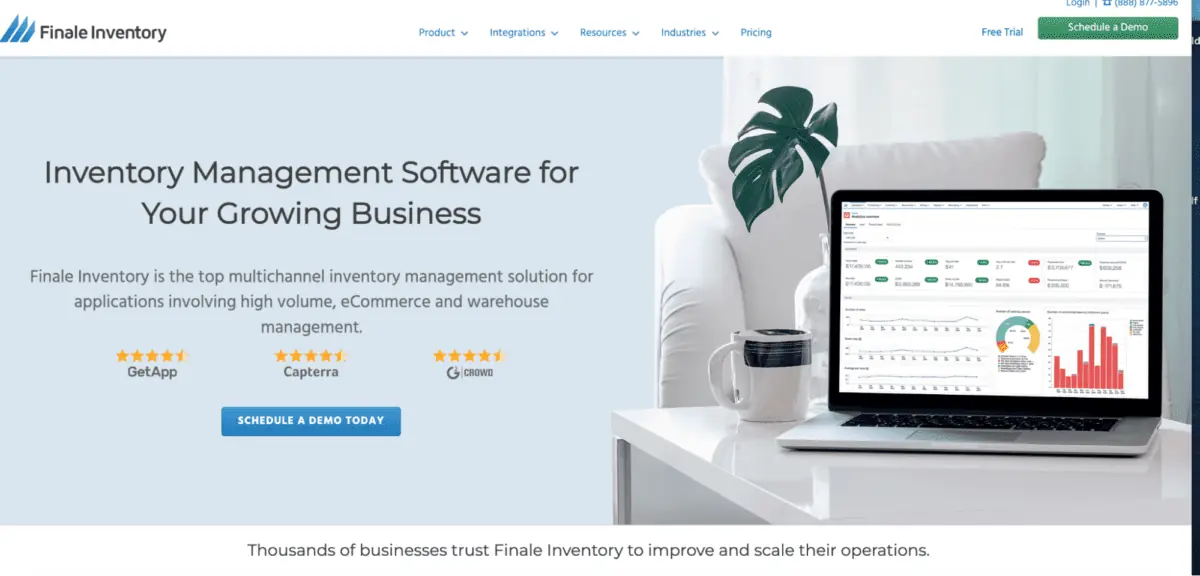 Finale Inventory software is a cloud-based inventory management system designed to streamline and automate various aspects of inventory control and tracking.
It is best suited for businesses that require a comprehensive inventory management solution to manage multi-channel selling, warehouse management, order processing/management, mobile barcode scanning, label printing, reporting, and integration with other software, like QuickBooks.
Pricing starts at $75 per month for the starter plan.
Cin7 Core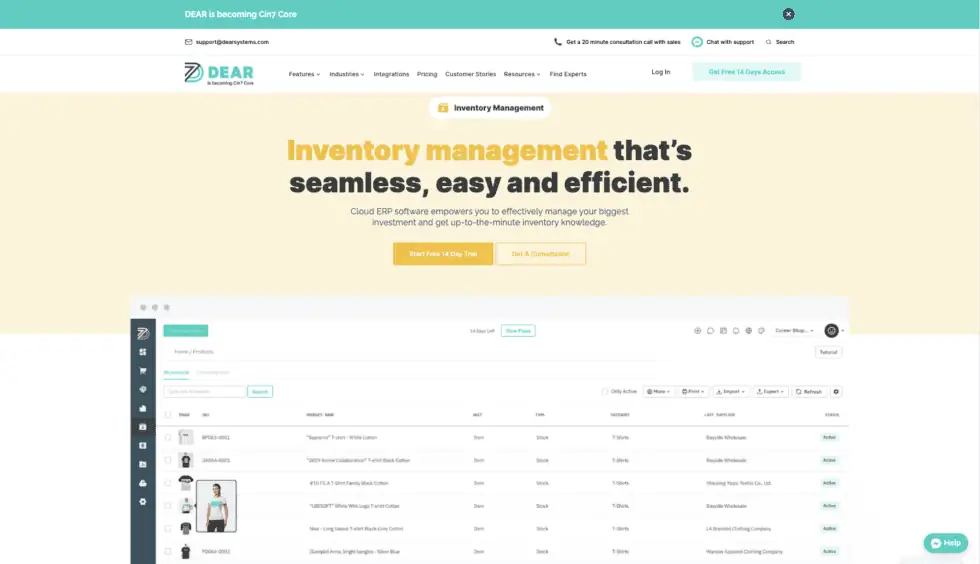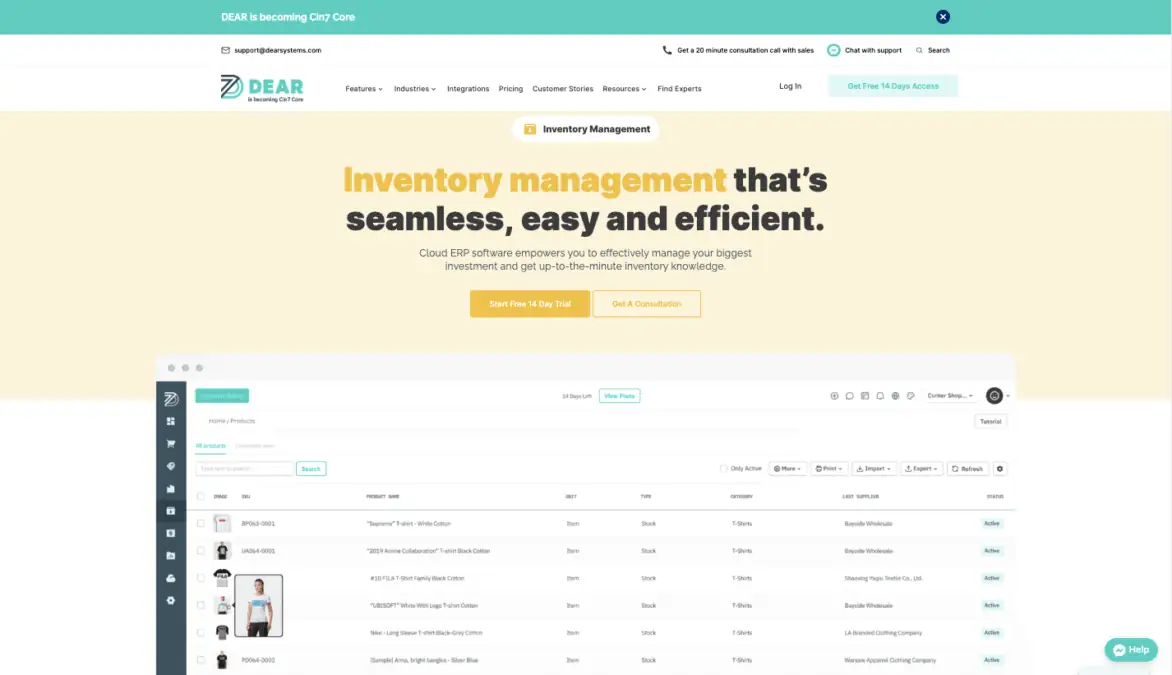 Formerly DEAR Inventory, Cin7 Core is the go-to inventory management software for QuickBooks. No matter the stock volume a business manages, Cin7 Core provides up-to-the-minute insight into inventory levels and order statuses, then syncs this data with various sales channels.
For instance, Cin7 Core's Drop Shipment feature provides a simplified method of creating sales orders that automatically issues a purchase order — with shipment details — directly to product suppliers. This feature saves not only substantial time and money, but also paperwork.
After a free 14-day access period to Cin7 Core features, monthly pricing begins at $325 per month for the Standard plan. For eCommerce operators seeking further capabilities, such as multi-location inventory management, opt for the Retailing plan that begins at $550 per month.
Payroll, HR Benefits & Expense Tracking
Gusto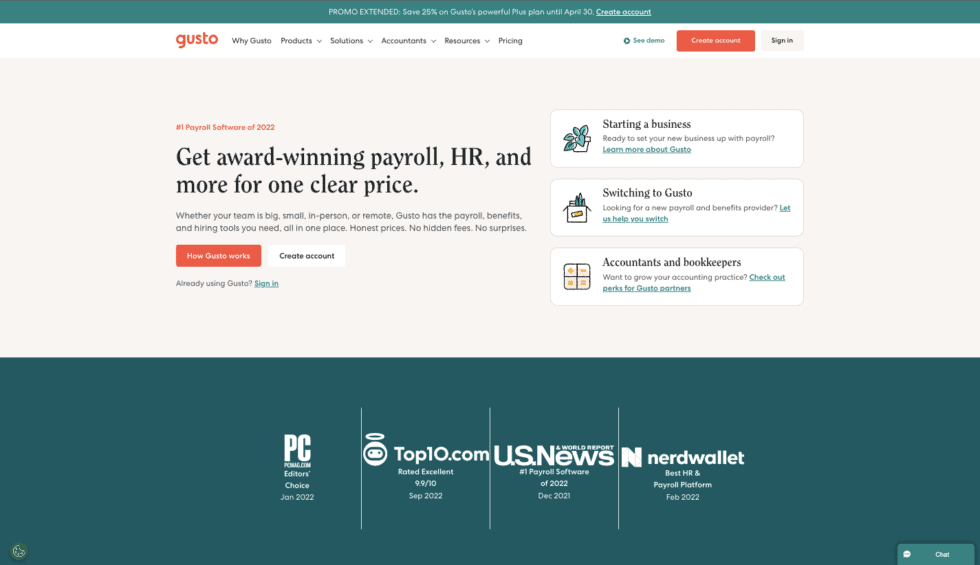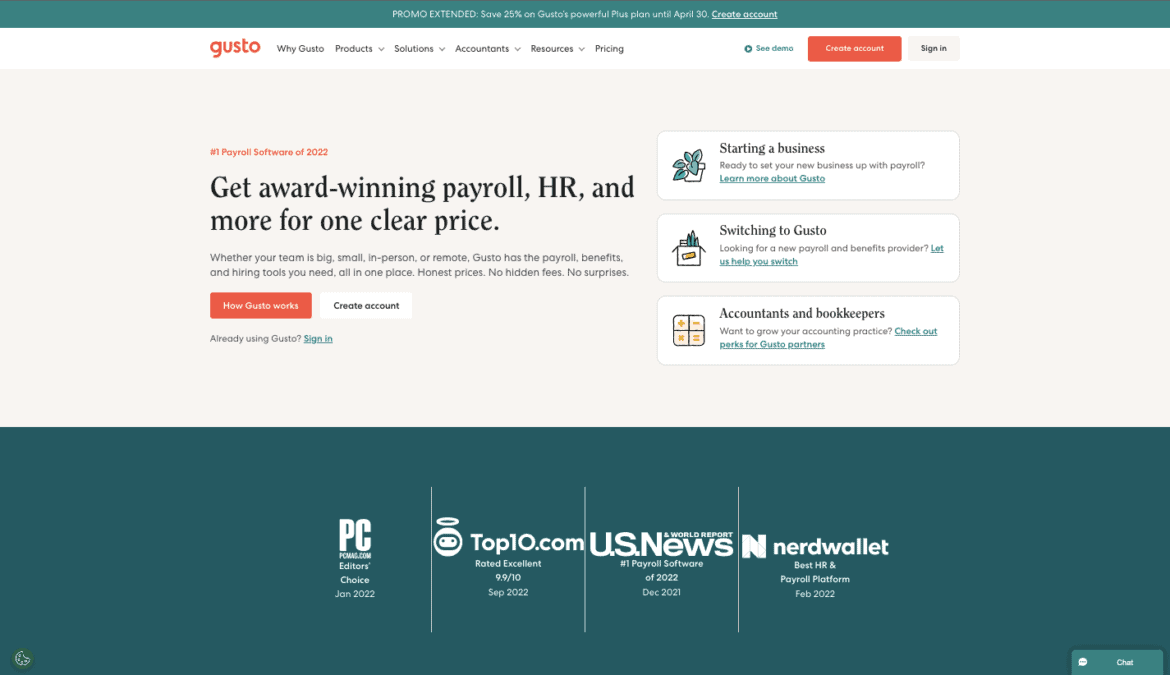 For all things employee and contractor payroll, many eCommerce operators trust Gusto. Gusto helps to automate various manual payroll tasks, including local, state, and federal tax filings; issuing W-2s and 1099s; and tracking employee work hours. Every time Gusto runs or updates payroll, this data is instantly synced to your QuickBooks expenses to accurately reflect any wages, taxes, and reimbursements.
In addition to employee payroll needs, Gusto also offers features for small to mid-sized eCommerce organizations in need of human resources (HR) capabilities. HR features offered with the Gusto integration include employee benefits management, hiring and onboarding tools, and even talent management tools that help review the progress and performance of your eCommerce employees.
Gusto's employee accounting and HR capabilities begin at $40 per month for the Simple tier, which offers a streamlined set of automated payroll features and employee benefits integrations. For eCommerce companies looking for more intensive HR integrations and faster payroll turnaround times, Gusto also offers a Plus subscription that starts at $80 per month.
Justworks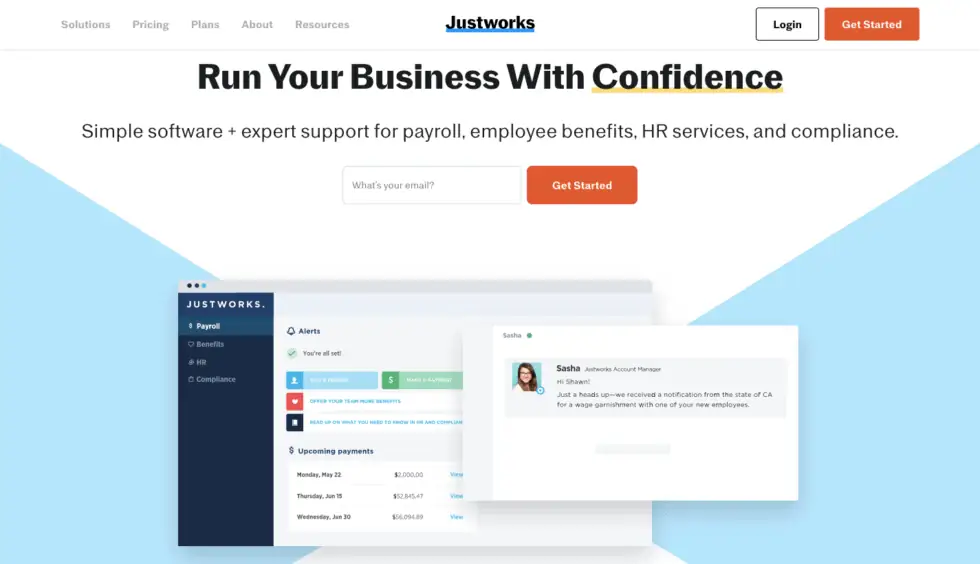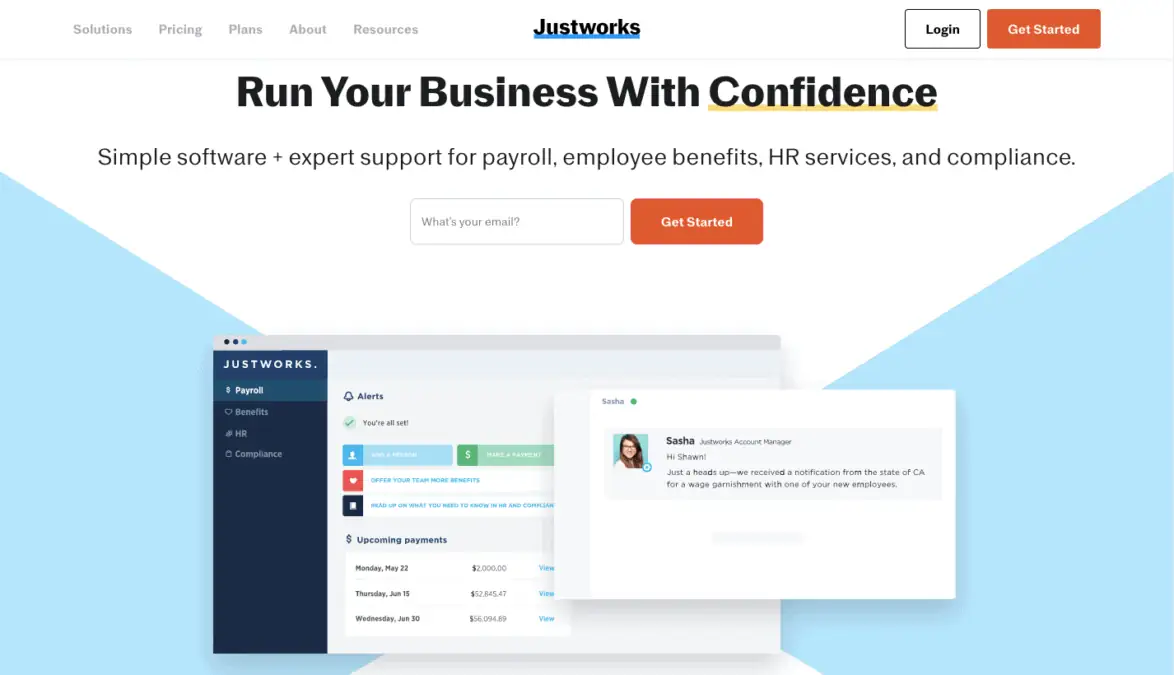 If you are looking for a more robust solution than Gusto, Justworks is a solid QuickBooks integration. Justworks automates a business's payroll process by tracking employee hours, scheduling payroll, and distributing worker payments all from one, easy-to-navigate platform.
A preferred feature of the Justworks integration is vigorous compliance support. Justworks' integration with QuickBooks helps company managers stay on top of changing employment regulations and decipher any difficult payroll processes. Likewise, compliance support also helps alleviate the stress of tax season by handling all the filing for W-2s, 1099s, and payroll taxes.
Justworks offers two separate monthly membership tiers, including the Basic plan at $59 per month for the go-to payroll and compliance features, as well as a Plus plan at $99 per month to unlock all the basic features plus access to various health plans (if your business wishes to offer those).
Expensify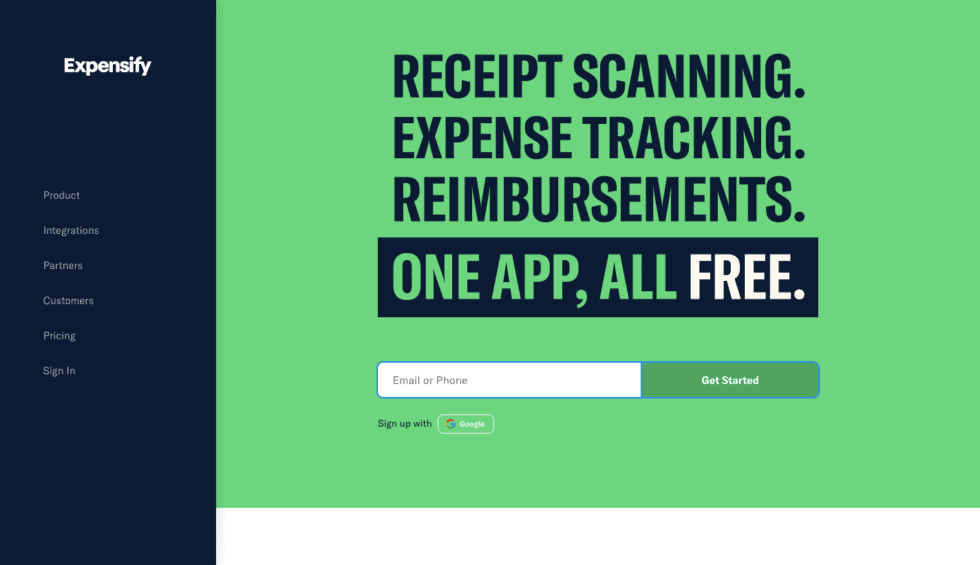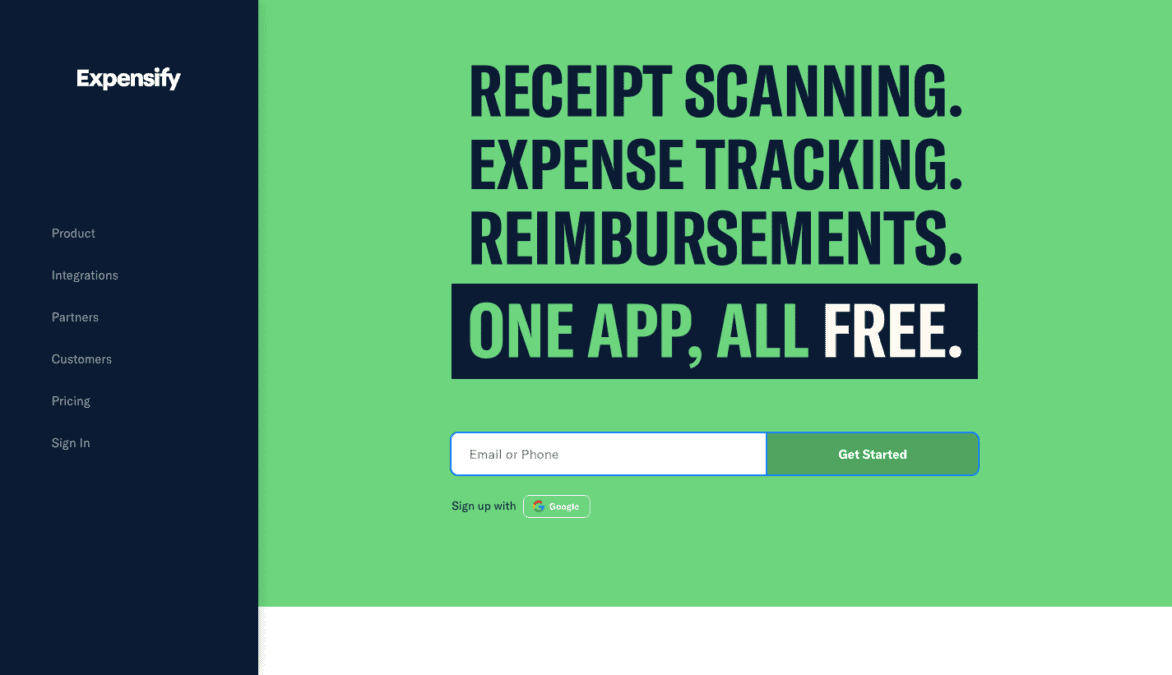 The Expensify QuickBooks integration automates many expense management processes, including mileage tracking, expense reporting, bill pay, and credit card reconciliation.
Expensify's audit and compliance features also help detect duplicate receipts and verify each transaction for complete reporting accuracy.
A key feature eCommerce operators point out when using Expensify is also the platform's One-Click Receipt Scanning. Through a mobile application, users can capture a photo of any physical expense receipt, where Expensify's SmartScan feature automatically captures the necessary details to develop an accurate expense report.
To integrate with QuickBooks, users will need to first create an Expensify account. The Expensify subscription model offers a Free tier that offers basic expense reporting capabilities. For those seeking more robust capabilities — such as setting smart spending limits and multiple approver accounts — there's also a Collect tier starting at $5 per month and a Control tier at $9 per month.
Ecommerce Platforms & Sales Channels
Shopify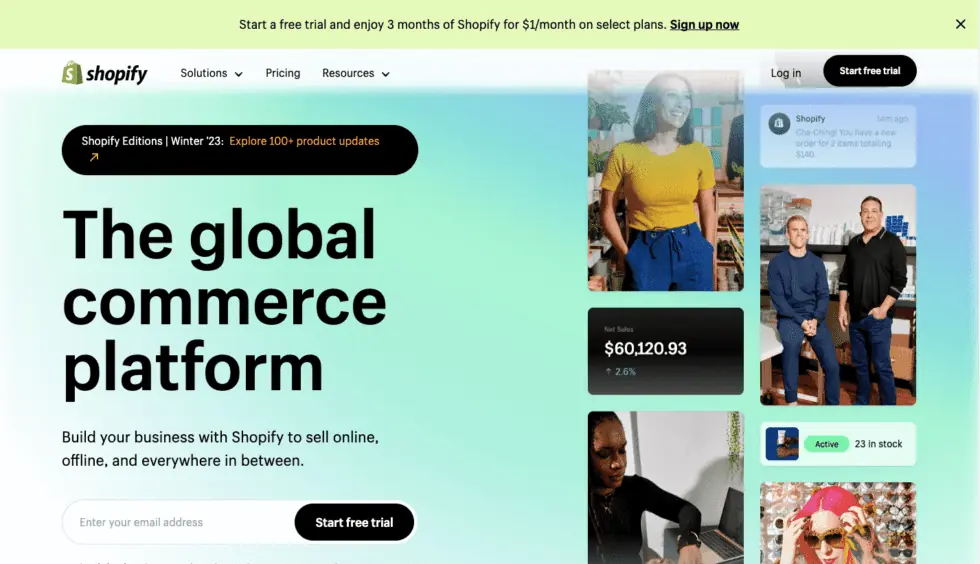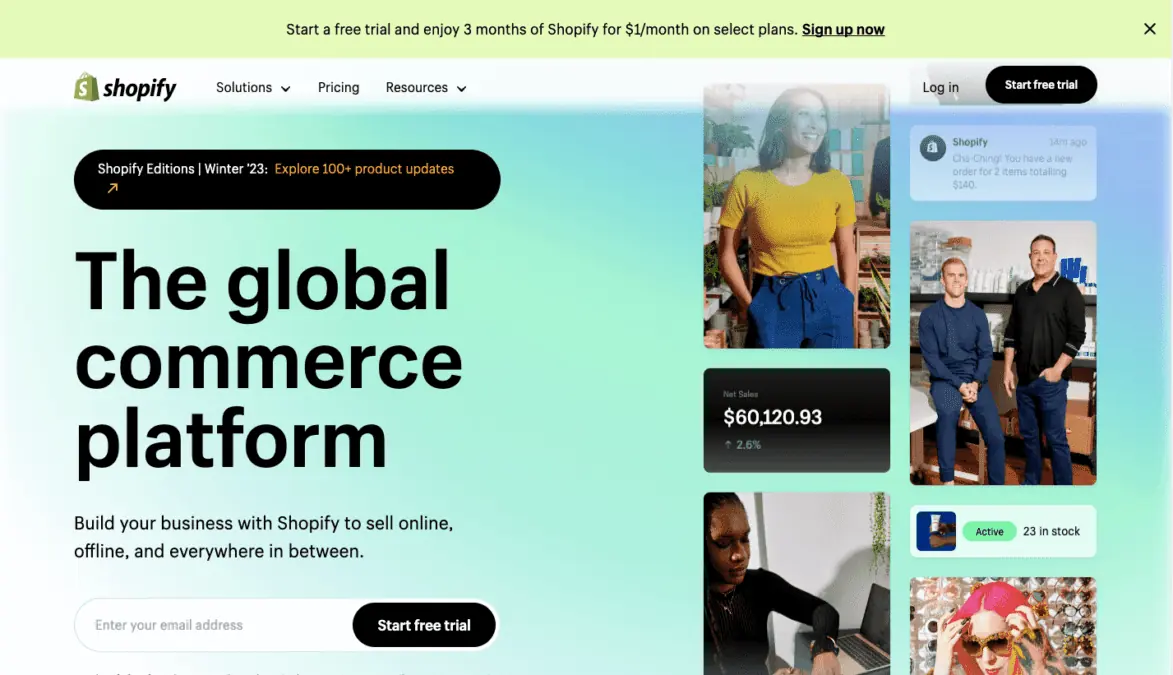 With many eCommerce operators using Shopify to develop and run their online stores, integrating with QuickBooks is a must. The Shopify integration automates the process of extracting order and payout information from your various eCommerce sales channels and syncs them to QuickBooks to provide an in-depth look into company income and expense data from a centralized dashboard.
A Shopify integration is an amazing option for eCommerce business owners looking to simplify annual tax preparation needs. The integration helps maximize deductions by automatically categorizing eCommerce shop revenue, taxes, and expenses for complete and accurate visibility. Those with a Shopify storefront and Quickbooks subscription do not have to pay for a Shopify integration.
Caution: As order volumes scale and grow, a direct integration where all sales orders and payouts sync to Quickbooks becomes burdensome to manage and adds bloat to your work effort without any material additional insights over summarized solutions provided by A2X.
Related Reading: A Guide to Shopify Accounting 
WooCommerce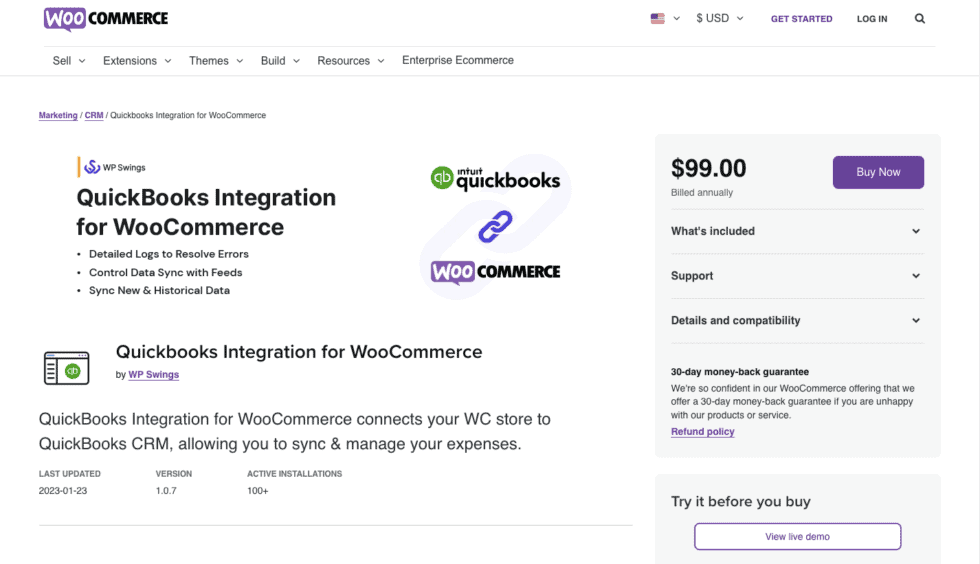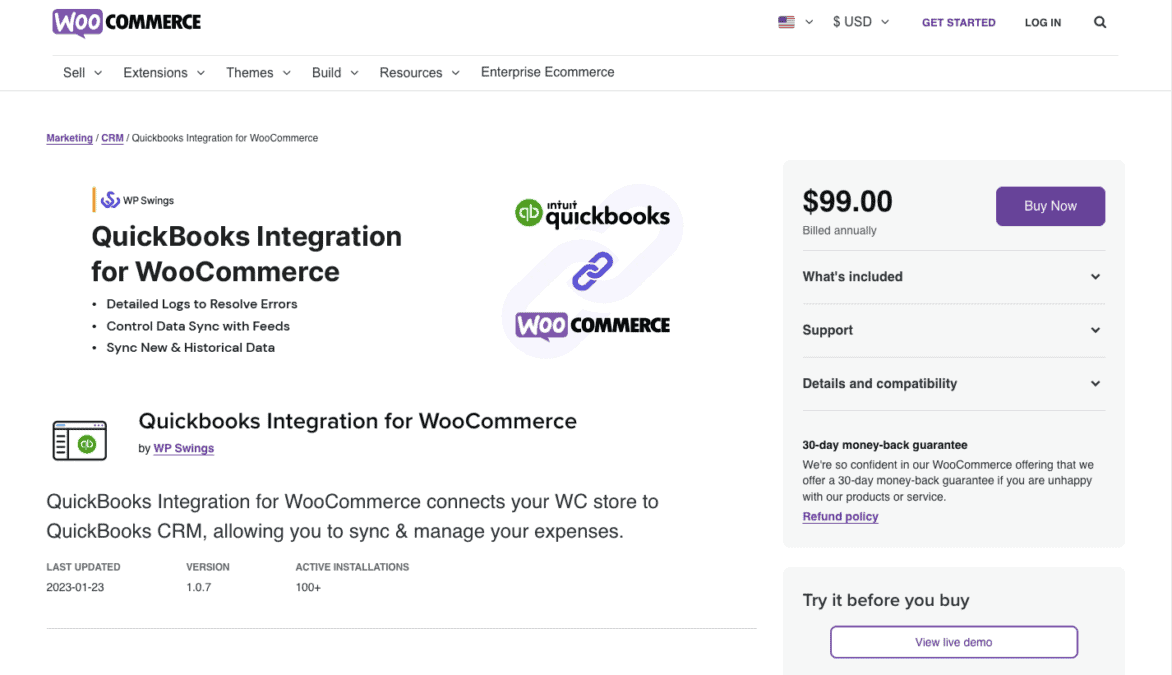 Similar to the Shopify integration, those who own and operate a WooCommerce digital storefront may also want to integrate their business with their QuickBooks account. The QuickBooks integration connects your WooCommerce store and allows users to sync sales data — such as order history, customer invoices, and product details — for complete visibility from one platform.
One especially handy feature that comes with the QuickBooks integration for WooCommerce is the full sync log report capability. This function assists eCommerce business owners with identifying data errors while syncing their storefront data with their Quickbooks accounts. With higher accuracy comes more efficient tax filing, revenue reporting, and financial planning in the long run.
Unlike the above integrations, the QuickBooks integration for WooCommerce cannot be found in the Quickbooks Third-Party Add-ons section. Instead, this eCommerce integration can be found as a separate product offering under the CRM tab on the WooCommerce website. Pricing for the WooCommerce integration is $99 per year.
Related Reading: A Guide to WooCommerce Accounting  
Etsy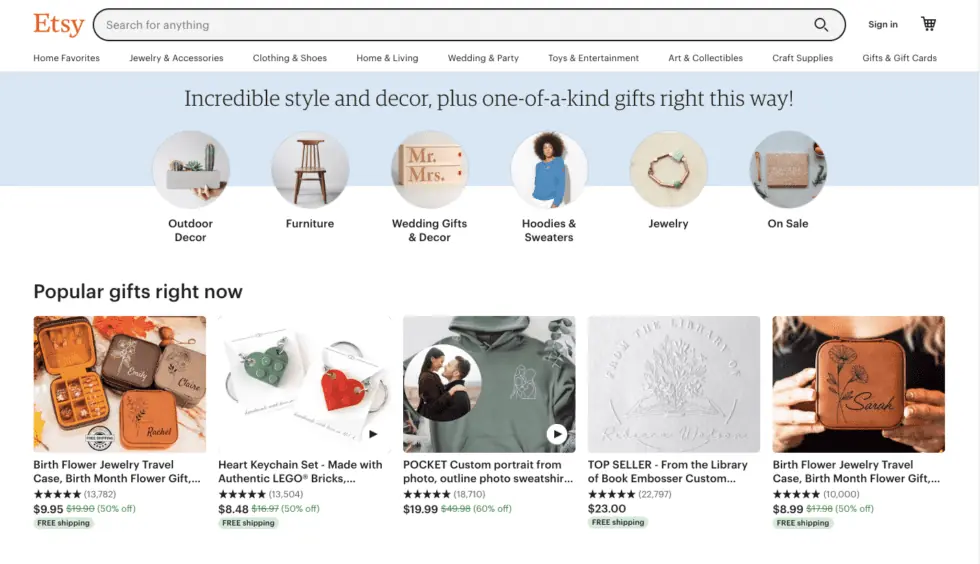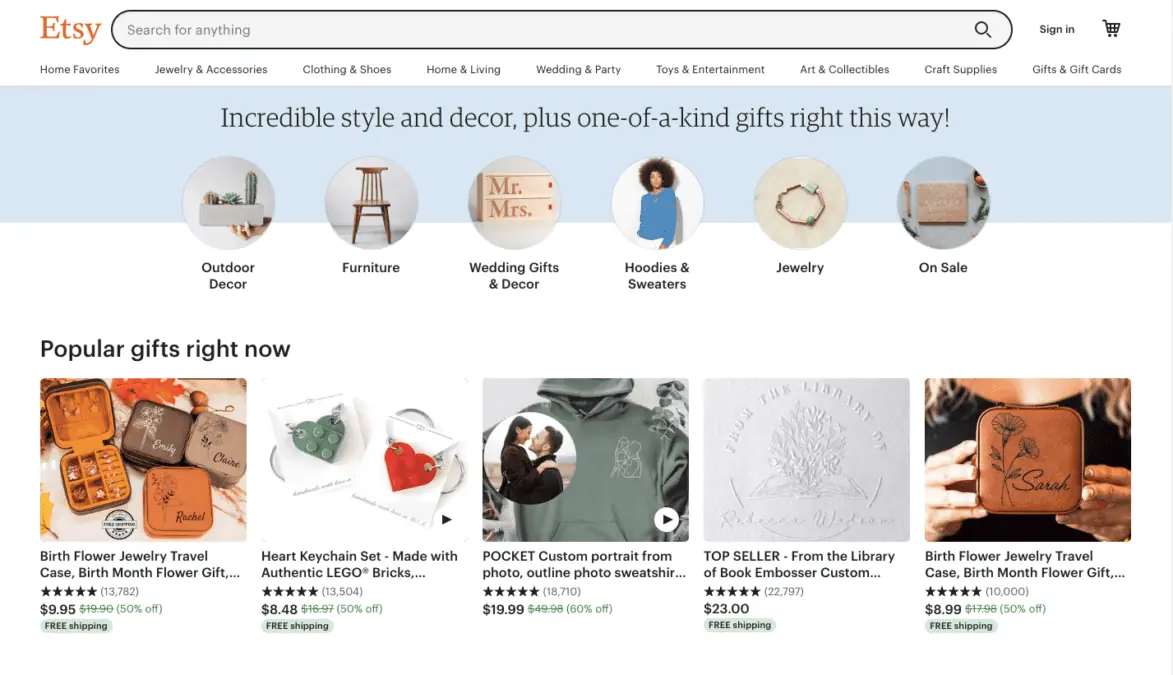 Fortunately, with a QuickBooks integration, businesses that sell on Etsy can automatically import all of their transactional data directly to their QuickBooks account.
Once synced with your QuickBooks account, business owners can assess the varying categorization of each Etsy sale they make, including income amount, merchant fees, transaction fees, and sales tax.
Those with an active Etsy storefront and QuickBooks subscription do not need to pay for this data integration.
Amazon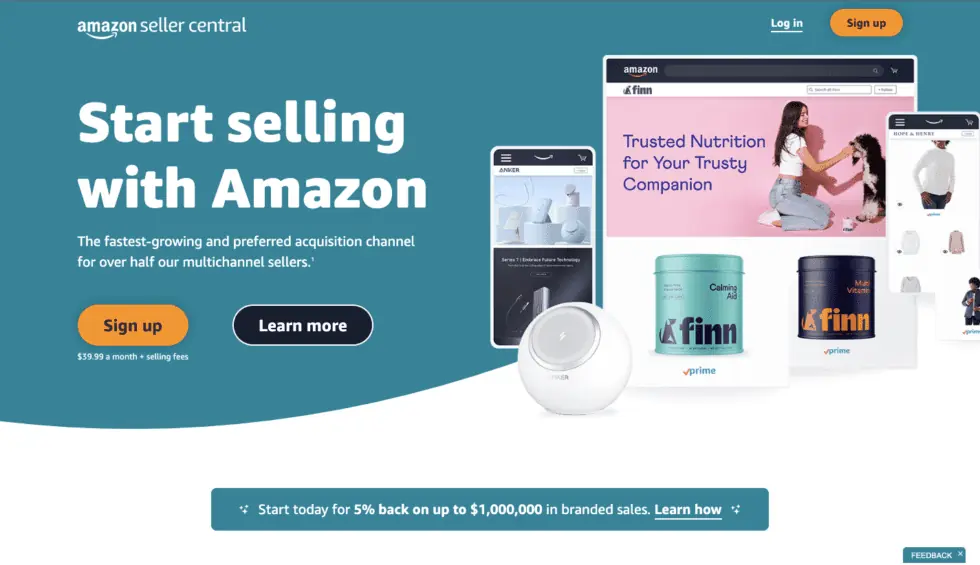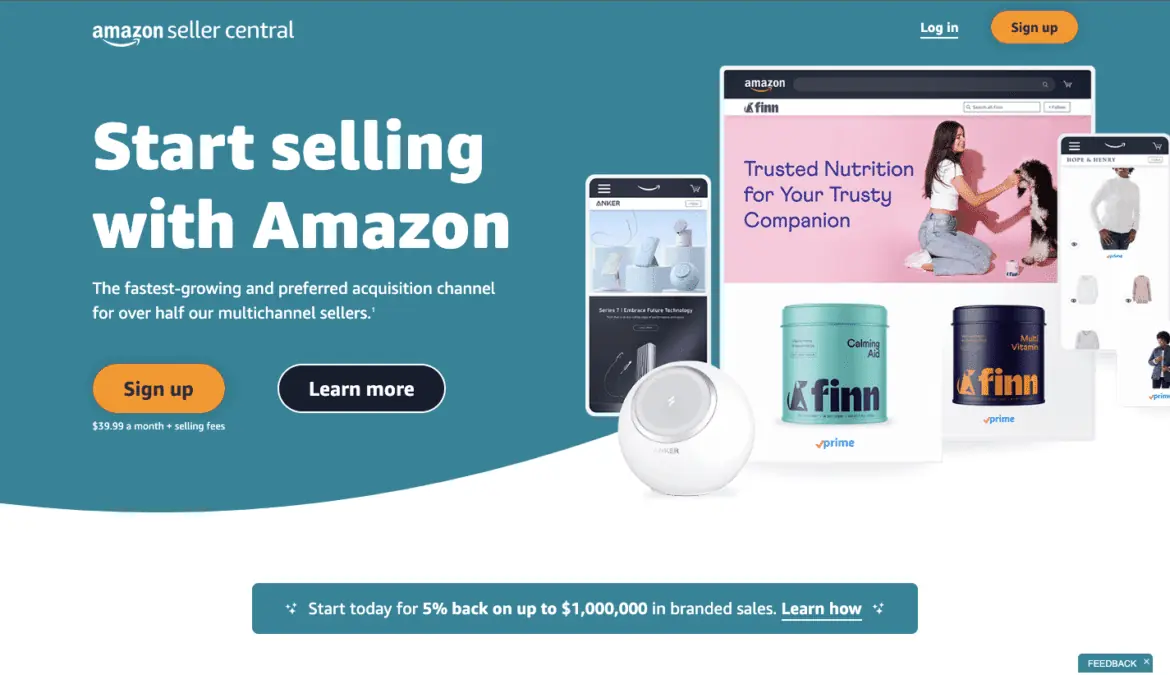 Through the QuickBooks Amazon Seller Connector integration, owners automatically sync sales data between an Amazon storefront and a Quickbooks account.
Once integrated into your QuickBooks, the Amazon Seller Central integration separates your revenue from sales taxes and Amazon fees for added visibility over your store's performance. This helps not only simplify yearly tax filing needs but also helps eCommerce stores to identify sales trends and opportunities within their product offerings.
To integrate with QuickBooks, businesses will need to enroll in an Amazon Seller account, which begins at $39.99 per month plus selling fees.
Payment Integrations
PayPal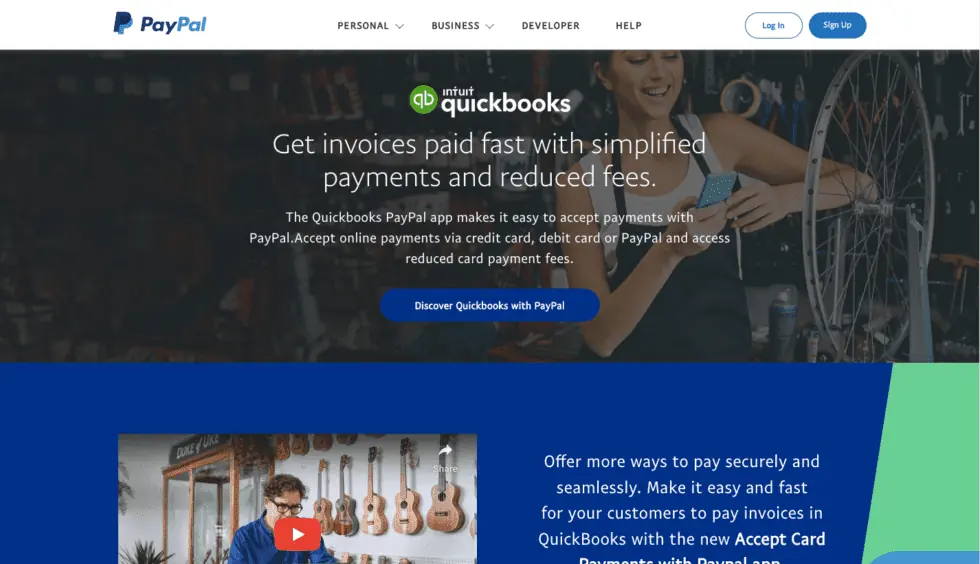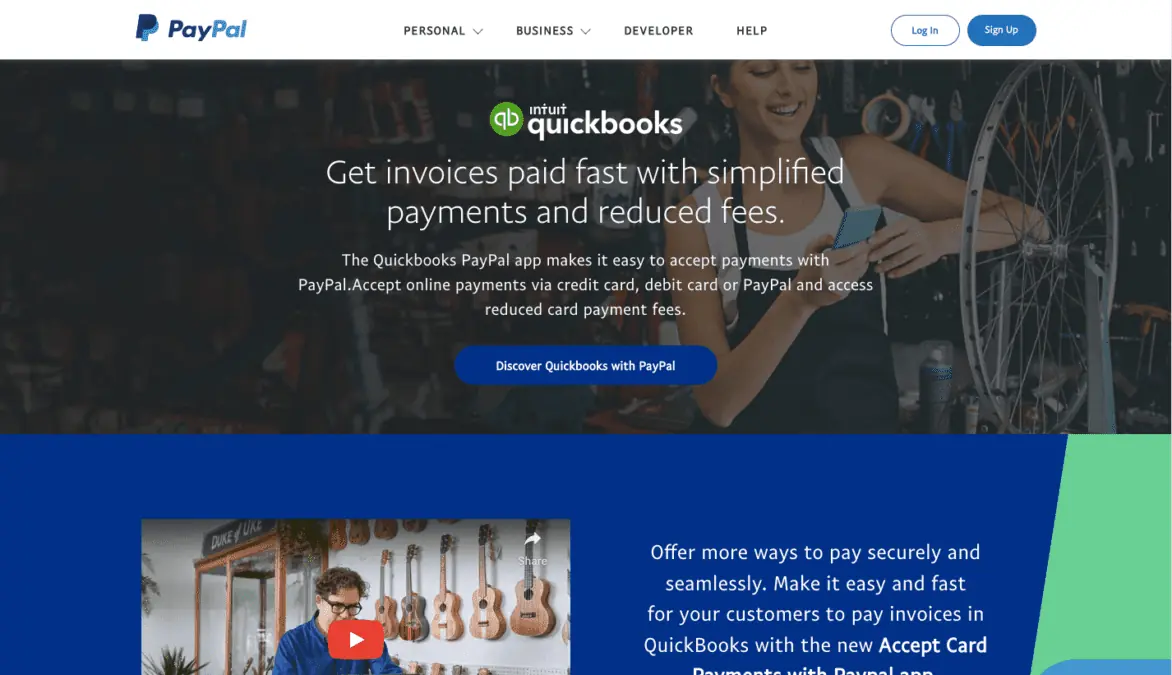 If you have a Paypal account, consider using PayPal's QuickBooks integration to help sync and view store data, such as items sold, discounts, shipping, and taxes, directly in their QuickBooks account.
PayPal's QuickBooks integration allows users to review transactions prior to putting them into the books for complete gross and net sales reporting. Any fees associated with using the PayPal platform are also automatically added to the QuickBooks expense account, saving time and effort, and helping access the best deductions possible come tax season.
Beyond general QuickBooks and PayPal fees, there is no additional charge for data integration between QuickBooks and PayPal.
***
These are some of the top Quickbooks accounting integrations that you may add to your account for added visibility.

Whether you are looking for ecommerce bookkeeping support or want help setting up and cleaning your Quickbooks account, we can help. Schedule a free call with a Bean Ninjas team member today.