When it's time to invest in accounting software, most small eCommerce business owners find themselves comparing the two market leaders – QuickBooks and Xero.
But with both solutions sharing similar features, how do you know which is right for your business?
As eCommerce growth accountants, we're comparing QuickBooks vs. Xero to help you decide which one is right for you. 
Xero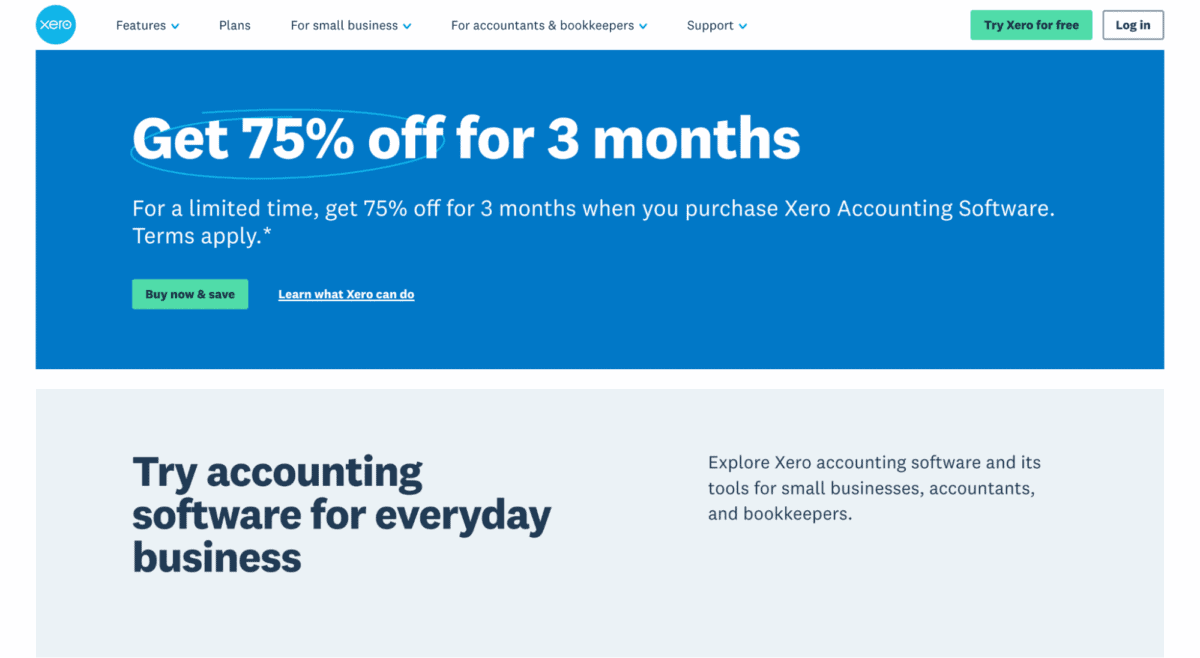 Xero is an accounting software targeted at everyday business functions. As such, the platform is more user-friendly than alternative accounting solutions and maintains a simple interface. This could explain why Xero customers consistently leave rave reviews on G2 for the software's suite of accounting, tax management, and eCommerce operational features, like payroll and inventory.
Who should use Xero?
Xero is best suited for small-scale or early-stage eCommerce businesses that require an accounting solution to grow with the company. With core functionality for daily processes like paying bills, accepting payments, and claiming expenses, Xero combines basic financial management features with a suite of add-ons for retail inventory management and robust reporting capabilities.
Xero supports unlimited users, which makes it ideal for those with a team of bookkeepers or accountants.
Key features
Xero is home to a ton of useful features, but the key differentiator is not the many benefits the platform offers to its users, but actually what the platform takes away. Xero is preferred by its customers for its sleek, user-friendly interface that feels more approachable and practical for new eCommerce business owners due to the lack of clutter on the initial dashboard.
Ideal for those who are unfamiliar with financial management, you can customize their dashboard so only the most important information related to your business is visible. For some users, this could mean restructuring the order of panels that populate upon sign-in or hiding specific panels altogether for a clearer, cleaner view.
Speaking of a cleaner view, each Xero plan includes access to a powerful mobile app that boasts numerous reporting tools and basic inventory tracking on the go. And unlike QuickBooks, which caps accessibility at 25 users maximum, all Xero plans also include an unlimited number of users, so the software can continue to scale along with your eCommerce business as it grows.
Ease of use
As we alluded to already, Xero is known for its intuitive interface. Users can easily share access with an accountant or bookkeeper through a one-click email invite that shouldn't take longer than just a few minutes. Once onboarded onto the platform, accountants and bookkeepers can instantly retrieve business financial management reports, tax details, audit trails, and more.
However, while Xero is known for its ease of use, there are a handful of drawbacks.
For one, Xero does not offer live chat support if you encounter an issue. Secondly, Xero does not provide a phone number to its customers for support
Insider tip: When submitting your help ticket, request that a representative reach out to you by phone and leave your phone number. While Xero does not have inbound call support, they do have representatives that will do outbound calls.
Related Reading: 8 Xero Setup Things Most People Forget
Third-party integrations
For small to mid-sized eCommerce business owners that demand greater functionality, Xero integrates with more than 1,000 third-party applications, including Stripe, PayPal, and Square. A variety of eCommerce retail inventory, point of sale (POS), customer relationship management (CRM), and even payroll and human resources (HR) integrations can be found on the Xero App Store.

In addition, here are some of the top Xero integrations that our team recommends and uses.
With its open API, Xero plays very nicely with 3rd party apps and often has created strategic partnerships with apps that perform the services better than Xero, like Gusto for payroll and soon Avalara for sales tax. 
Pricing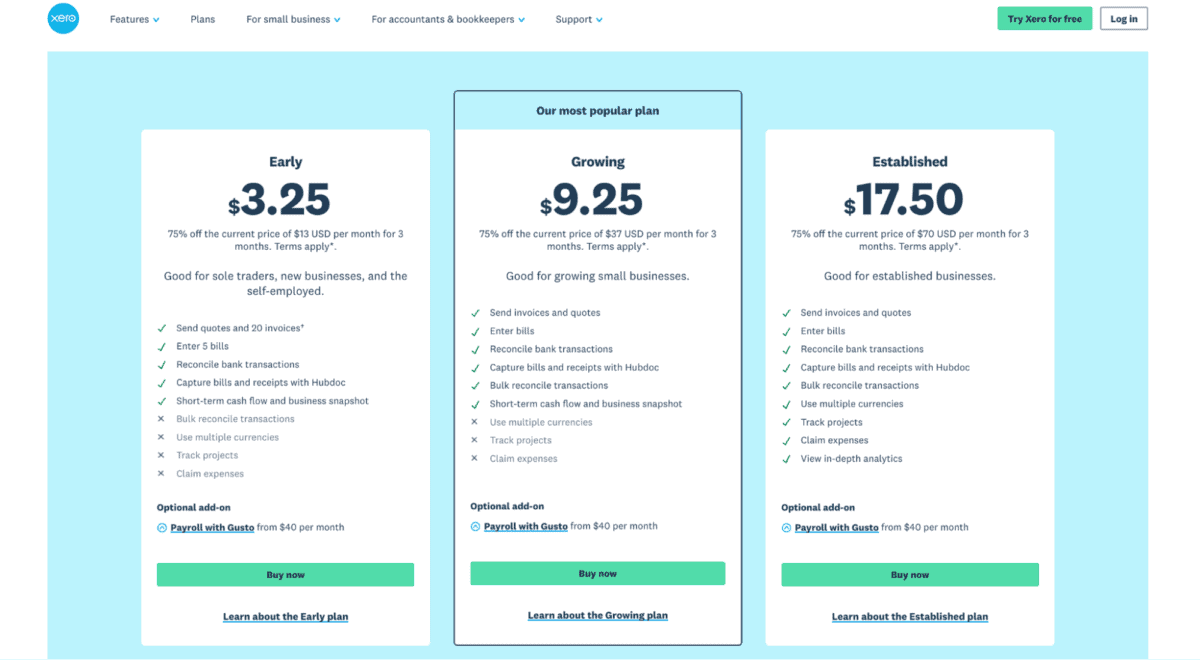 Despite having no free plan available, Xero is preferred by small-scale and early-stage eCommerce businesses because of its affordable price point. The most basic Early plan begins at $13 per month, though users will lose access to features like project tracking and expense claiming. Business owners can unlock all Xero features with the $70 per month Established Plan.
Note: Xero's pricing also includes Hubdoc. Hubdoc is a receipt and expense management software built to capture and organize receipts and statements.
QuickBooks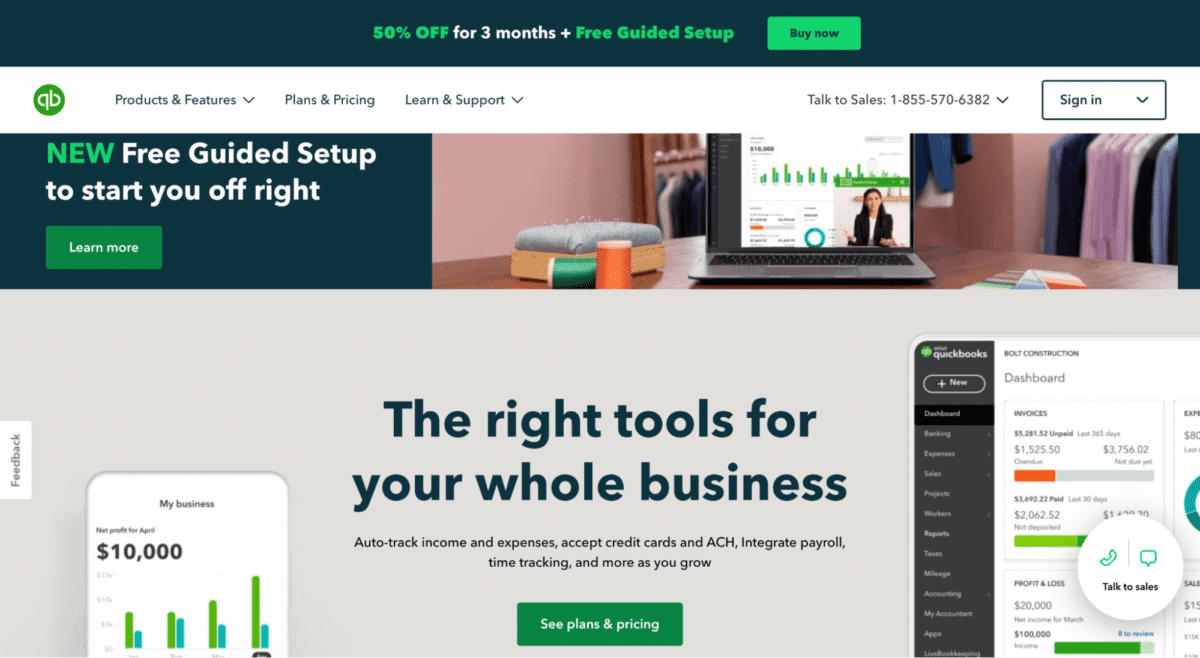 QuickBooks is the market-leading accounting software for small to mid-sized businesses of all kinds in the U.S.
With more than a quarter of the estimated market share in the U.S., QuickBooks is known for its accounting and automation features that range from invoice and inventory management to payment capture and payroll.
Who should use Quickbooks?
QuickBooks is best suited for small and mid-sized eCommerce businesses. The platform offers unlimited invoicing, billing, and expense tracking capabilities alongside a reporting suite of customizable budgeting, forecasting, and profitability analysis.
Unlike Xero, QuickBooks does not support unlimited users and will only allow up to 25 users for its highest-tiered plan — and some plans may require each user to pay for platform access. So, this makes QuickBooks ideal for those who plan to outsource accounting to a bookkeeper or accountant, like Bean Ninjas.
Key features
QuickBooks advertises an expansive suite of features, but a key differentiator is its direct integration with Amazon, Shopify, and eBay.
Moreover, every QuickBooks plan comes equipped with accounting tools geared at increasing revenue and decreasing administrative tasks and data entry. With a QuickBooks subscription, expense tracking functionality is built into all plans rather than offered as an add-on or upcharge, and items like tax deductions, receipt capture, and mileage tracking can be conveniently automated.
Speaking of convenience, a QuickBooks subscription provides more access to support, whenever and wherever it's needed. Every QuickBooks plan includes 24/7 live chat support, and telephone support is available from 5 a.m. to 6 p.m. PST Monday through Friday and from 7 a.m. to 4 p.m. PST Saturday and Sunday. QuickBooks also offers an extensive product knowledge library.
Ease of use
Like Xero, users can invite an accountant or bookkeeper to QuickBooks through a simple email process that takes only a few moments to complete. As a bonus, it's likely that your accountant — especially if they're located in the U.S. market — will be very familiar with the QuickBooks platform.
If you don't plan on inviting an accountant or bookkeeper to QuickBooks, the platform does offer 24/7 live chat and phone support. QuickBooks also offers a free guided setup to help eCommerce business owners familiarize themselves with the platform and automate the tasks they plan to perform most.
Third-party integrations
For small to mid-sized eCommerce business owners that require flexibility, QuickBooks integrates with more than 750 third-party applications, including online marketplaces like Etsy and Amazon Business Purchases and payment gateways like PayPal and Square.
Pricing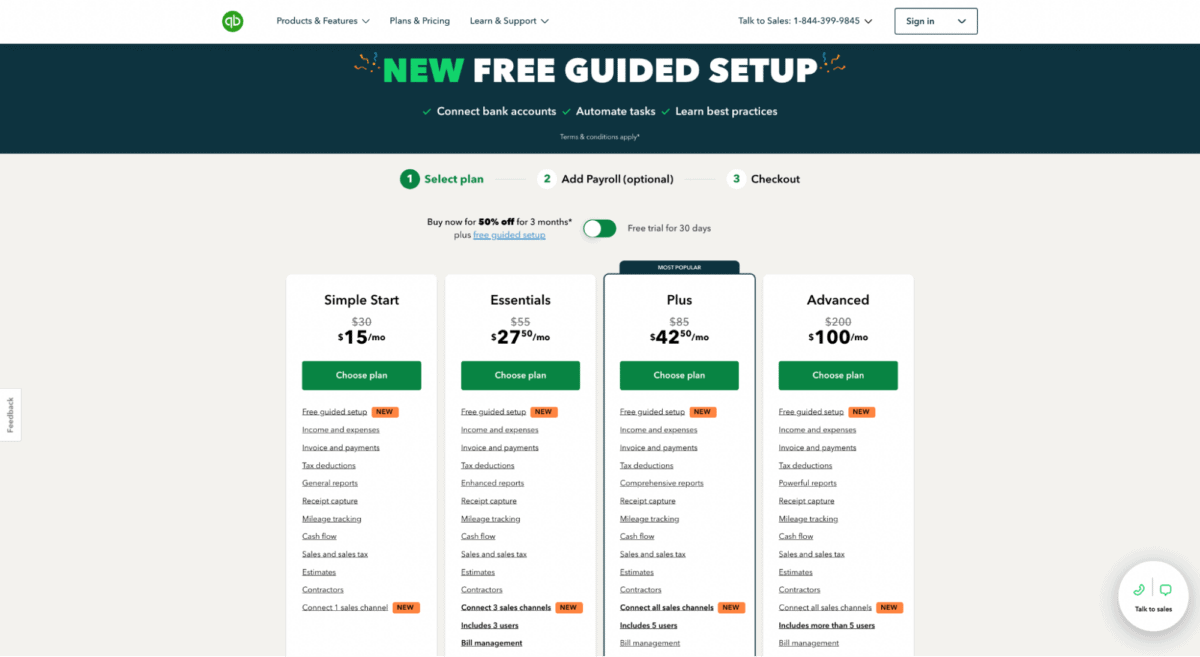 If you're interested in trying QuickBooks, you'll be happy to know that the software does offer a 30-day free trial. The most basic Simple Start Plan begins at $30 per month and only supports one sales channel with limited eCommerce functionality, whereas the most popular Plus Plan begins at $85 per month for unlimited sales channels and robust inventory management capabilities.
So, what do we recommend at Bean Ninjas?
Like with most things, there is no one-size-fits-all answer. We have experience with both Quickbooks and Xero, and have seen them used to scale brands from 0-7 figures.
Ultimately, like selecting a fitness routine, the best cloud accounting software is the one you actually stick with and use regularly.
When to use QuickBooks
In our experience, it is best to use Quickbooks if you are an established 7-figure eCommerce business headquartered in the U.S.

That's because it is the market leader in the U.S. and more tax accountants and bookkeepers work with it.
In addition, the new features of QuickBooks Commerce are yet to be fully deployed but seem promising for an early stage brand due to it's direct integration with Shopify, Amazon and eBay and inventory management features.
When to use Xero
Xero is best for any early-stage eCommerce business as well as any business outside of the U.S. Xero is well-loved for its sleeker interface, which makes complex accounting processes more approachable for eCommerce business owners who are just learning the basics. Plus, it's highly customizable with a flexible API and tons of third-party apps for maximum efficiency.
Looking for help with your eCommerce accounting including Xero or Quickbooks setup? Our team is here to help. Schedule a free call here.