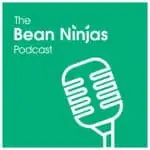 Author Robert Gerrish shares all the reasons why you should quit your job and work for yourself
In Episode 73 of the Bean Ninjas Podcast, CEO Meryl Johnston talks to Robert Gerrish about how he exited his business to find freedom in working for himself.
Learn why working for yourself beats working for others from @RobertGerrish, the man behind FlyingSoloAU. #work #career #business
Click To Tweet
How Robert Gerrish decided to work for himself
Robert Gerrish is best known for the business that he created about 12 years ago, called Flying Solo. Flying Solo is a large online community of small businesses based in Australia.
Originally from the UK, Robert moved to Australia 20 years ago.
Prior to that, he co-founded a marketing and design company in the UK. During that time, he worked with well known creative and youth brands.
His company got the attention of Saatchi and Saatchi, who were the world's biggest ad agency network.
Eventually Robert sold the business and started several ventures. Amongst other things, he managed a pop band and started an art gallery.
He found he was rapidly losing money, so he decided to start travelling the world.
His final stop was Sydney. He soon realized that a lot of Australians were running small businesses, which allowed them to live the kind of life they wanted to live.
Soon after, Robert founded Flying Solo and wrote a book under the same name.
Currently, the community counts 120,000 Australian members.They are all small/lifestyle business owners.
If you have an interest in starting an online community, tune in/read on. You will learn how Robert managed to build his community at a time when there was no social media.
Related: How To Build An Online Community From Scratch
"Forums were already kind of in their early stage of development. So we realized that a forum was what we needed…So that's what we did. By the time we opened our forum, it was, metaphorically, like a whole load of people trying to get into a nightclub, pushing up against the door. And eventually, we opened the doors because we got the technology right. And our forums, from day one, were massively successful. Now, if you look back in sort of that kind of period, the mid 2000s, people were starting forums, but they were not at all successful… And the reason they didn't work is that they didn't have the queue that were jostling at the door. Whereas we did, you know, through complete accident. So by the time we opened the forums, everything got, you know, very busy very quickly. And it was wonderful."
In order to build a strong community, here are a few things you need to have in mind.
#1 Note that all you really need to do is give the people the power and the ability to speak. Focus only on managing things efficiently, instead of being in the way.
This will allow the people in the community to engage and help each other out.
#2 Having really clear and thorough guidelines is extremely important. People have to know what's expected of them, what's okay, and what's not.
#3 Make sure you constantly adjust and update those guidelines based on what you see. Note that people have to know they're in a safe space.
#4 As a custodian, you have to act quickly when you need to.
"You just gotta keep an eye on things, if people know it's a safe space, if people seem to be treated with courtesy and respect and decency, then that's how they will behave. And if somebody steps out of line, you just need to act swiftly, thoroughly so that everyone else sees, you know, this is not okay."
Related: 10 Quick Tips for Online Community Management
Work for yourself: tips and advice
Robert highlights that the greatest value of having your own business comes down to several points.
It should:
provide income;

allow you to be the same person at the beginning of the day and at the end of it;

permit you to be a decent partner, husband, parent, or whatever roles you take.
You can learn about how to create an enjoyable and viable small business by reading Robert's books. In this chat with Meryl, he discusses how the book Flying Solo came about.
"Writing was always going to be something that was going to be a key element of my sort of ideal business. Flying solo was the first book that I wrote, I co-wrote it with Sam, Samantha, my business partner. And you know, that was a book we hadn't really thought about writing until I got a phone call one day from someone who read some columns that I'd be writing for The Telegraph. And he said: Would you write a book on it? (I replied) Yeah, why not?"
When it comes to actually running the business, Robert's advice would be to always be clear on what your priorities are. Define what it is that you are you trying to achieve throughout the day.
Then choose the most effective way to get there. Otherwise, you will always be open to distractions, coming from social media especially.
Related: Time Management Lessons from Bean Ninja CEO
Finally, Robert suggests you to find your purpose and meaning in the work that you do. Develop a business that brings you joy, and allows you to be the best you can be.
If you are doing work that is of interest to other people, you will surely be enjoying every second of it.
Learn how to take control of your destiny by working for yourself from this video.
https://www.youtube.com/watch?v=WoCTAfLiIJw
Tune in to Ep 73 and apply Robert Gerrish's philosophy on how to thrive while working for Yourself. #smallbusiness #work #life
Click To Tweet
Listen in to know more about the many benefits of working for yourself
Meryl and Robert Gerrish discuss:
How the business Flying Solo came about

Building an online community before social media

What to avoid and what to embrace when selling your business

How Robert manages his time and what all authors should know

The concept of financial freedom according to Robert
Learn how to build an online community for your small business from @RobertGerrish, creator of @FlyingSoloAU. #community #business #career
Click To Tweet
Resources mentioned in this episode