When lockdowns hit early 2020, bookkeeper Elaine Cubacub had no choice but to leave her job to look for a safer option. Little did she know that her life would change in more ways than one.
When Chance Meets Preparation
Before Elaine Cubacub started working with us at Bean Ninjas, she was an accountant at a KPO company in the Philippines. Her job was secure, but due to growing fears around covid, she decided to look for home-based work.
It was then that her whole life started to change.
She married the love of her life, Byran and also became a mother to her son, Bryce.
Newly married with a newborn baby, Elaine set out to look for work that would help her achieve her goals in the workplace but also at home. After a couple months of searching, she stumbled across Bean Ninjas. And she's been with Bean Ninjas since.
While looking for a job, Elaine wasn't only looking to stay free of covid, but was also looking for a different kind of freedom.
" I was attracted to Bean Ninjas because it offered a remote job and a flexible work schedule. I was also determined to find an employer who supported continuing growth and development."
In addition, when asked what her experience at Bean Ninjas has been like, she answered with:
"First, it encourages a better work-life balance. I am able to work virtually and spend more time with my family. Second, the BN people are really amazing. You won't feel hesitant to ask questions or help to them. Lastly, Bean Ninjas is a forward-thinking and supportive company to its employees."
Family First
With her husband and Bryce as her main motivation in life, her "family first" attitude gives Elaine an aura of optimism and drive that's contagious to those people working around her.
When asked what's most important to her, her answer was simple.
"Family. They're the most significant factor for my happiness. No matter what I go through, with my family, they will always be there to guide and support you."
It's no surprise that when asked what's one thing she can't live without, instead of naming an inanimate object, she simply echoed her priorities.
"I can't live without my family as they are everything to me. I can't imagine life without them. They bring colors into my life."
Blessings and Trials
As with any family, there are many blessings to be shared along with its fair share of trials. Elaine's is no different.
Since Byran works on a cruise ship as a crew member, he would often have to leave Elaine for long periods that challenge only became more difficult with the new member in their family.
"…when my husband went abroad, I had to take care of our son in the morning and work at night. Those days were exhausting yet fulfilling. Nothing is better than spending time with your child at the same time you can provide financially."
It's another reason why Elaine fits so well into the Bean Ninjas culture. There's a saying that states,
"There's a blessing hidden in every trial. You just need to look for them."
It seems that Elaine has mastered the art of doing just that.
Elaine's Life Lessons
We wanted to dig deeper into what makes Elaine tick, so we asked her what her top three life lessons were.

Her first lesson wows us with its wisdom, "Believe in the power of failure." It's a philosophy that Elaine swears by and has shaped how she responds to challenges.
In a time of global trials and challenges, having that trait certainly comes in handy.
She's also learned that you need to "get a job you enjoy." It's a practical but effective way to stay happy and avoid being burned out.
Lastly, her top lesson: to "never stop learning". It's a trait that we see in Elaine day-to-day in the workplace and we're glad to be learning that lesson with her.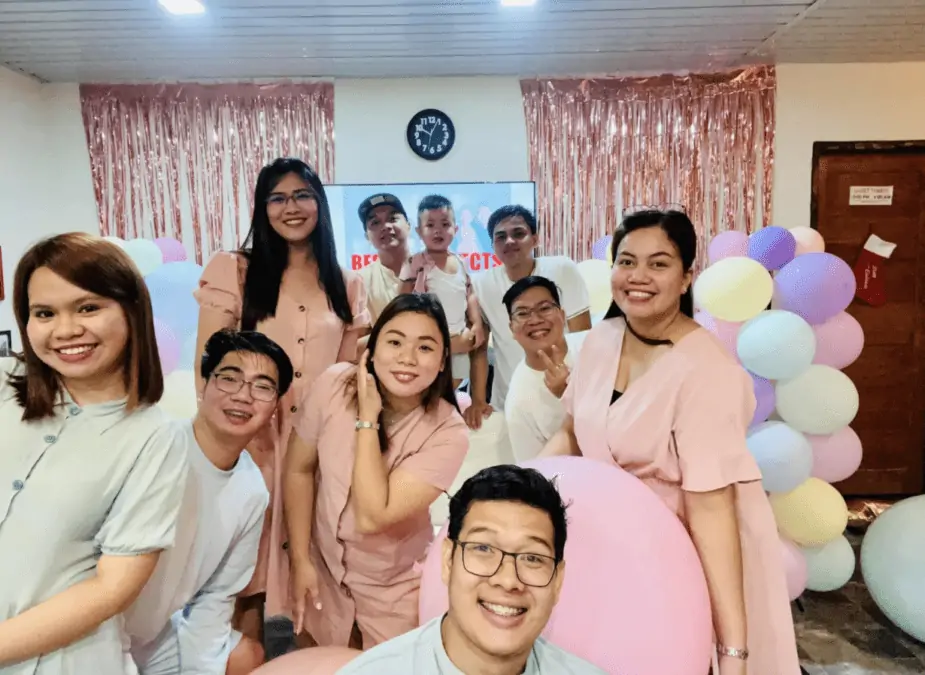 Simple Dreams, Spicy Taste
When it comes to Elaine's preferences, she prides herself as a "fun yet simple person."
When asked what her bucket list includes, for example, her answers were simple yet profound. It included going to the beach with Bryce and Byran and fly outside the country: simple pleasures that seem like luxuries.

We can't wait for Elaine to check these off her list…and soon!
And while her aspirations for herself are simple and sweet, her taste in food is a little bit more intense, so to speak.
"I know I may not look it, but I LOVE spicy food. From ramen to spicy wings to…anything that has heat. I love it."
Next time you want to challenge someone for a spicy challenge, call up Elaine…and bring plenty of milk.

We wish Elaine plenty of success in her career with us at Bean Ninjas, but most importantly her dreams and aspirations for her and her family.
In her own words of what the definition of success means, it seems she's well on her way.
"Success is when you find fulfillment in everything you set out to do in life and happy in what you are doing" – Elaine Cubacub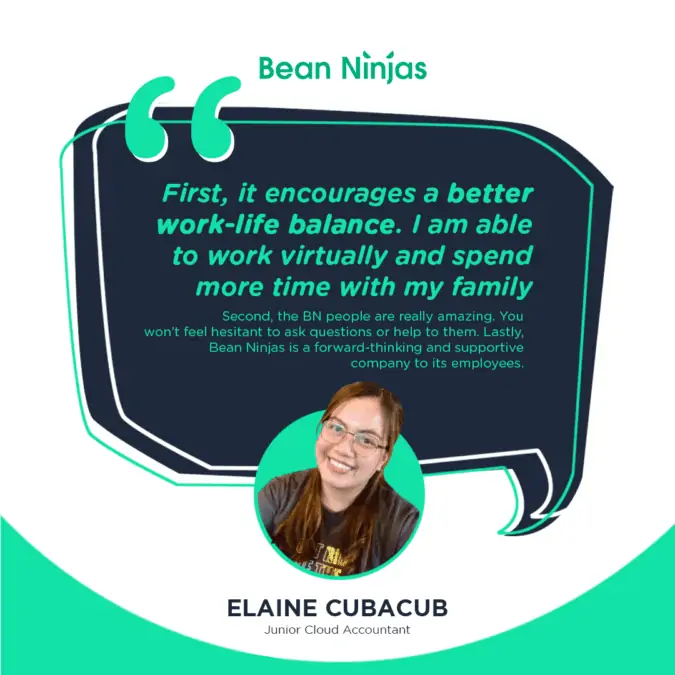 Want to find out more about working at Bean Ninjas? Check out our Careers page and view current job openings.