When you're running a small business, maintaining tight control of your finances is absolutely critical. You need a clear picture of your company's financial health, and the ability to track every penny.
Finding the best small business accounting tool can be tough because there are so many options. In this article, we'll review and compare four of the best accounting tools for online businesses.
QuickBooks Online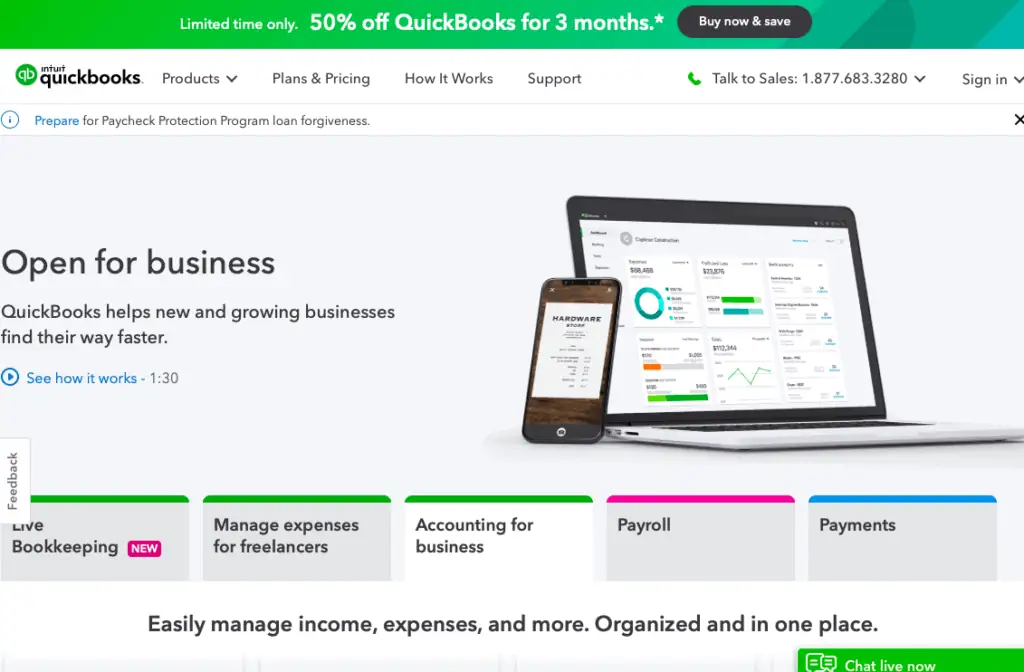 QuickBooks has been one of the biggest names in accounting for 30+ years. It began as a desktop application, but now has a cloud-based online counterpart: QuickBooks Online.
QBO is a true double-entry accounting tool with plenty of reporting and a strong chart of accounts. It offers invoicing, payroll support, and inventory management, a project management tool, as well as an impressive 650+ business apps and integrations. It is worth noting that the apps page is more difficult to find than other software on this list. Once you get to QuickBook Apps, you can view App Collections (ie. Popular apps, Trending apps, Free apps, and Premium apps) and Categories (ie. Calculate quotes, Manage customers, Sync data, Track inventory, etc). Some popular apps include: Receipt Bank, Bill.com, TSheets Time Tracking, Fathom, Expensify, Fundbox, Transaction Pro, and Bulk Import Excel.
When you're running a small business, maintaining tight control of your finances is absolutely critical.
Click To Tweet
The majority of bookkeepers and accountants will know their way around QuickBooks. This means when you give access to a new team member or outsourced partner, they'll get up to speed quickly.
That said, QuickBooks is a generic product designed for everyone, which means it comes bloated with a lot of features you'll probably never use. For instance, inventory management is a big part of the software, which is irrelevant to online businesses that don't deal with physical inventory.
And since it has a lot of features in the way, it's hard to navigate for inexperienced users. It doesn't have a clean, easy-to-follow workflow like Xero (unless you have accounting experience).
QuickBooks Feature List
Connect multiple bank accounts
Track inventory and per item cost
Manage bills and vendors
Manage invoices and accounts receivable
Create custom invoices
"Pay now" buttons for instant payments
Dashboard overview
Simple reporting
Share access with accountant
Receipt tracking
Payroll for employees and taxes
Track sales, payments, and expenses
Mobile apps (use QuickBooks anywhere)
Lots of integrations
Profit and loss and balance sheets
Pay online and print checks
Mobile receipt capture
Create estimates
Banking data synchronization
Automatic tax calculations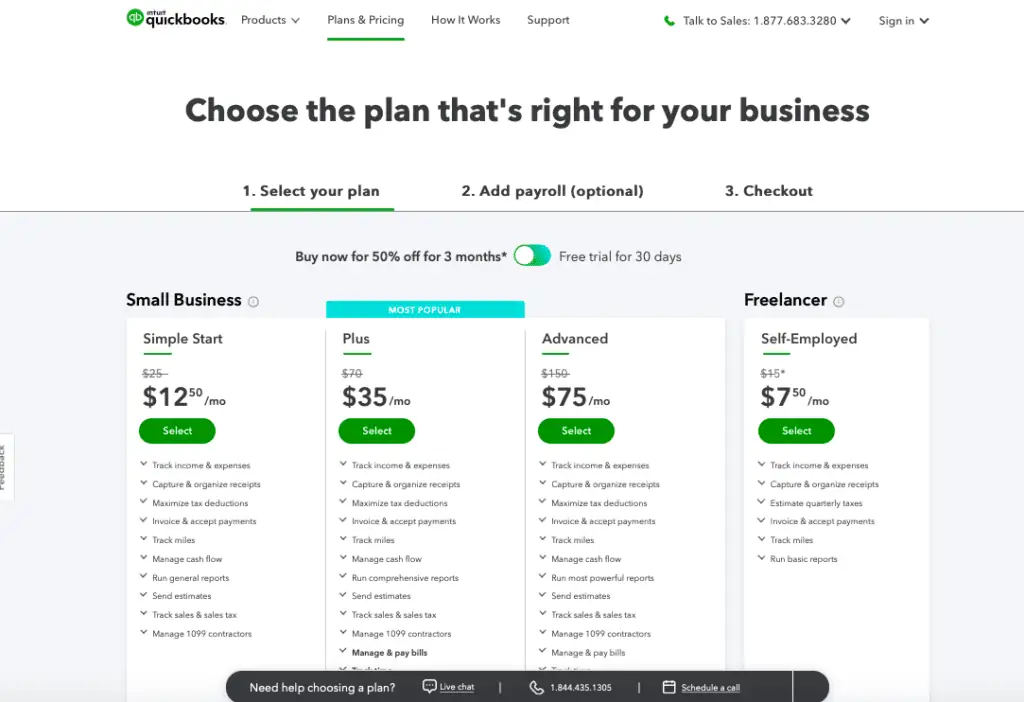 And, pricing starts at $7.50 for solopreneurs and consultants. And, $12 per month for small business plans.
The Bottom Line
QuickBooks is a great product, but it tries to be something for everyone, which means it's a bigger tool than most people need. Finding the things you need within the app can be tough because there's just so much.
Furthermore, Intuit's support leaves a lot to be desired. Users complain of frequent technical glitches, problems updating, and unresponsive support.
.
MYOB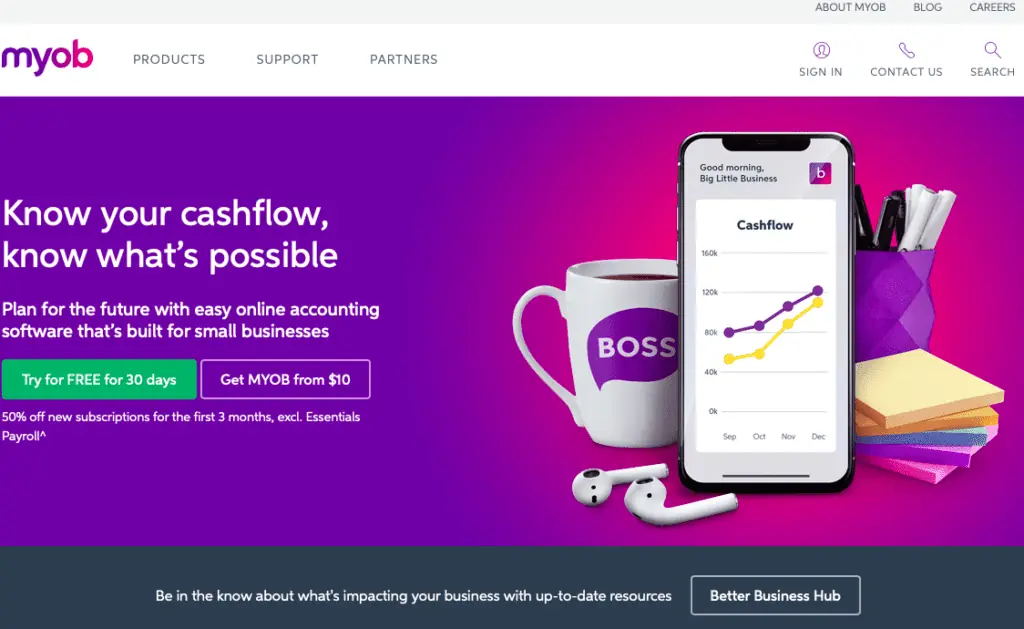 MYOB – short for "Mind Your Own Business" is the Australian equivalent of QuickBooks. It comes with a range of features for both big and small businesses. It's a Microsoft Gold Certified Partner, which means it works smoothly with most Microsoft products. They're also a PayPal partner, which is helpful for ecommerce businesses.
MYOB is a Windows-based desktop application. It comes with all the typical accounting features, along with payroll, budgeting, and project management tools.
MYOB isn't a cloud-based application out of the box, but you can purchase an add-on that lets you access some of the tool's features from anywhere through your browser. However, the cloud app leaves a lot to be desired, so to get the most out of the tool you'll need the desktop application on a particular device.
One cool feature about MYOB is the mobile dongle. Users can plug the device into their Apple or Android phone or tablet to swipe credit cards and EFTPOS payments in-person.
You can also get MYOB Kounta, a cloud-based point-of-sale add-on that's great for brick-and-mortar stores, traveling sales people, or tradeshow/event booths. Unlike other accounting tools, there aren't many integrations for MYOB's cloud version.
In addition, MYOB App Marketplace is designed to help businesses extend the functionality of their MYOB software with 300+ third-party apps. A search bar lets users look for a specific app or type of app. Apps are also broken into 3 categories, Tasks, Products, and Industries.
Key available apps through MYOB App Marketplace include Fathom, Lightyear, ServiceM8, KIM, Magento Connector, Calxa Express, Common Ledger, Receipt Bank, and Spotlight Reporting.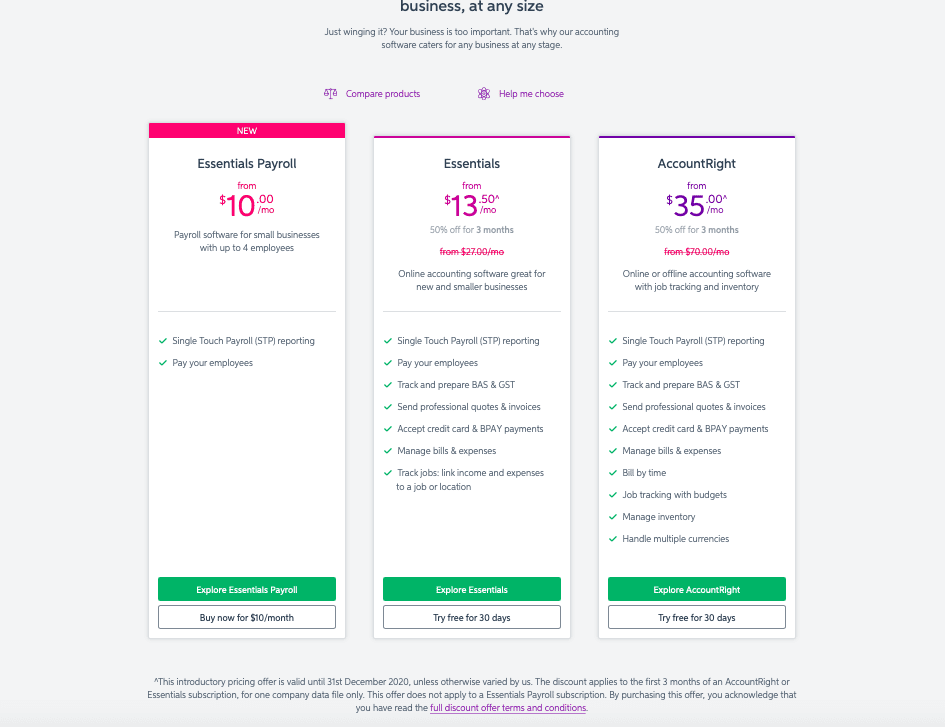 Pricing starts at $10 per month for a minimal plan.
MYOB Features List
Works on and offline
Calculate and track taxes
Manage quotes, invoices, and statements
Accept payments
Track and pay expenses
Manage customers and vendors
Organize bank feeds
Manage purchase orders
Work with multiple bank accounts
Pay employees and track leave
Track employee time
Job and project costing
Create and track individual jobs
Manage physical inventory
The Bottom Line
MYOB is a capable product, but it comes with significant limitations. It doesn't allow multiple users, which means you can't restrict access based on your team or outsourcer's role. If you give the login information to someone on your team, they'll have complete access to everything, like your payroll information and employee bank account details.
While the payroll feature is handy, there's no employee portal where they can view or print their payslips, request leave, or change their banking details.
That said, MYOB's project management features are strong. The job costing and project costing features help you manage profitability of your work. It's excellent for (as an example) construction companies that juggle a lot of labor and material costs for their projects.
Unfortunately, MYOB's cloud platform is way behind the other solutions, so we don't recommend it for online businesses that operate remotely.
.
FreshBooks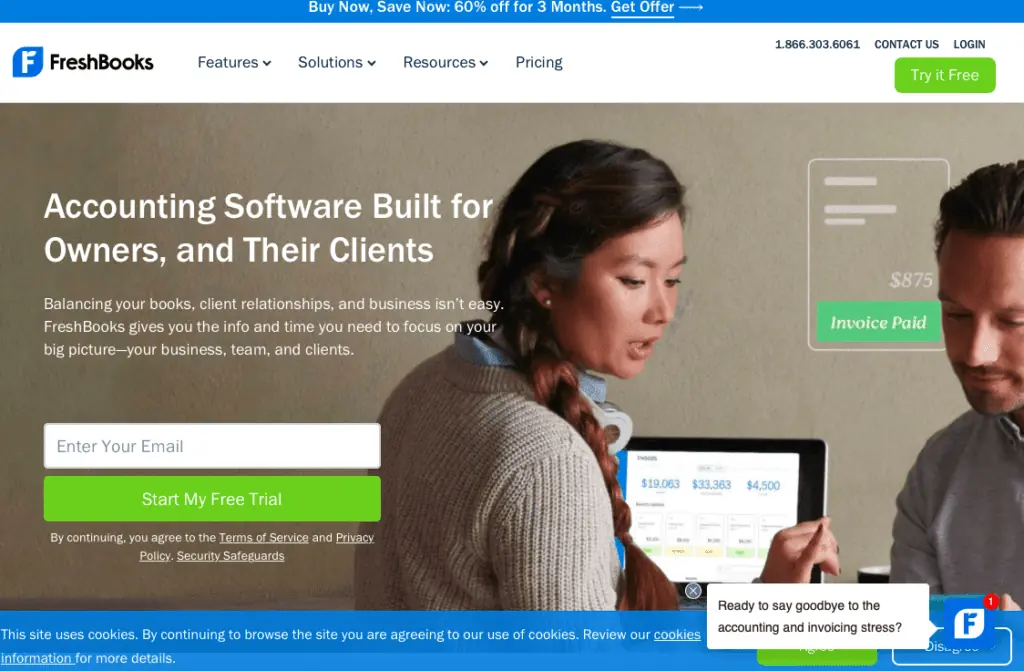 While Freshbooks isn't a full accounting platform like the other entries on this list, it's a useful financial tool for freelancers and solopreneurs. Like other tools, it's cloud-based so you can access your data and use the tool anywhere.
Users can create invoices, track their time and expenses, and organize their project data all in one place. Reviewers say FreshBooks is generally easy to use and intuitive, although there are some reports of struggles to import data. Pricing is reasonable at $15/month for 5 clients and $25/month for 50 clients.
Freshbooks calls itself an accounting tool, but it's not (which is a bit misleading). It doesn't come with a balance sheet and won't let you rectify multiple accounts. If you require the services of an accountant once or twice a year, you'll want to use a different tool so you can give them the information they need.
The biggest advantage to using FreshBooks is the flexibility you have to design and manage invoices. You have a lot of control over the look of the invoice templates to make them match your brand.
You can create pre-filled fields for different projects and billing amounts. For instance, if you charge $75/hour for designing and a flat $200 fee for consulting, you can set each job type as an option in a drop-down menu. Simply select the option to quickly create the field. You can even set up monthly recurring invoices and set conditions to charge late fees for overdue invoices.
In addition, FreshBooks customers have access to a wide variety of apps designed to easily integrate for businesses. Apps are organized by Collections (ie. Top Picks, FreshBooks Tested, and Community Built) and Categories (ie. Analytics, Connector Tools, Marketing, Payments, Reviews, etc). Key available apps include Shopify, Squarespace, Zoom, GSuite, Stripe, Bench, and Gusto.
FreshBooks Feature List
Customizable invoices (recurring, too)
Set due dates and reminders
Add discounts and request deposits
Automatic late fees
Multi-currency billing
Track and organize expenses
Send estimates and proposals
Have clients sign with e-signatures
Convert estimate to invoice
Track time for you and your team
Organize time by client and project
Collaborate with team on projects
Share files and conversations
Accept credit cards (multiple currencies)
Simple reporting on your dashboard
Add-ons and integrations
iPhone and Android apps
And pricing starts at $4.50 per month.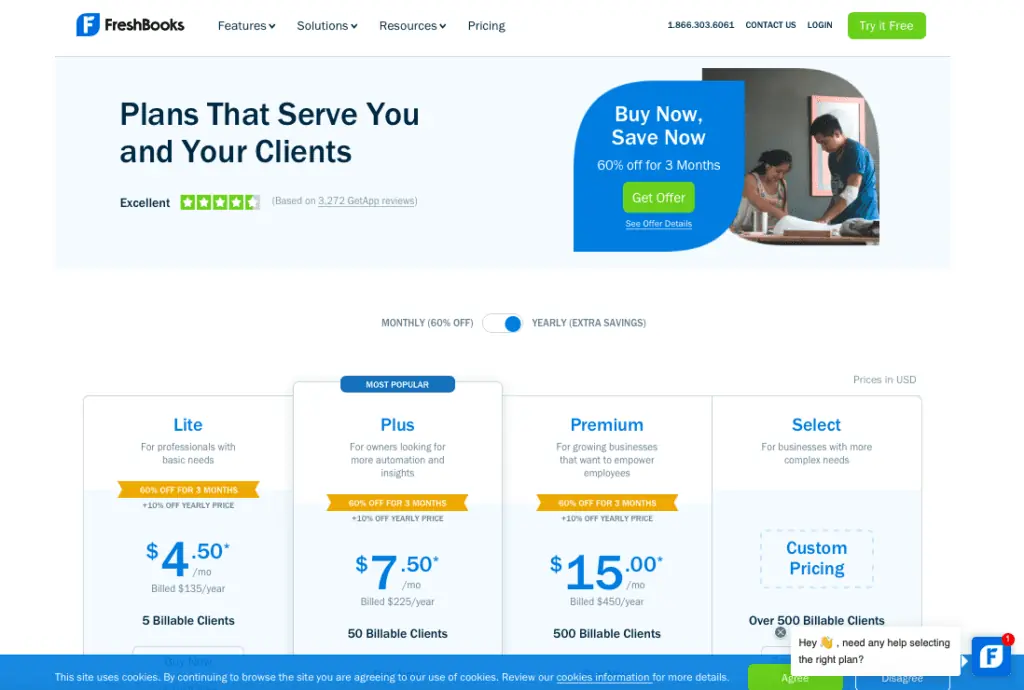 The Bottom Line
FreshBooks is a great tool for early businesses with minimal needs, but it's not suitable if you intend to scale. If you plan to grow your business past 50 clients, hire employees, and expand your accounting needs, it's smarter to start with an actual accounting tool. The cost of the more robust accounting tools are comparative, so start with the one that will meet next year's needs too.
Besides, all financial management tools come with a learning curve. If you use a simple tool, you might become comfortable with it just in time to change to something else. It's better to invest your time learning the one you'll use for a long time.
That said, if you plan to be a freelancer forever and know your accounting needs won't become more complex, Freshbooks might be right for you.
.
Xero – Small Business Accounting Tools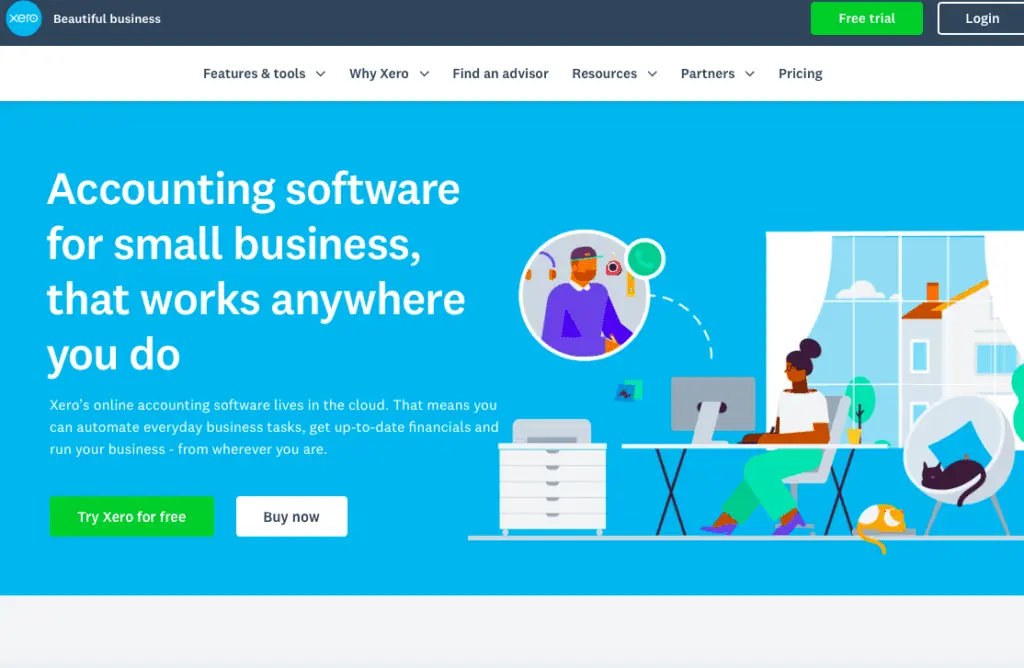 Xero is the accounting tool made for non-accountants. It's made with a single ledger. Multiple bank accounts feed into the software under different account codes, which makes the workflow quite different from other accounting tools. It's user friendly and intuitive.
Xero is one of the few accounting tools that includes full cycle payroll processing for up to five employees at no additional cost. Unlike QuickBooks (its main competitor), it gives you the ability to process payroll checks, submit payroll tax payments, and file your payroll tax forms.
Xero comes with plenty of financial reporting features, which is extremely important for businesses of every size. You can customize, generate, and track basically any report you could ever want.
In addition, Xero has the Xero App Marketplace, which is easy to navigate with categories divided by Function and Industry, as well as the following Collections: Featured apps, New and Noteworthy, Xero apps and Add-ons. Some notable apps and integrations include Fluidly, Stripe, Hubdoc, ReceiptBank, Fathom, Figured, WorkflowMax, AutoEntry, Gusto, and Expensify.
Furthermore, one of Xero's best features is their open API. If Xero doesn't provide an integration from a service you use, you can hire a developer to create it for you. Xero's documentation is public and robust to help developers link other products.
Xero Features List
Bank reconciliation
Keep track of suppliers and customers
Simple dashboard
Track and organize expenses
Attach documents to your financial data
Financial reporting
Free, unlimited email support
Inventory management
Create and send invoices automatically
Mobile apps (Android, iPhone/iPad)
Multi-currency support
Payroll processing (free up to five employees)
Purchase orders
Quick and easy 1099s
Pay bills and invoices
Track and manage projects
Give out estimates and quotes
Create smart financial reports
Accept payments
Receive bills electronically
Segment contacts based on purchase history
Fixed assets
GST returns
Pricing starts at $9 per month.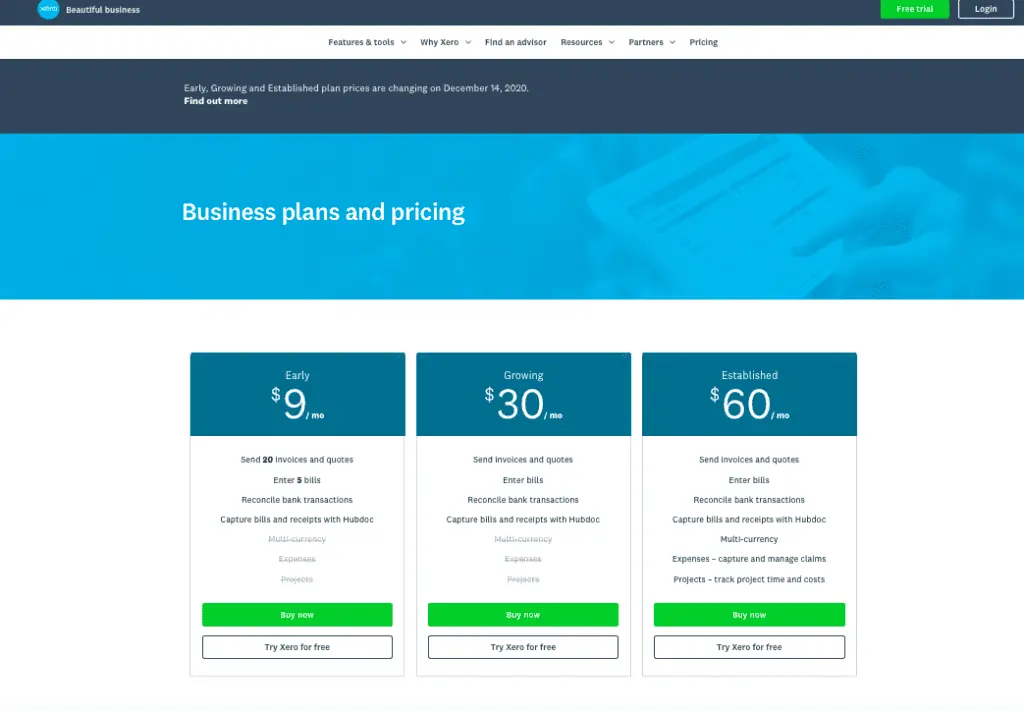 The Bottom Line
We like to think of Xero like an iPhone and other accounting tools like basic Nokia phones. Technically they do the same things, but the iPhone is intuitive and easier to use. Plus, Xero comes with a lot of automated features built right in.
The only downside to Xero is that they don't have a free tier. But they make up for this by offering free payroll tools for small companies and by letting you invite an unlimited number of users to access your data – all at no additional cost.
Our Final Recommendation
It's no secret that we strongly recommend Xero. We set all of our clients up with Xero because we think it's the perfect balance of features and benefits. We recognize, however, that it might not be the right option for you. Choose the tool that best fits your needs and workflow.
If you're still not sure which accounting tool is right for you, read our full guide: How to Choose the Right Accounting Software for your Business.
And, download our Xero ECommerce Business Toolkit.