A Chart of Accounts is a list of all of the accounts used by an organisation in its financial reporting. The Chart of Accounts is used by the organisation's accounting software to collate all the data into reports and financial statements that can be used by the leadership of the business.
Standard categories in the Chart of Accounts will include…
Assets

Liabilities

Equity

Revenue

Expenses
Screenshot below of the Chart of Accounts screen in Xero

Each of those categories will have sub-categories listed. For example, the expenses category might include…
Cost of goods sold  

Wages

Software

Bank fees

Travel expenses

Marketing
Screenshot below of examples of expense accounts within the Chart of Accounts in Xero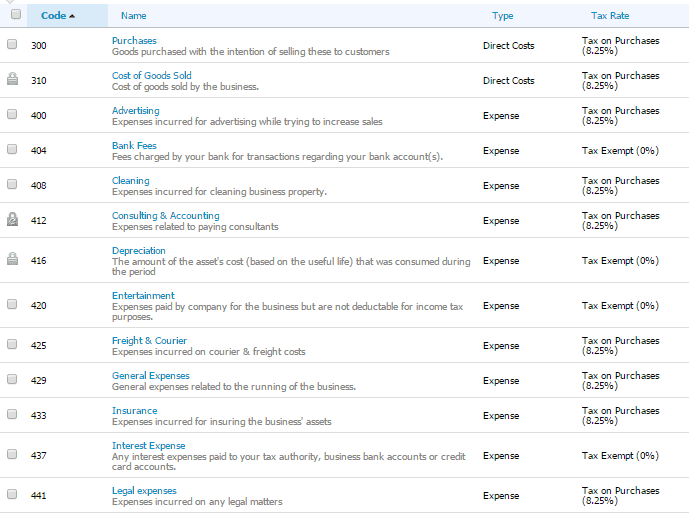 The Chart of Accounts allows you to allocate every transaction to a category so that you can see exactly where your business is making and spending money.
When you set up your accounting software, it is important that you customise the Chart of Accounts to the needs of your specific business. There can be significant differences between the reporting needs and therefore the Chart of Accounts for different businesses.
It's important to customise the chart of accounts to the needs of your specific business.
Click To Tweet
It is important that you have a consistent coding system for your Chart of Accounts, particularly if you have multiple people (such as the tax accountant, the bookkeeper, the virtual assistant (VA), the business owner, and the sales guy who's raising invoices…) adding transactions to your software. You need to have a very specific description of which transactions should be coded to each category, so that your data is consistent over time.
Screenshot below of a Profit and Loss report in Xero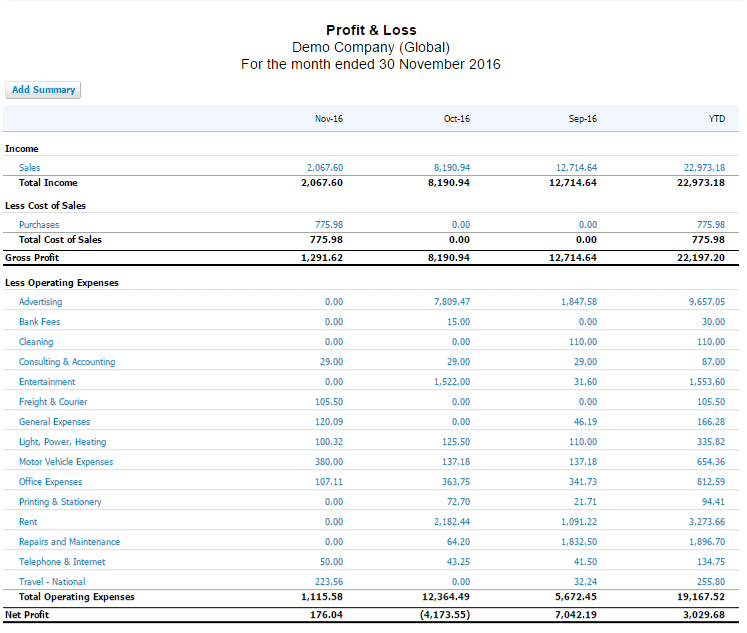 The whole point of tracking your data like this is so that you can make comparisons over time that allow you to make good decisions as your business grows. If you don't have consistent record-keeping, you'll be relying on data that could be inaccurate, which in turn results in poor financial decisions that can hamper your growth.
In the Profit and Loss report above advertising expenses look low in November. It is possible that the Facebook ads expense has been coded to a Balance Sheet account by accident and is missing from this report. This highlights the need for consistent coding to ensure the accuracy of reports.
Tracking your data helps you make comparisons over time that lead to better growth decisions.
Click To Tweet
For example, if you believe that loan payments fall into liabilities, but your VA has been logging those payments in your expense category, then your unable to make accurate decisions about either category and will likely be pulling your hair out trying to work out why your liabilities are not decreasing while your expenses seem very high.
Now, for most small businesses, the Chart of Accounts will evolve over time, particularly when you are first getting set up and are still working out the true revenue and expenses of the business. Over time, though, you should aim to get a custom chart of accounts locked down, so that you can start building up enough data that you can make informed and accurate comparative decisions.
.
.
Need help with your Chart of Accounts?
If you've got questions about how to structure the Chart of Accounts for your specific business feel free to get in touch. Or if you're looking for help with online bookkeeping, take a look at what we offer and get in touch! We'd love to help you secure the financial growth of your business.

Meryl is a Chartered Accountant, entrepreneur and surfer!

Prior to Bean Ninjas she ran a cloud accounting consulting firm, worked in both commercial accounting roles, as an auditor (BDO), and as a lecturer in accounting and audit.

Latest posts by Meryl Johnston (see all)