In an earlier post, we talked about what a Virtual CFO does and how it can help you grow your eCommerce business.
A vCFO can be a cost-effective way for a business to put the numbers to your goals and strategic plan without paying a mid-six-figure salary to a full-time CFO.

However, hiring a vCFO can be a daunting task, especially if you haven't done it before.
In this post, we walk you through the process of finding and hiring a vCFO.
How do you know when you are ready to hire one?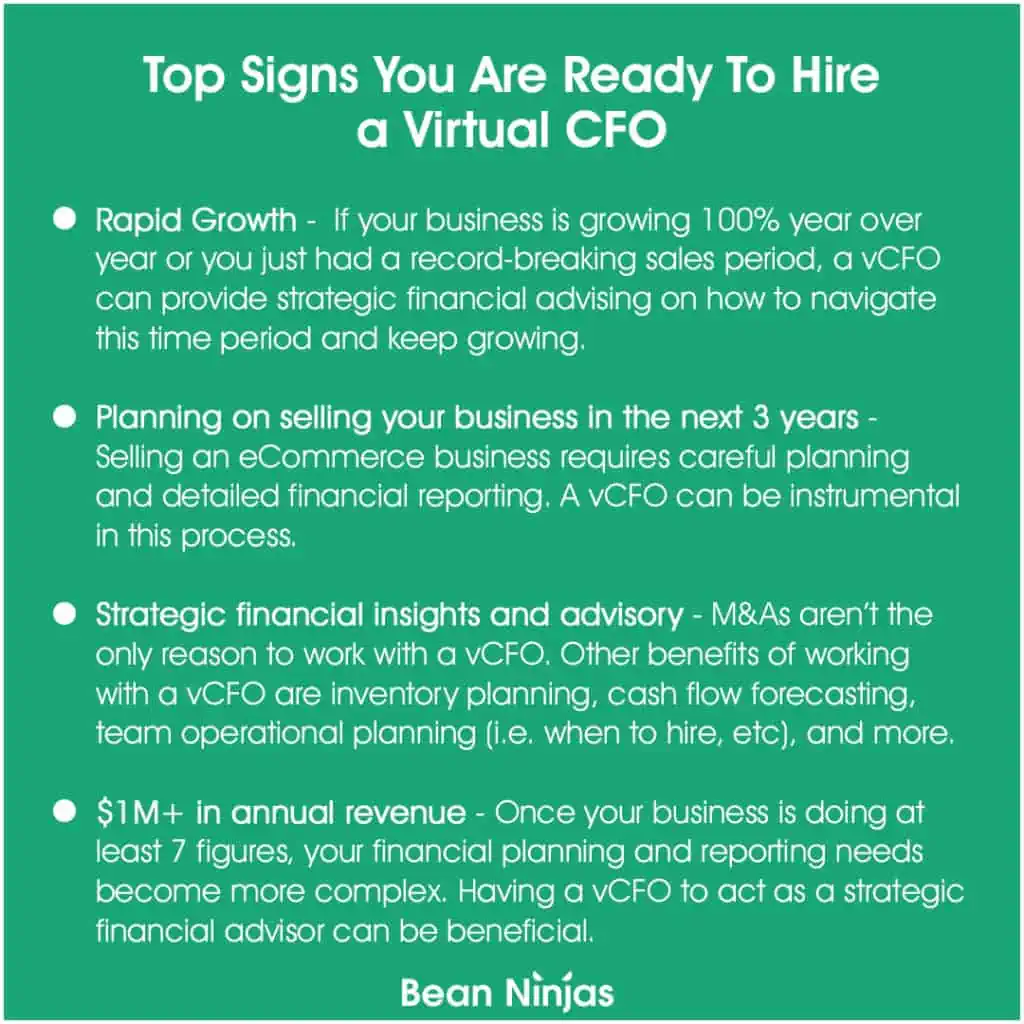 Many six-figure eCommerce businesses can get by with an accountant, bookkeeper, and the founder's involvement – especially if you are building a calm lifestyle business with more controlled growth year over year.
However, if your eCommerce business meets any of the following criteria, it might make sense to hire a vCFO:
Rapid Growth – If your business is growing 100% year over year or you just had a record-breaking sales period, a vCFO can provide strategic financial advising on how to navigate this time period and keep growing.
Planning on selling your business in the next 3 years – Selling an eCommerce business requires careful planning and detailed financial reporting. A vCFO can be instrumental in this process.
Strategic financial insights and advisory – M&As aren't the only reason to work with a vCFO. Other benefits of working with a vCFO are inventory planning, cash flow forecasting, team operational planning (i.e. when to hire, etc), and more.
$1M+ in annual revenue – Once your business is doing at least 7 figures, your financial planning and reporting needs become more complex. Having a vCFO to act as a strategic financial advisor can be beneficial.
Where do you find a vCFO?
The best vCFOs are ones that already have experience working in your niche or industry.

For example, if you are an eCommerce business, working with a vCFO who specializes in working with eCommerce businesses means they will have deep expertise in the industry. So, you aren't just getting a vCFO with deep financial insights. You are also getting one with deep financial insights who works with similar eCommerce businesses.
The other thing you need to think through is whether you want to work with a solo vCFO or a vCFO firm. They both have their pros and cons, and getting clarity on whether you have a preference can inform the hiring process.

As for actually finding a vCFO, the process is similar to hiring an accountant or business coach. You want to balance both the technical expertise as well as intangible "soft skills," such as personality fit and communication preferences.
For example, you could find the most amazing eCommerce vCFO, but if their personality doesn't mesh well with yours, then it probably won't work out.
Red flags to watch out for in the vetting process
When it comes to hiring a vCFO, we recommend chatting with them over at least one or two Zoom calls before you start working together.

Here are some red flags to watch out for in the vetting process.
No certifications or qualifications – This is self-explanatory. Your vCFO should have a background and degrees in finance or accounting.
No expertise in your industry – A vCFO with expertise in your niche is almost always better than one with more general knowledge.
Weak client systems and protections in place – How do they protect their clients' data? What safeguards do they have in place? Some of this may be split between your vCFO and your own team. For example, your bookkeeper, who is maintaining your chart of accounts in Xero, shouldn't also be the only one who is doing payroll. Having a system in place where you, as the owner, or a general manager, on your team has to sign off on any outgoing money transfers or payments is a great way to prevent miscommunications or, worse, fraud.
Slow email response times – Most people will put their best foot forward during the sales process. So, if your vCFO takes a week to respond to a simple email or doesn't respond thoroughly to your requests during the sales process, that's a major red flag. You want someone who is going to be responsive.
Communication style – If your vCFO loves to communicate in long emails, but you prefer quick text messages, this could create conflicts down the line. Making sure you are on the same page in terms of communication is essential.
If you encounter any of these red flags, we'd recommend hiring someone else.
---
A virtual CFO is a trusted financial advisor that can help you with everything from putting the right financial reporting systems and processes in place to cash flow forecasting and planning for a business sale.
If you are looking for a virtual CFO for your eCommerce business that has your best interest in mind, Schedule a free call with a Bean Ninjas team member today.