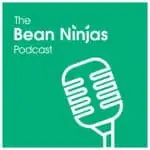 What if your startup revenue could hit $100k in 8 months from launch?
In Episode 1 of The Bean Ninjas Podcast, Meryl Johnston, Co-founder of Bean Ninjas, provides a step-by-step breakdown of how she launched Bean Ninjas in just 7 days. Now, in Episode 2, she reveals how she bucked the system and implemented her own methods to reach $100k in revenue in just 8 months.
While most startups spend their budget and energy focusing on marketing and PR, Meryl utilised digital grassroots marketing to carry Bean Ninjas in its first year. With a lot of effort and midnight oil burnt, she found that within 8 months, it was paying off, big time.
How we went from 0 to $100k in 8 months
The episode will reveal how to create your own marketing strategy, processes, and procedures by knowing your clients and not being afraid to go against the grain.
Meryl takes us through the highs and lows of running her startup while working a full-time job and gives us insight into;
Unpaid marketing strategies
Hiring offshore, bringing it back local, and then taking it offshore again
Developing processes that stand the test of time
Procedures that remain a critical part of the business
Stay tuned until the end when Meryl walks us through her guidelines for creating processes and procedures.
Here's what is coming next:
The next episode of Bean Ninjas Podcast is a raw and open discussion about Bean Ninjas' Co-founder leaving the company. Meryl walks us through what happened and why. As well as how she handled it without allowing it negatively impact the business or her relationship with her co-founder.