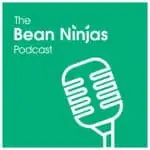 In Episode 10 of The Bean Ninjas Podcast, Meryl Johnston takes us inside the personal finances of a CEO, and shares her tips on managing your personal finances.
This is a particularly interesting opportunity to learn how her personal finances impacted the business from launch day and onward. Meryl has discussed with us previously that her unique way of setting up her personal finances had a huge impact on reducing the stress of being a startup co-founder. Now, in this week's episode, we are learning exactly what she did to make that possible.
Learn key tactics and foundational tips for managing the personal finances of a CEO like:
How to decide what to insure- and what not to
How much retirement to save
When to buy a home, and when to refrain
The right way to domino your debts
Remember to listen weekly to learn more of Meryl's extraordinary tips for growing your business fast.
Here's what is coming next:
Next week we are joined by the Head of U. S. Operations at Bean Ninjas. We'll learn about scaling a business into a new market outside of your home country, and how to make the transition smoothly.