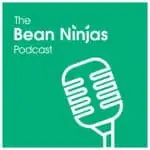 The Bean Ninjas co-hosts Matt Stubbs and Meryl Johnston are back today walking us through Crossbeam's progress in recent weeks and they share the excitement of collecting their first recurring payment.
They then move into some topics around work-life balance and how they each ensure they are able to run successful businesses and have great family – and personal relationships outside of work.
Discussion points:
[2:20] Our first recurring paying customer
[3:40] The business plan
[6:10] The reason some customers did not move over to Crossbeam immediately
[8:20] Workflow changes for new clients
[11:45] Increasing the app growth rate
[14:23] Matt's focus for the near future and beyond?
[18:30] How Matt and Meryl handle being away from the business
[23:00] Meryl's four day week experiment
[27:30] How does Matt handle juggling work and family
[29:30] Maker vs manager's schedule
References and Links Mentioned: