Kiss My Keto was created by Alex Bird and Michael Herscu from their own personal struggle of finding high-quality food for a healthier lifestyle. Alex discovered that he's a BRCA 1 gene carrier, making him more susceptible to cancer. Meanwhile, Michael was struggling with his sugar addiction and hormonal issues.
It's through these challenges that Kiss My Keto was born in 2016: to help people live out a healthier lifestyle through a ketogenic diet.
As Alex and Michael quickly found out, however, a compelling origin story was only the beginning of their business journey with Kiss My Keto.
As businessmen, they wanted to know if there was market demand for their ketogenic products. So, they took Kiss My Keto to Amazon in 2017.
"We immediately saw traction and knew we'd met a growing customer need. The "keto" trend was rising, so we had to start thinking about how to not only make immediate sales, but also how to build a brand that could stand the test of time." – Kate Geller, Kiss My Keto's director of affiliate marketing
Owning the Brand Experience
While selling on Amazon allowed Kiss My Keto to reach more customers Alex and Michael soon realized that a large share of their revenue went to Amazon's fees. Needless to say, it wasn't an ideal situation.
On top of that, selling on Amazon didn't give them full control of the overall buying experience.
"Our voice was missing and we knew we could provide more value to our customers than just transactional eCommerce in a marketplace. We realized we needed to have our own eCommerce store to help us collect customer data and have more control over the customer experience." – Kate Geller, Kiss My Keto
This drove Kiss My Keto to set up their own eCommerce store in late 2017; a smart business move that took their business to the next level.
"It's been a transformative experience for us and our customers. For us, Amazon is like the big-box store, whereas our eCommerce site is like a brick-and-mortar retail shop. With our eCommerce site, we're able to create an experience that's specific to our brand. This allows us to create relationships with our customers and build more brand loyalty."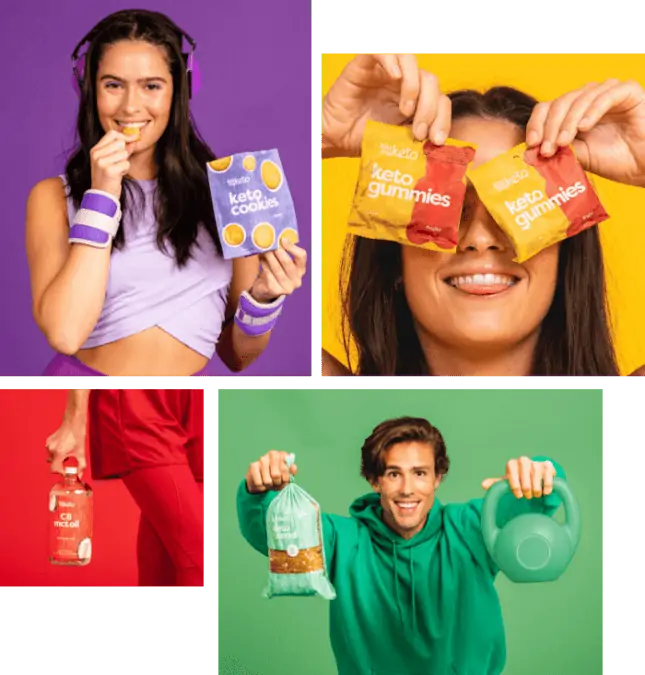 Before Bean Ninjas
A Not Perfect Match
Having the same values as the people you work with is essential in fostering the growth of the business.
Prior to Bean Ninjas, independent suppliers were hired by Kiss My Keto to take care of their books for 30 hours a week. Unfortunately, they discovered that not having a dedicated accountant can be a major disadvantage. The outcome: unattended books and inconsistent processing and submission times.
Working Towards A Goal
Kiss My Keto needed an eCommerce-focused accountant and someone who could grow with their business.
Bookkeeping in particular played a very specific role in growing the Kiss My Keto brand: to help secure funding for additional inventory purchases.
In addition to that need, Kiss My Keto needed to streamline the business processes, scale, close the books on a quicker basis, and address concerns around inventory tracking and the cost of goods sold.
It turns out Kiss My Keto didn't just need an accountant. They needed Bean Ninjas.
Bean Ninjas' Solutions
Xero and A2x Set-up
Bean Ninjas took the initiative to set up Kiss My Keto in Xero for a more efficient bookkeeping and inventory system. A2x was also implemented to help address the cost of goods sold in the sales reconciliations across Shopify and Amazon.
Bean Ninjas e-Commerce Cloud Accounting Services: Established Plan
Kiss My Keto signed up to Bean Ninjas' established plan, which enabled them to stay on top of their business finances with our recurring services.
Full accrual-based accounting was adapted into the business' eCommerce accounting to address their need to understand the cost of goods sold across all of their channels as well as operating expenses. A detailed chart of accounts also enabled various reporting options like sales channel comparisons or sales channels per month.
Bean Ninjas tended the weekly processing of all bank transactions, sales invoices, vendor bills, and COGS data. All sales clearing accounts were also reconciled, a task that wasn't previously being done.
In addition, Kiss My Keto receives monthly zoom calls with Michelle Brough, Bean Ninjas' Director of Cloud Accounting Services.
"Michelle has been a great account manager. She has a great attitude and good attention to detail" – Kiss My Keto
Kiss My Keto's Financial Tech Stack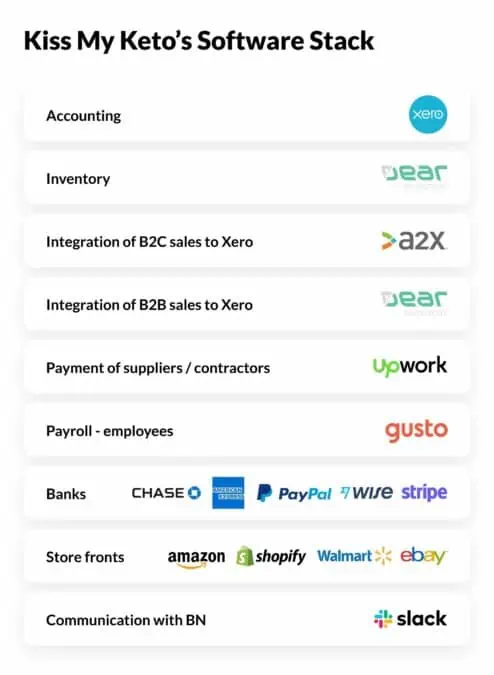 Results
Efficient Bookkeeping and eCommerce Management
With the help of Bean Ninjas, Kiss My Keto's financial team now has the time to prepare the rigorous reporting requirements to obtain a Revolving Loan Facility from private lenders.
On top of that, the integration of their inventory system with Xero and their other sales platforms ensured the accuracy of their consolidated financial information.
The speed of reporting also improved, with a quicker turnaround time compared to the internal accounting team.
Lastly, sales revenue increased by $4M from $11M in 2020 to $14M in 2021.
We're happy to see Kiss My Keto growing into an awesome brand and are honored to be a part of their journey.
Want to save time, money, and headaches with your bookkeeping and financial reporting? Check out our eCommerce Growth Partner packages.
(Don't run an eCommerce business? All good. Go here instead.)