What great onboarding feels like
I'd like to illustrate great Onboarding by describing an experience I had with someone else's service.  
Drip is a user-friendly email marketing automation tool that I use to deliver educational content to our clients. The way that Drip converted me from new user to power user was so powerful that it inspired me to work on Bean Ninjas' onboarding process. After I signed up, I anticipated a significant learning curve before deploying our first email sequence, but the team at Drip offered to construct one for me if I sent them the desired content.  I provided them the material and they created the campaign for me, allowing us to get started ASAP.  
Drip's help with this impressed me so much I'll be a customer and promoter of their product for life.  At least for our business, they provide a benchmark that we can measure Bean Ninjas' onboarding against, even if the specifics of our business models are a bit different.
Onboarding – what and why?
You might still be wondering what exactly Onboarding is.  I define Onboarding as everything that happens after a customer signs up to ensure a smooth transition to our service.
What makes onboarding interesting from our perspective is that for a mission-critical service like subscription bookkeeping (this is probably true with all professional services), a signup is relatively hard to get. So while it's probably important for every subscription business, it's especially meaningful for us.
Let's return to my experience with Drip for a second.  I was excited to get started with the product and their onboarding team, and their onboarding team was willing to create a campaign for me using materials I provided them.  But what if I didn't trust them enough to send over the proprietary information we send to our customers and have spent a long time developing?  Then the onboarding wouldn't have meant anything.  
That's pretty typical for onboarding – it works best if there's already been a certain level of trust built prior.  As I said above, we don't actually get a signup unless we've achieved significant trust, so in our case, onboarding is all about reaffirming trust we've already built.
Trust is built prior to signup. Trust is reaffirmed during the Onboarding process. Click To Tweet 
How we systematised onboarding
When our rate of new customer sign-ups picked up, we saw that handling each and every task related to onboarding was becoming too big for Ben and I to handle all on our own.  Early this year we knew it was time to hire someone to pick up some of the load.  We also knew it was impossible to make a successful hire without mapping out their role and responsibilities. It was very tempting to hire someone to 'figure out onboarding' for us, but ultimately getting the systematisation of our business right is our responsibility.  
It's tempting to hire an employee to 'figure things out', but you must systematise before hiring.
Click To Tweet
The obstacle to systematising and handing off our onboarding process was the fact that much of it was stuck in Ben's and my head.  The other problem was that we needed to create a number of distinct roles with clear areas of responsibility and systematize the way worked was passed between the different roles.  We'll dig into both of these issues below.
.
Customer Journey
To understand Onboarding I must tell you briefly about our customer journey, pictured below with explanation.  
1) Contact
Many of our leads originate on our page with Gravity Forms WordPress Plugin. When we receive an enquiry through the website Gravity triggers the creation of a new card in the 'Leads Board' in Trello.  This card is now used to keep track of the status of our new lead as they move through our process.  Here is a primer on Trello from WPCurve. 
2) Our response
Once they enquire we promptly reply via email.  We want them hear back as quickly as possible to get the process started.
Here's a shot of our T1 email which directs them to complete the Triage Questions.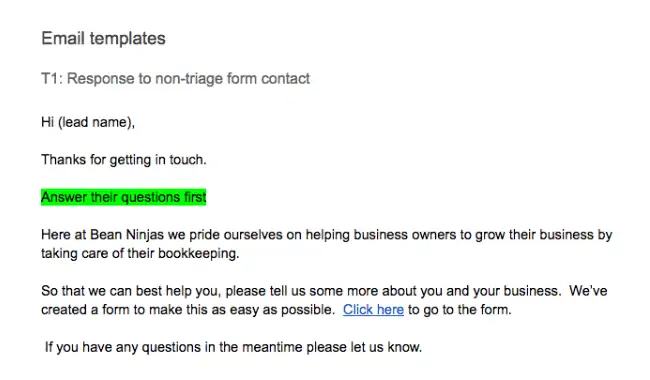 3) Triage questions
Our system of ensuring quick and correct responses to enquiries is called the Triage process, an homage to medicine. Because a Scoping call requires 30 minutes of Ben's time we prefer to qualify the lead a bit before booking someone in for a scoping call.
Leads answer the questions below so we can understand if we can help or not:
TRIAGE FORM
How long has your business been operating?

What accounting software do you currently use if any?

Who does your bookkeeping?  You?  A bookkeeper or someone else?

What is your approximate annual turnover? $0-$150k, $150-$300k, $300-$1M, $1m+

Do you require an onsite bookkeeper?

Do you have any frustrations with your bookkeeping?  

What does your ideal bookkeeping arrangement look like?

Which bookkeeping plan do you think suits you?  We can help you with this.
4) Scoping call (final trust building step)
The Scoping Call is where we try to deeply understand what a client hopes to achieve using our service and determine if we can deliver that. Some customers have specific questions to ask during the scoping call, but mostly they want to talk to someone in the business and be reassured that we are professional and will look after them.  I'd say this is the final ascent for customer trust – if they're going to signup, they trust us enough after the scoping call.
The Scoping Call requires both technical and sales skills, so Ben exclusively handles them for now. His increased workload of Scoping Calls is actually why it became imperative to systematize onboarding and hand it off to a specialist.
5) Signup or exit
Following the scoping call, a customer will either sign up, or exit.  For those that signed up, Onboarding begins!
.
Onboarding
Changing gears from the earlier steps on the customer journey, Onboarding is designed to…
Set clear expectations about what will happen next and explain what we do and don't provide

Provide information about how the service works

Demonstrate we're a responsive team

Dispel any residual stress
Where trust building ends
Once a signup happens, Bean Ninja's top priority ceases to be trust building (it's high enough) and we begin to focus on solidifying what we've worked hard to build. That means that we do the technical work professionally (table stakes), but in terms of communication we thread the needle between keeping the customer apprised of what we're doing for them without burdening them with unnecessary detail.  
What happens during onboarding (Our workflows)
Here's a shot of our Trello card that is created upon a customer signup. As each step is completed, the corresponding box is checked.  Pay special attention to the Welcome Email, Country specific tasks, and the Review of how the process went.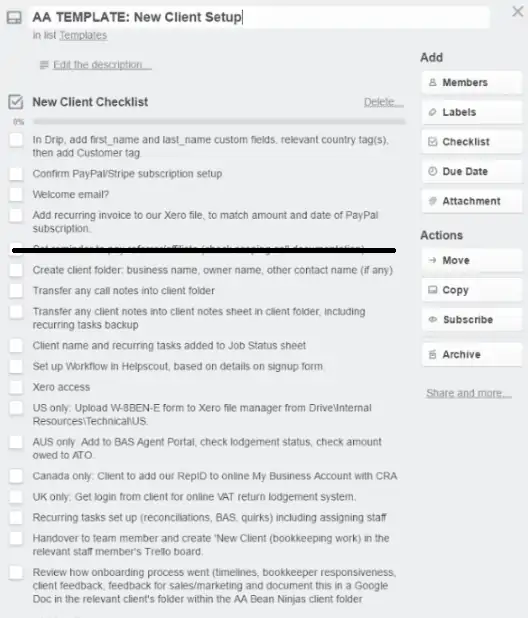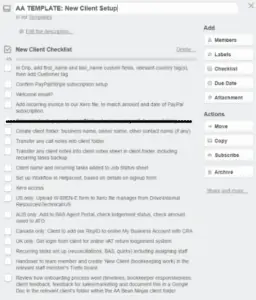 Our current touch points with clients during the onboarding process are a Welcome Email, a Welcome video, Educational emails, and Offer to conduct a training call.  They of course also have email access to us and are provided with contact details for all relevant people in the company beyond their book-keeper.  What clients don't see and don't need to see is much of the behind the scenes work we do, some of which is listed on the client onboarding checklist below.  
6) Welcome email
Immediately upon signing up our customers receive an automated email which congratulates them, tells them how to engage with our service, and provides step-by-step instructions for how to share access to Xero.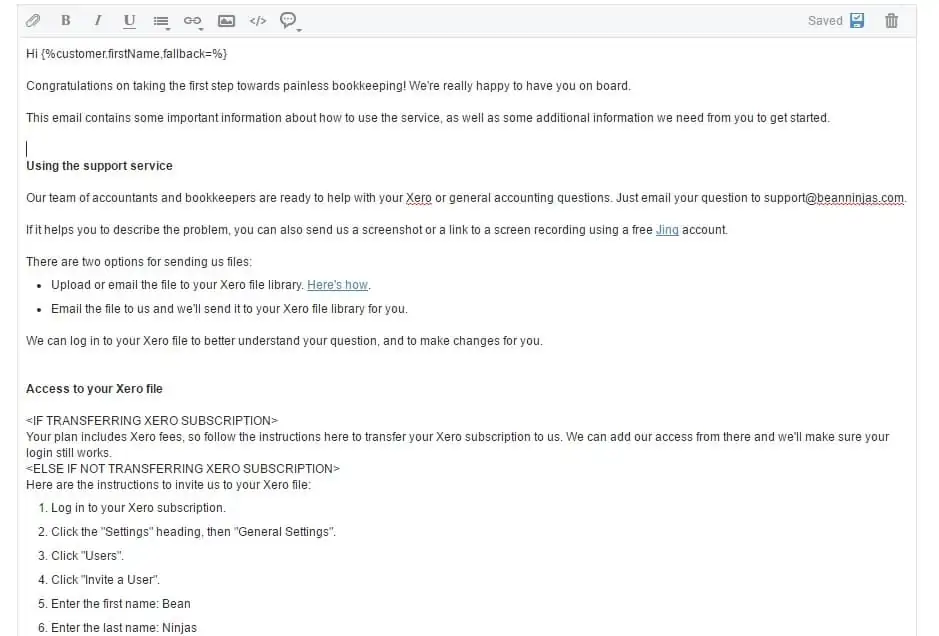 .
7) Welcome video, educational emails, training call
Lately I've experimented with recording a customised video for every new signup as soon as possible, usually within 2 days.  Here's one which welcomes a new client who also happens to be a surfer. [Welcome video].
Clients also receive a series of educational emails about how they can help make our collaboration seamless.  Here's a shot of the curriculum from Drip: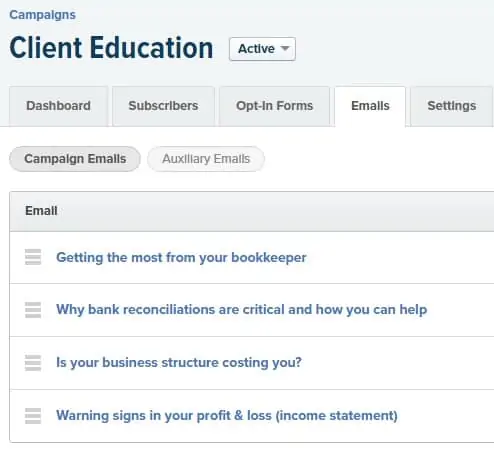 .
8) Training call or 90 day check-in call with a founder
We like to do a call within 90 days, though this can happen as soon as a client likes. It's designed to ensure that our clients are getting the full benefit of our service and to collect information about how we can improve.  Classic onboarding – the goal here is to lock in trust we've already built.  Another benefit of these calls from our perspective is it helps us field questions, and every question gives us more insight into customer needs.

.
Handovers and role distinctions
This new client checklist pictured above initially resides in a 'Client Work' Trello board which is managed by co-founders (that's Ben and myself) and the Bookkeeping Manager. Once a signup happens, we execute the handover process to assign this card to the Bookkeeping Manager board will then allocate the tasks to a Team Leader for onboarding.  You're now wondering who the Bookkeeping Manager and the Team Leader, so it's time to explain that.  
One way systematized onboarding helps us optimize trust is by allowing us to focus our employees' attention in the right place.  
As a young company, everyone wore multiple hats.  It works with a few clients, but not anymore.  The truth about our service, which I'll elaborate on below, is that there are different levels of skill required for closing, setting up, and maintaining an account – it's best for clients to get the person most qualified to do each task, and it's most economical for us put senior talent on the hard stuff and junior talent on the easier stuff.
Handover – Our roles explained
Because progressive points of contact with the customer require various levels of technical and sales skills, we needed to create role distinctions to allow us to hire the right person to handle each step.  After Triage questions are answered, Sales conducts a Scoping call, and as mentioned above, our sales team must possess an accounting skillset.  Currently the person in charge of onboarding is a Bookkeeping Manager (BM), our most senior role, and they allocate work to a Team Leader (TL), who owns the first 30 days.  The reason why BM's and TL's take charge of onboarding is because we want to ensure that initial setup is done by our most senior people.  Only after 30 days do we begin to allocate any book-keeping to our most junior bookkeepers.  

Leads are handed to the sales team (Ben for now) once a scoping call is booked

The sales team hands over to the onboarding team once a customer signs up

The onboarding team allocates the new client to a Team Leader, but is still responsible for monitoring the on-boarding.  

The last step for the onboarding team is to mark 'onboarding' as complete and then write a brief review of how the process went and any areas of improvement

From here the client is moved to 'ongoing' bookkeeping' status and recurring tasks will continue in Trello
This process may look complicated but it's actually has simplified things for us.  Where we used to use a lot of energy deciding what to do next and double checking our work, now we just follow the workflow.  The likelihood of us making a mistake and eroding trust with any customer is dramatically lower if we stick to the process.
.
What we've learnt in crafting and refining our onboarding process
.
Setting expectations removes residual stress for the customer
It is also important to set expectations about what is happening next.  We do this as part of the scoping call and then follow-up directly after the scoping call with an email.
Setting expectations includes
describing the next steps following the call and expected timeframes

Explaining that we'll also follow-up with an email after the call explaining the next steps

Letting them know that once we've allocated their bookkeeper we'll send an email introducing them

Letting them know who they can talk to beyond their point of contact if there happen to be any issues (our speak to the manager email address)
Clients don't need to be burdened with 100% of the details.
If you've demonstrated competence up front, customers care less about knowing everything that happens behind the scenes
Click To Tweet
All they need to know we have taken their needs into consideration via our crisp onboarding process. Our clients don't need to know that our Bookkeeping Managers oversee a number of admin tasks from client setup including a unified document which contains checklists containing mission critical tasks like compliance deadlines, weekly monthly todo's, and job tracking.  The touch points like Educational Emails, Videos, and Calls matter most.
Clearly defined areas of responsibility and a handover process enable scale
The handover process is also a necessary condition to good onboarding at scale because it enables a complicated process to be executed by a team with different skill levels.  As mentioned above this is because the initial setup of a new Bean Ninjas client's Xero account is harder than ongoing bookkeeping, so with our handover process we can have senior employees focus on the setup and our junior employees focus on the continuity.
.
Your turn
I'd recommend that businesses which offer a High Trust product to prioritize systematising your onboarding.  For Bean Ninjas, we learned that signups don't happen unless we've achieved a high threshold of trust.  Because it's so hard to attain, we do everything we can to solidify it.  
I tend to think that systemisation of the onboarding should be mandatory before you hire someone to take over responsibility for onboarding.  Employees can't be expected to meet your customers' expectations if you don't equip them adequately, and they certainly shouldn't be expected to come up with the process themselves when you the business owner understands your customers best.
I'd say that it's a good idea to have some experience doing Onboarding yourself before creating the process for your team.  If you happen to be a professional service like ours, I'll assume you have good technical skills.  Given that you have those, what's broadly valuable for any onboarding system that will work for your customers is a great intuitive sense of what they tend to need over their early lifecycle.  You'll get this most reliably by fielding customer questions & concerns then spotting patterns.
It wouldn't hurt to create a basic process which leaves room for improvisation even you're just starting to think about Onboarding, but try to keep it simple.  Better to fill in ambiguities as you go than to create something overly specific which you'll need to overhaul.