Customer service provides you with the perfect opportunity to gather valuable feedback to improve your products, marketing, and overall shopping experience.
And if you delight your customers with top-notch support, you're going to be converting them into repeat loyal buyers. According to the Harvard Business Review, increasing customer retention rates by just 5% increases profits by 25% to 95%.
It's not only cheaper to retain an existing customer than acquire a new one. But referrals and word-of-mouth marketing lead to new customers who bring in even more revenue.
So you shouldn't be looking at customer service as just a post-sales function. In fact, if done right, you could make it one of your key drivers of Shopify sales.
And we're going to show you how. Here are seven super actionable ways to use ecommerce customer support to drive repeat business for your store.
1. Help customers help themselves with self-service
When customers have questions or queries about your product, prompt customer support might be the difference between a sale and having them migrate to a competitor's store.
In fact, 69% of consumers say they judge the quality of a customer experience based on whether they receive a quick resolution to their inquiries.
So your customer support must be both fast and convenient.
And the best way to do this by creating a well-stocked knowledge base addressing your customers' most frequently asked questions. This allows your audience to find solutions to their problems without having to speak to a representative.
This will also mean your agents don't need to waste time answering repetitive questions. And can instead focus on more important tasks.
In this day and age, this is no longer just an option. With 79% of people saying they expect organizations to provide self-service support tools to find answers without having to contact support, it's an absolute must-have.
Zalando, the European ecommerce fashion retailer, lists the most viewed questions up top, followed by questions segregated by categories. They also encourage users to log in for more personalized help. However, their knowledge base could be even more user-friendly with a search bar where customers can directly look for answers to their problems.
2. Talk to your customers on the channel they prefer
Different customers may prefer to communicate with you on different channels. Even the same customer may want to communicate on different channels at different times.
This can be anything from phone, email, text, live chat, social media, etc.
The more avenues for communication you provide, the more are the avenues to make purchases as well.
However, it's important to make sure that the service provided across different channels remains prompt, consistent, and of high quality.
According to an Aberdeen Group report, companies that provide a consistent service quality across multiple channels retain 89% of their customers, whereas companies that do not are only able to retain 33%.
So you'll want to test it out yourself by sending an email, starting a live chat and posting a tweet, etc. This will give you a first-hand idea of the speed and quality of your team's responses.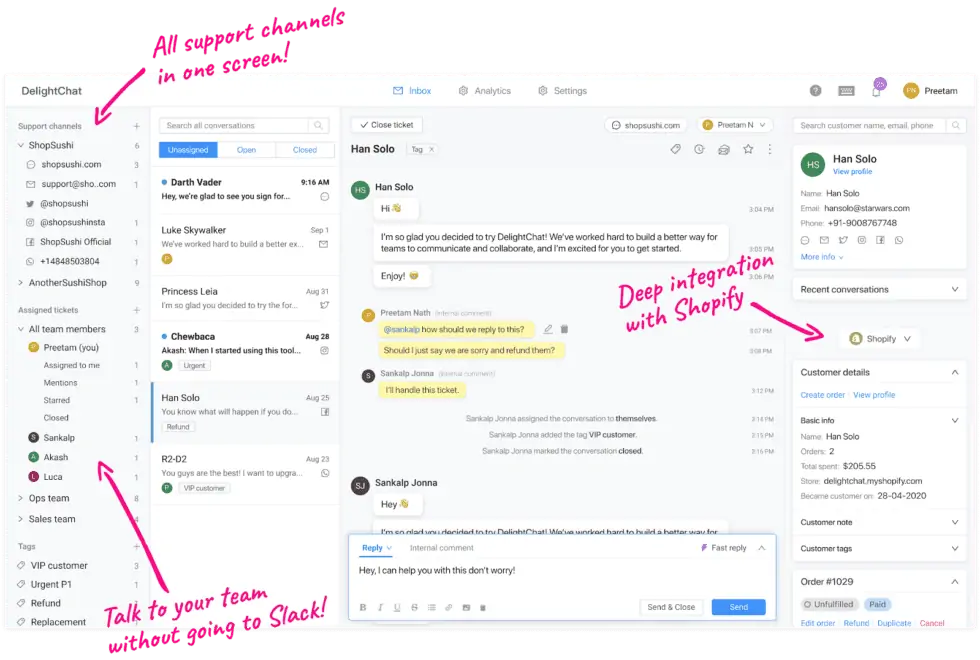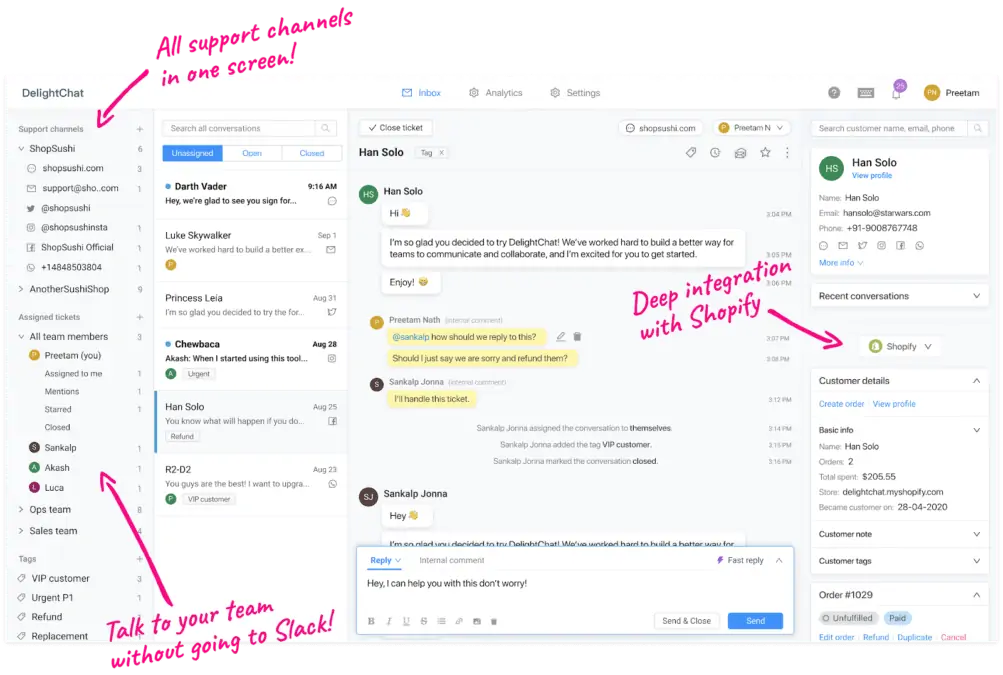 It's also crucial to select the right ecommerce customer support software for your store. You'll want a tool where your agents can collaborate and manage conversations across different channels. All while maintaining response times low and customer satisfaction high.
3. Make sure your agents understand the sales process
Your support agents interact extensively with your customers' pre and post-sales. And if they're trained well, they could well function as your secondary sales team.
Studies show a strong link between the amount of money a customer is willing to spend and the quality of the customer service they receive.
So your front-line agents must be well versed with the products your store is selling. They should be familiar with its technical aspects, how to get the most out of it, and potential issues that a customer may face while using it.
Additionally, they should be in regular contact with sales and technical teams so that they're always up-date with the latest features and sales processes being used.
Besides the training, you provide when you onboard new agents, consider having periodic training (quarterly, half-yearly, yearly) to make sure everyone is aligned and up to speed.
Additionally, you'll want to review their customer interactions to make sure your agents are matching your brand's tone, voice, and internal quality standards. This will help you provide them with feedback that helps them bring in even more sales.
4. Leverage support to identify opportunities to up-sell and cross-sell
In the previous section, we spoke about how your agents need to be familiar with your products and sales process.
This knowledge will come in handy and allow them to identify opportunities to up-sell and cross-sell quickly.
Up-selling is the process of increasing average order values by suggesting premium products to your customers. While cross-selling involves suggesting additional products that work in conjunction with the customer's existing purchase.
Here are a few best practices to keep in mind while up-selling and cross-selling:
Tailor your recommendations based on your customer's needs and goals
Do it only when your offer provides value to the customer.
Look at your previous interactions with a customer to guide your suggestions.
Pay attention to the timing and context of your conversation.
Be transparent about your pitches so that customers don't feel misled.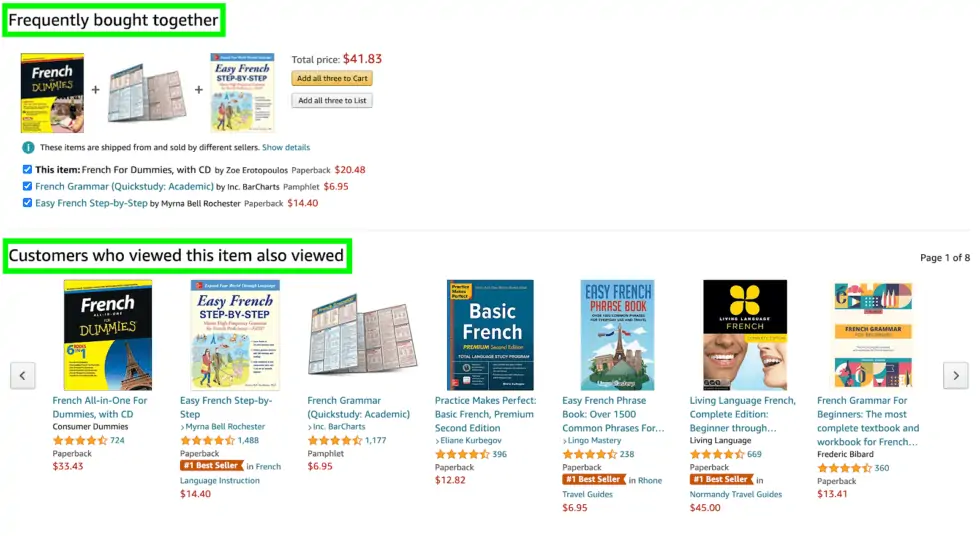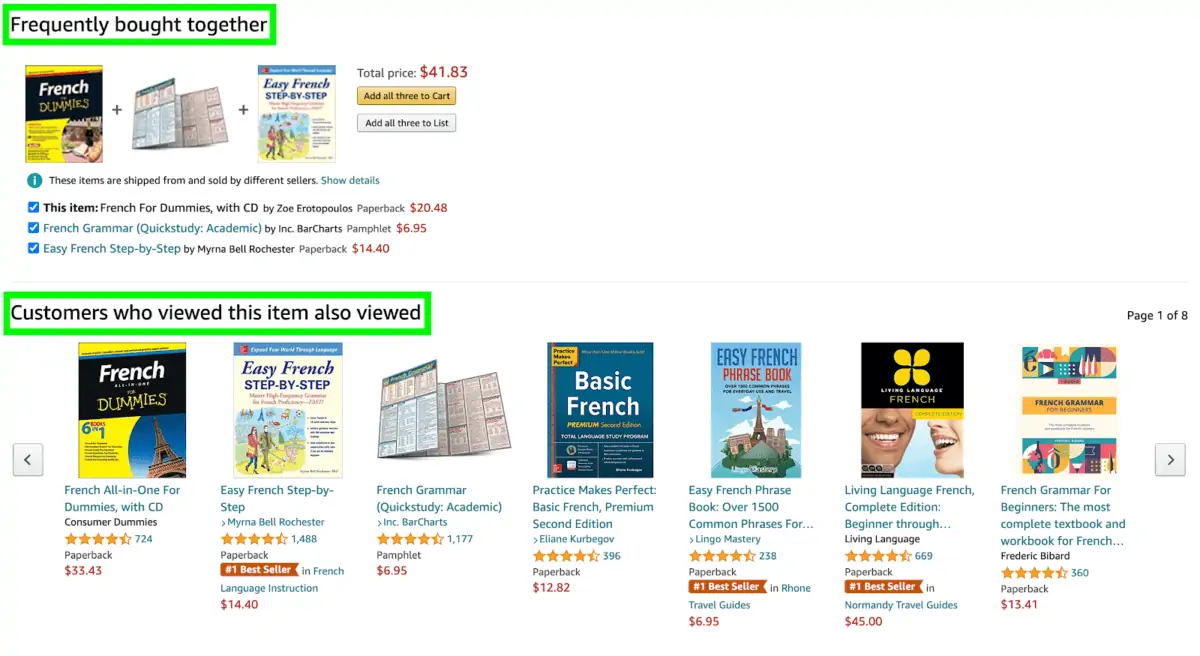 Amazon uses customer data and has created an automated formula that shows customers related items and frequently-bought items to influence them to purchase more.
As long as you follow the same principle and suggest items based on your customer's needs and past interactions, you'll have them buying more (even without fancy algorithms in place).
5. Generate referrals and sign up customers for your loyalty program
According to a report by DCR, when referred by a friend, people are 4x more likely to make a purchase. And their LTV is 16% higher as compared to non-referred customers.
And the backbone of any effective referral program is identifying your brand advocates. Your support agents are in the perfect position to do just that since they constantly communicate with customers.
Once they've done this, your marketing and sales teams can take over. They'll be responsible for coming up with the kind of referral program, the marketing collateral to be used, and the process of converting referrals into customers. But all their decisions will require inputs from your support team.
The same principle applies to loyalty programs as well. Implementing a loyalty program is a great way to boost purchase frequency.
But the most challenging part is identifying which segment of your audience you want to target. And once again, this is where your support team comes in.
Here are a few tips to keep in mind to get started with your own loyalty program:
Communicate the benefits clearly and make sure your program is easy to understand
Provide multiple avenues to earn rewards
Include a community element (social follows, leaving reviews, referring friends etc.) so that your program doesn't seem purely transactional
Integrate gamification to keep members engaged
Make the redemption process as easy as possible
Use the data you collect from your program to hyper-personalize communication
6. Optimize the checkout process to prevent cart abandonment
You've spent valuable time preparing your product descriptions and optimizing the flow of your ecommerce store.
So you don't want your customers adding products only to abandon their carts at the last minute.
And this is a huge problem prevalent across the ecommerce industry. The average shopping cart abandonment rate is 69%, with ecommerce stores losing $18 billion in revenue annually.
One of the most common reasons for cart abandonment is issues with the checkout process. And here's are some tips to combat this:
Establish trust by using security logos and certifications
Include a progress indicator to show customers where they are
Make navigation between your store and cart seamless
Offer a guest checkout option so customers are not obligated to create an account
Provide multiple payment and shipping options
Since the checkout stage of the purchasing journey is where many customers face roadblocks, having a live chat on this page is a great option.
This will allow your agents to jump in and guide stuck customers through the checkout process in real-time, which will significantly reduce cart abandonment rates at your store.
Allbirds, the footwear company, have a chat option included on their checkout page. Customers can search for answers to their questions independently or speak to one of their support representatives.
7. Gather feedback to make improvements
People want to hear the opinion of past customers before committing to a purchase. In fact, 72% of customers won't take action until they read reviews.
Positive reviews should be displayed online and used in your company communication.
And you'll want to make it a point to respond to reviews to show your customers that their feedback is valued.
And that includes negative reviews as well. Think about it, consumers find businesses that respond to reviews are 1.7x more trustworthy than those who don't.
This is a great chance to show prospects that you're transparent and willing to try and fix a negative customer experience.
And reviews don't just serve as a factor to influence purchases. They can help you identify the areas where your store is doing well and areas where you can improve.
---
Customer support needs to work in tandem with all your departments
Your support team is in constant contact with your customers.
And you should leverage this to increase profit margins at your store.
But it can't be done in isolation.
Instead, you should have your support team working closely with your other departments like sales, marketing, finance, product development, etc.
Listening to your customers and continuously optimizing the shopping experience is one of the most effective retention strategies you can employ. And these seven tips will help you get started with converting your customer support into a repeat sales driver.