eCommerce store owners face numerous logistical challenges as their business grows — but the best operations scale with success and take each hurdle as it comes.
In this article we explore the following logistical challenges your eCommerce store will likely face as it continues to grow:
Keeping on top of customer service
Managing and streamlining the supply chain
Branching out into different regions
Read on as we take a deeper look into these logistical challenges and provide actionable tips on how to navigate around them.
Keeping on top of customer service
Many smaller ecommerce brands find it difficult to compete on price, looking instead to beat the biggest brands with quality customer service.
As a growing ecommerce business, you must hold onto your pride in delivering a quality, caring service, or risk squandering your hard work up to this point.
With that said, as a business grows it's easy to lose a sense of valuable customer interaction — so how should your operation evolve in a more customer-focused and friendly way?
The answer: leverage technology to streamline 24/7 support.
Social media is a great place to start because it allows you to provide customer service immediately while also being your customers' first point of contact.
Though you've likely used social media for customer service before now, you should maintain these efforts as it's important to have real, human interactions with your customers.
But with larger followings comes more messages that can snow you under. As such, many growing eCommerce brands use engagement tools like Sprout Social to scale social engagement and elevate your customer service strategy.
These engagement tools allow your business to create, track, and manage support issues across all your social channels in one dashboard — this means you keep track of customer enquiries and complaints more efficiently as the business grows.
It's vital to keep on top of customer service and scale it alongside business growth. If you begin to let things slip and garner a poor reputation for customer interactions, you can easily squander success and harm sales.
Managing and streamlining your supply chain
Ecommerce is built off the back of consumer convenience — and what could be more convenient than having your items delivered to your doorstep?
Due to the Amazon's of this world, many consumers expect to receive their online orders with a certain level of immediacy, which is particularly relevant if you're creating bespoke products with same-day delivery.
For smaller, less established ecommerce businesses to live up to this pressure, delivery tracking is especially important, both for the sustainability of your internal operation and for the consumer's benefit.
With that said, ecommerce is incredibly broad in scope and delivery operations often fall into two separate categories:
Third-party distribution: your ecommerce business outsources product distribution to a third-party courier service like DPD or UPS.
In-house distribution: Your ecommerce business takes care of its own distribution process, delivering products from storage right to the consumer's door.
In this section, we outline resources you can use to manage and streamline your distribution process, whichever category you fall into.
Courier tracking software: for third party distribution
On the first point, it makes logistical sense for many ecommerce businesses to work with a third-party courier because it's a cost-efficient way to deliver items while keeping prices low.
However, you have very little control over the process once your customer's order gets shipped. As such, potential errors on behalf of your third-party courier can reflect badly on your business, resulting in lost sales and damaging customer reviews.
Using parcel tracking software such as M-tribes, you can navigate around this issue with a live feed of your couriers' whereabouts — this helps you to safeguard against reputation damage by ensuring your getting value for money, while also being more transparent with your consumers.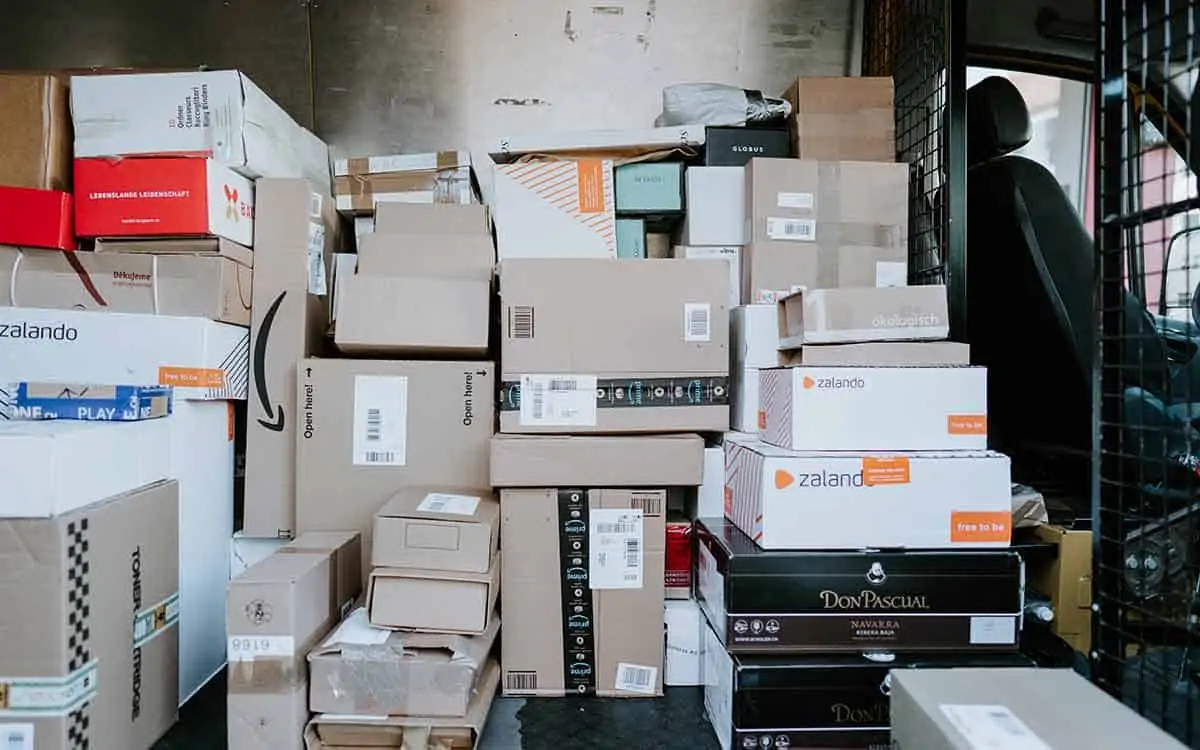 Tracking telematics data: for in-house distribution
Onto the second point, in-house distribution offers more comprehensive control over your fulfillment process, which is an absolute must for those bound by bespoke next-day delivery like construction suppliers.
In-house distribution is a strong approach that ensures products arrive on time under your strict supervision, but only if your eCommerce business has the right framework in place to run such an operation.
Assuming you already own the necessary vehicles, you still have to manage the situation by streamlining the process and eliminating blind spots, which is why telematics data is a vital resource for companies who manage their distribution process.
Telematics, as outlined by iCompario, is a vital tracking component in any effective supply chain. Using this data you can keep track of your drivers, monitor efficiency levels, and most importantly ensure you're providing customers with a quality service that delivers on time.
As touched upon briefly beforehand, this is especially important for eCommerce businesses creating bespoke products in tandem with time-specific deliveries. For instance, if you miss a deadline or make a mistake, you could end up in a position where customers receive items they no longer need and are unwilling to pay for.
Branching out into different regions
Finding your ecommerce business is outgrowing its current market? At some stage or another, you'll likely have to look into the possibility of operating in new regions.
There are numerous upsides to expanding your ecommerce business into new regions, with the most notable benefit being the ability to make more sales. As your operation grows, it can feel limited by being locked inside one region, by branching out into other geographical areas, you maximize the capacity and sales potential of your ecommerce store.
But making this leap often seems too big a stretch for many companies…
Although in reality, you no longer need a small army of strategists and developers to broaden your businesses reach into new geographical locations.
As shown by Shopify, the beauty of modern eCommerce means you can transform your growing local store into a thriving micro-multinational by following a surprisingly straightforward process:
Offer local currency and payment options: when expanding your eCommerce business into new regions you have to be accommodating to different currencies and be flexible with how people want to pay. Most won't want to pay in different currencies because the process tends to be messy, plus conversions are almost always less than they would be if you could simply offer the region's local currency.
Run targeted marketing campaigns: if done right, with targeted marketing campaigns you can expect to spend less, and earn more. Using tools like Google Adwords you can run localized campaigns that target individual regions, thereby maximizing conversion in any given area.
Provide local shipping options: as previously mentioned, your shipping process is a major logical hurdle, made even more complicated by operating in different regions. By creating separate online stores you can offer more shipping options to local customers, which streamlines the process (follow this guide to duplicate your eCommerce store for different regions)
Though it may seem like a big step for your ecommerce store, you should consider expanding into new territories because it gives your business the opportunity and space to experience further growth.
As a growing eCommerce store owner, there are various roadblocks and logistical challenges you'll face along your business journey, but this should in no way halt your success up to this point.
Whether you're keeping on top of customer service, managing a tricky fulfillment process, or venturing into new regions — the fastest growing eCommerce businesses take each hurdle in their stride.