As your eCommerce growth accountants, we're excited to announce the launch of our new Quickbooks bookkeeping service. This service is specifically designed for eCommerce business owners looking to gain clarity over their finances while streamlining their financial management.
Just like with our Xero bookkeeping services, this new service offering includes monthly bookkeeping, inventory accounting, and up-to-date financial reporting.
In this post, we're sharing why we're launching a new Quickbooks bookkeeping service now after 7 years of being an exclusively Xero firm, along with a behind-the-scenes look at what went into this launch.
What does this mean for current Bean Ninjas customers?
Before we dive into our exciting new service offering, we want to address our current clients. For our current clients, nothing will change for your business.
From day 1, we started as a Xero accounting service. We have 7 years of deep experience and relationships in the Xero ecosystem. And we will continue to support and stay on the cutting edge of all things Xero.
The only thing changing is that new US-based clients will have the option to choose between Quickbooks and Xero.
Why Quickbooks?
Our clients are asking for it and coming to us already on the platform.
With around 5 million customers in the US, Intuit has a huge US market share. There are more eCommerce businesses using Quickbooks than Xero.
And Intuit is investing heavily in its Quickbooks Commerce product.
Wayne says, "The mission of Bean Ninjas is to make it possible for hundreds of eCommerce entrepreneurs to achieve financial independence and live their best lives. We have done this by empowering entrepreneurs to gain confidence in their numbers to begin making data-driven decisions.
Building on the success of our Xero bookkeeping service, I'm excited to accelerate this mission through the launch of our new Quickbooks division.
While Xero remains a great accounting software option for small businesses, we simply couldn't ignore the grasp Quickbooks has in the cloud-accounting space. Both QBO and Xero offer a wide range of features, easy-to-use interfaces and are built to support the accounting needs of eCommerce brands.
Adding Quickbooks alongside best in class software like A2X supported by our world-class Bean Ninjas service division is a homerun solution for any eCommerce entrepreneur!"
What's included in our new Quickbooks bookkeeping service?
As your eCommerce growth accountant, any 6, 7, or 8-figure business coming to us for Quickbooks accounting and bookkeeping will get a similar offering to what we already provide for those using Xero.

We've spent the last 7 years relentlessly refining how we help our clients, and now we're adding a new platform that we can support. So, this means we can help with everything including, but not limited to:
Monthly bookkeeping
Inventory accounting
Financial Reporting
Chart of Accounts set up and categorization
Payroll & Accounts Payable
Sales Tax
1:1 Bookkeeping Support
Plus, we partner with best-in-class software, including Quickbooks, A2X, DEAR inventory, Avalara, Gusto & Dext.
Diving deep into the Quickbooks ecosystem
Our team has spent a lot of time planning and preparing ahead of this launch. Here is a behind the scenes look at what this entailed.
Training Our Ninjas
We couldn't launch this new service offering without our exceptional team of accountants and bookkeepers.
Fortunately, many of our team members were already familiar with Quickbooks. However, we've added staff to our team of eCommerce accounting expert Ninjas and invested time and energy building out training programs, systems, and processes, so we can provide a consistent, high-quality service to all of our clients leveraging the Quickbooks platform. This also means that our team will hold Quickbooks ProAdvisor certifications.
We've also built relationships with the Quickbooks Commerce team to dive deeper into its capabilities and be one of the first to know of upcoming feature releases.
Attending Quickbooks Connect
As part of this, Meryl and Wayne attended Quickbooks Connect in Las Vegas last year.
In addition to diving deeper into the Quickbooks platform, we also chatted with some additional third-party accounting software partners, including A2X and DEAR Inventory.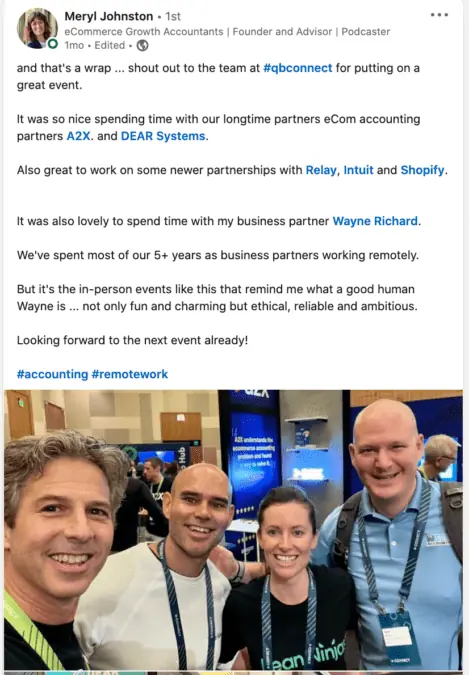 Updating our website
As part of this launch, we've also updated our website to reflect our new Quickbooks service offerings.
Over the coming months, you'll also find additional Quickbooks accounting guides, toolkits, and articles for eCommerce businesses on our website.
If you want to be the first to know about these free Quickbooks resources, join over 3,500 subscribers and get our biweekly newsletter here 👉.
Discover how Bean Ninjas can help you with your Quickbooks accounting
For more information about our new Quickbooks service offering, you can reach out to our team here.