It's hard to believe we're already three-quarters into 2023.
At Bean Ninjas, our experience spans a wide range of ecommerce businesses, ranging from six-figure businesses to fast-growing businesses raking in ~$20M annually.
From our perspective, we've noticed a pattern over the last three years that has only intensified. The fastest-growing ecommerce businesses are the ones that have robust finance and accounting systems and processes, coupled with a keen understanding of data analytics.
However, we're not ones to rely solely on gut feelings and casual observations. Being a team bean counters, we decided it was time to dive deeper and compile our own third party sources and analysis
Business Revenue Trends
After a global pandemic rocked the universal supply chain and effectively stunted physical shopping experiences, ecommerce sales grew at a rate more than triple that of overall retail sales in 2019. By 2020, ecommerce penetration (excluding auto and gas) leaped to 20% compared to 15.2% the year prior.
According to the GroupM 2022 E-Commerce & Retail Media Forecast, global ecommerce sales went on to peak at $5.4 trillion by 2022. The U.S. and China alone were responsible for 52% of sales. While some thought online retail sales would eventually plummet as global markets began to adjust, the ecommerce market growth is projected to reach 5% higher than pre-pandemic levels in 2023.
In terms of what to expect across the ecommerce landscape in 2023, ecommerce business owners should anticipate growth in the apparel and furnishings markets, which grew from <10% penetration to >30% penetration since 2021.
In 2022, ecommerce brands that offered subscriptions grew 26% faster and were 14% more profitable than businesses that didn't. In 2023, consumer adoption of ecommerce subscriptions is forecasted to continue.
Ironically, the fact that ecommerce businesses that offer subscription models experienced profitable growth could have been predicted back in 2021. Nearly half (41%) of consumers indicated they ordered products directly from a brand on a recurring or subscription basis in 2021.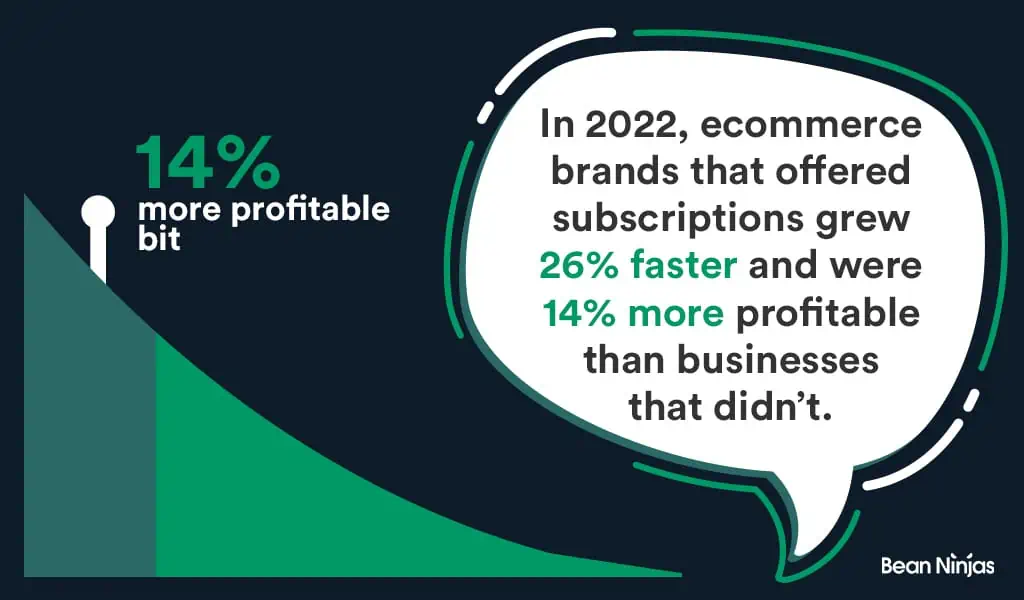 Finance Trends
In 2020, we noticed that the shift towards cloud-based accounting software is evident with most ecommerce businesses using either Xero or Quickbooks.
Using cloud-based accounting systems and a specialist bookkeeping firm, like Bean Ninjas, ensures you avoid costly mistakes, such as paying the wrong amount in taxes or overstocking/understocking inventory. You'll also gain insights into the flow of cash through your business, and most importantly free up your time to focus on growth.
Cash flow forecasting, in particular, remains an invaluable tool for monitoring the health of your business and being able to create diverse financial models – optimistic, moderate, and pessimistic, especially during uncertain economic times.

Related Reading: Xero vs. Quickbooks: When to use one or the other?
This makes sense since regular financial scrutiny also correlates with stable or increasing sales trends. It's advisable to monitor crucial financial reports weekly, like your P&L, Balance Sheet, and Cash Flow Statement.
Business Ops Trends
If your team shrunk in the past few years, you're certainly not alone — but that doesn't have to be a bad thing. Top ecommerce brands in the growing and profitable group reported half as many employees on payroll and were 25% more likely to outsource warehouse operations in 2023.
However, the need to outsource labor like inventory management and order fulfillment is not surprising. The biggest challenges for ecommerce business owners have been finding and hiring talent, supply chain issues, and access to cash flow. In fact, 67% of businesses say they are short-staffed due to the "current talent crunch in the job market," which began as early as 2019.
Despite the talent crunch, many ecommerce brands have begun to ideate strategies to scale and tap into new revenue.
One strategy has been to increase prices, which had an 86% probability of a positive outcome for merchants in 2022. Another strategy has been finding new sales channels.
Marketing & Advertising Trends
A recent study from the Advertising Speciality Institute found that 54% of marketing leaders increased their direct mail spending in 2022, while 76% saw their digital engagement decline. In fact, email marketing remained the top advertising channel for ecommerce brands from 2019 through 2022, though Amazon and Google remained the best advertising options in terms of ROI.
Social media has risen as a top contender for ecommerce sales in 2023. Total social commerce sales in the U.S. will double its 2020 sales in 2023 alone, exceeding $56 billion. Global social commerce sales are projected to pass the trillion mark in 2023, and even break $2 trillion by the year 2025.
For business owners who first began experimenting with social commerce pre-pandemic, this growth was to be expected. Back in 2020, nearly 50% of BigCommerce merchants cited social media as the shopping trend or technology with the greatest impact to their overall business for 2021.
However, top growing profitable ecommerce brands were 25% less reliant on paid traffic in 2022, particularly after the Facebook ROAS gap widened significantly (14.5%) following Apple's 2021 iOS update roll out. Instead, successful businesses were six-times more likely to cite 'branding and storytelling' as their competitive advantage, signaling a bigger reliance on organic content.
In addition, more ecommerce brands are seeing positive ROI turning to TikTok ads. In fact, in the first half of 2022, ecommerce brands spent $48.4 million on TikTok ads, or a 231% increase from the previous 6 months. Brands that do between $1M – $5M in annual revenue are the fastest-growing segment using TikTok ads.
Amazon Trends
Despite two years of extreme sales for Amazon, Chinese retailer Alibaba officially dethroned the American marketplace giant in 2022. Alibaba reported more than double the ecommerce GMV of Amazon in 2022.
This turn of events is interesting for several sellers, particularly because the first quarter of 2022 was massive for sales through Amazon for BigCommerce apparel merchants. Compared to 2021, there was a 321% increase in inclusive GMV and a 276% increase in Amazon orders in 2022.
Additional Interesting Trends
Back in November 2020, when pandemic restrictions were the most rigid, 34% of consumers said they maintained 'significant interactions' with brick-and-mortar stores. As lockdowns eased and vaccination uptake increased in November 2021, that figure jumped to 67%. The vast majority of consumers that period (72%) also expected to return to brick-and-mortar stores post-pandemic.
So, imagine the surprise for physical store owners when 2022 data did not reflect that immediate flock back to brick-and-mortar locations. Instead, ecommerce sales were up 50% more in 2021 ($871 billion) than in 2019 ($579 billion), indicating ecommerce remained a preferred channel.
***
With technological advancements, changing consumer behaviors, and a global marketplace that's more interconnected than ever, ecommerce businesses must remain agile and informed.
Understanding broader market trends, customer preferences, and marketing strategies is equally vital since those who adapt, learn, and pivot will not only survive but thrive in the coming years.
Brands with a strong financial foundation have a leg up over their competitors. If you are looking for help getting your financial systems and processes in place, schedule a free call with a member of our team.