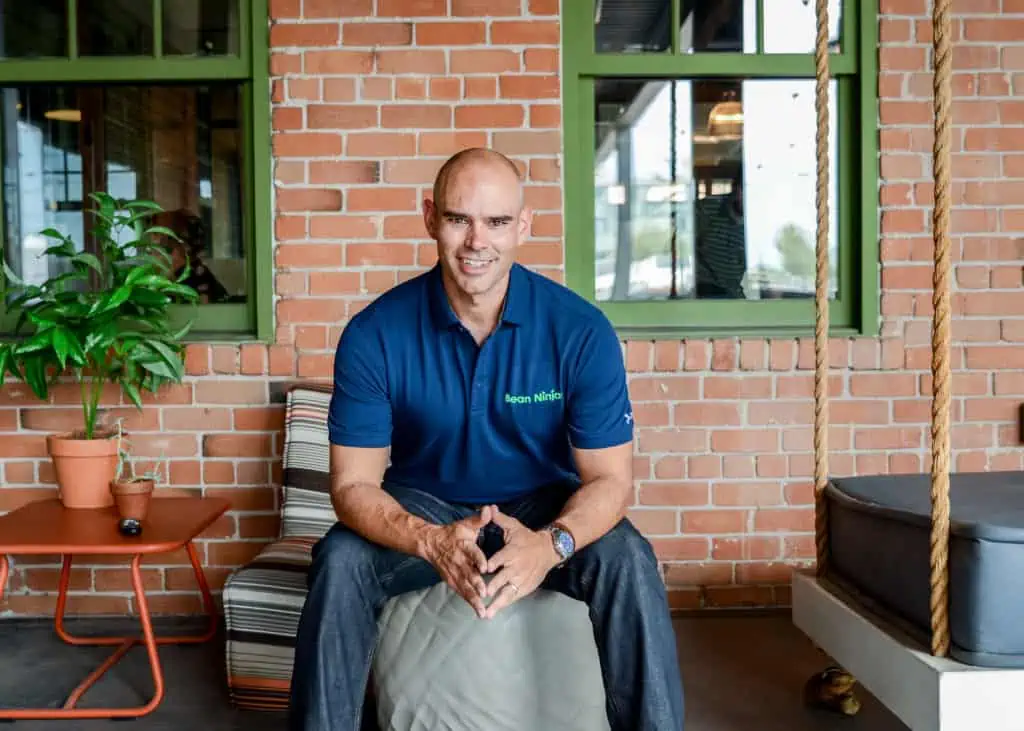 We're hiring!
We are looking for an awesome People Operations Manager to join our growing team. You will have 3+ years of Operation Manager/HR (or similar) experience, a business (or similar) degree and excellent communication and organizational skills.
Bean Ninjas was launched in 7 days and with $1,000 using the 7-day Startup methodology on Australia's sunny Gold Coast in 2015.
It's now been 5 years since launch and we're now at 15+ team members across Australia, the US, the UK, Europe, and the Philippines.
We are a fun, energetic, active, and highly driven group of individuals and recently welcomed three brand new kiddos in the Bean Ninjas family and one adorable new puppy.
Who are we?
Bean Ninjas are recognized as industry leaders. You will be working alongside Chartered Accountants and CPA's who have come from firms such as Ernst and Young and BDO.
We were awarded Xero's Australia Bookkeeping Partner of the Year Award in 2019 and the Queensland Bookkeeping Partner of the Year in both 2017 and 2019.
We specialize in supporting 6-figure+ eCommerce and agency businesses.
Our vision and mission: 
To take the stress out of managing business finances for entrepreneurs, so they have the freedom to live happy, healthy, productive lives.
To understand more about our beginnings and vision, watch this video of our Founder and CEO Meryl Johnston:
We regularly attend speaking events and podcasts appear, as well as hosting our podcast and webinar events.
We run an active community, servicing our clients by providing timely up to date industry information. 
For more details about Bean Ninjas and our values refer to the Bean Ninjas jobs page.
.
.
What's it like being part of the Bean Ninjas team?
Here's what some of our team members have shared about their Bean Ninjas experience: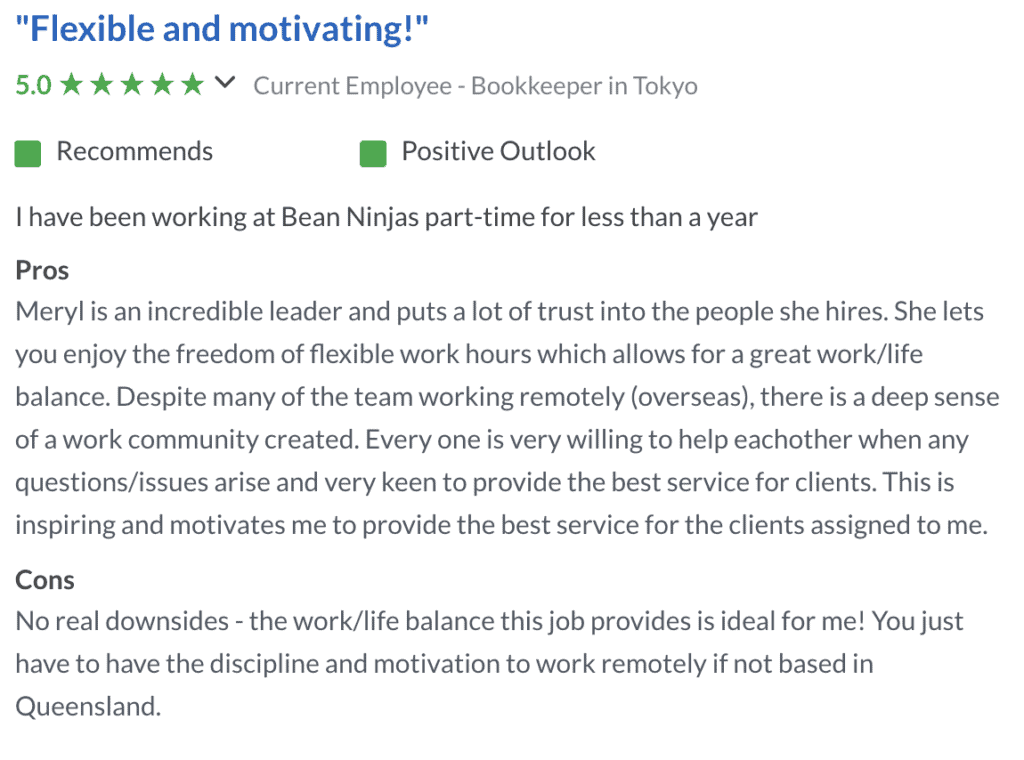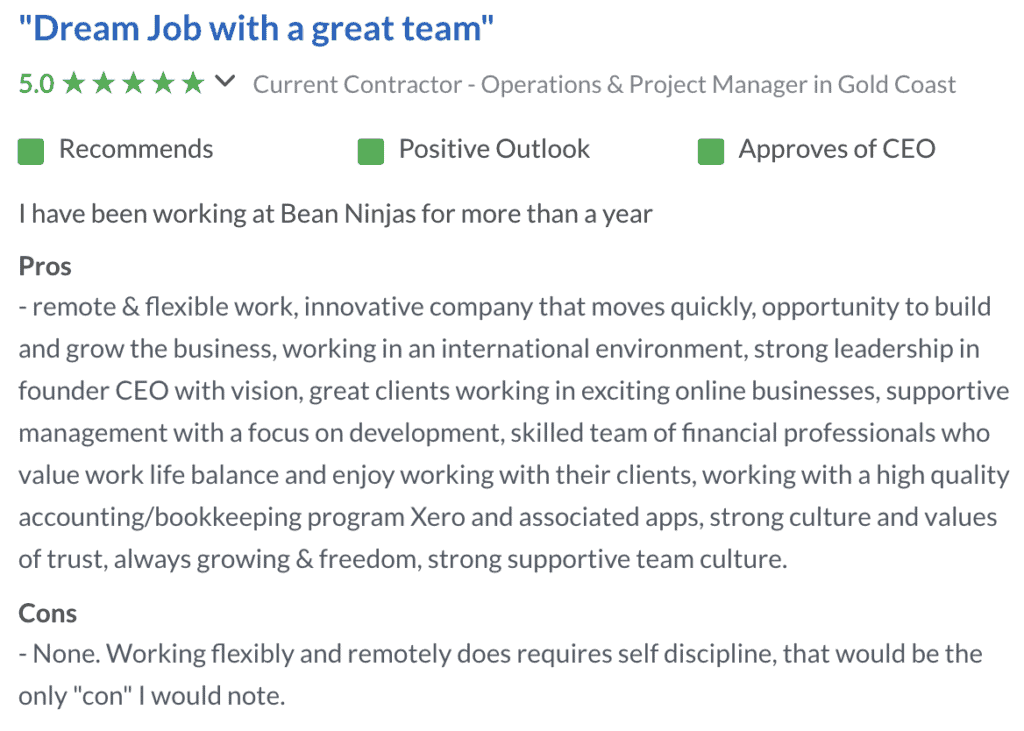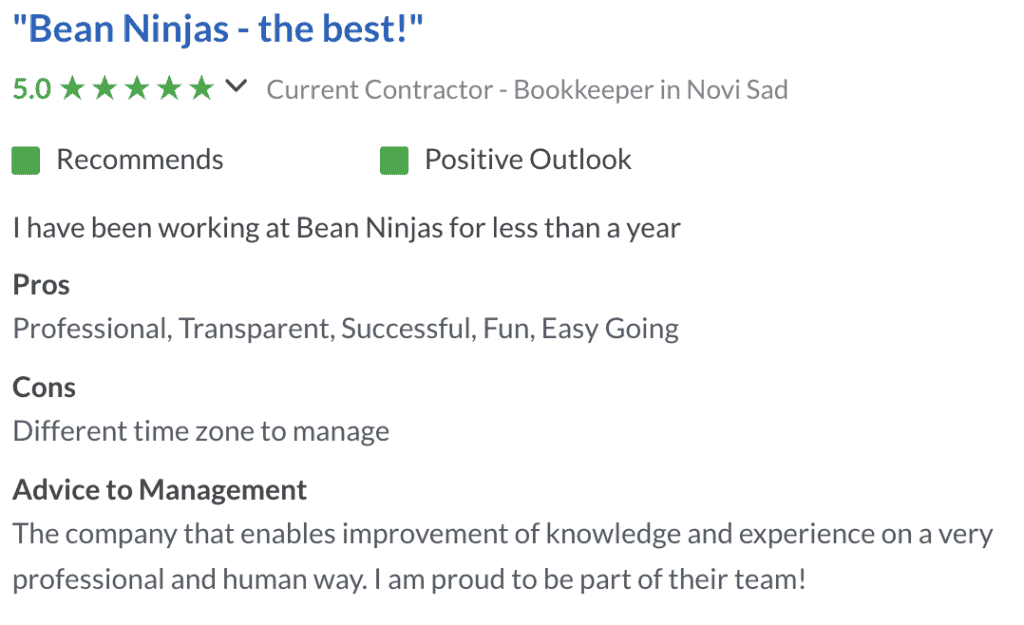 Read more team member reviews on GlassDoor
.
Career development
We believe in developing our team and promoting internally. You will go through an initial 3-month training program and will then receive ongoing training and mentoring. We prepare individual staff development plans for each team member to help in achieving career goals along with leadership training at our very own Bean Ninja University.
You will be working directly with Cheif Operating Officer, Wayne Richard. 
Wayne Richard, became Partner in 2018, after commencing his Bean Ninjas career as a Cloud Accountant and Sales team member. 
Wayne quickly moved through the ranks to become Manager and then Director of Global Operations before his current key role of COO.  Wayne is an e-commerce cloud accounting expert and has appeared and hosted many key industry podcasts.  
Wayne is responsible for the impressive growth of our US business and is a well-known expert in the eCommerce space, having recently published the state of the industry eCommerce Recession Impact 2020 Report.
Related Reading: Wayne Richard team member spotlight and Bean Ninjas welcomes new partner Wayne Richard.
.
Flexible and remote role
This is a part-time remote role and you will have some flexibility in choosing your regular work hours, however, you must generally be available from Monday to Friday 8 am -12noon. We don't expect you to be tied to the desk but you will be able to juggle the responsibilities of your role with your family life and other commitments, using mobile technology, your amazing organizational abilities and team rallying skills. 
We expect this role to take 20 hours per week and could expand in the future.
We are a distributed team and most of our team regularly work from home in Australia, the UK, US, Spain, the Philippines and Serbia! You will be based in the US.  We also have an office in downtown Tucson Arizona that you have the option from working from.
.
Here are some specifics of the role
This is a high-level role and while you will be responsible for ensuring an atmosphere of teamwork and collaboration.
People Operations
Carry out the following functions to ensure we have the best team possible to deliver an amazing experience to our customers;
Recruitment & Hiring

Onboarding

Exits & Terminations

Drafting Contracts 

Assist with statutory payments (i.e. superannuation, WorkCover)

Maintain Organisational Chart & Team webpage

Maintain Xero Advisor Directory Listing

Organise Christmas Party/Retreat

The first point of contact for team members for HR enquiries

Annual salary review process

Team culture initiatives
Training & Development 
You will be responsible for the internal training of team members so the organisation is continually striving to have the best team every day;
Ensuring compliance with relevant policies (ie Data Security) across the team

Develop training materials (ie productivity processes) and run sessions

Manage the career development planning process

Follow up with team members monthly on how they are tracking with their career development planning items

Performance management process
Systems Support
You will provide systems support to the team for internal tools;
Software Champion – HelpScout, Slack, LastPass, Google (Gmail, GDrive, Calendar etc), Zoom, Loom, Calendly, Docusign

Onboard & manage software access for team members

Organise software training as required
Risk Management & Compliance
You will be responsible for the risk management of the business in relation to;
Support with trademark applications as required

Manage insurance for the business

Participate in quarterly and annual audits if required 

Maintain SOPS

, processes, policies (Sweet Process), workflows, tasks & templates etc (Wrike) for all non-Cloud Accounting Services/relevant areas
Special Projects 
Once the above tasks are all running smoothly we see plenty of scope for interesting project work.  
.
Remote work
You're self-motivated and ideally, have previous experience working remotely and/or with little direct supervision.
You have a great internet connection.
You know how to keep your computer and work secure and private.
You know the joys of using two monitors (or splitting a big monitor).
What is the position like and what skills do I need?
In your role as People Operations Manager, every day will be different!
You might be training team members to use a new tool, interviewing prospective candidates, updating the organizational chart, discussing development plans, drafting contracts or helping drive other projects.
….. or organizing the next Christmas Party!
Who are you?
This role will suit someone who enjoys variety and is a great communicator.  You are highly motivated and have excellent organizational, time and project management skills.  You are up for a challenge and want to work with a vibrant and dynamic team.
You will be the glue of the Internal Operations Team who holds everything together, coordinates planning and execution of the Strategic Plan, informs and holds leadership accountable.
You are a natural Integrator/Implementer who can take a plan and make it happen!  You keep everyone up to date and on the same page.
You are comfortable planning and prioritizing projects, identifying and recruiting the delivery team, and ensuring deadlines are clear and timely met for yourself and others.
Professional Skills
Have an Accounting/Human Resources (or similar) degree

Have worked in a corporate environment or a small privately owned business for 5+ years

2+ years of HR experience
Basic knowledge of HR practices and principles
Other Ninja Skills
Have excellent written and spoken communication skills. This is key!
Very process oriented and good at creating processes as well as following them
Empathic and good at understanding people
Management experience or experience running a business
Ability to prioritise and juggle competing priorities
A strong desire to follow tasks through to completion
You will have excellent attention to detail in order to assist our many varied projects You are proficient in google sheets (or excel) and love numbers more than life itself.
You are proactive and responsive and always able to meet or exceed deadlines, along with the outcome.
You will also have:
Supervisor or Manager experience
Experience with Xero, or the ability to learn quickly
Experience working remotely
Reliable internet, laptop with camera
.
How Do I Apply?
Step 1: Complete the online application form below.
Step 2: Get creative here. Send us something (or a lot of things) that you think will help set you apart.
Step 3: Bean Ninjas review submissions and schedule first interview
Step 4: Skills testing
Step 4: Second interview and final decision
Step 4: Role announced
Step 5: Commence work