Barry Moore has 20 years experience in eCommerce, over 5000 facebook followers, and a repertoire of online ventures. He's definitely worth getting to know.
Barry Moore is an ambitious online entrepreneur.
Barry started surfing some of the very first waves of the internet back in 1996, and has since worked on a number of technologies and eCommerce brands in the Australian and Global marketplaces.
Today, Barry is proud founder and owner of The Active Marketer, The Active Marketer podcast and Active Marketer Academy, a steady source of recurring revenue and a hugely valuable resource for the independent business owner community.
"The business model for the active marketer is built around education, coaching and productised services and support. We help business owners demystify the process of creating sales funnels and marketing automation. Marketing automation can be confusing and intimidating, especially at first and it is not something you want to get wrong. A bad automation scaled big can be a very ugly thing."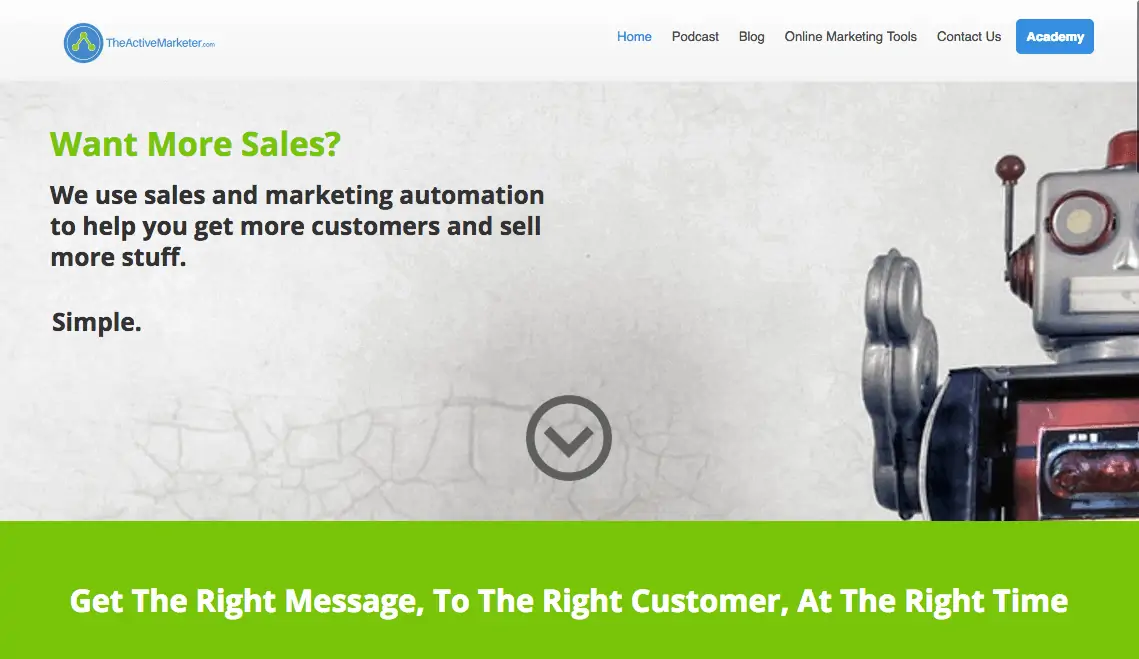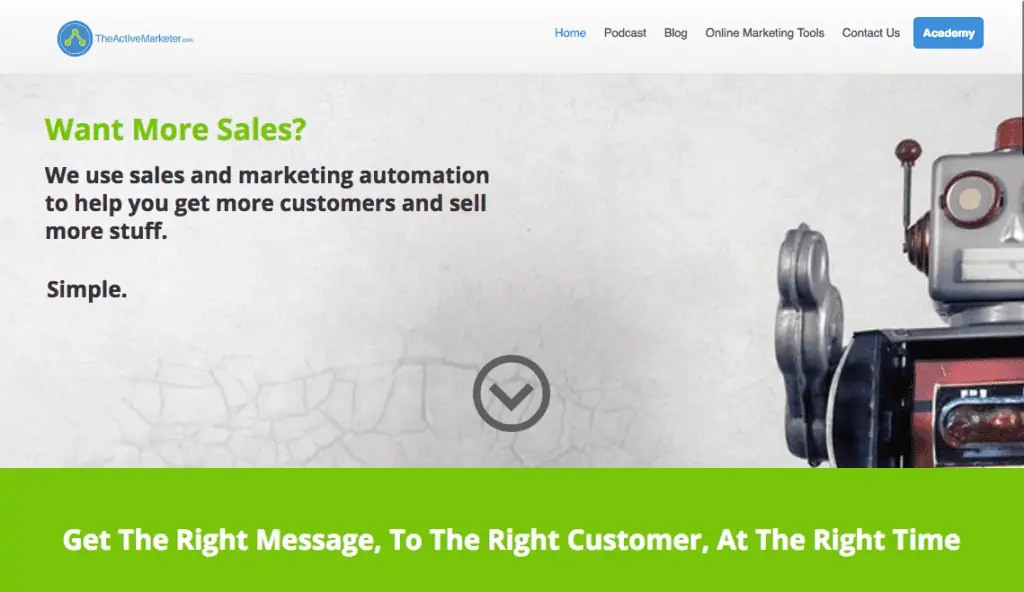 So, what's Barry's secret sauce, you ask? Sometimes the answer is closer than you'd think.
Introducing… Facebook?
Barry's secret is leveraging one of the oldest but most frequently used social media platforms out there. Facebook.
Automation Nation is the official Facebook group for members and followers of The Active Marketer. And this group has over 5000 followers!
So, how did Automation Nation reach the big 5000? With just a few key actions according to Barry.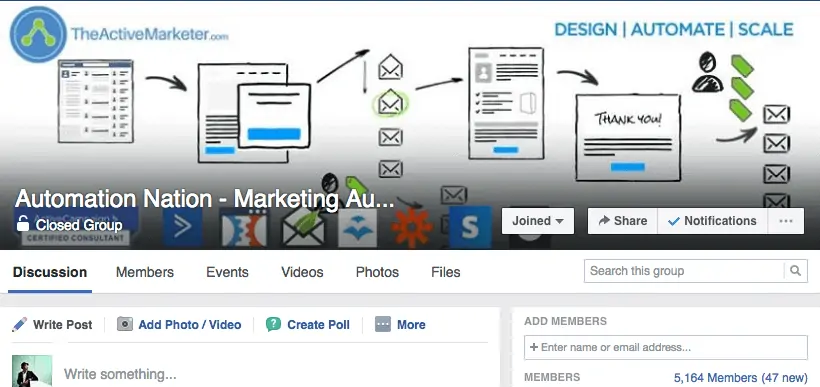 1. Go Private
One of the biggest challenges for many Facebook groups is attracting members. Too often the group becomes a ghost town and there's very little engagement.
"The funny thing about the Facebook group is, when it was public I struggled to get anyone to be interested. As soon as I made it private people seemed to beat down the door to get it. Everyone wants in the club with the velvet rope out front. Just goes to show you how powerful the human need to belong can be."
The Facebook group has been growing steadily for the past 18 months, and with each new month comes an even bigger growth in members.
Everyone wants in the club with the velvet rope out front. - @barry_moore
Click To Tweet
2. Create a Funnel for Followers
Barry directs people to the Automation Nation Facebook group, and from there directs them to his paid membership site, Active Marketer Academy.
"I started by having a basic course for sale on the Udemy platform to build awareness and authority. All course takers were invited to join the group for support and to ask questions."
Lead magnets on The Active Marketer website direct readers to the Facebook group.
How then does Barry turn those group members into paying customers?
"Inside the group I post links to content inside my paid community to ensure it is in the face of my current members to draw them back to the Academy and it also teases non-members with the type of content they could have access to if they became members."
Barry also blocks out time each week to cross-post in other popular Facebook groups and forums to create awareness and authority.
3. Offer Value. Not a Sales Pitch
Barry makes sure that everything he posts on his own and other platforms offers some sort of value for the reader. The 'sales-pitch' is strictly prohibited in these spaces.
"Providing valuable content in the group in a strictly no-pitch environment ensured that members found it a valuable place to solve their marketing automation problems."
4. Prioritise Your Time
As the owner of such a large Facebook Community, it becomes challenging to know where, who and how much when it comes to allocating time. One of the risks is giving too much time to building the group, which doesn't translate into sales for the business.
"To keep it from sucking all my time, and part of my soul, I stick to a strict hierarchy of who gets my time, coaching clients first, then Academy members, then non-members. It keeps everything ticking over nicely."
Want to leverage Facebook groups to grow your business? Follow these 4 tips from @barry_moore.
Click To Tweet
Barry suggests getting the right mix of products and creating the 'right' educational content.
His Facebook members are constantly talking about the challenges they have both technically and strategically when trying to employ sales funnels into their business. It's important that The Active Marketer has the right solutions for them.
"I think you have to have the mindset of constantly challenging your own beliefs, "is this the right thing for my customers, is it working out like I planned, what can I be doing better"? I check in often with my previous assumptions and the direction of the business and pivot quickly when I need to. It's also important to keep your finger on the pulse of what your customers need."
Another tip from Barry is to check out Podcasts like Tropical MBA, Russell Brunson's Marketing In Your Car, and Perpetual Traffic.  
Barry is also a fan of another one of our client success stories, Dan Norris and his book.
"Dan Norris's book The 7 Day Startup was also a good kick in the ass to get this latest venture off the ground. Unbeatable Mind by Mark Devine is also a great book."
And last, but not least, Barry is a strong advocate for cutting out distractions (like admin and bookkeeping) to focus on the core business offering. This is why he turned to Bean Ninjas.
"I am a mad scientist at heart, I love to rip things apart to see how they work, I like to experiment with technology and see how I can use it to solve problems and automate business processes. Anything that takes away from that fun time is BAD. So to find someone to take the bookkeeping off my hands and free up time in the lab is a godsend. It means I can spend more time doing what I do best, being creative, which good for me and ultimately good for my customers."
Make Like Barry and Start Your Own Sales Funnel
Now, I'm sure you'd agree that Barry's approach is slightly different, and it's definitely smart. But it's not difficult to do.
So, cut out the distractions like administration and bookkeeping (Bean Ninjas is here to help), and focus your energy on your core business.
And if you don't already have your own Facebook group, or need more tips on how to best use one, don't panic. Just read our previous post on how to leverage the power of online communities to grow your business.