Have you ever reviewed your P&L statement only to think that something feels off?
Maybe, your sales numbers don't look quite right.
So, you investigate and notice that your Stripe feed got disconnected from your Xero account, and you are missing a week's worth of sales in your reports.

Whether your bank feed broke or your bookkeeper entered in a few records twice, inaccurate financial reports are a lot more common than you think.
That's why bank reconciliations are the most important check you can do to make sure your bookkeeping is accurate. They should be done at least every quarter, but here at Bean Ninjas we like to do these monthly.

In this post, we share why bank reconciliation is important, and how it can help you fix key financial problems, including:
What pain points can bank reconciliation address?
Have you ever found yourself saying, "My numbers in Xero don't look quite right?"
Or, something seems off in Xero but you can't figure out why.

And, maybe you are starting to not trust your numbers and financial reports. You start making decisions largely off your intuition.

This lack of confidence in your financial reports can be a direct result of any of the following scenarios:
A lack of financial literacy
An inexperienced bookkeeper or VA handling your books
Failing to reconcile your books each month

Why is bank reconciliation important?
A bank reconciliation is a comparison between your bank account balance in Xero and your bank statement balance.
Reconciling your bank statements are important for a number of reasons, including:
Make sure your bank statements match what's in your cloud accounting software
Know how much cash you really have in the bank at any given time
Spot any bounced customer payments
Catch any accounting / bank errors
Avoid any tax fines and penalties caused by inaccurate reporting data
How do you run a bank reconciliation report?
Running a Reconciliation Report will help detect any missing or duplicate bank transactions in Xero.
Picture this scenario:

Jack runs a digital marketing agency and uses Xero to keep track of his accounts. The bank feed didn't import transactions between 3-10 November correctly and there are 30 missing bank statement lines.

Jack runs a profit and loss report for November which shows a profit of $25,000 for the month which is much higher than his usual profit of $15,000. He thinks business is picking up and decides to spend an extra $5,000 on marketing.

The 30 missing bank statement lines included $7,000 of missing expenses, so Jack has made a decision based on incorrect data. A business owner would usually have a feel for what their profit should be, so we'd hope that Jack would first notice that the profit in November looks high and investigate before deciding to spend more money on advertising.

If Jack's bookkeeper had compared the bank balance in Xero to the bank statement balance they would have identified there were transactions missing in Xero.

Example 1: Xero's Reconciliation Report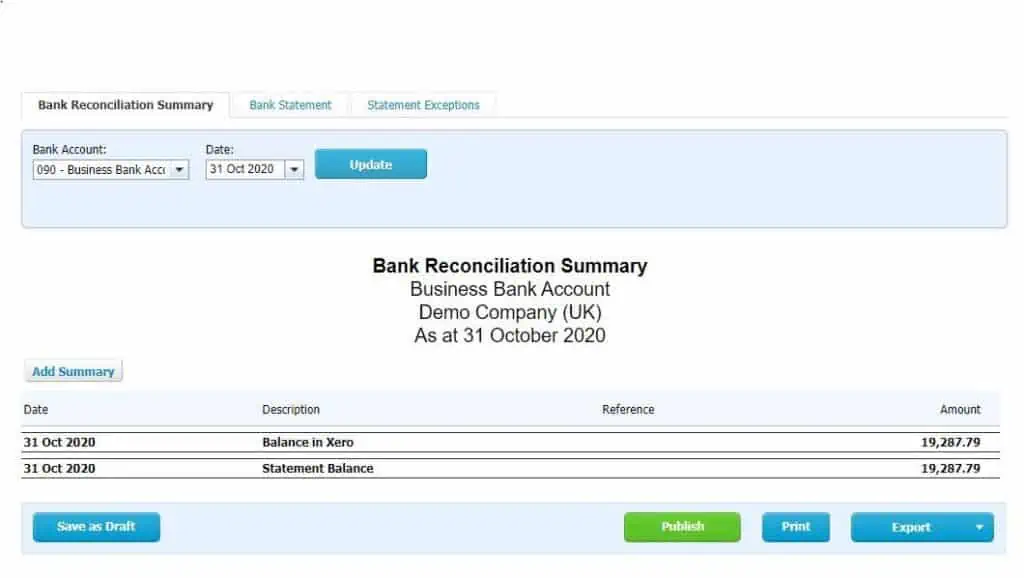 Above is an example of the Reconciliation Report in Xero. It is a comparison between the bank balance in Xero and the imported Bank Statement Balance (according to the bank). In this example, the two figures are both the same which is what we want.

It is also a good idea to check that the Statement Balance line in Xero agrees to your bank statement (or online banking balance).

Example 2: Xero's Reconciliation Report (with un-reconciled lines)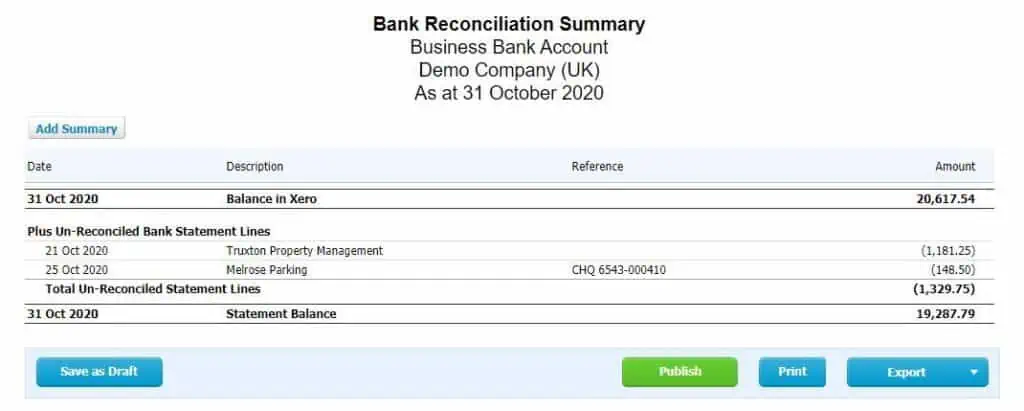 In this example, there are some un-reconciled lines which explains why there is a difference between the Balance in the Xero figure of ($951.58) and the Statement Balance of $1,743.42.

The 'Un-reconciled Bank Statement Lines' are transactions that haven't yet been reconciled on the reconcile screen in Xero.
If we add the $2,695 of reconciled statement lines to the balance in Xero of ($951.59), we get a balance of $1,743.42 which matches the bank statement balance. Again we are happy!

Example 3: Xero's Reconciliation Report (Balance out)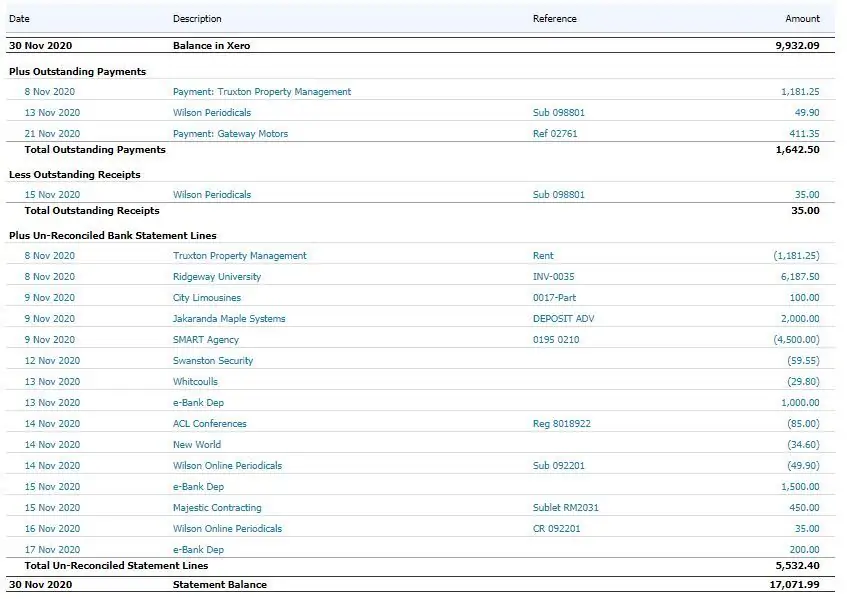 Here there is a 'Balance out by $5,721.50' line which means the bank account in Xero doesn't reconcile to the Statement Balance.

We don't like it when the balance is out.

The most common reason that a Reconciliation Report doesn't balance is that the bank feed has missed or duplicated some transactions.

What to do when the reports says 'Balance is out'
If the balance is out then first we need to identify the error and then correct this in Xero. The balance is usually out for one of the following reasons:
Missing statement line(s)
Duplicate statement line(s)
Deleted statement line(s)
Manual statement line(s)
It can also be due to the opening (conversion) bank balance being incorrect. The Xero help centre has some great tips on correcting conversion balances.
Here are some more tips on how to work through a Reconciliation Report where the balance is out.

Where to from here
Balance the Reconciliation Report to your bank statement each month. Make sure you add this step to your end of month checklist.
Also, create a recurring task in your calendar to ensure this important process is completed every month.
Contact one of the accounting ninjas at Bean Ninjas to help to get your Bank Reconciliation to balance. Just get in touch with the details and we'll be happy to sort it out.