Timber Frame HQ is an e-commerce platform that helps people build and construct timber frame structures. As the founder, Brice Cochran mentions,
"We provide plans, the information on how to do it, and even the parts and pieces that you need to get your frame in the air."
Timber Frame HQ is a self-funded, profitable, and fully remote company. Through his venture, Brice and his team provide valuable online resources and aims to help people better understand timber frames and how to create one.
"We serve customers in 25+ countries and work with the best people around the world: our remote team of over 5 TFHQ'ers work remotely throughout the US and Canada." – Brice Cochran
Brice has been working in the timber frame industry for 15 years as a timber framer, project manager, and designer.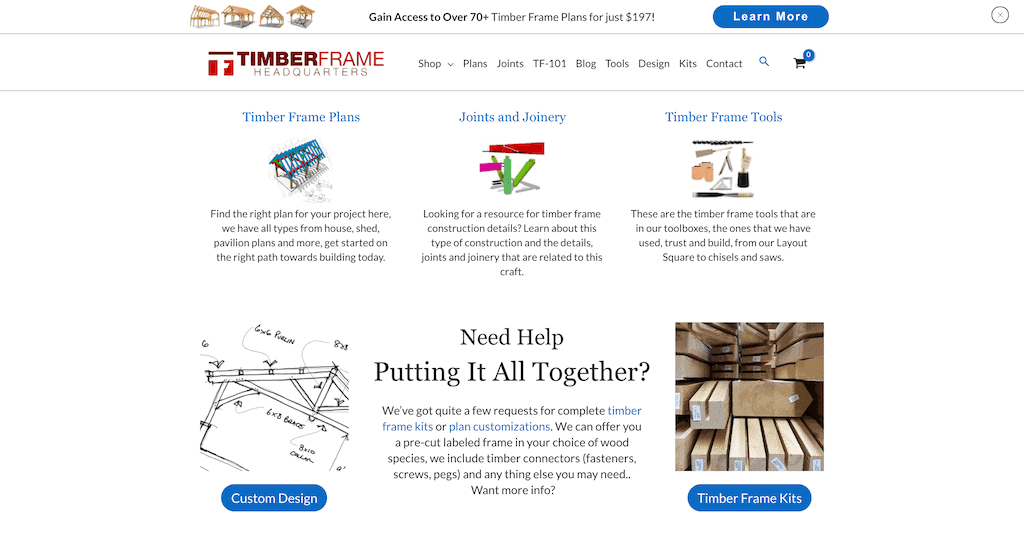 When asked to share his business philosophy, Brice remarked,
"I heard a long time ago on a podcast with Rob Walling – to 'increase your failure rate and then you'll have more successes'. I think that, along with the classic Ready-Aim-Fire mentality, are some of the principles that I use to guide things." 
The Challenge
For a growing eCommerce business like TimberframeHQ, one of the biggest challenges for its founder was staying on top of the books and ensuring the right strategies were being deployed for improved profits.
"I was doing it myself; the business had grown quite a bit. I couldn't keep up with it, and I was letting it slide. I couldn't focus on it like I needed to. So, yeah, I just needed help." – Brice Cochran
Brice would consult his local accountant at times, but he wanted a bookkeeper who had extensive experience working with high-growth eCommerce businesses. 
Why Bean Ninjas?
Brice was candid in sharing his one reservation with working with Bean Ninjas, and also how our reputation as leading growth accountants in the eCommerce space was the reason he decided to give us a go.
"The only reservation is that, you know, it's a productized service, and I didn't know you guys. I've known my accountant for years, so all I had was your reputation to go by. But it's turned out great."– Brice Cochran
Brian also appreciated our extensive knowledge of Xero integrations for eCommerce. 
"You're very familiar with the integrations with my platform and Xero, and you're just set up for e-commerce businesses, whereas my (local) bookkeeper was not." –  Brice Cochran
Related: A Detailed Guide to eCommerce Accounting
The Solution
Bean Ninjas helped Timberframe HQ with a Xero setup before moving onto monthly recurring bookkeeping services. We also provided Xero training and coaching, and that gave Brice confidence that he'd made the right choice. 
The Results
Brice's time of struggle with his accountant and getting timely and accurate management reports was over. 
Bean Ninjas was able to manage the accounts, handle sales taxes, and accounts payable for Timberframe HQ.
Brice was no longer falling behind in his bookkeeping. In fact, for the first time, he did not require a catch-up period at all.
Now, Brice could utilize the time he was no longer spending on managing his books to focus on business growth, and getting more traffic to his website through content marketing. 
 

"I was spending a day, a month doing bookkeeping, and so I've captured that day to put it into other areas of the business for growth." – Brice Cochran