Wondering what it's like to attend
Superfast Business Live
? Here's my recap from SFB Live 2020.
It was my first time attending the event, and I experienced an amazing 2 days of learning & connecting with awesome entrepreneurs of the SuperFast Business (SFB) community.
What is Superfast Business Live?



The event is marketed as "Australia's #1 Online Business Community – Live Event" for quality online digital business owners. 
It typically attracts Business Owners, Marketers, Agencies, Consultants, Experts, Entrepreneurs, and Podcasters.
These are typically members of James Schramko's Superfast Business online community.
Where was Superfast Business Live held?
This year the 2-day event was held at the stylish Amora Hotel on Jamison Street in Sydney.  
Great location right in the heart of the city, right by Wynyard Station.
This was particularly convenient for me as I could walk 40 mins from my apartment in Glebe to the venue each morning (and I did).
Here's a quick video snapshot of past SFB Live events:
Superfast Business Live 2020 Speakers and Topics
Day 1
Day 2
Chris Von Wilpert – the Greatest Hits Content System to Get More Traffic With Less Content

Tim Soulo

(CMO and Product Advisor at AHREFS) – How Content Marketing Works – Lessons From an 8-figure Bootstrapped Saas
I'm sure you would agree, this is one stellar lineup and a nice mix of topics. 
I particularly liked that James Schramko and Rhonda Britten talked more on the human mindset and personal responsibility side of things. Especially as this is an often-overlooked element of success in business. 
What were my goals for attending SFB Live 2020?
I had 3 main goals in mind:
LEARN from the best experts and practitioners in the online business space. Specifically, I wanted to get some ideas and insights for growing our business online with our podcast, content marketing, and partnerships.

CONNECT with some of our Bean Ninjas clients and partners (many who are SFB members), and meet other members of the community.

SHARE – when it made sense to, I shared the work that I'm doing with Bean Ninjas Educ8tion and the Xero training course that we offer to help digital entrepreneurs with learning Xero.
Related podcast: Why Bean Ninjas Created an Education Business Unit
Key Takeaways from SFB Live 2020
From Tim Soulo – CMO @ Ahrefs:
Less is more. You don't need weekly blog posts. Better to create DATA-DRIVEN content that people would want to share.

All content should start with the question "is there enough potential traffic?"  

Don't just look at monthly search volume as that's a poor indicator of future success. (Potential traffic can be validated using Ahrefs) 
From Chris Von Wilpert: 
Switch content upgrades to utility upgrades (replace with an opt-in for an email/video course instead of just PDF downloads)

Work on red packet partnerships i.e. cross-promotion partnerships such as blog exchanges with influencers/blogs who the same target audience as us. 
From Charley Valher: 
Optimize our podcast growth system by : 
1) moving the CTA from the end to the front (as the most people listen to a podcast is the first 5 mins and then people start dropping off the longer the episode goes). 
2) Using video (headliner is an example of this) as ads to drive people to the audio podcast, and
3) Experiment with other formats instead of just interviews. That's exactly what we did with a recent podcast episode:
Consider your "Return On Energy" – How can you find ways to produce assets that return more energy than it takes to create it?)
From Rhonda Britten: 
Work on your relationship with fear – "If you think you've got a fear of success, there's no such thing. You've actually got a fear of responsibility." 
Was it worth attending SFB Live 2020?
For me, definitely. 
The ticket price (we got the early bird $900 AUD ticket and others paid the full $2,000 AUD price) might be viewed as expensive for some, but let's take a quick look at what we got for the cost of admission:
A 2-day conference hosted in a great venue in the heart of Sydney close to public transport

Meals catered for – including an awesome dinner on the first night) with a live jazz band

Practical tips, strategies, and insights from some of the best online business experts to grow our business, and ourselves as human beings

Opportunity to connect with really genuine and smart people (no ego), as well as the speakers who are all down to earth 

Cool SFB hoody to keep us warm
Seriously, all it takes is for us to implement one of the strategies that I learned over the 2 days and see a positive shift in our results, and that's money well spent. 
Like with any investment in growth and learning, it all comes down to the implementation of the things we learn and following up with the people that we connected with to explore opportunities together.
It's in the "do-ing"… that's where the real magic happens.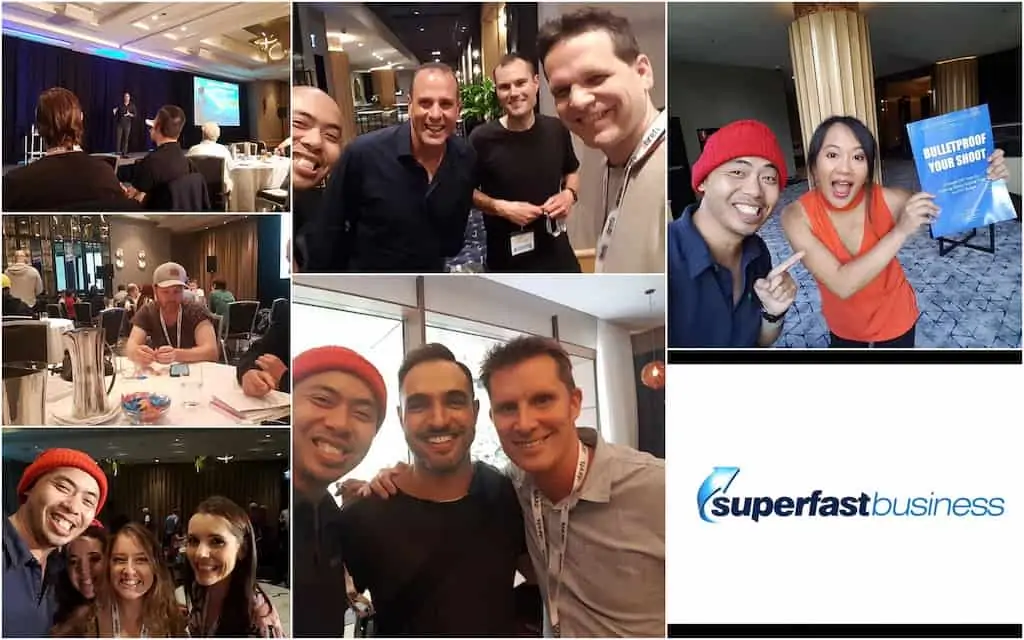 Now it's over to you…
If you also attended SFB Live 2020 I'd love to hear your thoughts. How was it for you? What were your key takeaways?
If you're thinking about attending the event next year, hopefully, this recap has been useful to you. I'd definitely recommend that you check it out.
Feel free to connect with me and ask any questions you may have.