From inaccurate inventory records to financial reports that lack key financial data, nothing can sink an eCommerce business faster than sloppy inventory management.
That's why cloud inventory platforms can be so valuable. They consider all elements of available inventory, including what's on hand, what's on order from suppliers, and what's committed to customers, while also providing detailed financial and business intelligence reports.
In this post, we're taking a closer look at the top five cloud inventory platforms for Shopify eCommerce businesses.
5 Cloud Inventory Platforms To Consider
While Shopify will provide a basic number of SKUs, a lack of product forecasting and real-time analytics spell disaster for company finances.
Without a dedicated cloud inventory platform, Shopify businesses tend to do one of two things — they either rely on their third-party logistics (3PL) company to report what they've got in stock, or they create a rudimentary spreadsheet piece-mealing all of the SKU and logistics data together to determine what's available.
Here are five accountant-approved cloud inventory platforms to consider instead.
1. Cin7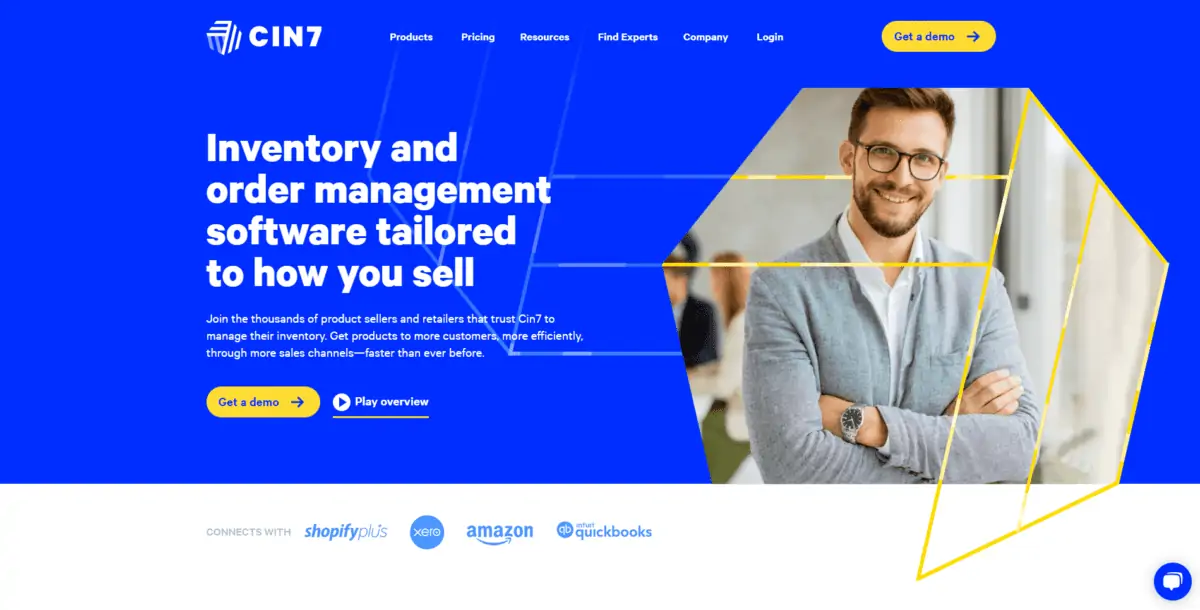 Where Sortly was among the most affordable cloud inventory platforms, Cin7 is among the most expensive — but it's also a favorite among accountants and serious eCommerce businesses alike.
Compared to other inventory solutions, Cin7 is the most user-friendly and the nicest to look at. The reports are built like an Excel pivot table, complete with drag and drop features that make isolating insightful information a breeze.
Of course, with a higher price tag comes additional features that can streamline data entry. Cin7 can connect your products, sales channels, orders, workflows, and reports with stock locations and warehouses in one automated solution. By connecting eCommerce managers with operations, warehouses, and finances, it becomes easier to drive revenue as a team, and you can delay having to migrate to an expensive ERP solution.
Cin7 is better suited for 7 to 8-figure eCommerce businesses, including those that sell across Shopify, Amazon, and other third-party marketplaces. The platform has an incredible 700+ integrations, including accounting, 3PL, and EDI integrations, though some past users warn that onboarding and implementation may take a few months to complete.
Pricing for Cin7 is categorized by business type. The Small Business Plan, which is noted for products sellers focused on selling to consumers online, starts at $299 per month. In comparison, the Business Plan for product sellers focused on B2B and wholesale sales leaps up to $539 per month, and the Advanced Plan for established businesses starts at $999 per month.
Best for: 7-8 figure eCommerce businesses that are scaling quickly
2. DEAR Systems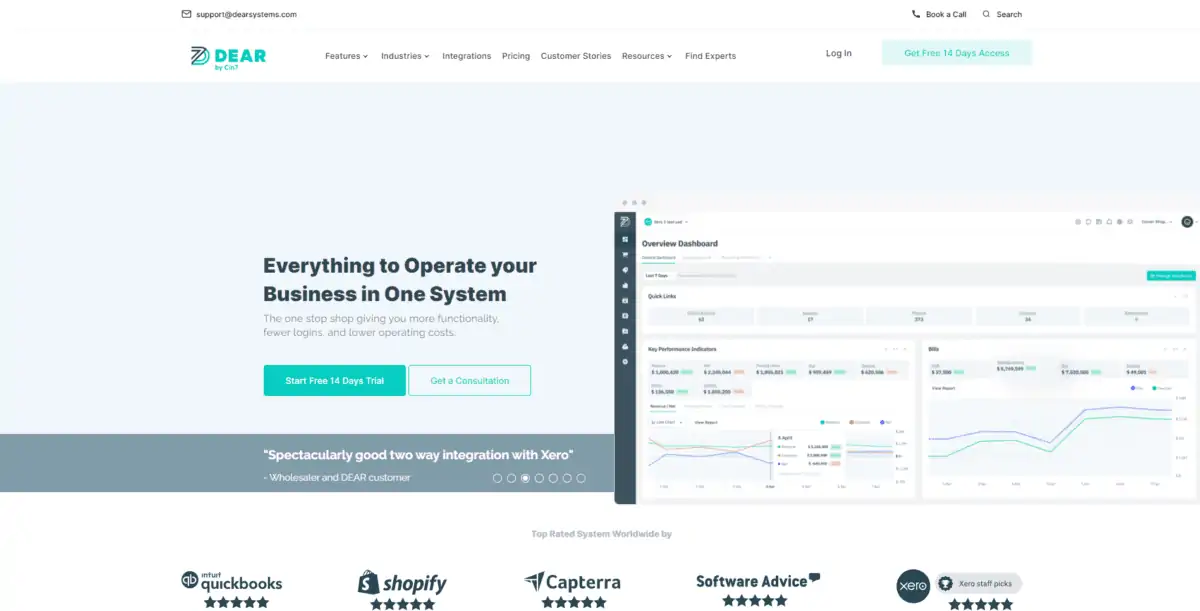 If you're looking for a powerful cloud inventory platform, DEAR Systems might be right for you. In early 2021, DEAR was acquired by Cin7 to cater specifically to small- to mid-sized retailers, wholesalers, and eCommerce operators. This was done in an effort to make Cin7 a leader in inventory and order management.
DEAR is not as user-friendly as Cin7, which means there's a bit of a noticeable learning curve. The platform itself is slightly less aesthetic than its parent software. However, once you understand the software and invest the time to learn it, it can drastically reduce the risk of human error. The result can help make financial forecasts more accurate across multiple sales teams.
Some of our favorite features include advanced reporting, such as the Product Availability Report. This personalized report breaks down the exact quantity of on-hand, available, on-order, and allocated products, so you don't have to disappoint customers with months-long waiting times for out-of-stock products or extreme supply chain delays.
Pro Tip: Check out these two case studies to see how two Bean Ninjas' clients are using DEAR Systems.

See how Alton Goods was able to get inventory management and forecasting under control with DEAR Systems and Bean Ninjas.
Learn how Bean Ninjas and DEAR systems helped Royal Essence grow 150% year over year.
The total monthly pricing for DEAR, which includes not only inventory but also multi-channel orders, purchasing, packing, shipping, and more, begins at $325 per month. However, it is possible to customize a retail plan to potentially omit the non-inventory-related features to make the price more affordable for small retailers. Seek a consultation to determine an accurate monthly price.
Best for: 7-figure eCommerce businesses that are scaling quickly
3. Sortly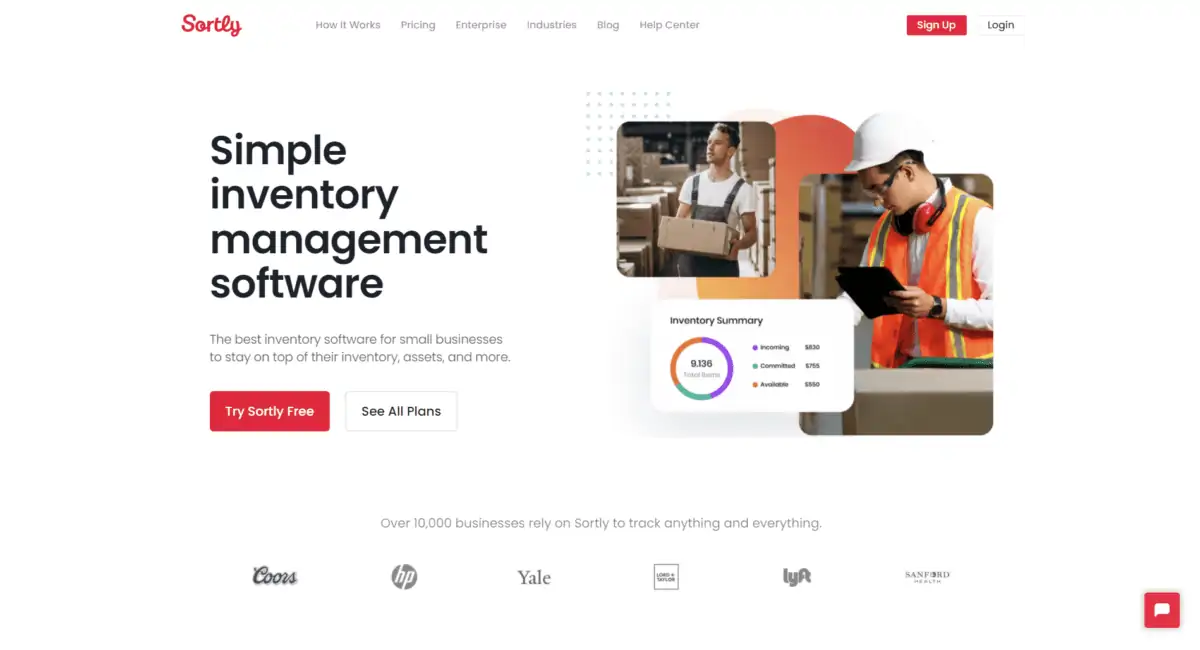 This cloud inventory platform is best suited for small businesses. This is particularly true for eCommerce businesses that hold stock in a warehouse and are doing under $1 million in annual sales. Sortly boasts a highly visual inventory management solution that enables a simpler way to track stock across multiple warehouse facilities, In addition, Sortly allows business owners to track SKUs with barcodes, customizable QR codes, and detailed images.
As a cloud-based solution, Sortly insights can be managed on a desktop, smartphone, or tablet. The platform is also compatible with multiple user accounts. Any team member — including an accountant — can have a real-time view into what's committed to customers but hasn't been shipped and what's currently available for purchase.
Shop owners can establish alerts to monitor dwindling stock, expiration dates, and more. What's more, all of this information backed up and synced in real-time via customizable and insightful CSV and PDF reports.
Though this platform has plenty of inventory tracking options, it is recommended to review the list of supported industries before committing, as certain apparel and home products are not listed.
Out of all of the options we're sharing, this platform is the most affordable cloud inventory platform. The most popular plan, Advanced, is just $49 per month or $25 per month when billed annually, and offers unlimited QR codes, 2000 entries, and low stock alerts. The more robust Ultra plan is $119 per month or $59 per month when billed annually.

Best for: Small eCommerce businesses with simple inventory management needs
4. LOCATE Inventory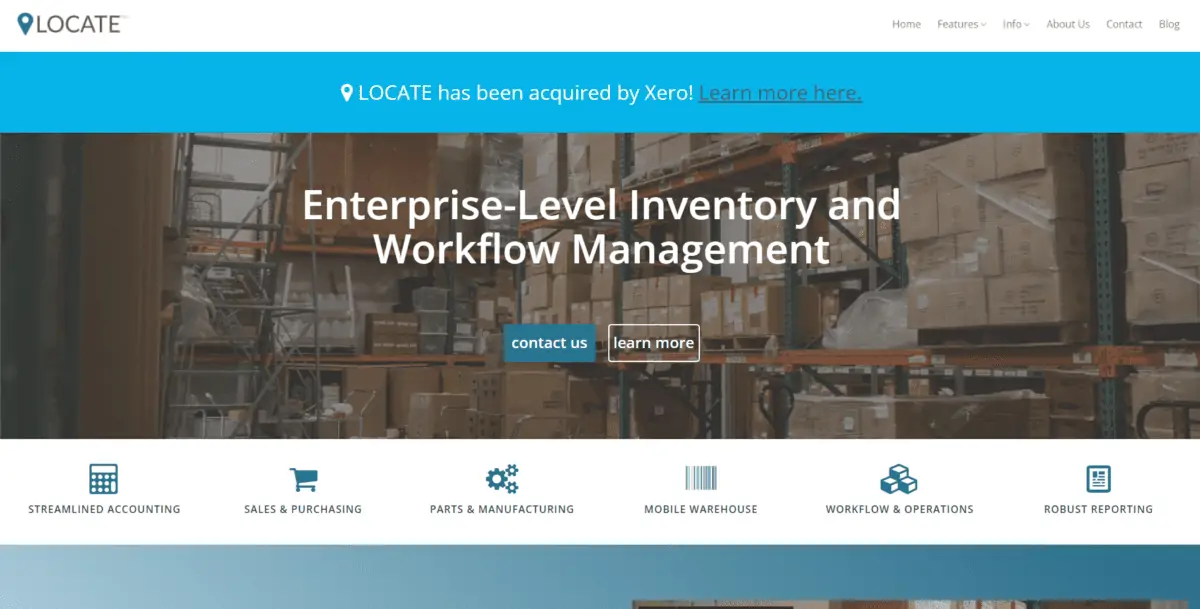 An enterprise-level cloud inventory platform, LOCATE is best suited to growing US-based mid-market businesses. Though the platform does support multiple currencies, it's important to note that it's a U.S.-specific tool. As such, it's recommended to only opt for LOCATE if you sell only in North America. This is because the platform is more compatible with American systems. This includes warehouse inventory, order fulfillment, reordering, and reconciliation. Like the above options, LOCATE also offers custom barcodes and real-time data access. The platform even offers dynamic workflows to better drive revenue as a team.
Recently acquired by Xero, LOCATE's existing inventory management products won't be available after October 10, 2022, where it's speculated the platform will then be integrated into Xero or the core Xero product. As of publication, their subscriptions are only supported for existing users of LOCATE or Xero.
Best for: US-based 7-8 figure US-based eCommerce businesses
5. Finale Inventory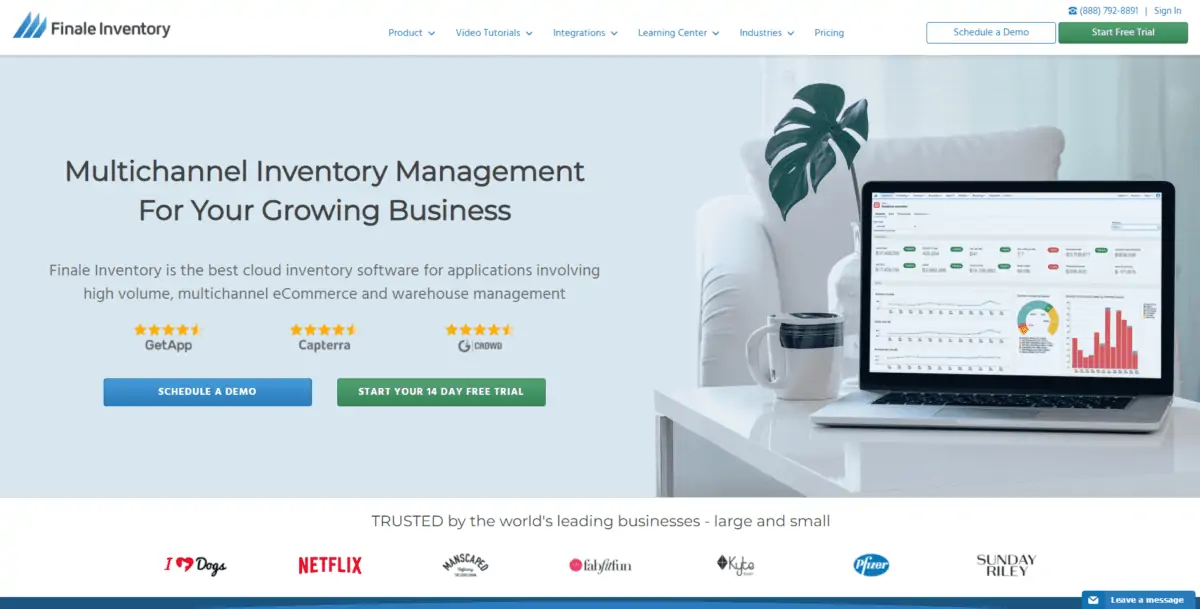 Like LOCATE, Finale is also an American-based cloud inventory platform headquartered in Palo Alto, California. Finale boasts a comprehensive solution for multi-channel eCommerce retailers and small- to mid-size businesses. Designed to help organizations scale, this cloud inventory platform can support up to 2 million products. In addition, if can also support a half-million orders per month.
A major perk of choosing Finale Inventory is its out-of-the-box barcode solution. It doesn't demand a lengthy integration process or a team of consultants to establish. However, it is worth noting that anyone interested in Finale should conduct business primarily in North America — especially those supplying products to major corporations like Nordstrom or Walmart, which use EDI systems.
Finale is also compatible with multi-channel markets like Amazon and Etsy. It's also compatible with digital shopping carts like Magento and Shopify, and shipping services like ShippingEasy and ShipStation.
Pricing for Finale is categorized by total users, integrations, and orders per month. The Starter Plan with one user, two integrations, and 500 monthly orders begins at $75 per month. The next plan, Bronze, has four users, four integrations, and 2,000 monthly orders for $199 per month. The most expensive plan with 16 users, unlimited integrations, and 20,000 monthly orders is $799 per month.
Best for: US-based mid-market eCommerce businesses that are selling into large retail establishments like Walmart
***
If you're looking to reduce the manual labor that goes into maintaining consistent margins, do yourself — and your accounting firm — a favor. Invest in a cloud inventory platform today. Cloud inventory platforms make it much easier to keep track of your inventory and run financial and cash flow forecasts.