We're hiring!
We are looking for a Financial Controller to join our growing team.
Aimee, our existing Operations Manager is awesome, but as Bean Ninjas grows it isn't possible for Aimee to look after our internal accounting, as well as our day to day operations and manage the Australian Bookkeeping team.
We're now splitting out our internal accounting function from the Operations Manager role and creating a new Financial Controller role.
Who are we?
Bean Ninjas is a Xero bookkeeping and financial reporting business founded on Australia's Gold Coast in 2015.
We specialize in online businesses including coaches / consultants, bloggers, freelancers / agencies / SaaS and eCommerce and our mission is to create financial freedom through stress free business finances for our clients
For more details about Bean Ninjas and our values refer to the Bean Ninjas jobs page.
What's it like being part of the Bean Ninjas team?
.
Career development
We believe in developing our team and promoting internally. You will go through an initial 3 month training program and will then receive ongoing training and mentoring. We prepare individual staff development plans for each team member to help in achieving career goals.
Who will you be working with?
You will be working closely with Bean Ninjas CEO Meryl Johnston. This is a high level role and while you will be responsible for ensuring we have accurate records and are meeting our tax compliance obligations there is scope for much much more!
As Financial Controller you will be our internal business advisor, helping managers within the business to make great decisions by providing accurate financial data.
Check out this podcast episode to hear more about Meryl's philosophies on leading teams and this episode to hear her thoughts about training.
You will also receive training and support from the Bean Ninjas Operations Manager, Aimee Creighton who currently managers our internal accounting. 
Related Reading: Meryl's reflections on 3 years at Bean Ninjas 
.
Flexible and remote role
This is a part-time remote role and you will have some flexibility in choosing your regular work hours. We expect this role to take approximately 10-15 hours per week with the potential to eventually go full-time (if you would like).
We are a distributed team and most of our team regularly work from home. Aimee and Meryl are both based in Queensland, Australia so it will be helpful if you are in the Australian timezone and can also spend some time in either Cairns or the Gold Coast for the first month of your role.
.
Industry leaders
Bean Ninjas are recognised as industry leaders. You will be working alongside Chartered Accountants and CPA's who have come from firms such as Ernst and Young, BDO and Grant Thornton.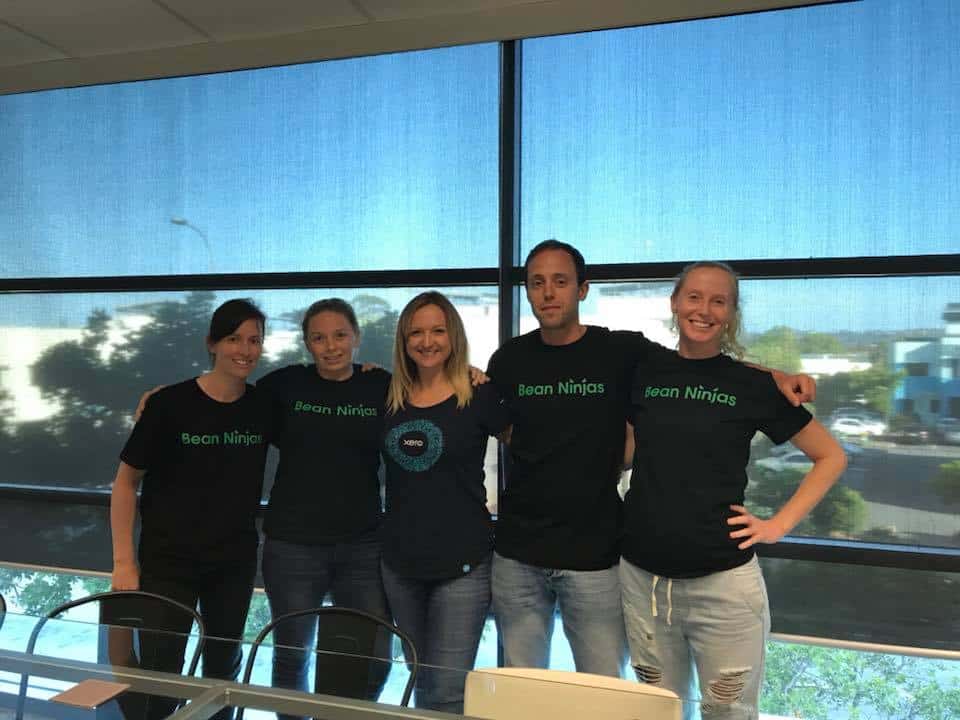 .
What is the position like and what skills do I need?
In your role as Financial Controller, every day will be different!
You might be supervising our payroll and bill payments, following up debtors, liaising with our country managers about job profitability, doing research related to international business structures, preparing our month end accounts or quarterly shareholder report, updating our cash-flow forecast or helping different managers prepare budgets.
….. or approving the bill for the next Christmas Party!
.
Who are you?
This role will suit someone who enjoys variety and is a great communicator.
Very process oriented and good at creating processes as well as following them
Empathic and good at understanding people
Management experience or experience running a business
Ability to prioritise and juggle competing priorities
A strong desire to follow tasks through to completion
You also have good attention to detail, so you will write in your application the number of dot-points in the list directly above this sentence.
It is helpful if you have both public practice experience and commercial accounting experience. This role is more similar to a commercial accounting role as you won't be doing chargeable work, however it is still helpful if you have seen how a public practice firm runs (as that is the business we are in!)
You will also have:
An Accounting (or similar) degree and CA / CPA or other equivalent education
Experience with Xero, or the ability to learn quickly
Experience working remotely
How is the role structured?
This is a remote role and the time commitment required is approximately 10-15 hours per week.
There will be the opportunity to expand this role and increase hours for the right person.
Given the nature of the work, you will need to log on 3-5 days per week.
We don't have set office hours, so you will have a lot of freedom over the hours that you work. However you will need to be available during some Australian business hours to respond to clients and also be available to have calls with team members in US / UK timezones.
This role isn't suitable for Digital Nomads who are regularly on the move.
We are looking for someone who can grow with Bean Ninjas, so this role also isn't suitable for someone with a full-time job looking for a side hustle.
This role is better suited to someone looking for a flexible, remote role at a company whose values align with their own.
Whilst this role is remote, it is an advantage if you can work from either the Gold Coast or Cairns for the first month so that you can receive face to face training.
.
Here are some the specifics of the role
.
Internal Accounts
Manage billing of clients, including creating, updating and cancelling subscriptions, managing customer invoices and recurring payments
Prepare weekly debtors report and liaise with managers about follow-up
Run fortnightly Accounts Payable process
Run fortnightly payroll process
Daily Bank Reconcilations
Look for opportunities to optimise our internal accounting processes through technology while ensuring strong internal controls.
Reporting
Running Month End Process and preparing Management Accounts
Preparing weekly / monthly and adhoc reports for internal managers
Assist in preparing quarterly shareholders report
Maintain cash-flow forecast
Assist managers in preparing budgets for their teams
Compliance
Quarterly BAS lodgement
Liaise with our tax advisors for income tax preparation
Prepare our Export Marketing Development Grant application
Liaise with our tax advisors in relation to business structures
Special Projects and Analysis
Once the above tasks are all running smoothly we see plenty of scope for interesting project work and analysis. Ultimately we'd like to see this role driving improved performance in the business by drilling into the numbers and helping the team to make great decisions.
How Do I Apply?
Step 1: Complete the online application form below
The last closing date is 15 November 2018, but we will be reviewing applications along the way and if we find someone who is the right fit first we'll go with them.
Step 2: Get creative here. Send us something (or a lot of things) that you think will help set you apart
Step 3: Bean Ninjas review submissions and schedule first interview
Step 4: Second interview and final decision
Step 4: Financial Controller announced
Step 5: Commence work orientation. Ideally on the Gold Coast, but this can also be completed remotely.